Each month, the SCUBA DIVER test team assembles to rate and review a selection of dive equipment from a range of manufacturers.
This month we will be looking at 6 Best Scuba Diving Knives and Cutting Tools
Products are split into price categories and are then evaluated for performance, comfort, ease of use, build quality, looks and value for money. The Test Team comprises Editor in Chief Mark Evans and a squad of volunteers, whose dive experience ranges from a couple of hundred dives to well over 7,000.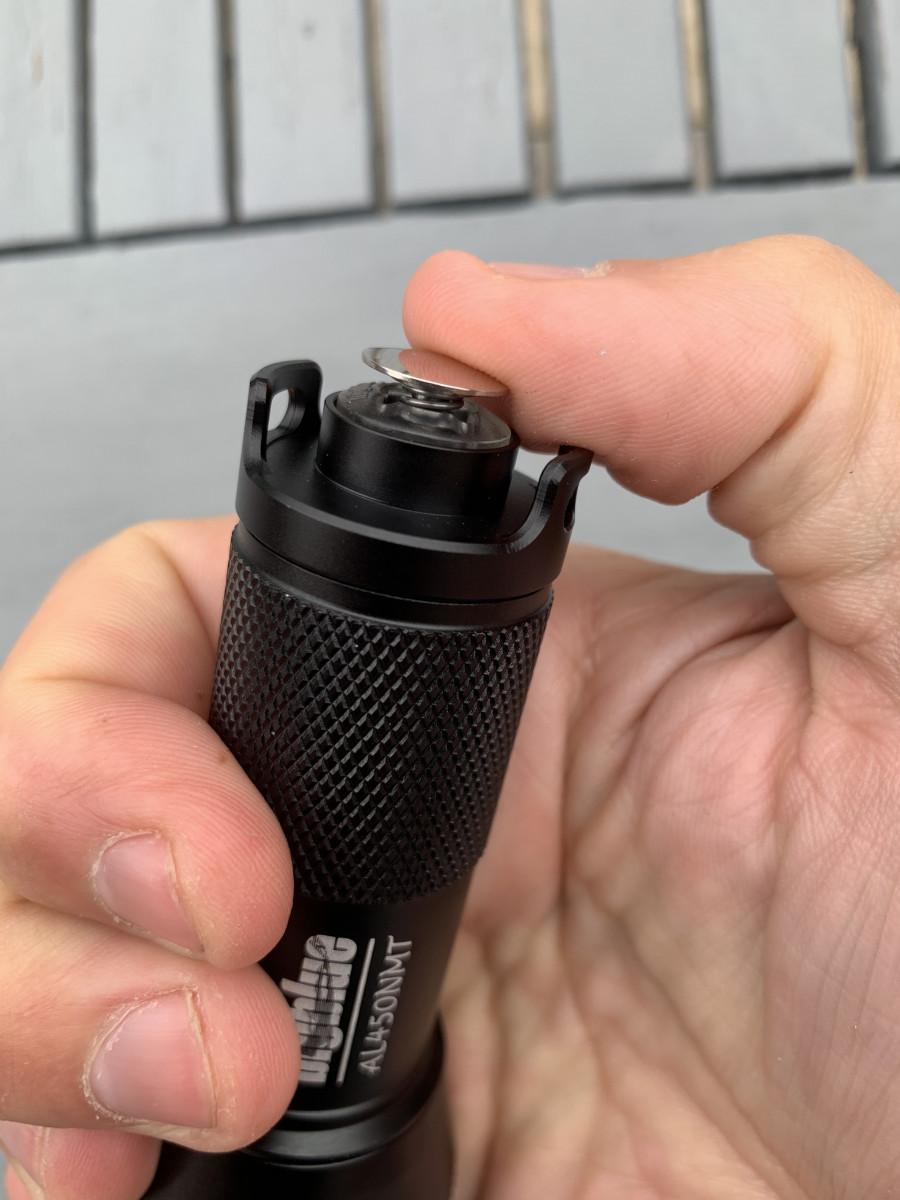 This group test, we look at the humble dive knife, or in particular, a knife that can be mounted on your BCD or wing.
As there are also now several cutting tools hitting the market that are also compact and designed to fit on your BCD/wing, we have also included them into this Group Test.
It is important to carry at least one means of cutting monofilament line, webbing, rope, etc, with you at all times, and many people take two for redundancy.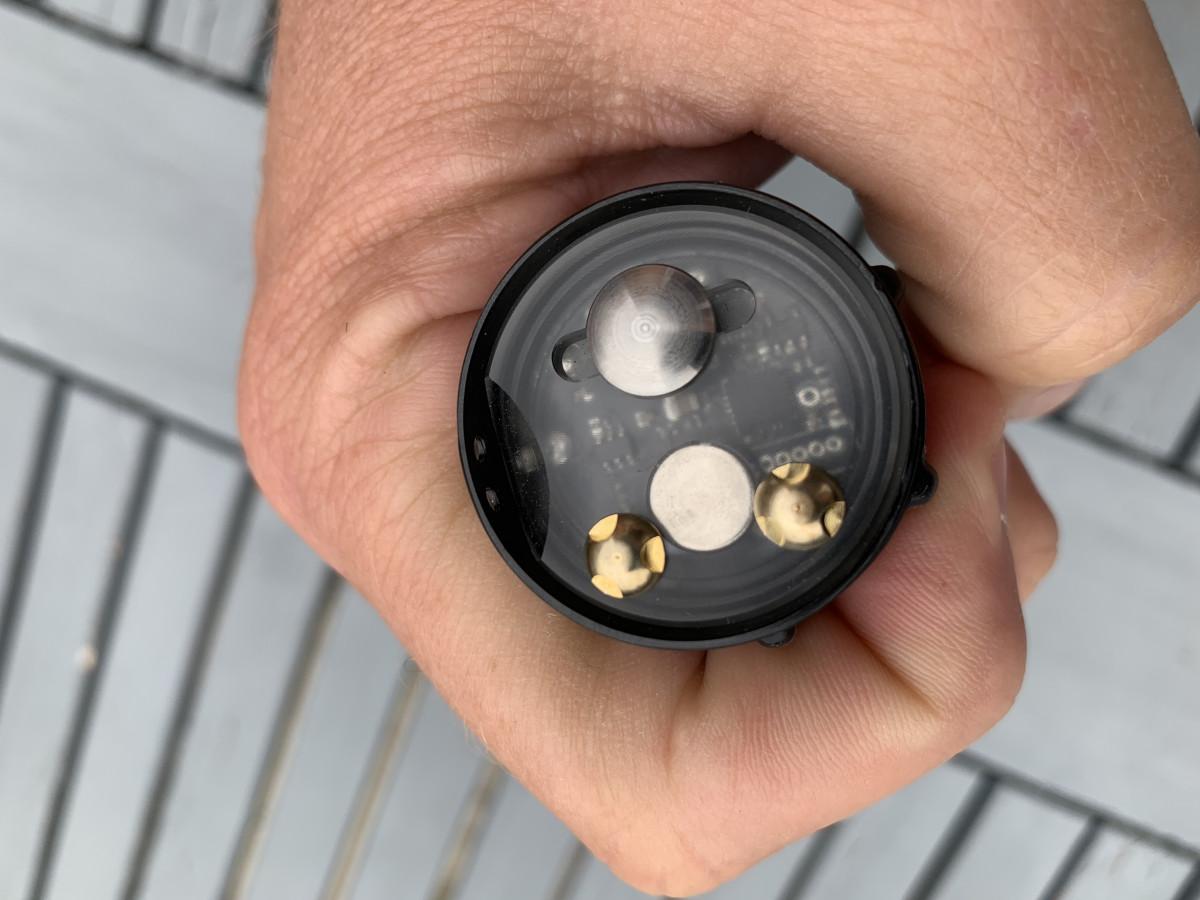 Knives and cutting tools have many uses. Yes, there is the obvious – to free yourself, or your buddy, if snagged by errant fishing line, netting, etc – but there are a host of other uses as well, such as a prying tool, for signalling, a surface tool when you are fettling your kit. Some of the knives here include bottle openers for those apres-dive beers!
To see how the knives/cutting tools faired, we set them to task cutting various lines – monofilament, paracord, thicker ropes, and webbing of various widths/thicknesses. We also tried them with a bare hand, wearing 3mm gloves, 5mm gloves and even drygloves, so we could judge the comfort and grip of the hilt/handle, and also how easy it was to deploy and re-stow the knife/cutting tool.
Aqua Lung Small Squeeze Knife (SRP: £30-£61)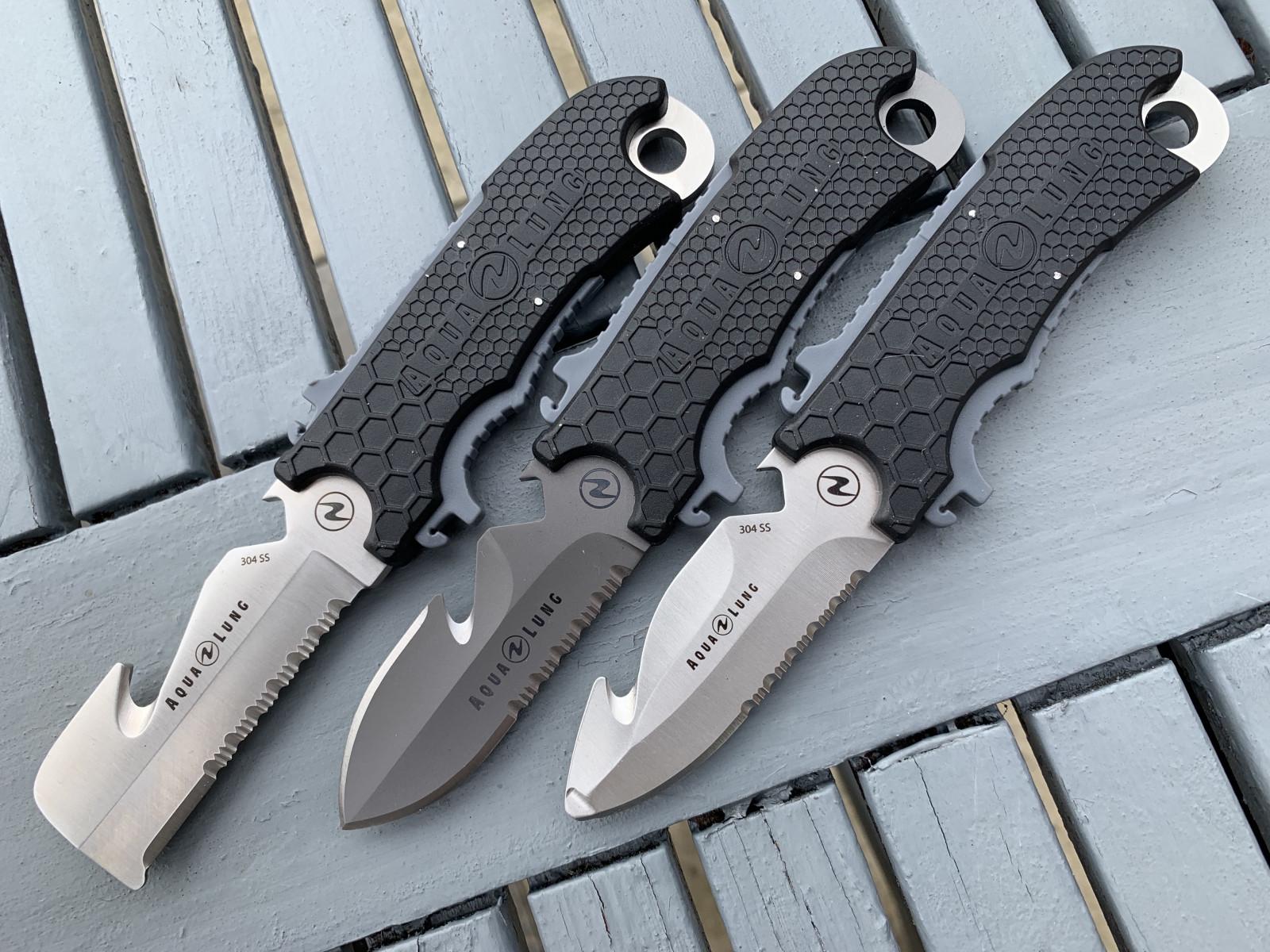 Aqua Lung have become experts at producing well-made and useable dive knives, and the Small Squeeze Knife range continue this tradition.
That name is used to signify the use of Aqua Lung's patented 'Squeeze Lock' design, which securely holds the knife in its sheath, but when the diver needs it, a simple squeeze of the hand and the knife is deployed with a minimum of fuss.
The handle and sheath are nylon with fibreglass fill. There is a lanyard hole in the hilt, and the sheath has drainholes. It comes with mounts to attach it to grommets in your BCD or wing.
The 304 stainless steel versions (£35) come in either blunt tip or sheep tip. The blunt tip has a screwdriver tip, sharp section, serrated section, line cutter and a bottle opener. The sheep tip has sharp section, serrated section, line cutter and bottle opener.
There is also a spear tip version in titanium (£68) which is supremely lightweight. This has all the features of the others just with an extremely sharp spear tip.
All three easily sliced through every test, and the handle was comfy and easy to use even with thick gloves on. All-round winner.
Aqua Lung Micro Squeeze Knife (SRP: £25)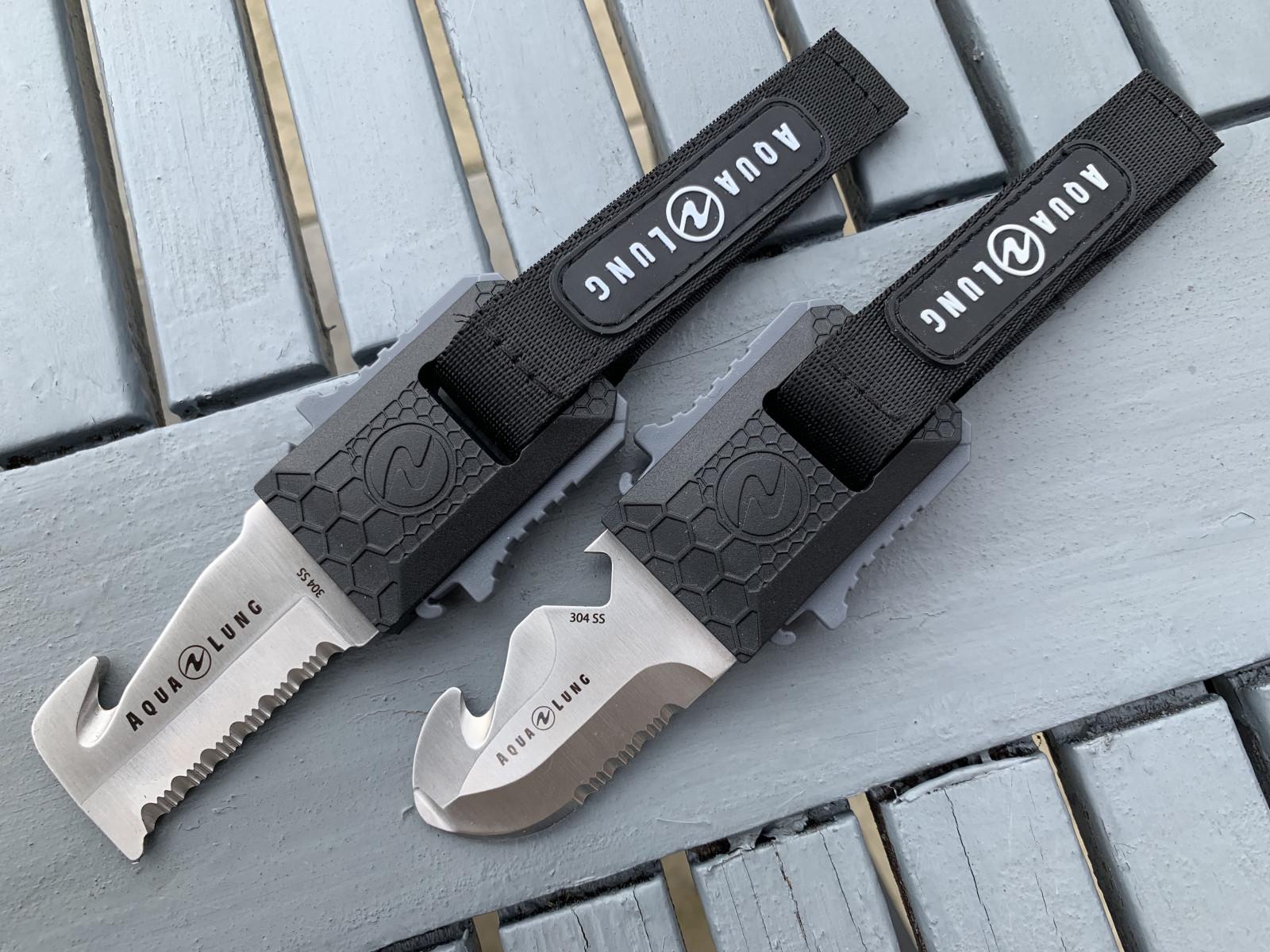 Aqua Lung totally nailed it with the Squeeze Knife range, making a compact knife that attached to your BCD and was useable whether you were in this country or in warmer waters. However, they also noted the rise of cutting tools like the Trilobite, which could be mounted pretty much anyway on your BCD or wing, and were even small enough to go on your dive computer strap. Hence, the launch of the Micro Squeeze Knife range.
Unlike the big brother, there is no titanium version here, just two 304 stainless versions – blunt tip and sheep tip. The sheep tip has a serrated section and a line cutter, while the blunt tip manages to cram a screwdriver tip, sharp section, serrated section, line cutter and a bottle opener into a 5.1cm blade. It is undeniably cute.
The knives use the same squeeze technology as the bigger knives, but as you only have a dinky hilt that fits between thumb and forefinger, they have added a length of webbing – a la Trilobite style – which sits in your hand and provides a rudimentary 'hilt' Not as easy to handle with gloved hands as the bigger versions, as you'd expect, but just as efficient at cutting. I'd be tempted to have one of these as a back-up to a full-size Squeeze.
Beuchat Mini Legend (SRP: £49.95)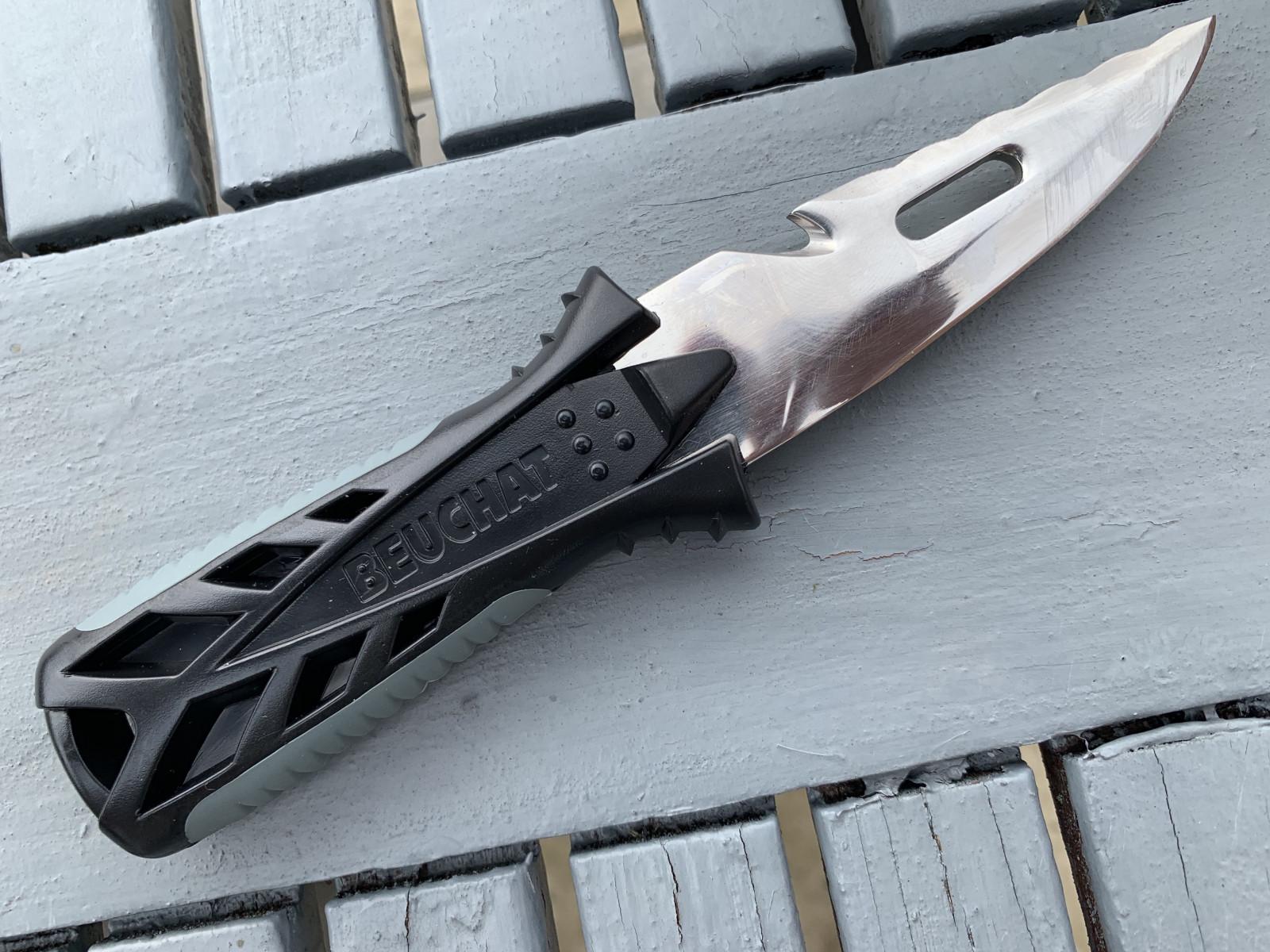 It is good to see Beuchat back on the British diving map. With its long heritage, the company has continually developed and expanded its range, and the Mini Legend draws on that knowledge.
The stainless steel blade features a sharp point, a sharp cutting edge, a serrated section, a line cutter and a handy shackle key.
The hilt has rubberised sections to aid your grip, and guards for your thumb and forefinger to stop them sliding on to the blade. There is a lanyard hole in the hilt.
The sheath, which comes with attachments to fasten it to your BCD/wing or on to your regulator hose, also has rubber straps for those who want to attach it to their wrist, or on their ankle for true retro-style.
It has a neat slide-and-press double-locking system, which is simple to use even with 5mm neoprene gloves on.
In use, the line cutter and sharp cutting edge proved more than adequate, but the serrated section, while it worked, was not as efficient as some of the rivals here at slicing through thicker rope or cord. Very comfortable in your hand, whether bare or gloved, and nicely balanced. Good little knife.
Mares Force Plus (SRP: £61)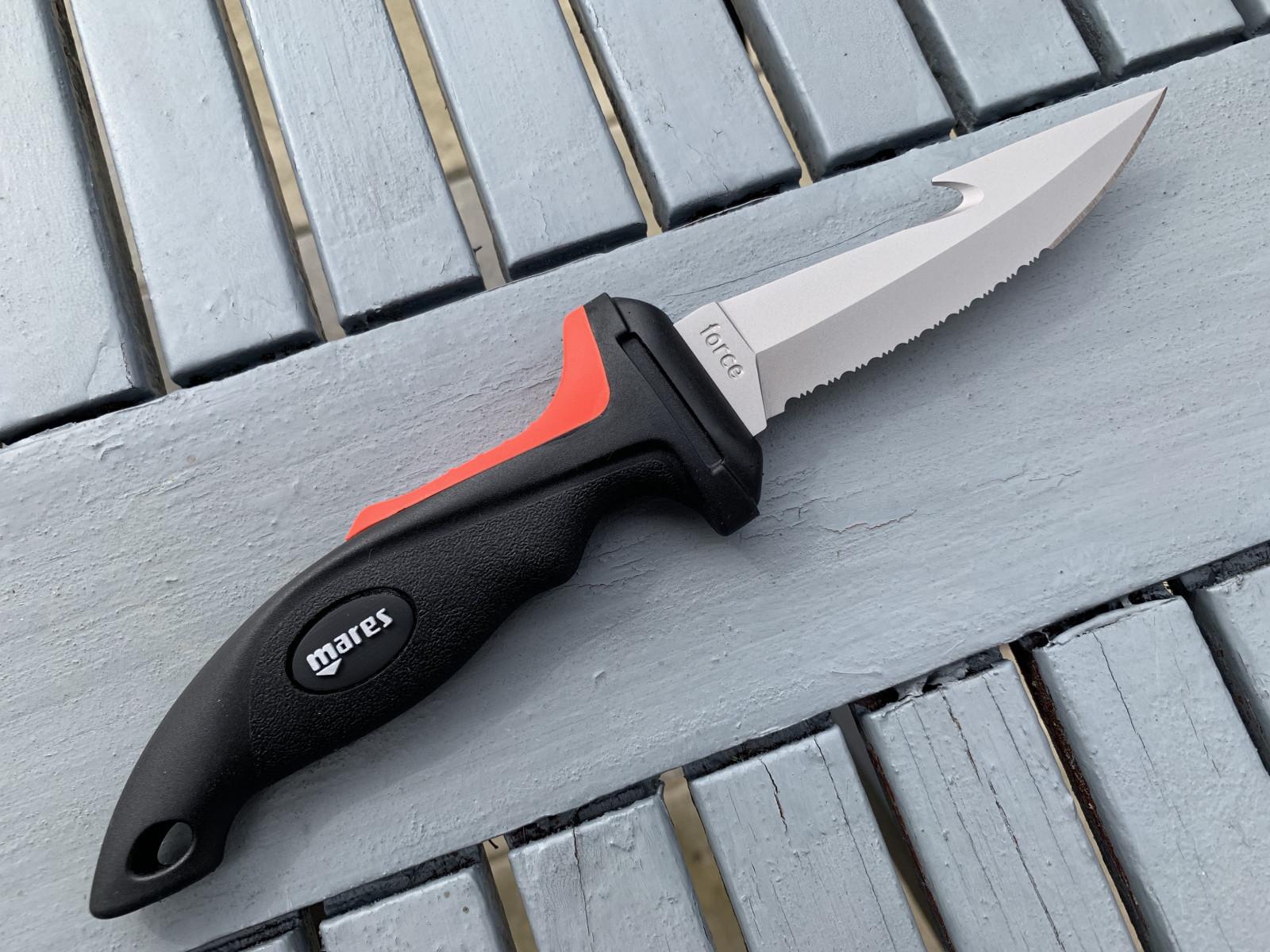 Mares have been around a long time too, and they have mastered a solid dive knife. The Force Plus is a great dive knife with some nice features.
The blade is made from PVD-coated stainless steel for durability and strength. It has a very sharp tip, a sharp cutting edge, a serrated section, and a line-cutter.
The sheath can be attached to your BCD or wing, but comes with attachments for putting it on your hose, and also two straps for putting it around your calf retro-style. The locking mechanism is secure, and can be easily released with a quick press.
The hilt is ergonomically molded and gives a really nice grip, and we especially liked the soft-grip insert in front of your thumb. There is also a lanyard hole in the hilt.
There is a 'Nano' version with a shorter, rounded-tip blade that is £53.
In use, the wicked-looking blade made short work of all of the test lines, ropes and webbing, and that hilt was great with a bare hand and in a gloved hand.
It makes for a fairly large BCD knife compared with some of the others on test, but it is a great bit of kit.
Mares Hand Line-cutter B Titanium (SRP: £49)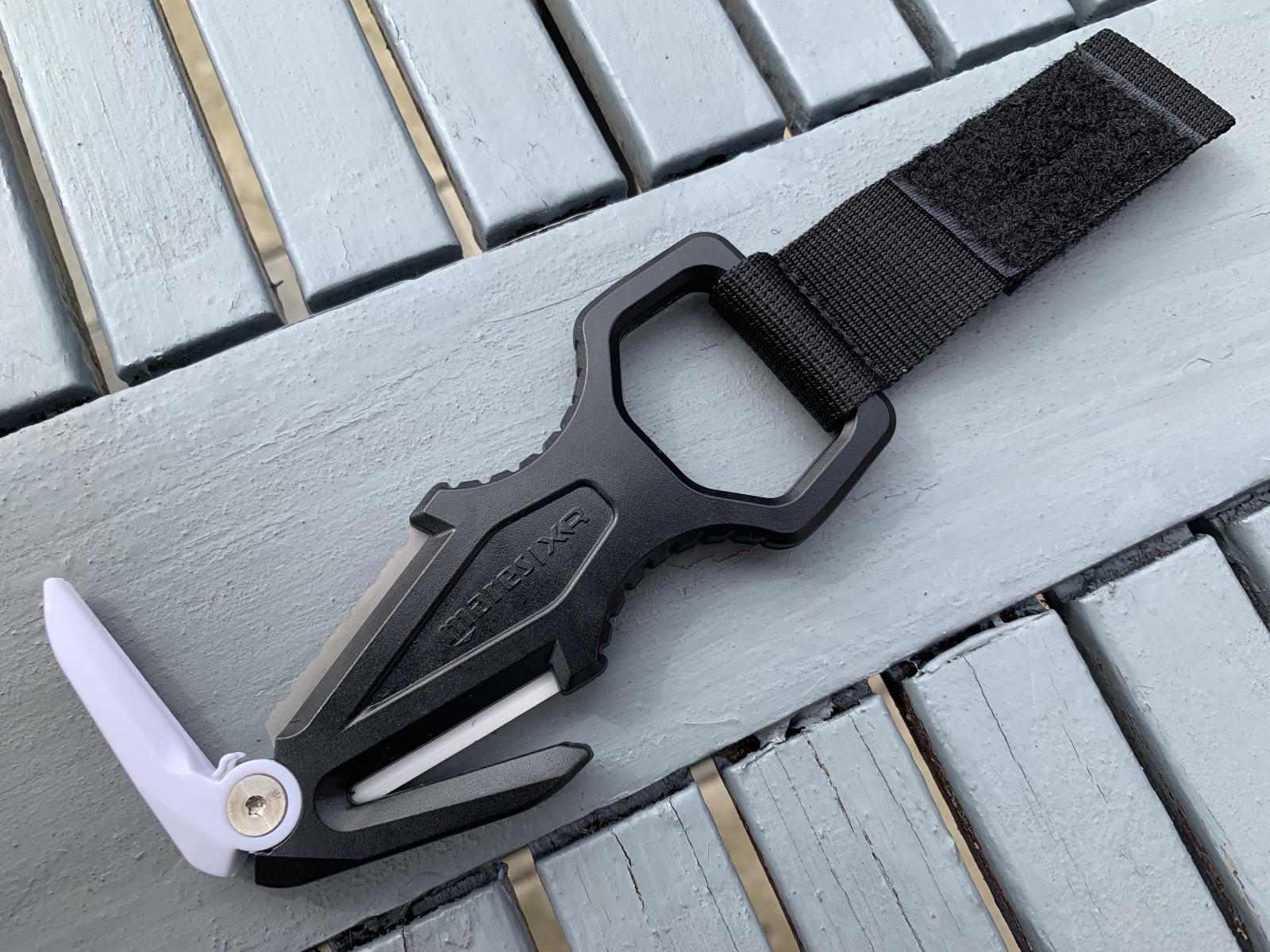 The styling of the Trilobite is also evident in this line-cutter from Mares. However, Mares being Mares, they have elevated it to another level with this 'B' version.
The 'B' version features a ceramic cutting blade on one side, which is ultra-sharp and needs no apres-dive care as it won't rust, and a military-grade titanium serrated blade on the other, which is safely behind a hinged protective shield. When you need to use it, you just flip up this shield and away you go.
There is also an 'A' version (£35), which more-closely resembles the Trilobite, and has a line-cutter on either side, but each of these blades is ceramic, so it will never rust and needs no after-dive care.
Both versions have a finger hole to aid deployment from its webbing sheath – which can attach anywhere on your BCD or wing – and a webbing 'hilt', but they also have generous thumb and forefinger grips so you can firmly hold it in use.
Well designed and with two very useful sections, it proved a formidable tool, slicing through every test product with ease and being easy to handle even with thick gloves on. Great as a primary or back-up cutting tool.
Eezycut Trilobite (SRO: £31.95)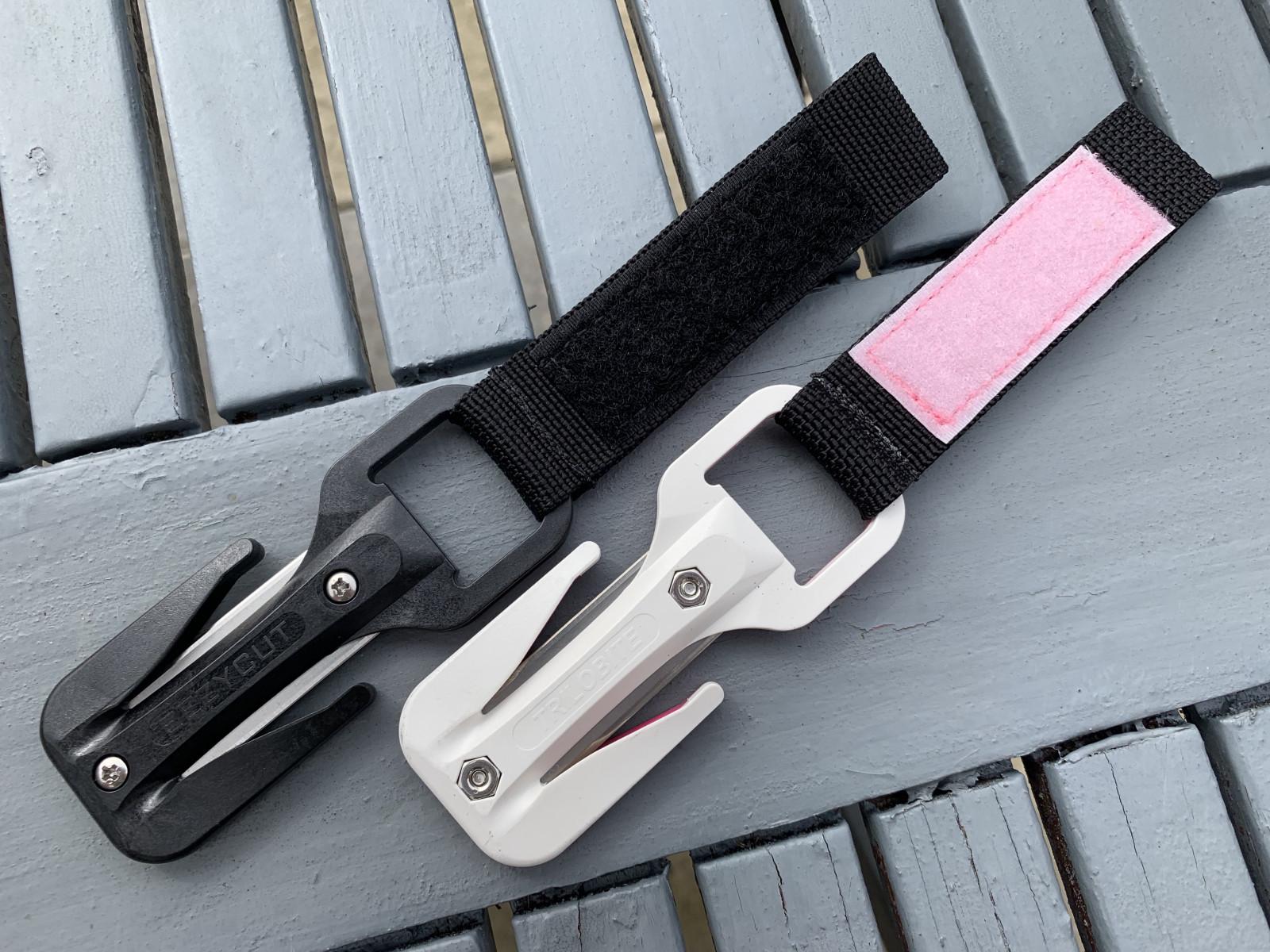 The Eezycut Trilobite turned the diving world on its head when it showed up, being an efficient cutting tool for line, thinner ropes (up to 8mm diameter) and webbing, but also being compact and durable. Since then there have been various pretenders to the throne, and while some have built on its basic design (like the Mares unit), there is no getting away from the simplicity and ease of use of the Trilobite.
The business end of the Trilobite incorporates two razor blades, one on either side, and in use you slot a forefinger through the hole and use the webbing as a 'hilt'.
Trilobites are available in a wide range of colours, including glow-in-the-dark, high-vis and phosphoresence.
The Trilobite comes with two spare blades and a sheath, of which there are various versions – a flexi pouch, a harness mount and a wrist mount.
In the test, it easily sliced through all of the test lines, ropes and webbing. The compact size of the Trilobite means it is the perfect back-up cutting tool, and so small you could mount a couple on your BCD/dive computer to be ultra-safe. Easy to use with bare hands and wearing gloves.
Scuba Diver Verdict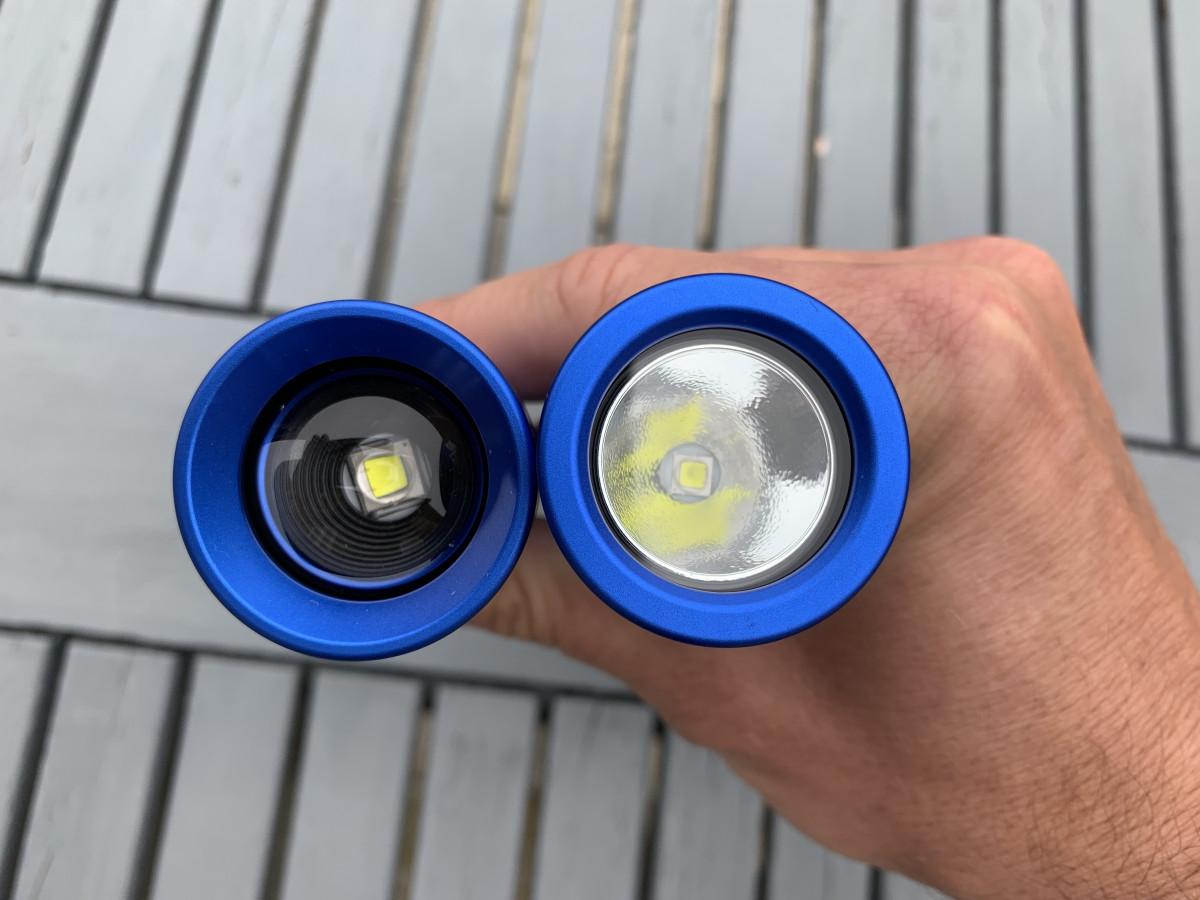 Dive knives and cutting tools should be carried by all divers, and I'd always suggest people should have two methods of cutting and slicing with them at all times underwater, as knives can get broken/lost/dulled.
The selection we had here can all be attached to your BCD and essentially forgotten about, just being there as and when you need them. I'd always say to give them a good rinse at the end of a dive trip and let them dry off naturally, and nothing beats a light coating of oil or grease on the blade to help prevent rusting or oxidisation. I tend to do this even on blades which shouldn't rust anyway!
The stand-outs were the Aqua Lung Squeeze Knives, which are compact, easy to use and very efficient. We were also impressed with the Eezycut Trilobite and the Mares Hand Line-Cutter B.
We gave the Choice award to the Aqua Lung Squeeze Knives and the Mares Hand Line-Cutter B, and the Best Value award to the Eezycut Trilobite and the Aqua Lung Micro Squeeze Knives.
Want to read more Scuba Equipment Reviews?
Our gear content is sponsored by Mike's Dive Store, the UK's premier dive retailer. For all your diving needs visit them in-store or online for your diving, freediving, snorkelling and servicing.