Scuba Diving In Koh Samui
Koh Samui and nearby Koh Tao are in the Gulf of Thailand, on the east coast of the Thai Peninsula. Diving Koh Samui ranges from granite pinnacles and rocky seamounts to vibrant coral reefs teeming with life. On fringing reefs covered in black coral, barrel sponges, sea fans and vibrant soft corals and anemones expect to see stingrays, eels, barracuda, and turtles. Keep your eyes out into the blue for whalesharks who frequent these waters.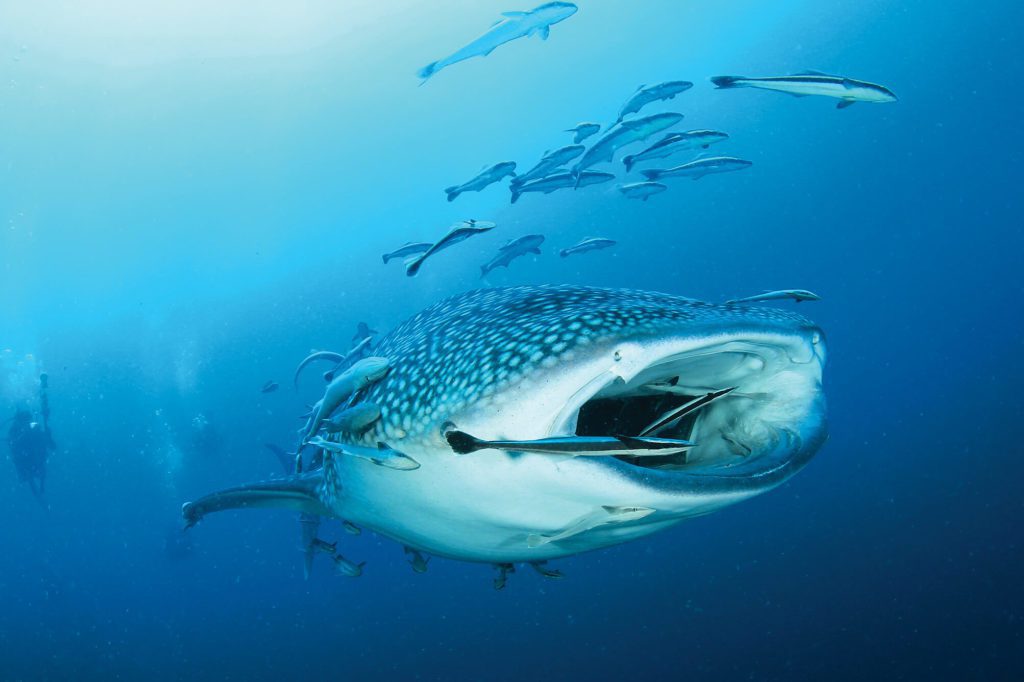 Sail Rock (Hin Bai)
This 30m submerged pinnacle is thought by many to be the best dive site in the Gulf of Thailand and one of the best sites for whaleshark sightings. With few other pinnacles nearby, Sail Rock is a fish magnet and the coral-encrusted pinnacle itself is a stunning sight. It's not just a site for big fish though, you'll find a plethora of colourful smaller fish darting in and out of the reef, with currents bringing in hunting trevally and barracuda.
Angthong Marine Park
Made up of 42 limestone islands, Angthong has several sea caverns, swim-throughs, overhangs, and sloping reefs. The marine reserve boasts incredible coral diversity, including abundant soft corals, barrel sponges, anemones, several types of black corals and sea fans. The marine life here is equally diverse, and you'll likely spot large snapper, blue-spotted stingrays, schools of fusiliers and yellowtail barracuda.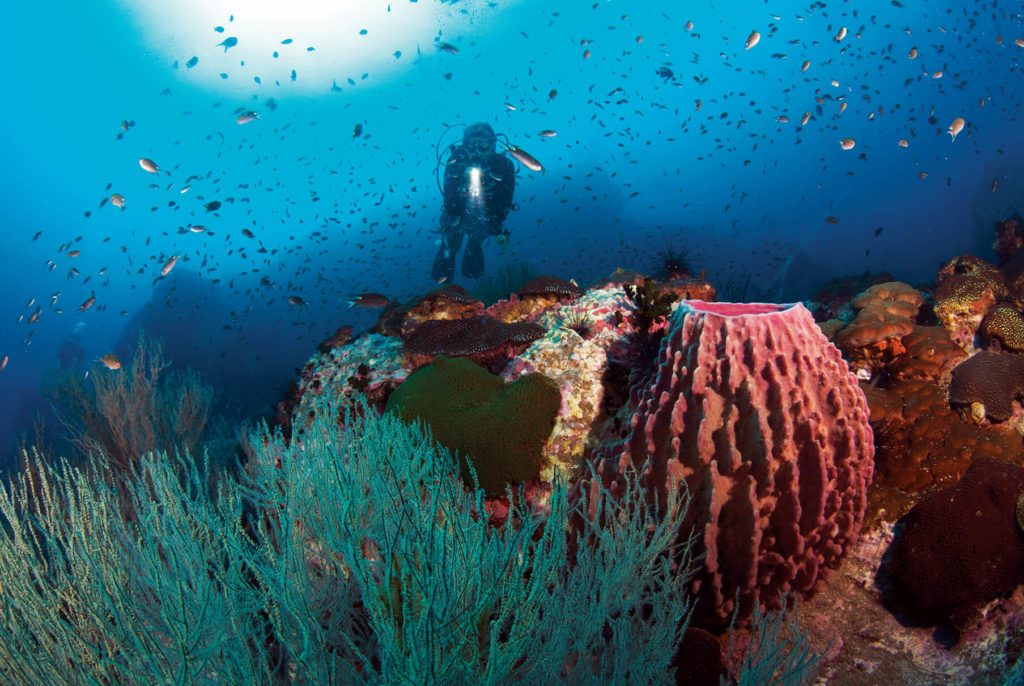 Chumphon Pinnacle
This is one of Koh Tao's most-famous dive sites and is located within reach of Koh Tao, Koh Phangan and Koh Samui. The site features a series of stunning granite, coral-encrusted pinnacles which are home to batfish, giant grouper, trevally and giant schools of both barracuda and snapper. The reef tops are covered in anemones of all colours, branching corals, sea whips and barrel sponges, and in the blue, the occasional whaleshark.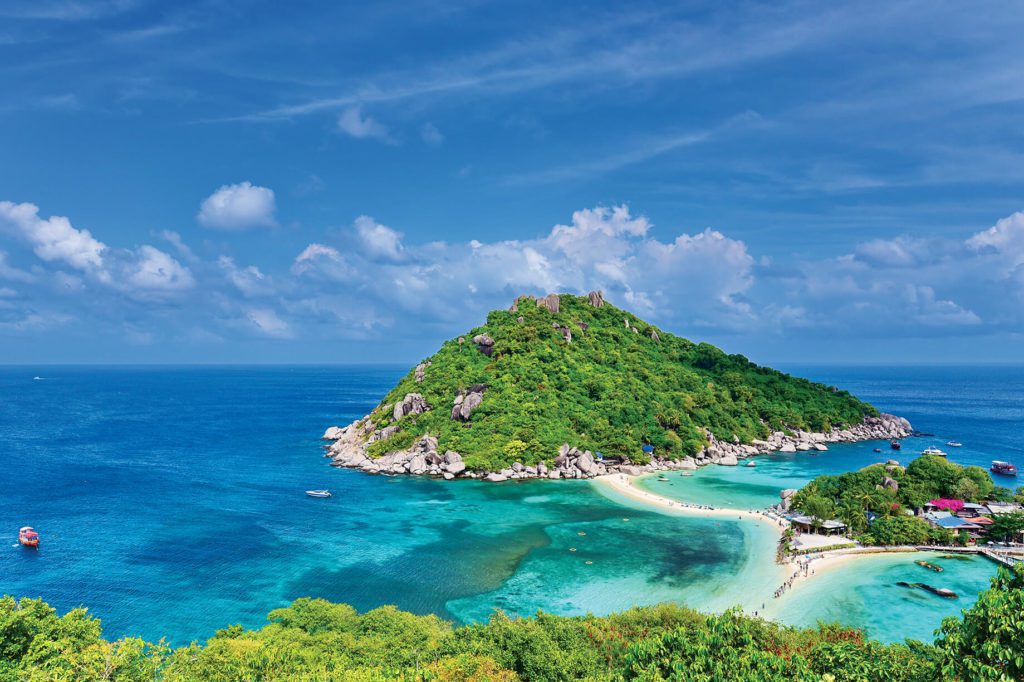 South-West Pinnacle
This series of rock formations range in depth from 4m to 30m, with a seafloor carpeted with anemones in brilliant greens, pinks, and blues. Leopard sharks and whalesharks are occasional visitors to the site, which is home to large schools of snapper, emperor and harlequin sweetlips, yellowtail barracuda and fusiliers.
Shark Island
This dive site is best known for its biodiversity. It features a wall, pinnacles, and a coral garden abundant with colourful soft corals. The range of marine life includes moray eels, angelfish, scorpionfish, pipefish, nudibranch, crustaceans, and an abundance of macro critters. At the drop-offs, you'll often see passing pelagics such as whalesharks, reef sharks and leopard sharks.
Topside Activities
Visit the Secret Buddha Garden
At the top of Pom Mountain, the Secret Buddha Garden is a sculpture park worth a visit. The garden was the beloved project of Khun Nim, a retired farmer who worked on it for 14 years until his death at the age of 91.
Take a Thai cooking class
Koh Samui has lots of cooking schools, most of which include a tour of the local market followed by guided instructions for making classic dishes.
Cooldown at Na Muang Waterfalls
These two waterfalls are located a five-minute drive away from each other and both very picturesque. Waterfall One is easy to access and has a wide natural pool that is perfect for swimming. Getting to Waterfall Two requires a little climbing, but the view from the top
is worth the effort.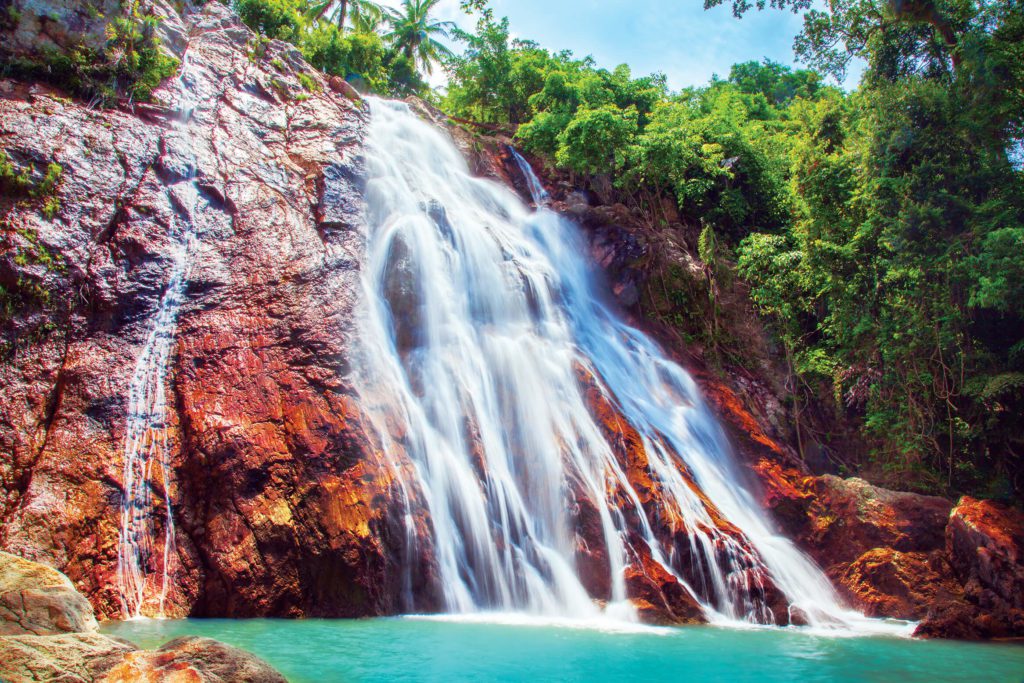 Divers Guide To Koh Samui
Climate – Koh Samui has a tropical climate and is warm all year-round with average temperatures of 28-32°C. The hours of sunshine per day depends on the time of year, and averages at around seven hours.
Water Temperature – Average water temperature in Koh Samui is between 28 to 30 degrees C and tends to be slightly warmer between April and September.
When to dive – Koh Samui enjoys stable conditions throughout the year, with the official rainy season between October and December. Whalesharks cruise into the deeper pinnacles through all seasons but are most likely to appear in April-May when the plankton levels are higher.
Find more inspiration for your dive trips this year in the Ultimate Divers Guide. Register on the website to read your free copy.
Meet The Thailand Operators