Scuba Diving In Phuket
Located on the west coast, Phuket is one of Thailand's southernmost regions. Known as the Pearl of the Andaman Sea, this large island has many beautiful beaches and is the gateway to some of the best diving in Thailand.
Diving in Phuket is diverse, everything from shallow fringing reefs to dramatic drop-offs and pinnacles, impressive granite walls, wrecks, caves, and tunnels. It's also the main departure point for Thailand's liveaboards, which head north to the Similan and Surin Islands, and south to Koh Ha, Hin Daeng (Red Rock) and Hin Muang (Purple Rock).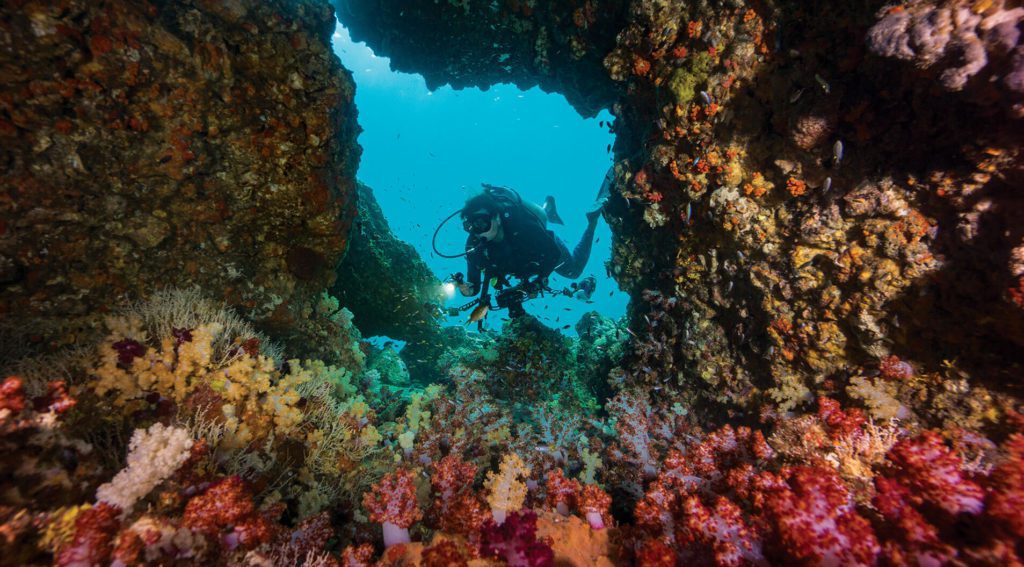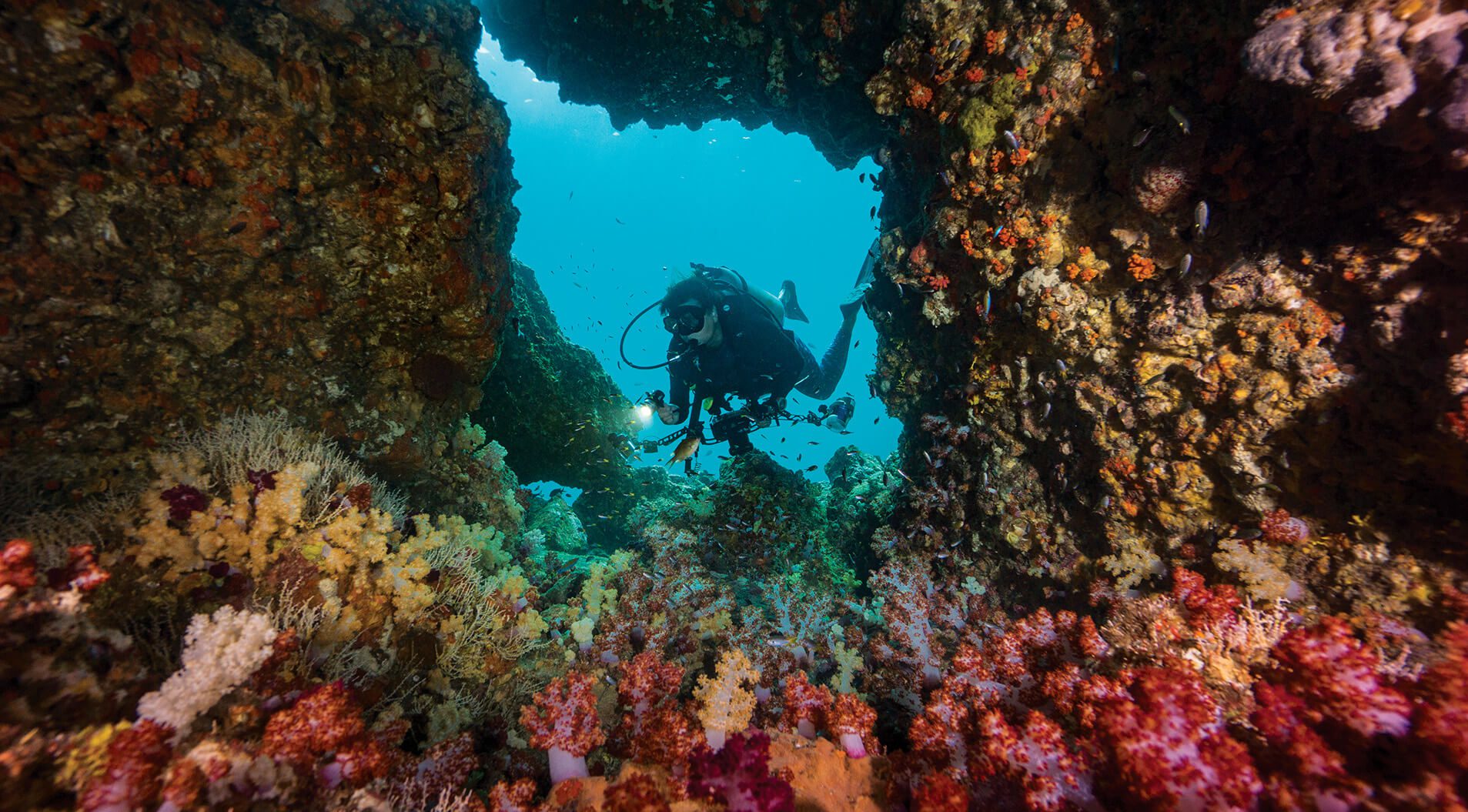 Shark Point, Phuket
Protected as a marine sanctuary since 1992, the site boasts incredible biodiversity. This tall pinnacle is encrusted with vibrant hard and soft corals. Expect to see lionfish, moray eels, hordes of kaleidoscopic reef fish and leopard sharks resting on the sandy sea floor.
King Cruiser Wreck, Phuket
This passenger ferry sank in 1997 and now attracts hordes of schooling fish including snapper and barracuda. Inside the wreck, you'll find nocturnal species that enjoy the shaded areas, including lionfish, moray eels, scorpionfish, spiny lobster, and other crustaceans.
Hin Daeng (Red Rock) and Hin Muang (Purple Rock), Southern Andaman Sea
Hin Daeng is a tall pinnacle, encrusted in soft corals in various shades of red and is simply teeming with life.
There are frequent sightings of mantas and the occasional whaleshark. At Hin Muang, you'll find Thailand's highest vertical wall, adorned with vibrant purple soft corals.
Koh Ha (5 Islands), Southern Andaman Sea
This circle of islets, 25km west of Koh Lanta, is stunning above and below water. Tall limestone karsts tower above you, and underwater, everything has a thick coating of vibrant soft corals as you weave through a series of dramatic caverns and swim-throughs.
Hin Pusa (Elephant Head Rock), Similan Islands
This site gets its name from a rock that sticks out of the water and resembles a half submerged elephant. Its huge granite boulders have created a myriad of amazing swim-throughs, tunnels and caverns. You will likely spot whitetip reef sharks and leopard sharks, and look in the sand for the purple fire gobies and the rare McCosker's dwarf wrasse.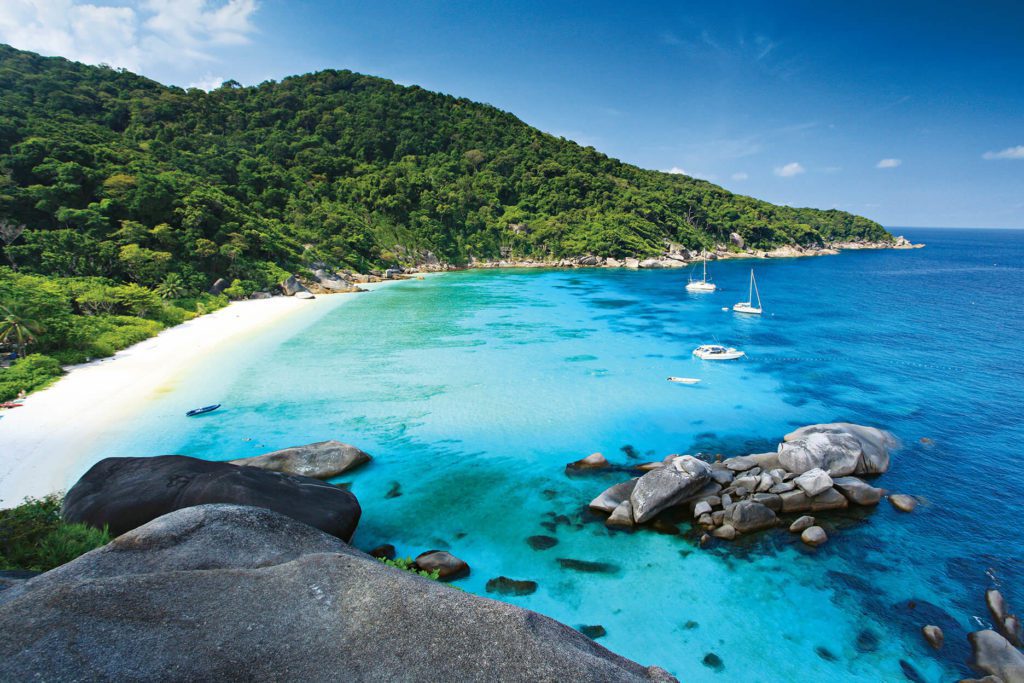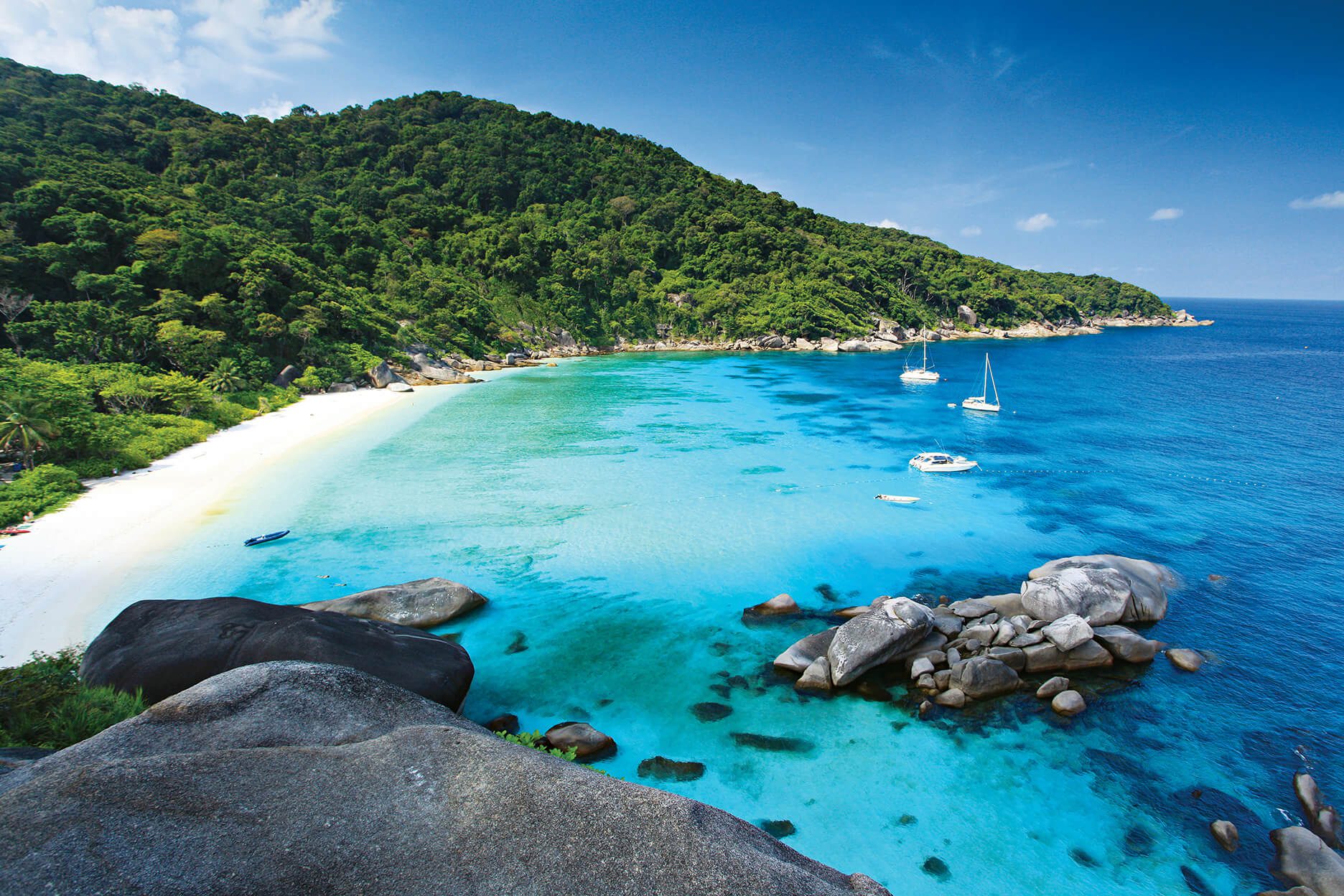 West of Eden, Similan Islands
In this garden of coral bommies, you'll find yourself surrounded by angelfish and snapper, look in the crevices for spiny lobster, anemones and moray eels. As you head deeper, passing enormous gorgonian fans, you'll find mantis shrimp, ribbon eels and small banded pipefish.
Richelieu Rock, Surin Islands
Thailand's most famous dive site is a horseshoe-shaped pinnacle covered in vibrant coral and marine life – it's an underwater photographer's dream. You may find a tiger-tail seahorse, harlequin shrimp, or ghost pipefish. You'll often see resident pharaoh cuttlefish mating here, flickering as they change colour to impress their mate. Above, barracuda hang in the currents and from mid-January to mid-March keep an eye on the blue for whalesharks.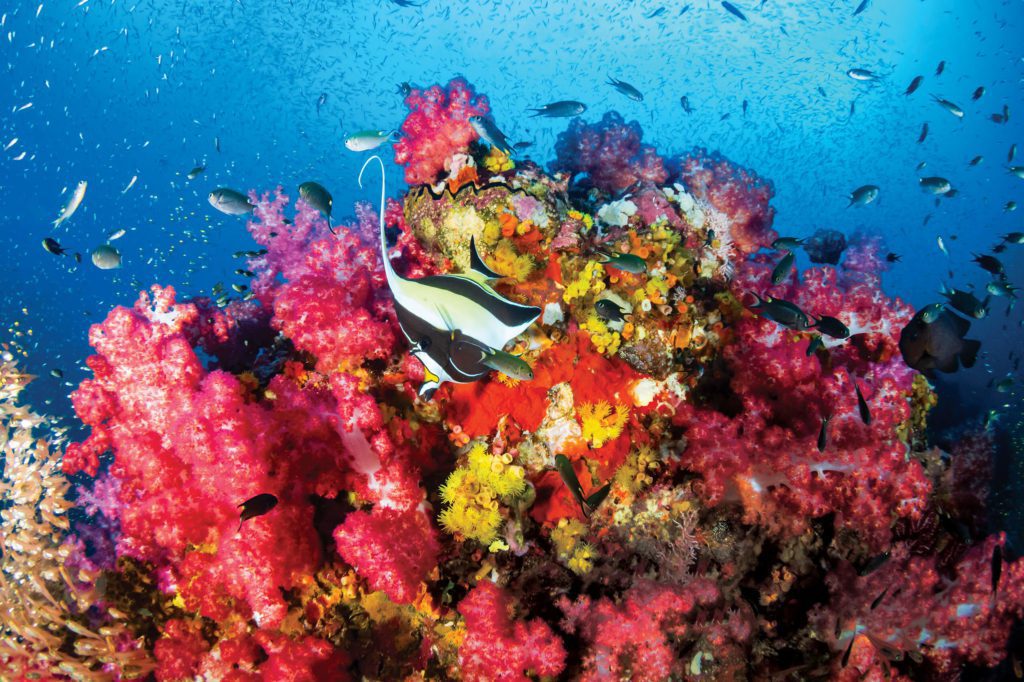 Divers Guide To Phuket
Climate – It is warm in Phuket all year round with temperatures ranging between 25 – 34°C. Phuket's weather is dictated by the tropical monsoon, with the dry season from November to May and the wet season from May to October.
Water Temperature – The average water temperature in Phuket ranges between 28 and 31 degrees C, with warmer water between March and July.
When to Dive – Phuket can be dived year-round, but the best conditions are experienced in the dry season between October and April. The Similan and Surin Islands National Marine Park is only open for diving from November-May. Visibility ranges from 25m-40m. The best time to encounter whalesharks is from mid-January to mid-March.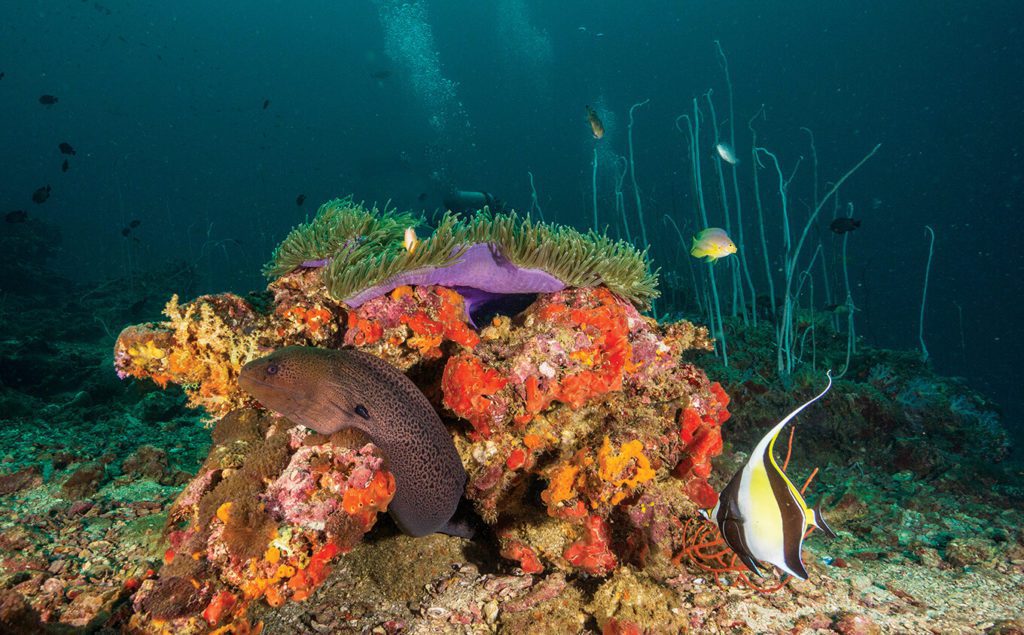 Topside Activities
Explore Phuket Old Town – Phuket Old Town is a pastel-coloured historic neighbourhood, the remnants of the island's colonial past. Phuket used to have a thriving tin-mining industry, so Sino-Portuguese, Chinese and Malay immigrants flocked here to make their fortune.
Kayak through Phang Nga Bay – Take a day trip to Phang Nga Bay, famous for the striking limestone island that featured in a James Bond film, and kayak the emerald waters dotted with limestone karst islands.
Visit Phuket Elephant Sanctuary – Phuket Elephant Sanctuary is an ethical elephant sanctuary, where elephants roam around, bathe and socialise freely across 30 acres of lush, tropical land bordering the Khao Phra Thaeo National Park in North East Phuket.
Find more inspiration for your dive trips this year in the Ultimate Divers Guide.
Meet The Thailand Operators