Where I'm from, drysuits are pretty much a staple for diving year-round, and they're a fantastic tool for a scuba diver for insulation and buoyancy control.
And while the name drysuit can be optimistic at times, I spend most of my time underwater inside one, so let's dive straight into my top 10 scuba drysuits for 2022.
Video on what is a Drysuit
Best Budget Drysuit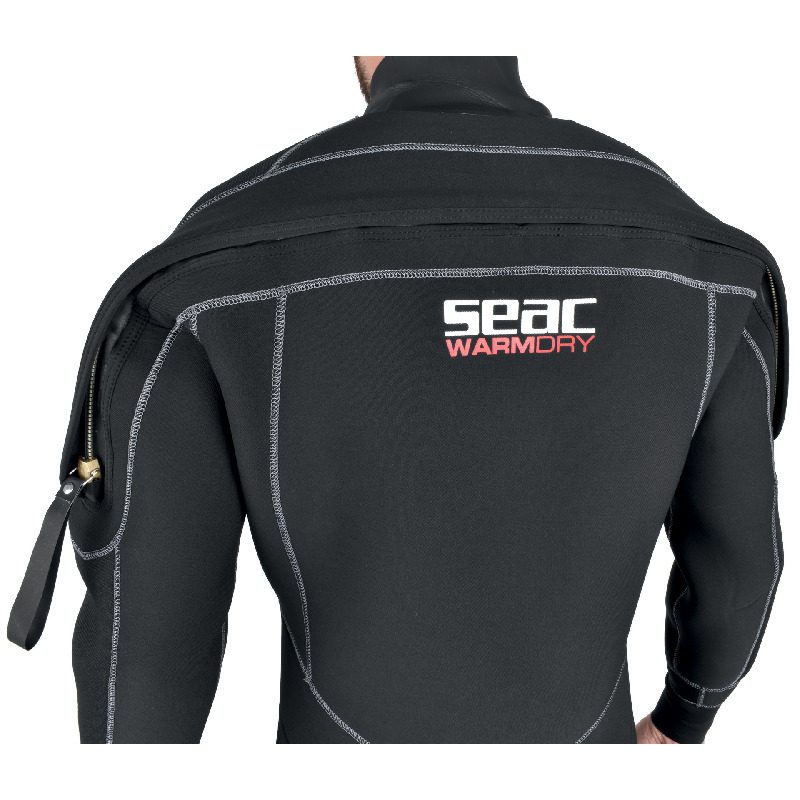 If you're on a budget but you still want to stay dry or mostly dry, let's be honest, I really like the Seac WarmDry. Now, I could have just searched for a scuba drysuit and chosen the very cheapest option out there. But, I'm after the best budget drysuit, and for what you pay, the WarmDry does give you a lot of drysuit.
It's neoprene, so it's tough and insulating, and a great feature that you don't always see on cheaper suits is a thigh pocket. It's not an amazing pocket but it's still somewhere to store some gear.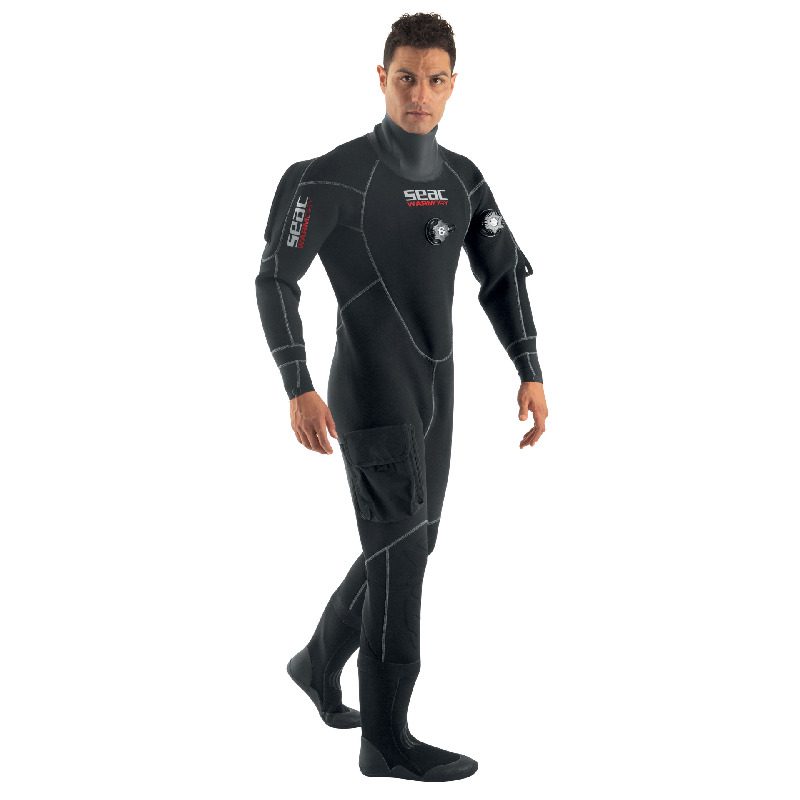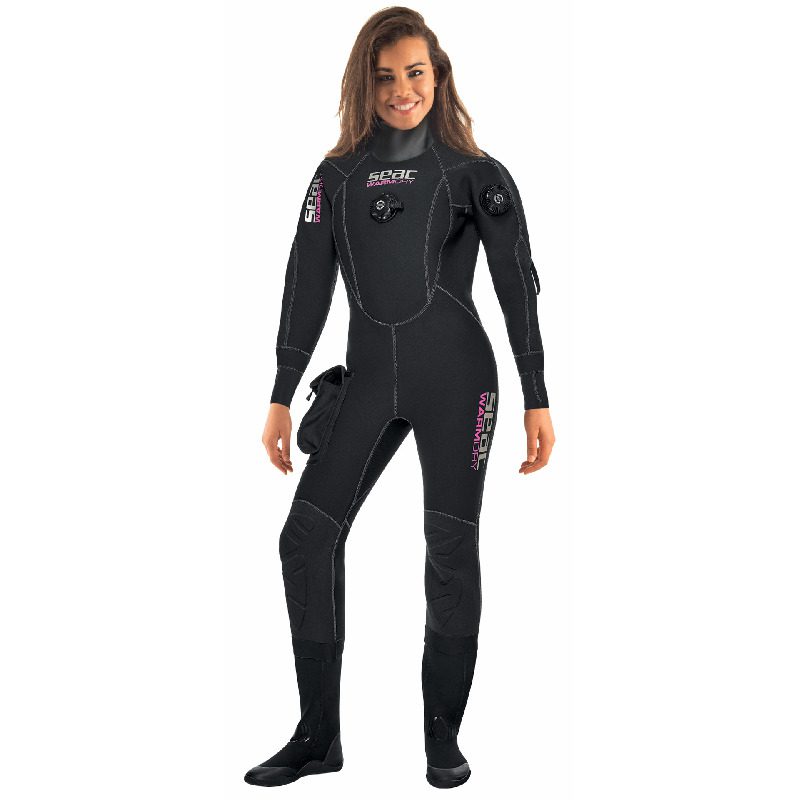 Both men's and women's cuts with forgiving neoprene, and the neoprene boots are flexible around the ankles for great freedom of movement for whatever fin kick. You don't get a lot of fancy accessories that you often get with other drysuits; you get the bag, the suit, a hose, and I think a hood, but if all you want is a drysuit for diving in colder waters, the WarmDry will do the job.
Best Premium Drysuit
The Waterproof D1X. The way that most scuba drysuits work is you have the drysuit as a waterproof shell and wear an undersuit under that that actually provides the insulation.
Waterproof turned to one another and said, "why don't we just make a drysuit with a built-in undersuit" I mean, it was probably in Swedish, and I wasn't there. But, they made the D1X, that alone is a beautiful, tough drysuit with great thigh pockets.
But, add inside of that an internal mesh undersuit layer that is crush resistant, meaning that your body weight doesn't squeeze the insulating air out of key areas, and you have the perfect insulating drysuit.
And the suit, as I said earlier, is made from really tough material, so you don't have to worry about ruining your new investment because you brushed against something. It is a buoyant suit, more so than neoprene, and it does weigh a fair bit, but if you want a really fancy drysuit, you want the D1X.
Front Entry Drysuit
Santi had to find its way onto this list somewhere, and their top drysuit is the E.Lite Plus. E.Lite is made to be tough, and the E.Lite Plus is made to be tough where it needs to be and flexible everywhere else.
Made with two different exclusive materials, the E.Lite Plus is the best of both worlds and resists abrasions in the classic areas for a long lifespan and demanding dives.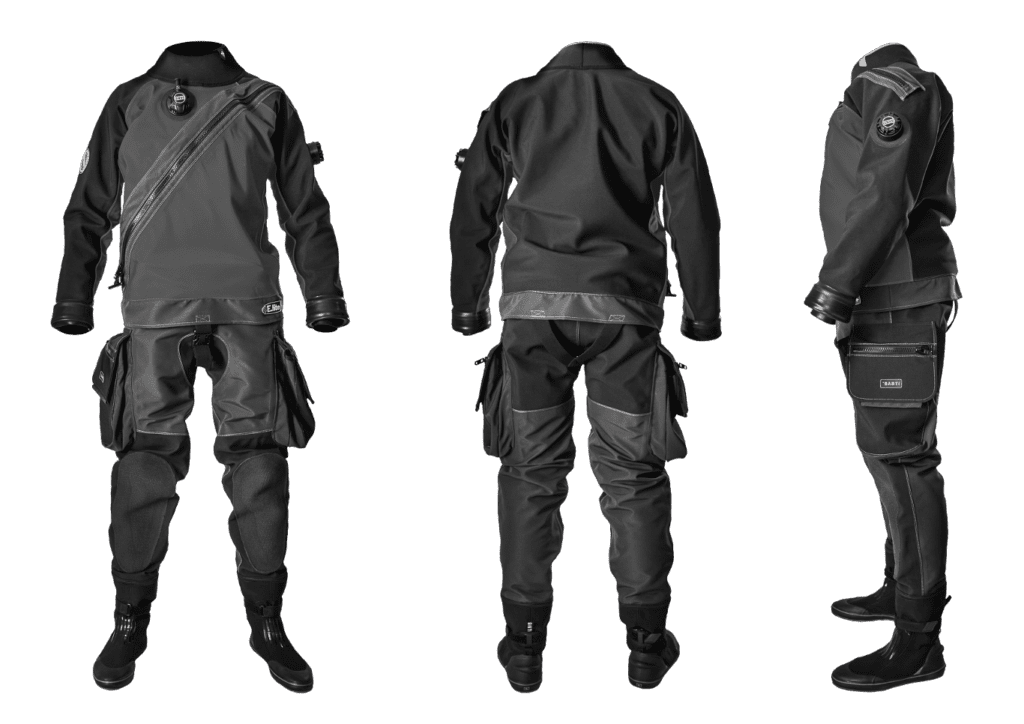 You also get a choice of the colour of certain panels to customize your drysuit and personalize it a bit more than a lot of off-the-rack drysuits.
It may take a little longer, but you know that the drysuit has been made specifically for you, and you do get that new drysuit smell. Which is quite a potent adhesive, don't breathe it in too deeply.
Back Entry Drysuits
For a back-entry drysuit, I like the Exodry from Scubapro. The Exodry is very similar to the Everdry, which was always a popular drysuit.
But, the Exodry has latex seals that most divers tend to get on better with, and it's made with Scubapro's X-Foam 4mm Neoprene, limestone-based neoprene, so it's soft and flexible and better for the environment.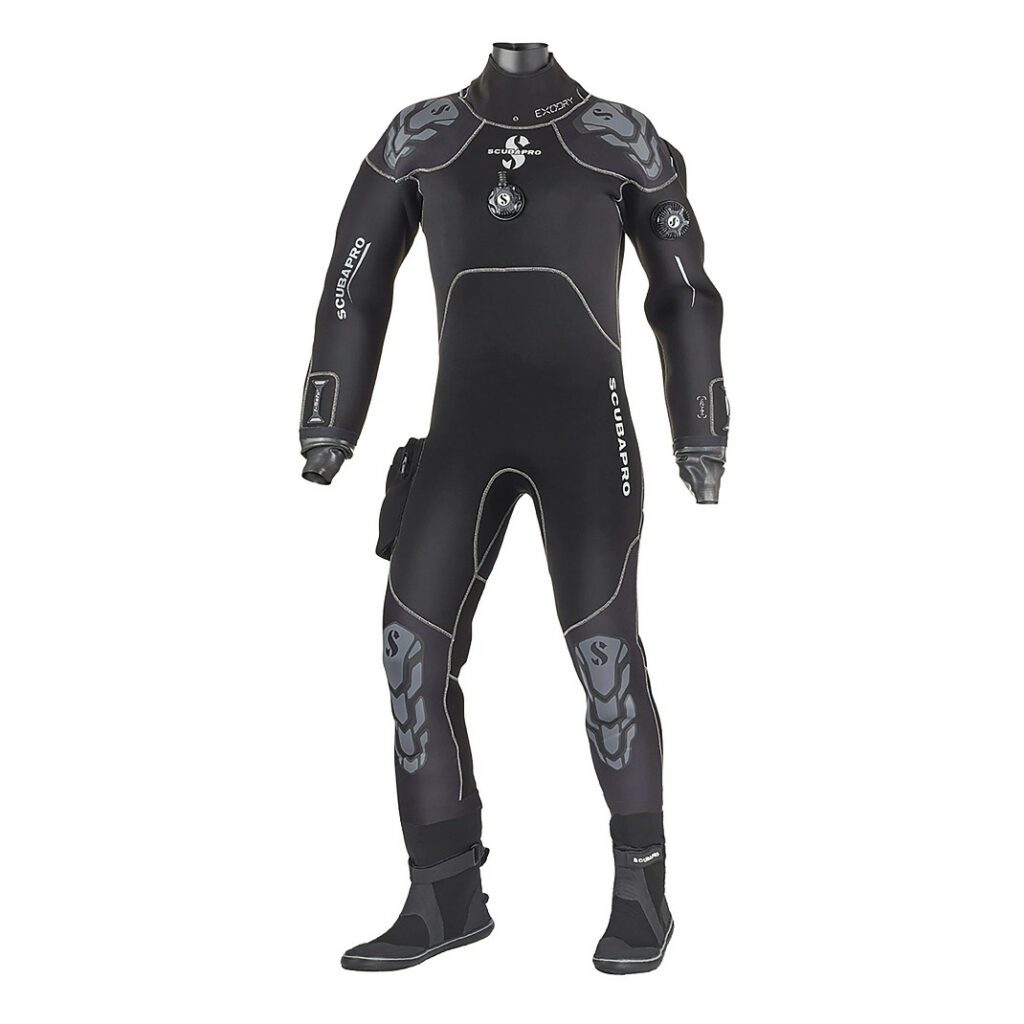 Single thigh pocket, soft tech boots and Scubapro's computer wrist straps that you can tuck the computer's wrist strap underneath so your computer stays in place and won't slip off your wrist or around your arm. Scubapro has always been good at making neoprene with a premium feel, so if you want a good neoprene drysuit that feels more like a wetsuit, look at the Exodry.
Customisable Drysuits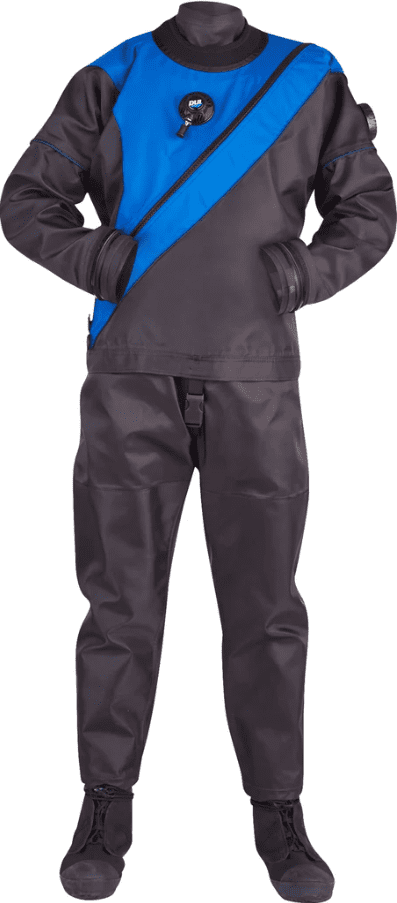 If you have a particular look in mind that you can't find off the rack. Then DUI should probably be on your list. DUI has long been known for allowing you to choose what colour your drysuit is and you can build some funky drysuits with pattered material if you want to stand out on the dive boat.
The drysuit itself is part of DUI's premium range and is used by professional divers in all sorts of underwater professions because it has a great mix of durability and flexibility so that you can swim wearing the suit and it can take a lot of abuse. But, for the best choice of colours and patterns, it's hard to beat DUI.
Article from Divernet
Flexible Drysuits
One thing that many scuba divers find with exposure suits is that they're restrictive. The Fusion Bullet from AquaLung is a clever design previously from Whites and similar to the D1X in that you effectively have two suits on one.
The internal suit is your dry layer, and it's purposely made a bit big for the size so that you have some room to bend and stretch. But that would be a nightmare for a dive as the baggy suit would trap air pockets in weird places and catch on things in the water.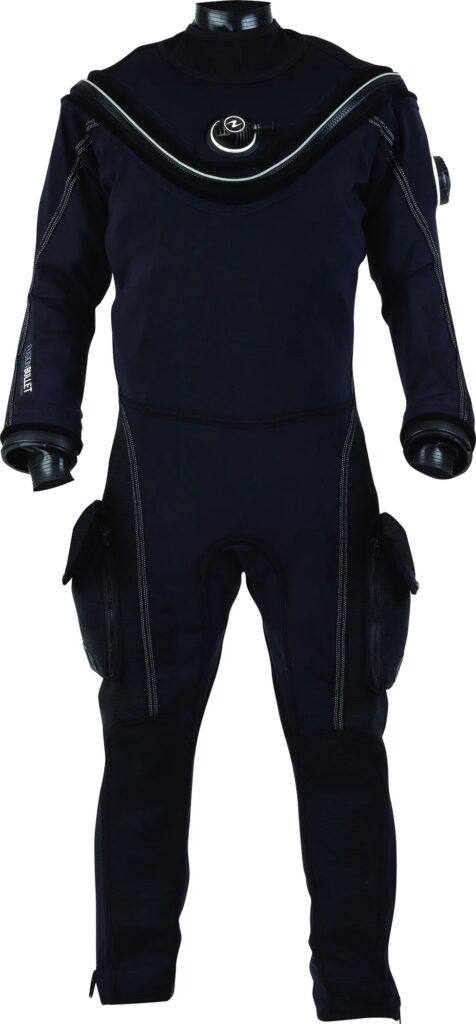 And that's where the external suit comes in. The external suit is more form fitted and holds the excess material in to keep it streamlined but still allowing you to move.
It's a bit of a faff to actually don, but once you're in, it feels like no other drysuit you've worn before. It also has a brass U zipper which can be a little tricky to do by yourself, but once you're in, you're very comfortable.
Drysuits for Commercial Diving
Commercial diving is very different to recreational diving, and as a commercial diver, your needs skew more towards protection than flexibility. Now, if you're diving in nasty water, then you'll want something like a Viking, but for non-toxic waters where you want a warm suit to protect you from long stationary dives, then the O'Three Port10 was specifically made with commercial dives in mind.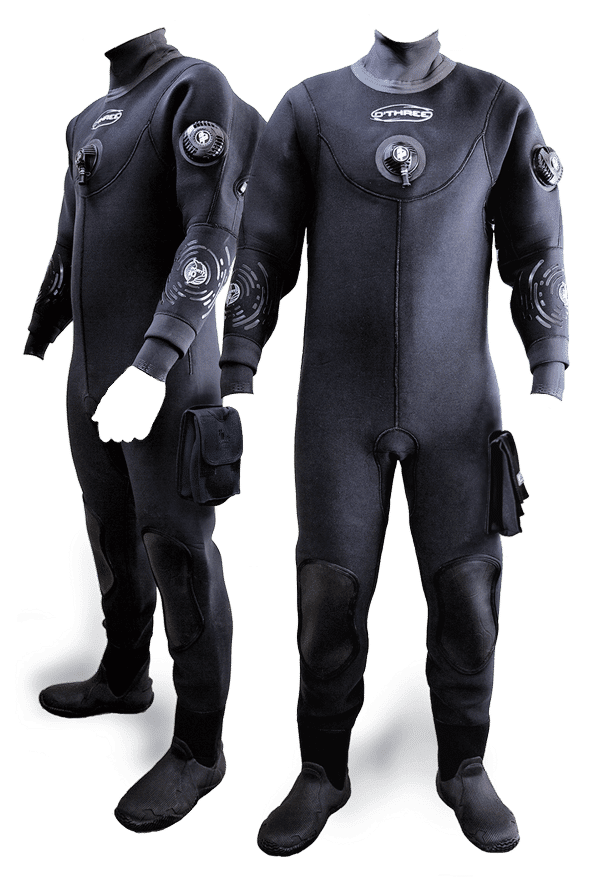 It's made to be worn for long periods with reliability built in so that you never miss out on a dive. O'Three also has a great reputation for looking after its divers.
It's not bonkers expensive, either. Normally with a lot of really tough gear, you just add a zero to the price tag but not with O'three; they're great value for money.
Breathable Materials
One thing that many divers find when they spend a lot of time inside a drysuit is that their sweat has nowhere to go inside the suit, so things can get quite fragrant.
Today, we now have breathable materials, and you can find them on the Fourth Element Argonaut.
And the clever thing about the Argonaut is that you can either have the entire suit made from this breathable material. Or you can have it half and half.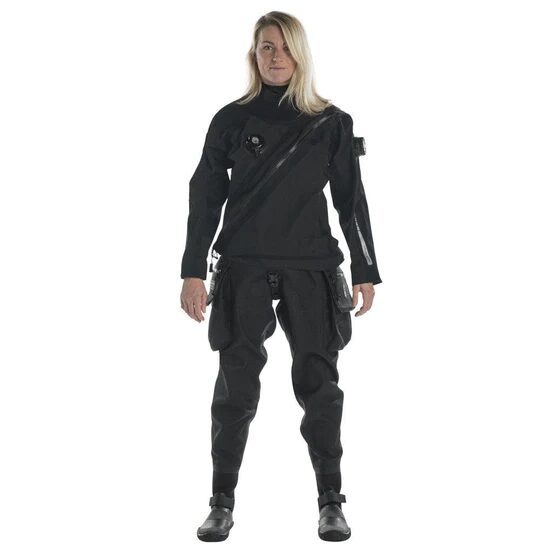 So, your top half is breathable and keeps you in a more pleasant environment inside your suit, and the lower half of the suit is made from their flex material; best of both worlds, and with Fourth Element's drysuit builder, you can spend your time at home choosing parts and building the perfect drysuit for you and then send the specs to your dive centre, very modern.
Travel Drysuits
For the travelling diver who needs a drysuit, you can now buy travel drysuits. The Otter Ultralite, as you can probably imagine by the name, is made to be as lightweight as possible. Instead of heavy and bulky membrane they use thinner and flexible Rip Skin material and tailored on the Brittanic 2 drysuit design, which is one of their most popular all-rounder suits.
The Ultralight still has everything that you'd expect to see on a drysuit from a telescopic front entry so you can get in and out of it all by yourself, reflective strips to help you be seen in the water and thigh pockets to store your essentials. And Otter has a great reputation for build quality, and you'll see a lot of advanced divers wearing their brand.
Be Seen – Drysuit Colours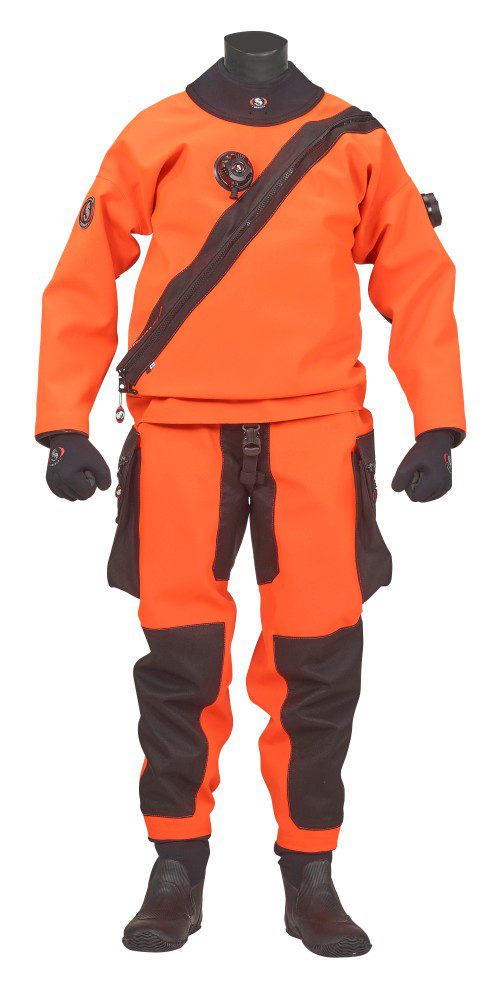 Most drysuits are dark colours, other than the DUI and Santi E.Lite we mentioned earlier. Being seen in the water can be tricky. But one suit you will never miss is the Ursuit Softdura Orange. Dayglo Orange, basically head to toe, will help your buddy find you in the water, and boats will see you on the surface.
The suit itself is top-notch as far as features and build quality. Like most front entry suits, a telescopic torso makes it easy to don and doff and stretch when you need to, and it has a pair of great pockets where you can store and organize your gear.
If you've found this helpful at all and you're going to purchase a new drysuit, then consider using our affiliate links which help us with a small commission.
I'm also starting up the podcast again for those who are interested. For ease, it will probably start with Q&As, but if there's anything that you'd like from the podcast, by all means, let me know in the comments.