Shearwater NERD 2
The world's first near-eye remote display for scuba divers the Shearwater NERD has been redesigned for enhanced flexibility and reliability. In addition to the DiveCAN and Fischer versions, open circuit divers can now experience the freedom the NERD 2 has to offer. The universal regulator mount allows divers to secure the NERD 2 to their second stage, and the combination of the Micro LCD display and the magnifying lens makes the data appear as if you were looking at it on a 25-inch TV four metres away. It is powered by a rechargeable lithium-ion battery.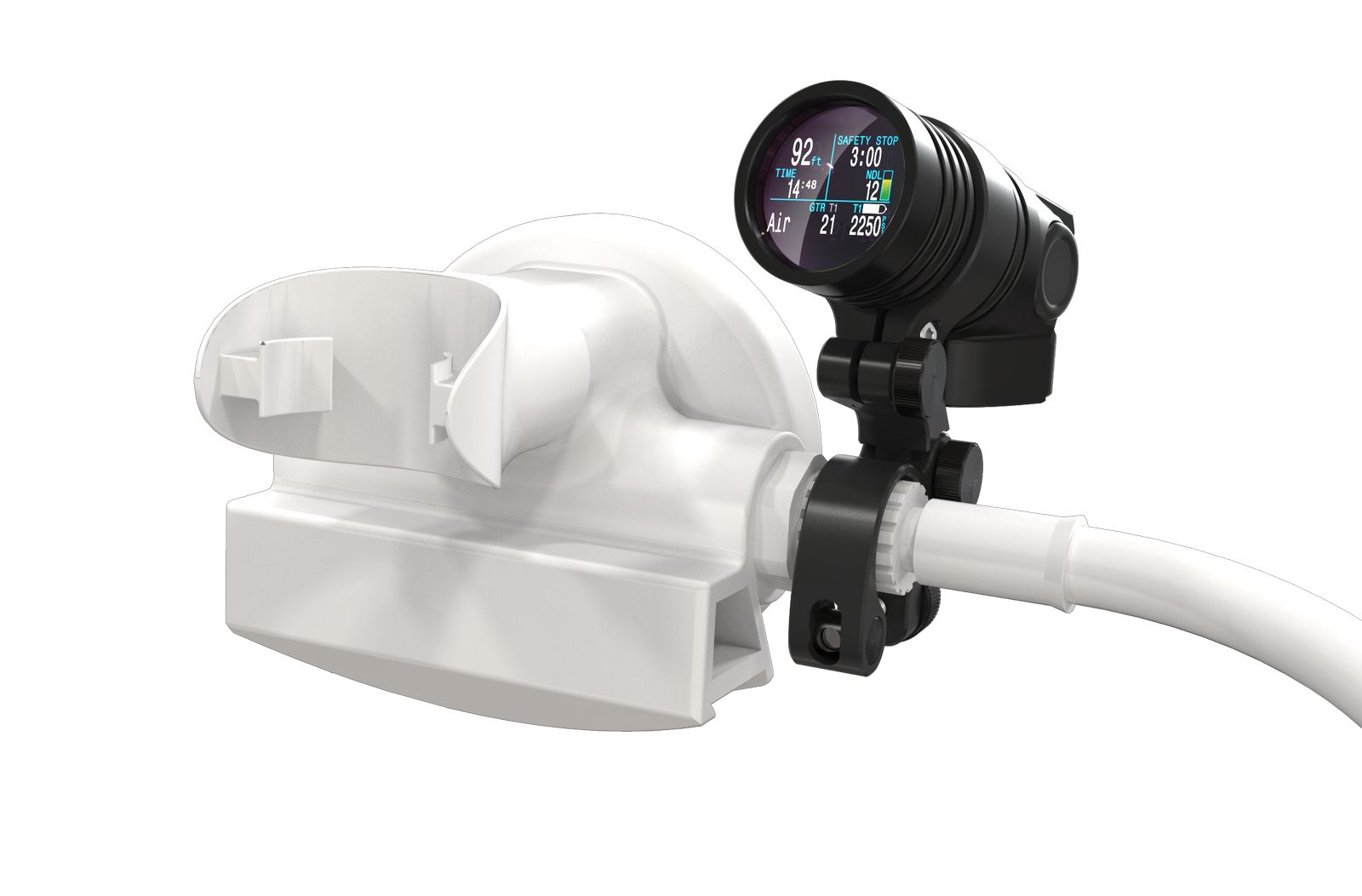 I have now got two dives on the Shearwater NERD 2 under my belt, and I am still finding it hard to get my head around just how well it works. It is a tiny little unit, and looking at the screen on land, it seems positively minute, but once it is set up right on your reg and positioned correctly, when you view it underwater, the screen details are all just so clear and easy to read. It is just so handy being able to see all your dive info with just a shift of your eyes.
The obvious candidates for purchasing a Shearwater NERD 2 are underwater photographers, as it is just so handy having all of your essential dive data available with just a shift of your eyes – there is no glancing at your wrist, or fishing around for a console, while you are in the midst of stalking some rare subject matter, for example.
However, I can also see regular divers seeing the benefits of having their dive data right in front of their eyes, it just requires a brain shift from the norm of computers being wrist or console-mounted.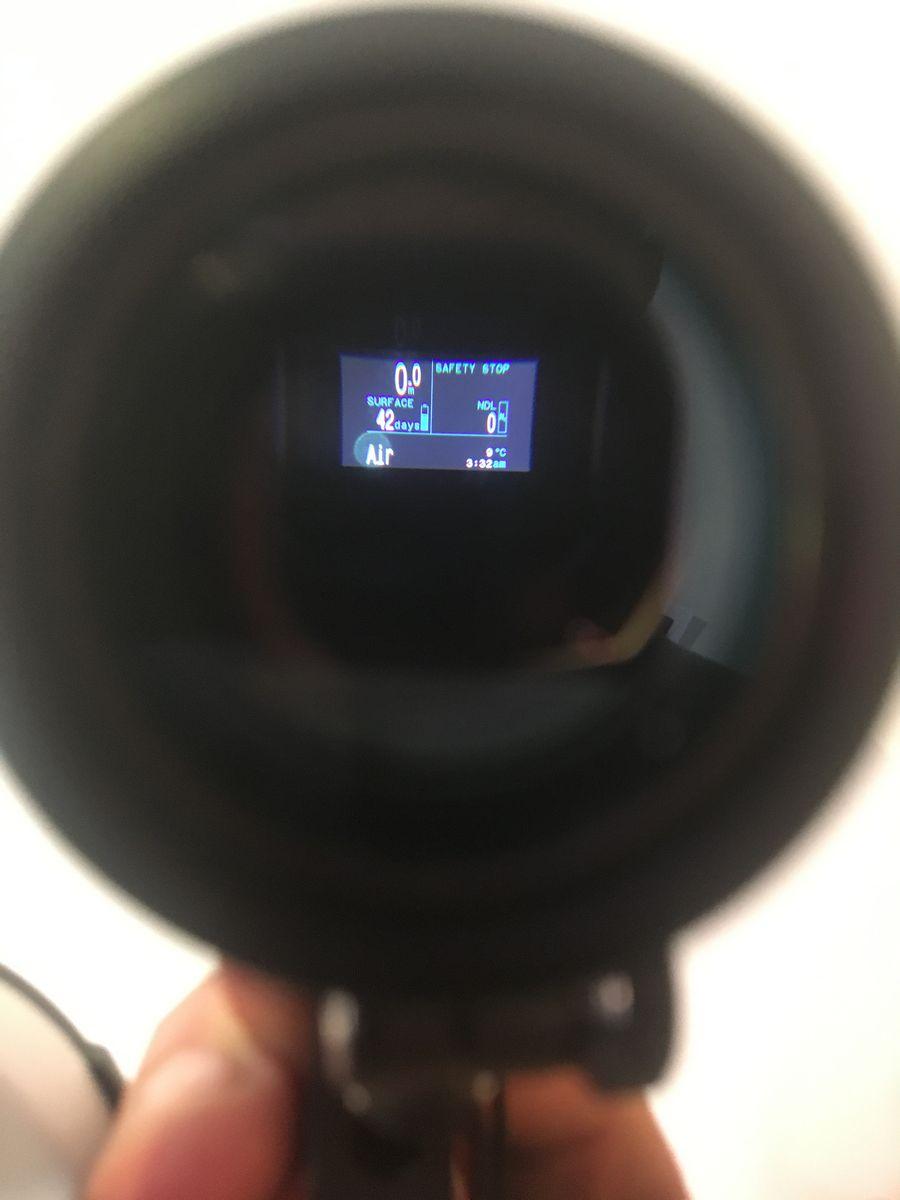 I am really becoming quite fond of the Shearwater NERD 2 now, and being able to see all of my essential dive data with just a glance of my eyes makes life so easy. The unit is very compact, yet the buttons on either side are very easy to locate and operate even wearing thick neoprene gloves.
However, while I would have no issue diving with the Shearwater NERD 2 from the shore or out of a hardboat, I would be a little more reticent about taking one diving from a RIB, or in a zodiac from a liveaboard, purely because of the way all of the BCDs and regulators get slung in a pile on top of one another at the end of a dive. Not sure I would want nearly £1,500 worth of dive computer being crushed under cylinders, or the errant feet of divers scrambling on board.
The Shearwater NERD 2 is a very compact dive computer – as it needs to be, being mounted on your regulator and sitting right in front of your mask. However, despite being relatively dinky, navigating around the intuitive menus by operating the two buttons – which are much the same as on the wrist-mounted Perdix AI – is very easy, even wearing drygloves or thick neoprene gloves.
We become accustomed to what we are used to, and for me that meant a wrist-mounted computer. I am just used to glancing at the inside of my left forearm to get my dive data from my Shearwater Perdix AI. However, the innovative Shearwater NERD 2 just turned that all on its head as it presents that information right in front of your face. It felt odd for a short while, but it soon became second nature to just alter my focus and – heh presto – all my dive info was in front of me. Awesome for photographers, but a useful bit of kit for any diver.
Check out the Suunto EON Core review
Our gear content is sponsored by Mike's Dive Store, the UK's premier dive retailer. For all your diving needs visit them in-store or online for your diving, freediving, snorkelling and servicing.