As Luke was nearing his tenth birthday and bugging us about doing his Junior Open Water Diver course, our initial idea was to do a referral in the UK and then conduct his open water dives in the Egyptian Red Sea, but with one thing or another, weeks became months, and we could just never co-ordinate the trip. Then, as was mentioned last month, with the DEMA trade show being held in Orlando at the end of 2017, and Team Scuba Diver already deciding to combine a family trip with the work excursion, it made sense to tie Luke's JOW in with this holiday.
As it happened, my wife Penney used to be the centre manager at Captain Slate's Atlantis Dive Centre (www.captainslate.com) in Key Largo, and with many of the dive sites in John Pennekamp Coral Reef State Park being 6-8m or less, it was the perfect combo for a novice diver. A few emails to Slate and it was all arranged – to say Luke was excited is a bit of an understatement! He blasted through his pool work and theory on the referral with Robin Hood Watersports and was busy scouring the internet for what marine life he was going to see on his open water dives.
The Florida Keys
Slate has recently relocated his dive centre – now known as Captain Slate's Scuba Adventures – from Key Largo to Marathon, a short distance further south down the famous Highway One. Captain Slate's is one of the oldest established dive centres in the Keys, and runs a fleet of boats offering snorkelling trips, recreational dive trips, a wide range of courses from PADI, SDI/TDI, NAUI and SEI, and specialty trips including the world-famous Creature Feature. Slate can even conduct your wedding – above or below water!
Slate is a larger-than-life character, a living legend in the US diving community, who has been diving for more than 50 years, and he was delighted to welcome his old staff member back, complete with dinky diver in tow. He had secured PADI Course Director and Public Safety Diver consultant Kevin Angelilli as Luke's instructor, and as with Chris Waites at RoHo, our son instantly bonded with Kevin and listened intently to every instruction.
The John Pennekamp Coral Reef State Park was established way back in 1963 – becoming the first undersea park in the United States – to protect and preserve a portion of the only living coral reef in the continental US. The Park – and the adjacent Florida Keys National Marine Sanctuary – cover approximately 178 nautical square miles of coral reefs, seagrass beds and mangrove swamps.
Many of the dive sites are less than 12-14m deep, and the majority of the more-well-known sites are 6-8m. All of the sites are absolutely teeming with marine life, including shoals of grunts and snapper, angelfish, parrotfish, butterflyfish, sergeant majors, stingrays, moray eels, barracuda, turtles and nurse sharks. The perfect spot for a newbie diver to take their first fin-strokes enroute to becoming a qualified diver.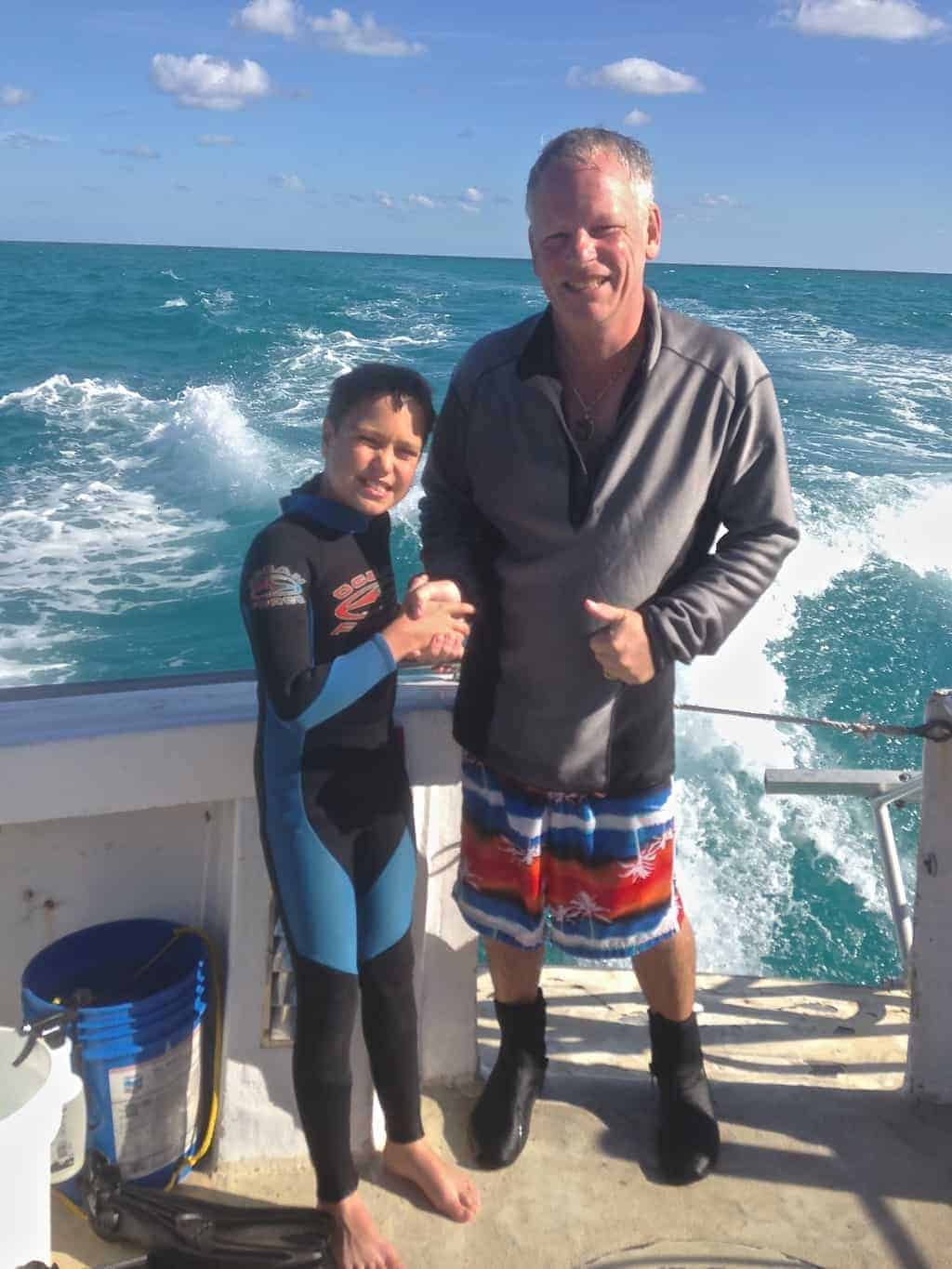 Luke and Kevin ploughed through his four open water dives over two days, visiting reefs with names like Pleasure Reef and Coral Reef, and despite the visibility not being up to its usual standard in the wake of some big storms, he excitedly rang me every night to fill me in on what he had seen. The highlights were definitely the turtles and the nurse sharks!
As can be seen from the grin on his face as he was presented with his temporary cert card by Kevin and Slate, Luke was immensely proud to have become a PADI Junior Open Water Diver shortly after his 11th birthday, and he is busy planning his next diving adventure. He fancies the Red Sea for his Junior Advanced Open Water Diver course, but said he isn't going to be a 'warm-water diver only', so as soon as spring finally gets here, we'll be breaking in his new drysuit for some proper UK diving. I asked him what he wants to see, and his answer was 'shipwrecks and sharks'. That's my boy!
Photographs by Penney Evans
For more information about diving with kids, and details of family-friendly trips around the UK, click on the Kids Sea Camp advert to the right.