It was only a matter of time before Luke followed in our footsteps as a next generation diver. Both myself and my wife Penney are keen divers, and our son has been surrounded by diving paraphernalia since he was first born, so the chances that he would get into diving were extremely high. However, we vowed we would not force him into it, but we needn't have worried – he showed a natural attraction to the sea and marine life from a very early age, and was snorkelling in the chilly waters off Anglesey on family holidays from the age of four!
The natural progression saw him move on to SASSY (Surface Air Supplied Snorkelling for Youth) at five-and-a-half in the Cayman Islands, and then he racked up his PADI Bubblemaker trydive in the Blue Planet Aquarium three days after turning eight. He completed his SEAL Team Aquamissions aged nine-and-a-half in Bonaire and right here in the UK, and then it was only a matter of months until he was eyeing up his PADI Junior Open Water Diver course for when he turned ten.
The slight inconvenience of being made redundant out of the blue from Sport Diver after 18 long years in the hot seat and then having to set up Scuba Diver put a slight spanner in the works, and so it came to pass that he would actually get to log his PADI JOW Diver just after his 11th birthday – which still means he beat his good old dad by one full year, as I was 12 when I first took the plunge.
Heckmondwike… to Florida?
The DEMA trade show was being held in Orlando at the end of last year, and so Team Scuba Diver had already decided we were combining a family trip with the work excursion. A short discussion later and we had Luke and his mum Penney staying on for a week longer, so while I was busy walking the show floor of the conference centre in Orlando, they would be soaking up the sun and diving in Key Largo in the Florida Keys. However, while that was his four open water dives sorted, we still needed to get his theory and pool dives out of the way – and after a quick call to Robin Hood Watersports (www.roho.co.uk), we were on our way to Yorkshire!
Referral dives
Hat's off to Kieron McClintock at RoHo – he pulled out all the stops last minute to enable us to get Luke's referral done and dusted the weekend before we flew out to the States. First up was a dash across the Pennines on the Friday evening to RoHo's Heckmondwike HQ, and then Luke sat down with Kieron to run through his already-completed knowledge reviews. Once this was done, Luke got busy and sat his examination while the adults chilled out with a coffee and talked shiny new dive kit.
It was one tired boy who went to bed that night, and even though he was ultra-excited about getting in the pool at RoHo on the Saturday morning, he soon crashed – a hidden benefit of diving is that it seems to poop everyone out, so everyone gets a good night's sleep!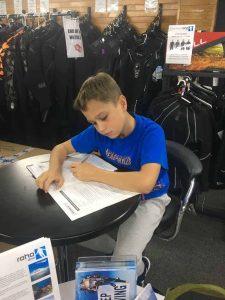 Bright and early the next morning we were back at Robin Hood Watersports, and Luke was introduced to his instructor, Chris Waites. Chris had a cool, calm demeanour, and Luke instantly bonded with him – when we left them to get down to the serious business of diving, I don't think we even warranted a casual glance, he was that focused! Finding an instructor who can relate to your child but retain their respect is vital, and will make your child's route into diving so much smoother.
A few hours later and we were back. Chris was congratulating Luke on being one of his fastest referrals ever – he said it was obvious Luke had done multiple Bubblemakers and SEAL Team Aquamissions, as he was already very comfortable in the water in full dive kit, and with the basic skills and drills. This just hammers home how getting keen kids into the water as soon as possible really helps their journey to becoming competent divers.
I kitted up and we all jumped in to snap a few illustrative photographs, and I am sure I must have been glowing with pride when I watched Luke effortlessly finning up and down the pool, playing with a Toypedo with Chris and then demonstrating some of his skills.
So Luke now had his referral ticket and was ready for the main event – next stop, Key Largo and Captain Slate's Atlantis Dive Centre for the open water dives!
Photographs by Mark Evans
THE NEXT GENERATION: Luke Evans – First rung on the ladder, part two