In September and October, my Scholarship journey took me to the stunning regions of British Columbia and Alaska, where I have immersed myself in a diverse range of experiences.
And I must admit, I totally fell in love with both these regions, and the cold water diving there!
First, I flew to Vancouver, where I visited many institutions, including the Vancouver Aquarium, the Marine Mammal Rescue Centre, Nuytco Engineering, and Shearwater Research. I was very impressed by each of these institutions, who are all progressing the underwater world in such a different way, and I really enjoyed learning about each and every one of them.
Next, I made my way over to Vancouver Island, where I visited seaproof.tv to learn about Underwater Minimentary Production, and I also met with Maxwell Hohn to speak about underwater videography techniques. I was then lucky enough to join Maxwell on a very unique British Columbian experience – we filmed and photographed the salmon, which were travelling up the rivers at this time of the year to spawn.
Still on the island, I spoke with Dive Safe International about commercial diving, and I even got to try out a tethered dive in a Kirby Morgan diver helmet, which was a great yet very different experience! Another day, I visited the Royal Canadian Mounted Police´s Dive and Boat Unit, which were also very impressive, both in terms of their Divers Training Programme and them providing police services for the whole of the very inaccessible British Columbian coastline.
Another highlight was to experience humpback whales, orcas, Pacific white-sided dolphins and harbour porpoises with Big Animal Encounters in the beautiful sounds around Campbell River. And, of course, last but not least, I got to dive some amazing dive sites around Bowen Island and Whytecliff – I enjoyed the cold water diving here tremendously.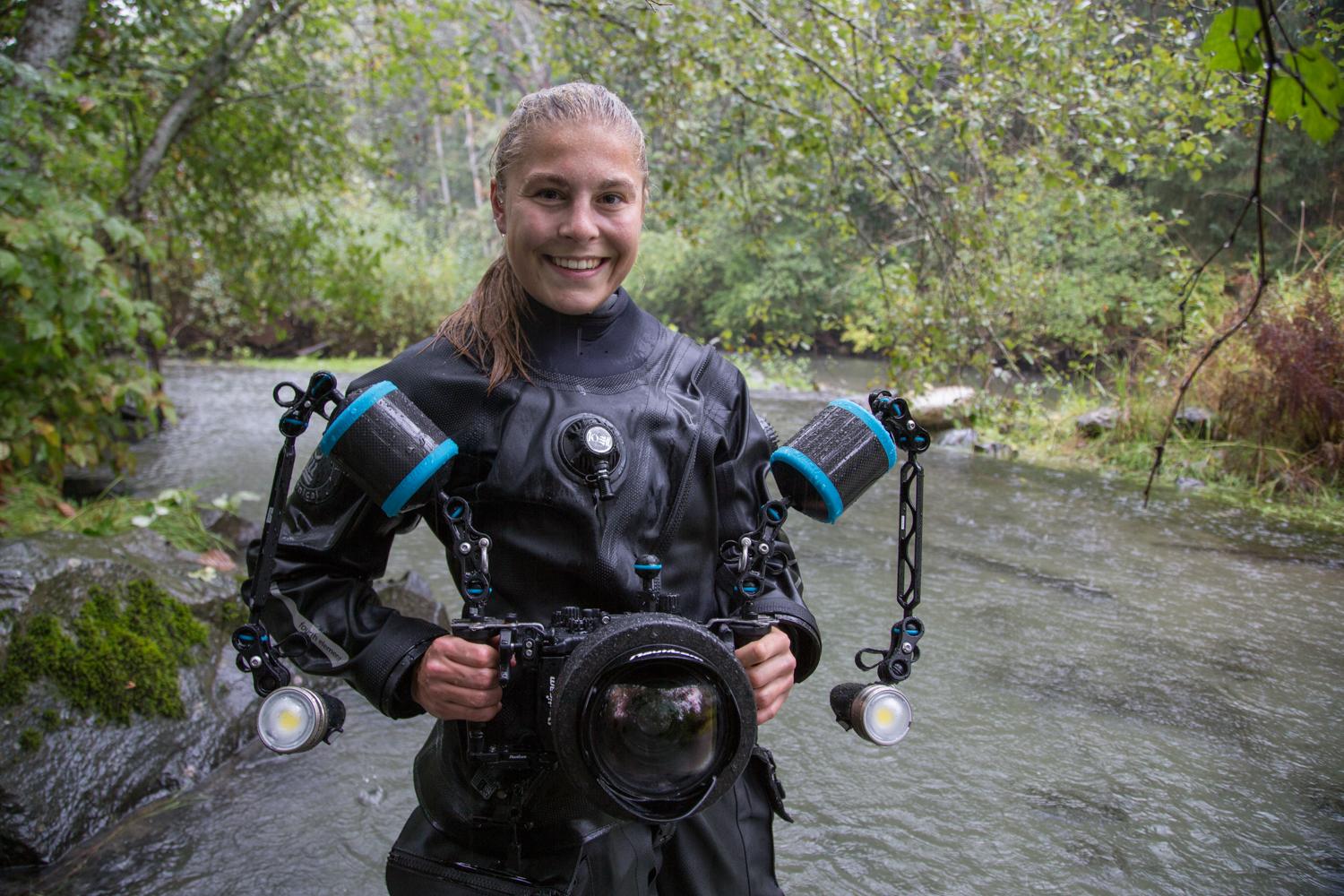 After the jam-packed time in British Columbia, I then flew to breath-taking Alaska, where I was going to spend three weeks at the Alaska Sealife Centre in Seward. Here, I assisted the centre´s head vet Dr Carrie Goertz in the pre-transport acclimation of two sea otters, who had been rescued and rehabilitated in the ASLC last year. Because they were rescued as young pups, they unfortunately can´t be released into the wild, but will find their new forever home in Europe.
To make this long journey as stress-free as possible for them, we worked towards familiarising them with their transport boxes and other transport-related stimuli, and I monitored their stress level by recording the body core temperature changes through temperature-sensitive radio transmitters that are implanted into their peritoneal cavity. The otters showed quick progress in their acclimation and I am convinced that they are now well prepared for their travels.
Additionally, I got to jump into Alaskan waters three times: one shore dive on the remains of the old train tracks which got struck by the Great Alaskan earthquake in 1964, and two dives from a boat in Resurrection Bay. And I found myself in the most-beautiful underwater landscape here surrounded by hundreds of rockfish, plumose anemones, kelp and northern sea nettles.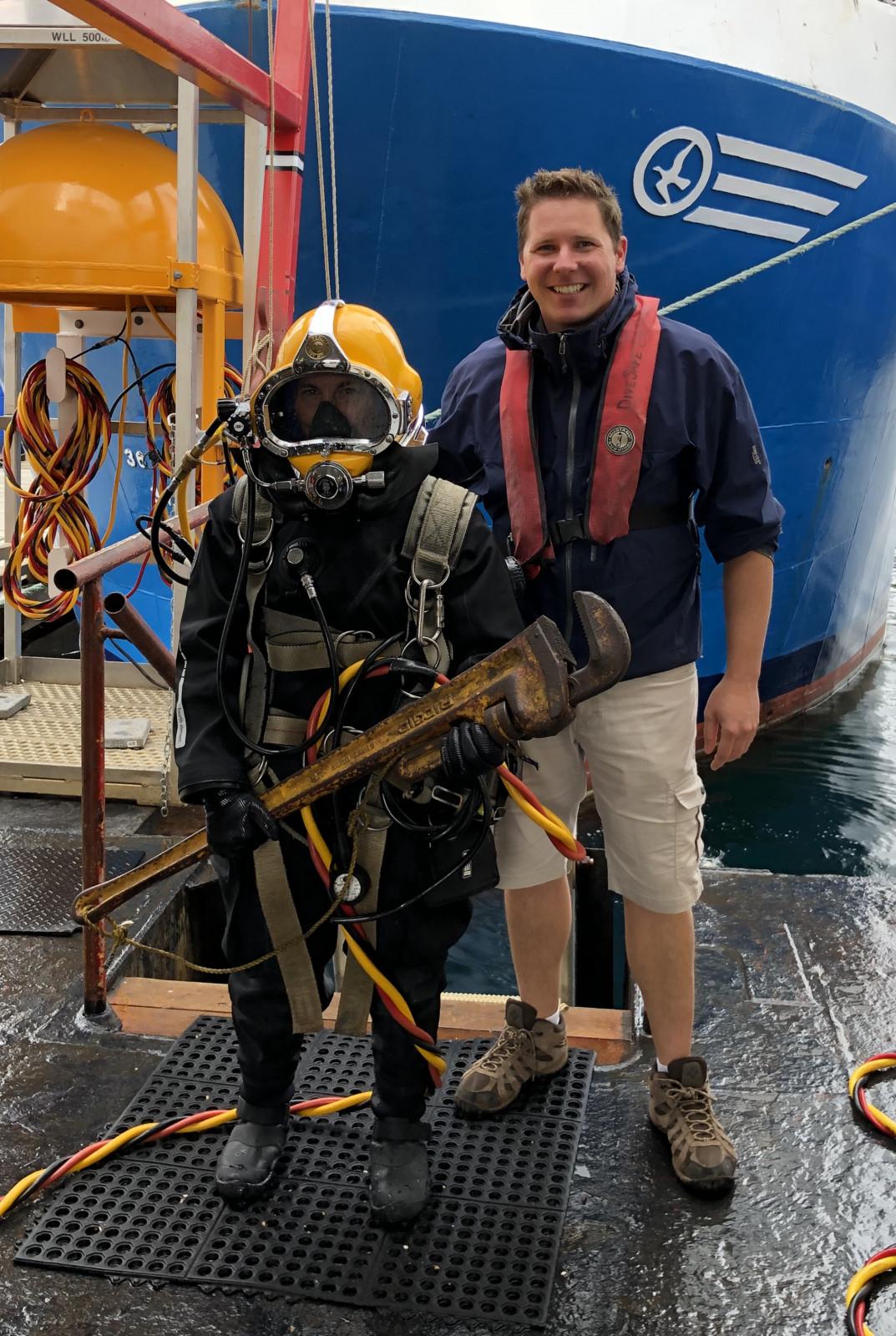 Back in Vancouver, I participated in the 2019 Diving for Science Symposium of the American and Canadian Academy of Underwater Sciences, to learn more about a variety of sciences that diving can be a tool in, and it was an invaluable opportunity to get to know diving safety officers and underwater scientists from different parts of the USA, Canada, and other parts of the world. The North American Rolex Scholar Neha and I also gave a presentation about the Our-World Underwater Scholarship Society, and were able to catch up with the 2019 AUS OWUSS Mitchel Scientific Diving Research Intern Elizabeth Hasan.
Overall, it is to say that the months of September and October have been absolutely incredible, bringing me to places that I have never seen before, and that have shown me a complete other world of scuba diving. I am in awe with what cold water diving can offer you, and I can´t wait to explore more of it!
Photographs by Kim Hildebrandt and Maxwell Hohn
Want to read more blogs?