Case Study: Rona Bhattacharya, 12, Burnley, Lancashire, UK
Rona was born to non-diving parents, yet on a family holiday to the Costa Brava, her snorkelling instructor noticed her fish-like nature, and told her father she should take it further. In December 2015, Rona became a Junior Open Water Diver through Clitheroe's Reefers and Wreckers Dive Centre, completing her dives in bitterly cold conditions at Capernwray.
Following her success in England, Rona went on her first dive trip to Gozo, where she won the hearts of the team at Atlantis Dive Centre. She then racked up specialties such as Project AWARE, Navigation Diver, Drysuit Diver, Underwater Photographer and Underwater Videographer, and Deep Diver, as well as returning to Gozo on another dive trip.
On 23 April 2017 – which also happened to be her 12th birthday – Rona completed 50 dives and earned her Junior Advanced Open Water Diver cert. Rescue Diver then followed, and in July 2017, she gained her Junior Master Scuba Diver qualification. She has now surpassed 70 dives after clocking up another ten dives in the Florida Keys in April.
"Rona is extremely passionate about diving, and wishes to progress to becoming an instructor when she is older, with a special interest in teaching children, in order to emulate the mentors and teachers who took her through her first few steps," explained her parents.
Rona hopes to spread awareness both personally and through social media once she is old enough to have her own channels. She plans to become involved with PADI Project AWARE, and wishes to be a part of the UNESCO One Planet, One Ocean Project to help preserve Underwater Cultural Heritage.
Case Study: Luca Hale, 12, Sharm el Sheikh, Egypt
Amyjo Hales contacted Scuba Diver after seeing our Facebook post regarding Case Studies of young divers for The Next Generation, and quite rightly her and husband Kareem thought their son Luca deserved a slot in the magazine.
"Our son started snorkelling at just three years old and has been diving from eight years old, starting with the PADI Bubblemaker and SEAL Team, and every birthday he completes a course, which means now at the age of 12 he is a PADI Advanced Open Water Diver with over 150 dives," she said.
"He has been recognised by PADI for his efforts and his membership as a keen young diver, and he was made a PADI Ambassadiver because of his true charisma and passion for diving. He receives a huge amount of support from PADI Regional Manager Ahmed Sayed, who regularly meets up with Luca, follows his progress and gives him great support and encouragement.
"With a father who is a PADI instructor and myself a manager within a diving centre, the diving is in his veins, and he has joined us on board the dive boat many times encouraging people to dive.
"Luca has been in numerous TV commercials and is the marketing face of Pyramids Diving Centre in Sharm el Sheikh.
"He speaks fluent English and Arabic and is well known in Sharm for his friendly character and outgoing personality – he really is a credit to the diving world."
She continued: "Luca is enroute to becoming a Junior Master Scuba Diver, having just completed his EFR course with PADI Course Director Yahya Khiry last month, and will continue with his specialty courses this summer.
"He is aiming to be an instructor as soon as he is old enough to do so, and then continue onto being a Course Director. He has set his target and will not rest until he reaches it – pretty impressive for a 12-year-old!
"As parents, Kareem and I are overwhelmed by the amount of love and support Luca receives from everyone and everywhere, we are immensely proud of him and are sure he will take scuba diving into the next generation."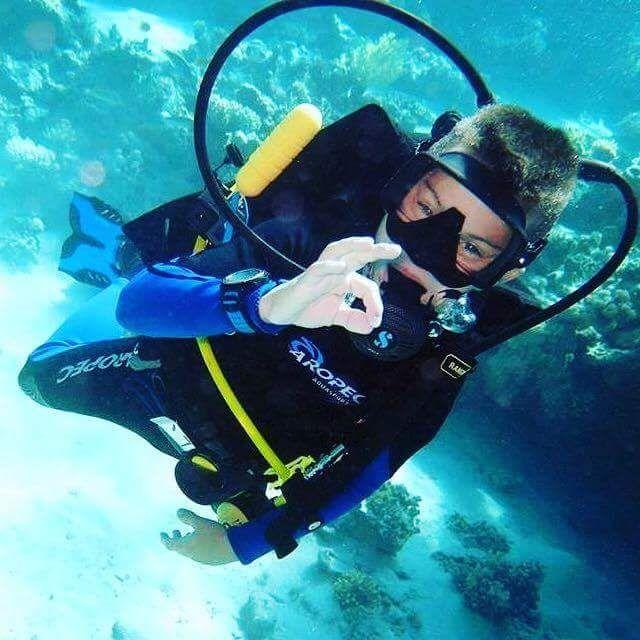 If you you're the proud parent of a young diving superstar, make sure to let us know in the Facebook comments.