There is an almost endless amount of underwater photography gear out there, so we asked.
What Scuba equipment do the Pros use and why?
Paul Duxfield
For the last five years, I have shot underwater (and on land) with a mirrorless micro four thirds system camera. I was an initial early adopter, moving over from a DSLR, and despite some of my peers scepticism about the 4/3's format, which has now matured, I could foresee the undoubted benefits of a smaller, lighter and less-expensive underwater camera rig.
Mirrorless cameras save size and weight by dispensing with the bulky mirror box assembly of traditional DSLRs, whilst maintaining quality by utilising larger than compact camera-sized image sensors.
My current camera is quite old now, and is a Panasonic GX7, and I mostly use it with an Olympus 8mm f1.8 fisheye lens, or a Panasonic 45mm macro lens. I house this inside a Nauticam housing with the oh-so-reassuring vacuum leak detector sensor.
I've used a variety of strobes recently, from my pair of trusty Inon s2000s, which have been incredibly reliable and have kept the travelling size down, to Sea and Sea YSD1s – more powerful but bigger and bulkier – and also a pair of borrowed Retra strobes, which were my favourites for a combination of output power and simplicity, but were unfortunately quite big also.
I also use a range of wet lens diopters that increase my macro capabilities when muck diving.
And other cameras that I get to test like the Canon G series inside Fantasea housings, and Olympus TGs and, of course, the ubiquitous GoPro.
I controversially (among my peers) prefer to use a flexible strobe arm system made from Loc-Line with a 1" ball and clamps to terminate, giving me speed of adjustment while incorporating the solidity of a clamp. It's essentially custom made, and is a difficult one for any retailers I work with to recommend over the much-more-widely adopted 1" ball, clamp
and rigid arm systems in use out there, as it's more difficult for them to sell it, as it's fairly bespoke.
However, I no longer have to faff about as much moving my strobe arms into position, and personally prefer the simplicity.
But I've never been one to bow down to peer or commercial pressure, as I like to literally put my money where my mouth is.
Martyn Guess
Am I a mug for carrying a huge amount of camera equipment in my baggage and always struggling, with the meagre allowance you get these days from the airlines?
I use a Nikon D5 DSLR in a Nauticam housing. The camera weighs in at 3.5kg on its own! Then there are the strobes, ports, lenses, arms and Snoot, plus a load of toys for my students to try out.
The reason I persevere is that the image quality I get from my camera is superb. The tonal range that the camera's sensor will allow means that in darker environments like caverns or at dusk, the images produced show so much more detail than lesser cameras. The focus system is second to none and is simply rapid.
This means in difficult underwater situations the camera will find focus where many others won't. I have this week been teaching students in Bali and being next to them taking the same subjects, I repeatedly see some of the mirrorless system cameras struggling to find focus.
In addition, when using increased ISO settings, the camera will perform almost equally as well from 100 ISO to 2,000 plus without much, if any, deterioration in image quality/evident digital noise. This morning on the Liberty wreck in Bali I was shooting at 1,000 plus ISO without any issue. The camera's battery will also last for two to three days diving, which is amazing.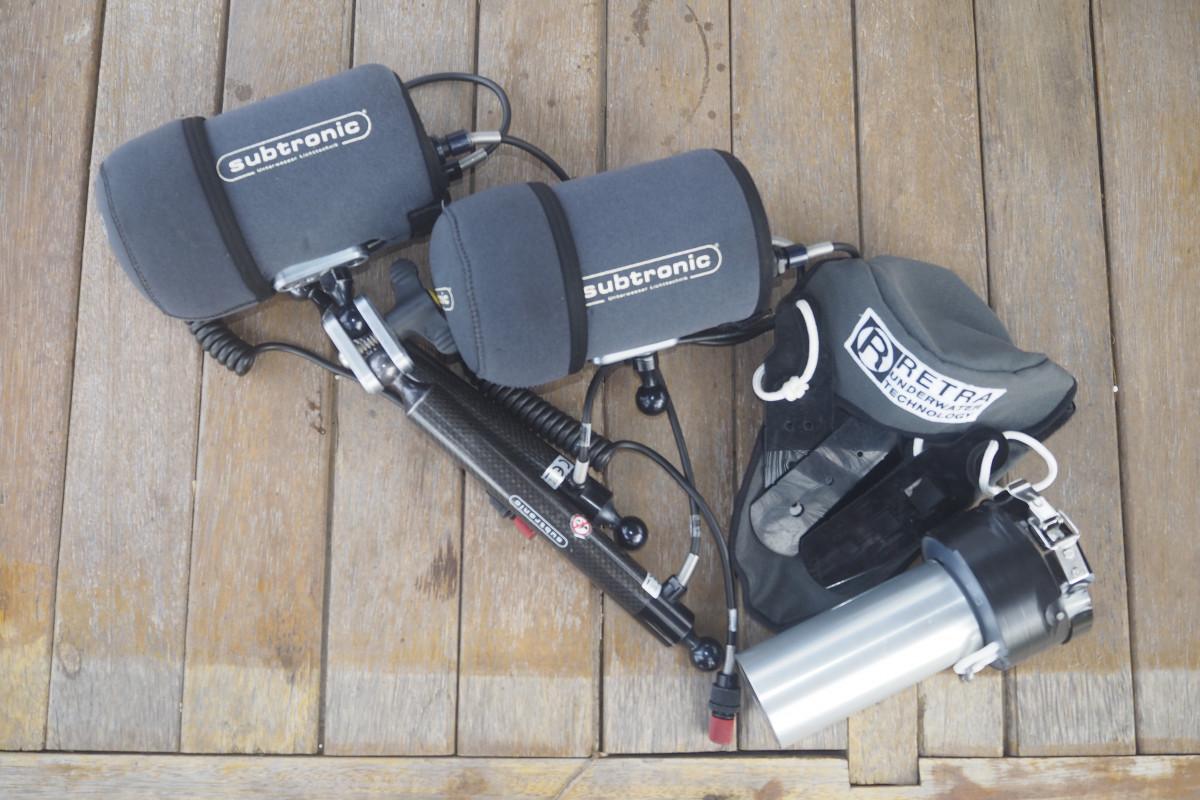 For lighting macro subjects, I use my trusty Inon 240s. I have quite a few of these which I take on workshops to provide back up when a student's strobe fails – almost always not an Inon. There is a newer model, the 330, but frankly it is too powerful for macro use without the ND filter attachment and even then, many of my fellow photographers complain about the brightness.
I followed a recommendation by Alex Mustard some years ago and warm up the light produced by my Inons with a Gelcoat home-made filter, easily purchased online from stage lighting suppliers – it's called Courtauld 444 and is very cheap for a sheet, which will last for many years. Check out the article Alex wrote on Wetpixel.
I regularly use a Snoot with the Inon 240 and for me, the only choice is the one made by Retra. It simply works, where others let you down with bits going missing on a dive. I also use wet lenses made by Nauticam, the SMC 1 and 2 – amazing bits of glass.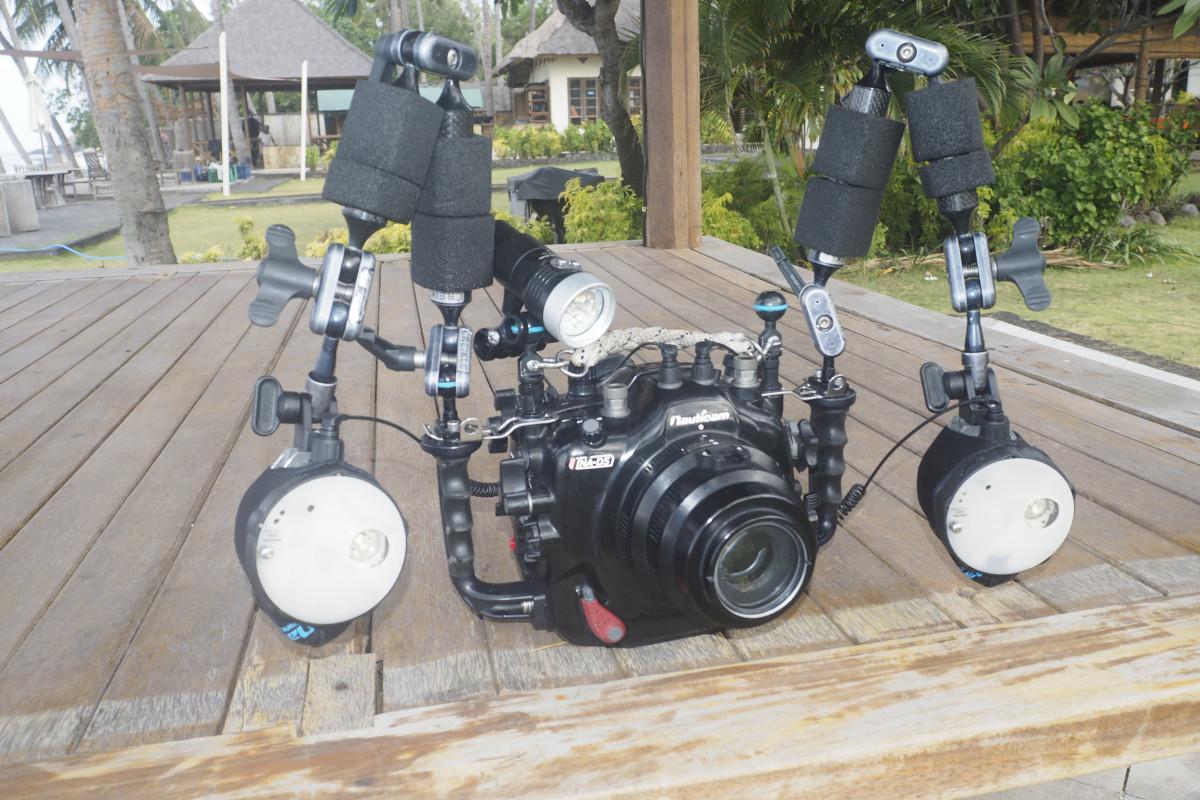 For wide angle I use Subtronic 270s with batteries in the float arms. They produce a nice warm light and are very powerful. They will light anything from large coral bommies to shark action in the Atlantic. I found my Inons good but not powerful enough. I will be interested to read the reports on the new Retra strobes when they emerge later this year as they might save me some of my valuable luggage allowance.
Phil and Anne Medcalf
We both use the same basic set up, an Olympus OMD EM10 Mk II in a Nauticam housing. Using a mirrorless camera with the micro four-thirds sensor gives us the best of both worlds as it and the lenses are smaller and lighter than a DSLR or even another mirrorless camera with a larger sensor, while still having the benefits of having interchangeable lenses. As travelling underwater photographers, packing within weight limits is always fun but having a smaller camera means a smaller, lighter housing, which makes this more manageable.
The big plus is being able to use interchangeable lenses and although you may have to make a decision between whether the next dive will be a wide-angle or macro shoot, the prime lenses we use are more suited to getting the shots we are looking for.
We don't use the 14-42mm kit lens that came with the cameras when we bought them at all underwater. Instead for wide angle, we use the Olympus 8mm fisheye lens with a small dome port so we can get very close to subjects when shooting wide angle, and for macro we have a choice of either 45mm Panasonic or 60mm Olympus macro lenses plus several different macro wet lenses.
Even though we use quite small cameras once the whole rig is set up with tray, arms and two strobes it weighs in at over 5kg, so it is still quite heavy and bulky to carry around but once underwater it is easy to manoeuvre into smaller spaces that fellow divers with big DSLRs cannot get into. It is also easier to hold with one hand if you need to and if there is some current there is less drag with a smaller camera.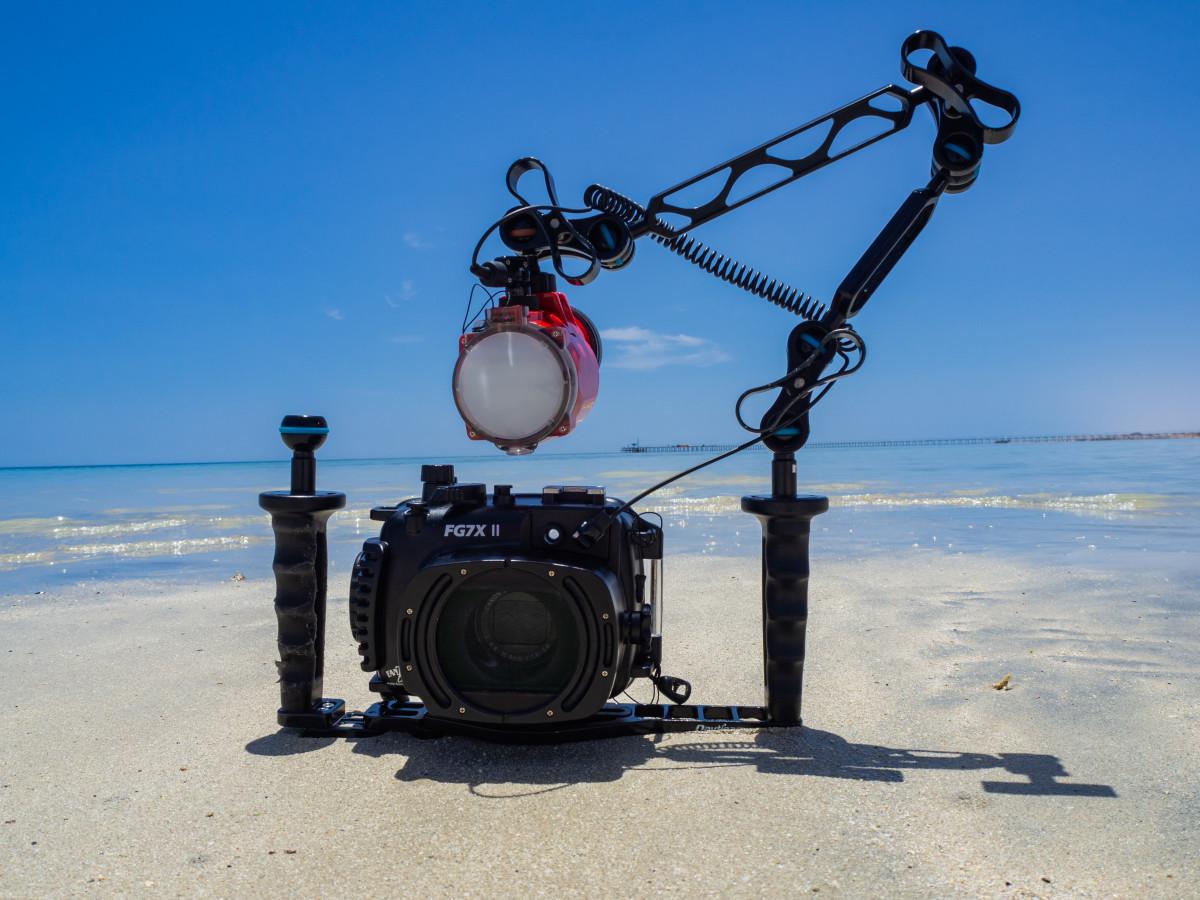 We also get the opportunity to dive with cameras and housings provided by distributors and manufacturers for us to test. This means we get to play with all kinds of kit from action cameras through compacts up to interchangeable lens cameras. It's always nice to take small cameras in the water and a compact camera can get into places our own cameras can't get to, and it also means not having to carry a heavy weight around!
We spend a good amount of time on most trips trying lighting set-ups and wet lenses with different cameras to get an idea of what suits which camera and learning how to optimise the settings. This makes it easier for us to teach and advise our customers from first-hand experience.
We have four EM10 MkII camera bodies between the two of us, so we always have a spare in case the worst should happen and it is easy to take a spare in hand luggage as it takes up so little space. When on a dive trip it is also helpful to have the spare camera with a telephoto lens ready in case we see something topside, so we can still take pictures of birds or dolphins during the surface interval without having to take a camera out of the underwater housing.
Mario Vitalini
For the last seven years I have been using the mirrorless system, first with an Olympus EM5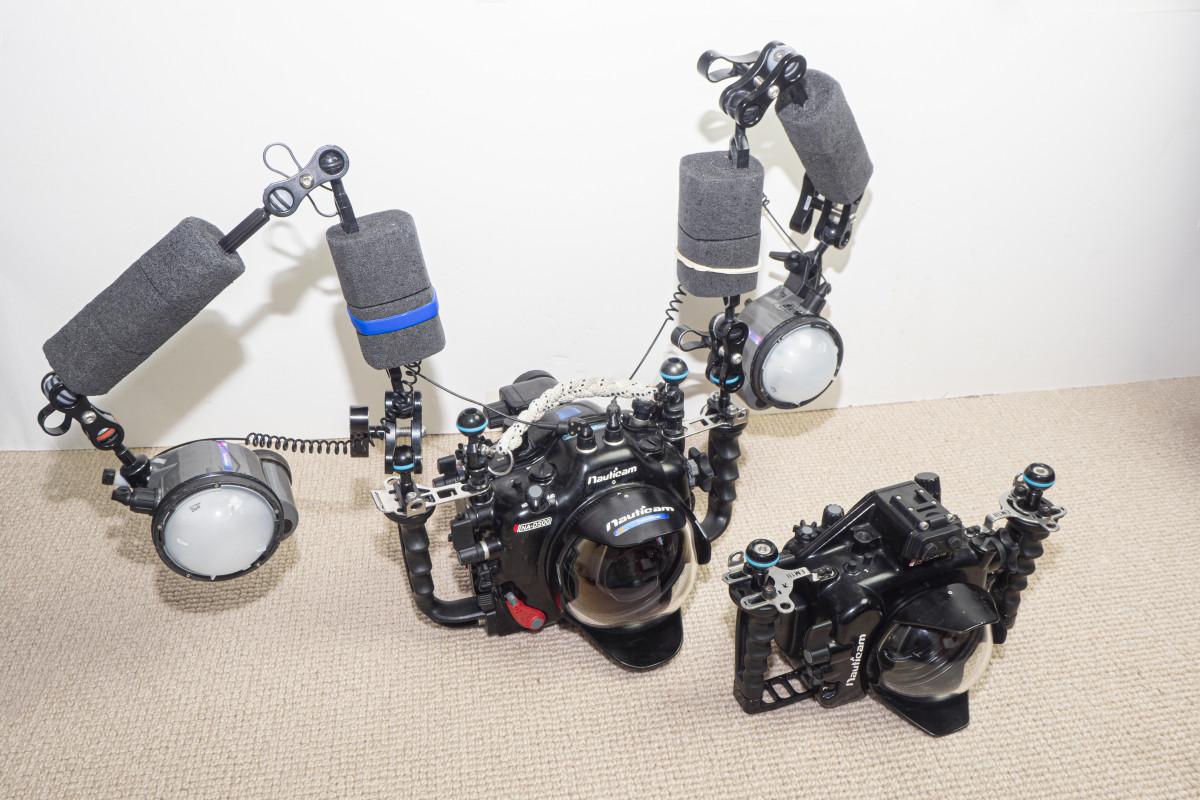 and more recently the EM1 and EM1 MkII. The image quality on mirrorless cameras is incredibly good and, in many cases, equal to what can be achieved with the more-expensive and heavier DSLR systems.
Currently I use two different systems, the Olympus OMD EM1 MKII with a couple of macro lenses, a fisheye and my favourite, the Nauticam WWL1 wide wet lens. This is the set-up I take on trips were baggage weight is an issue.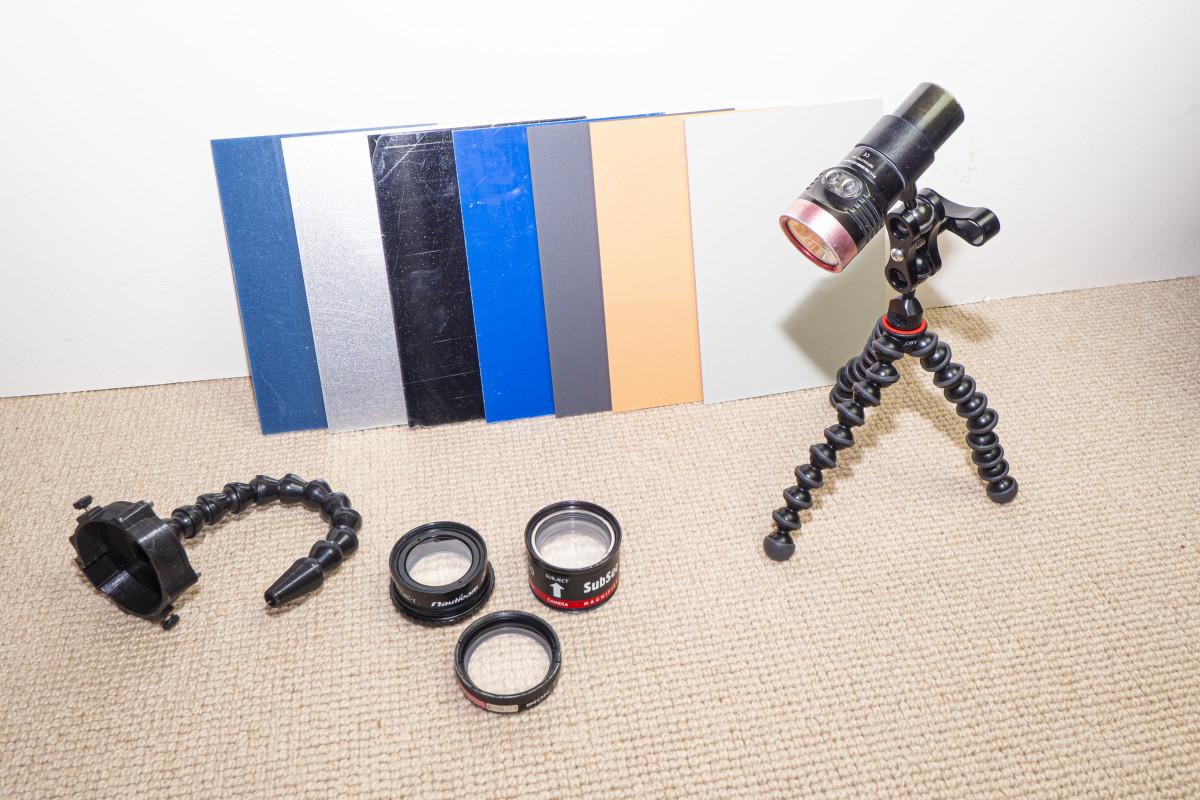 Early this year, I went back to an SLR rig with Nikon D500, which I got after much consideration. It was not easy to go back to a system I abandoned many years back. However, the most-recent developments in the micro 4/3 range are more expensive and heavier than the equivalent DSLR option. Mad but true.
In terms of lighting I use Inon strobes. Over the years they have proven some of the most-reliable units I have owned. For wide angle I use the Z330. They are incredibly powerful for their size, and the light beam guarantees a good coverage. However, they are too powerful for macro photography and for that reason, I use Z240s, which also have a slightly narrower beam.
The light has sharper edges making them great for inward lighting. For macro photography I also carry a selection of accessories, such as Perspex colour backgrounds, snoot and a narrow beam torch for backlighting.
Photo Credits: Paul Duxfield, Martyn Guess, ­­Mario Vitalini, Phil and Anne Medcalf
Want to read more blogs?
The Way The World Learns to Kneel