Mares has put out a voluntary product recall notice in reference to a quality issue with the inflator unit mounted on the XR line aircells.
The inflator in question is made by a third-party supplier – Ferplast. The issue with the recalled units is that under certain circumstances, the deflation button could come unscrewed, which could result in loss of the seal at the mouthpiece. This, in turn, would result in loss of buoyancy that could potentially lead to an accident and serious injury or death.
The problem arises because insufficient torque was applied during the assembly of a small lot of these inflators due to a change in the Ferplast production process, which has already been rectified. The problem is solved by applying the correct torque when assembling the button. For added safety, a special glue is now added on the threads.
If you have one of these recalled units, Mares ask that you immediately stop diving with it and return it to your Mares dealer, who will arrange for a free replacement inflator. Every affected inflator will be replaced with a complete set comprising new inflator, corrugated hose and gasket for the elbow connection. The inflator will have an X marked on the body as shown in the picture above, indicating it has been properly assembled. If you no longer have this item, Mares ask that you contact your dealer with the name and contact information of the new owner.
The recall only affects these products:
Code Description
417511 Donut bladder single tank (XR Line)
417512 Donut bladder twin tank (XR Line)
417536 Sidemount Pure Light Bladder (XR Line)
417539 Red Devil Single Backmount set (XR Line)
417540 Red Devil Single Backmount set SSI (XR Line)
417547 Pure Light Sidemount complete set (XR Line)
417550 Silver Knight Single BM set (XR Line)
417551 Blue Battle Single Backmount set (XR Line)
The recall concerns only products on which the new type of Ferplast inflator is installed and not the previous type. The new inflators can be easily identified visually as shown in the picture below:
In particular, only inflators with a serial number from 8A – 02001 to 8A – 07630 are being recalled.
How to identify the serial number on your inflator
Each inflator is identified by its own serial number, as can be seen in the picture below. If the inflator body is marked with an X and the serial number is starting with 19.XX.XXX, as in the image below, it has been assembled properly and can be used for diving.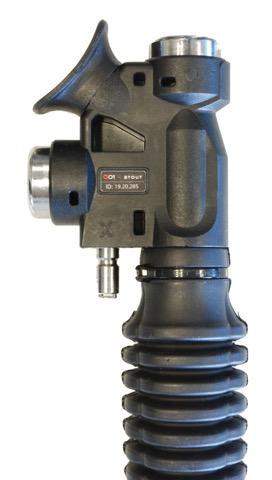 If the inflator doesn't have the X engraved on the body and the serial number is in the range from 8A – 02001 to 8A – 07630, as per the below image, the inflator is affected, cannot to be used anymore and needs to be replaced immediately. The replaced units need to be returned to the place of purchase.
Visit Mares Website