Diving with sharks is undeniably thrilling. I've seen many a photographer exhilarated by the presence of sharks in the water, but desperately disappointed with their pics. I've been lucky to photograph oceanic whitetips many times in the Red Sea. And want to share some of my hard-earned tips, so you can keep your cool when the adrenalin is pumping. Evolve your photography and take stunning shark shots.
Pick your shark, pick your encounter
Not all sharks make for easy photo subjects. I time my workshops carefully to be on the right sites at the right time of year for the best encounters with each specific shark species. I love the Red Sea for oceanics. On deep walls, oceanic whitetips swim all day in shallow water, often right under the boat, giving you plenty of time with them. They are very inquisitive, and relatively used to divers.
In several destinations sharks are attracted by organized feeding sessions. However, chummed dives are not without their controversy, and often there are restrictions on diver position and kit. Oceanics offer a more natural encounter where the sharks come to you independently. You have much more freedom as a photographer.
Safety first
Before you get in the water, think long and hard about safety.
It is essential you understand the behaviour of the specific shark. Oceanic whitetips are apex predators, a scavenger species that need careful consideration. Like many other sharks, they feed mainly at dawn and dusk – be extra vigilant around these times. I've seen oceanics lure divers away from the reef or the boat, into the blue. Do not give to the temptation to follow them. Their attitude quickly changes and can become much more aggressive. Erratic movements and downwards fins are key indicators that it is time to get out. Stay close to your buddy. I always give a safety brief before we get in the water, as will your guides. Don't ignore hard won expertise!
Go wide!
Choosing the right lens is essential. Some sharks won't come close enough for a fish eye lens. You end up with a very small subject in a big blue frame. Luckily, oceanics like to get right onto your dome port, so fish eye vs wide angle is less of a consideration. Personally, I still prefer a wide angle zoom lens with a mirrorless camera or dSLRs. With a compact camera, use the widest setting (but never the camera zoom).
Strobes or no strobes?
Some sharks, like threshers, can be scared by flash. Not oceanics. Be prepared for the electronics to pique their interest!
Position your strobes far apart and behind the port to minimize backscatter. Use a low power to prevent overexposing the white underbelly of your shark. If the shark is more than 6 feet away chances are you will end up lighting the water column in front of your camera and not the shark. Wait until the shark is close to you before firing.
If you don't have a strobe, stay shallow and use manual white balance. Don't use the internal flash – it's not powerful enough and just increase the risk of backscatter.
Bring out the blue!
Controlling the background exposure is critical. Oceanics are typically shallow and a blown-out surface ruins many pictures. Position the sun behind you for better control over the surface exposure. This is essential if you do not use strobes and shoot ambient light.
If the sun must be in shot, think about silhouettes instead. Turn off the flash, pick a very fast shutter speed (above 1/400th) and small aperture (f11 +) and use the shark to cover the sun ball.
When using strobes, the shutter speed will have little or no effect on the foreground exposure – this is lit by your flash. Use the shutter speed instead to control the exposure of the background for a pleasing blue. Take a few test shots of blue water, changing the shutter speed, until you are happy with the colour. Factor in the time of the day and sun position. I have found that in the shallows values above 1/125th usually gives a good exposure. Then you are ready when the shark passes.
Compose with care
Wait for the shark to come to you. Oceanic tend to pass repeatedly, giving you time to try different shots. Experiment with the composition.
Chances are there will be other divers. A diver in shot gives a sense of scale, but be careful of bubbles or random limbs creeping in. These erroneous elements can ruin what would otherwise be a great shot.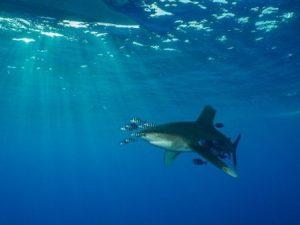 After the dive
Shark pictures will nearly always need some degree of postproduction. Oceanic whitetips benefit from fine-tuning the highlights and bright areas. Wherever possible, shoot in RAW so you have a greater capacity to make corrections.
Converting a picture into black and white or monotone increases the atmospheric feeling of your shot… and help if the colours or exposure are imperfect.
Oceanics are one of my favourite sharks to shoot, and with a little prep, you too can take exciting photos. Keep your calm, prepare your exposure and wait for the right approach. Digital means you can afford to take more shots than you keep, but even with the smallest camera, stunning shark photography is possible.
Biography: Mario Vitalini
For nearly 30 years, Mario's sailed the globe and dived the seas, working as a PADI instructor and dive guide. Today, he shares his passion for underwater photography. His students love his real world expertise and patient approach. He has an extensive working knowledge of all underwater camera systems, having spent several years at the UK's largest photo retailer. Mario's images have won several awards and he has featured not once, but twice, amongst the top categories at the prestigious Underwater Photographer of the Year, including Most Promising British Underwater Photographer in 2015.
Escorted trips
Want to take your own shark shots? Join Mario on an escorted photo workshop, with award-winning tour operator Scuba Travel. Learn the secrets of shark photography on the exciting new, Shark Quest photography itinerary or master your macro skills in the Far East. There's something for everyone. Mario's workshops are open to all experience levels, but in particular anyone using a compact camera or mirrorless set up. His prize-winning images prove it's not the kit that makes the shot, but the photographer! If you need some help getting to grips with your camera underwater, Mario's your man. His calm, patient approach is just what you need to improve your photos. Mario tailors the tips and techniques to your needs, both on the surface and underwater. Improve your skills in a relaxed, non-competitive environment. Dive, eat, sleep and shoot! Workshops in 2018 are running in classic destinations such as the Red Sea, as well as far-flung photo hotspots the Philippines, Caymans and Indonesia. www.fishinfocus.co.uk