70% of the world is underwater, with 80% of the ocean yet to be explored. We are regularly finding new things under the ocean. But more surprising is how many veterans, like me, are finding themselves there too. It's a whole new world down there, one where we can learn to cope with mental health and physical conditions; perhaps even find peace.
My name is Jason, and I am a Scuba Schools International (SSI) Instructor Trainer, living on the Great Barrier Reef in Townsville, Australia. Looking back, teenage me would never believe I would end up here as an adult. Coming from a strong military family, I joined the Australian Army at the age of 18 and fully expected to make it a lifetime career.
Unfortunately, it was cut short with 13 years of service after injury forced me medically out of my dream job. Leaving the Army was not just the end of my career; I lost my job, my friends, and my sense of purpose. The only things I had were my family and my hobby of scuba diving. However, neither my family nor my hobby could understand what I was going through. Both were soon replaced by alcohol and dark thoughts, anything to numb the feeling I had.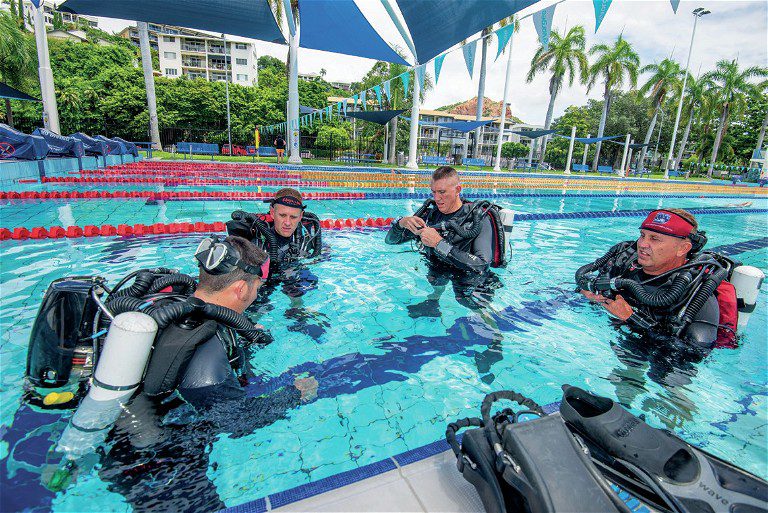 After about a year, I decided to get back into diving and try to recapture the passion I once felt. I felt myself relax as I floated underwater. Nothing could weigh me down.
This is the peace of scuba diving. It is the ability to focus on your breathing and think about your surroundings there and then. From that moment, I started to dive on a more-regular basis and turned my hobby into a passion. In turn, it brought a more-positive focus to my life. I was drinking less (because alcohol and diving do not mix), and I was socializing – rather than social distancing in the darkness of my house. The scuba diving community is both supportive and very social, which helped me manage another great hurdle.
For me, scuba diving changed everything. Working in my local dive centre, I started to meet other local veterans from around my area. One veteran, in particular, made a big impact on me. I first met him when he walked into my shop and asked about scuba diving. He was a bit rough looking, smelt like alcohol, and looked like he was being forced to be there. We talked about our similar experiences. After a long chat he booked for a dive course.
After a day in the pool, I saw him smile. The following day, his partner called me to say thank you for the pool session as he had returned home so excited! Since then, we have become very good mates, sharing stories and lives together. He later told me that the night before he walked into my shop, his wife had found him sitting in the bathtub with a loaded shotgun in his mouth. Seeing such a strong person go from that state of mind to the person he is today – it's hard to describe. He is such a happy, loving father and husband, and it makes me so proud to be his friend. It also is a stark reminder of the power of scuba diving and how it has the potential to be a tool in treating pain and PTSD.
Since then, Remote Area Dive runs scuba diving programmes for current and ex-service members of the military. Through our ongoing programmes, we have seen people break the cycle of alcohol abuse and isolation at home through these programmes. They have become regular divers; some even progress to scuba diving instructors, mentoring other veterans in the process.
Our dream, our passion, is to save a life through engagement of scuba diving. If we could prevent all veteran suicides, that would be amazing. But we know we cannot. What we can do is let every veteran know we are here to talk. We are here to help in any way we can. Perhaps we can prevent the cycle of suicide through an introduction to scuba diving. We can show them that moment of silence and freedom. You never know when it might be the thing that changes your life for the better.
---
This article was originally published in Scuba Diver ANZ #58.
Subscribe digitally and read more great stories like this from anywhere in the world in a mobile-friendly format. Link to the article