Hey gang, welcome to scuba diver magazine, accessories! The little bits and s bobs and gadgets and things that are useful for scuba divers are my focus today and I've carefully hand selected ten dive accessories that I find useful and you can normally find inside one of my kit bags, whether that be for warm water diving, cold water diving or both.
A Hat
A hat. Plain and simple, on every dive excursion. If it's cold, then a good beanie. Sunny, a wide brimmed hat or baseball cap to keep the sun and spray out of your face. You're normally taught to protect your head in the water with hoods so you don't loose body heat but, as soon as you leave the water a lot of divers forget to protect your head.
If you're on the surface waiting to be picked up or surface swimming back to an exit then you have that tropical sun bearing down on you and a lot of divers wear a scull cap of some kind to protect them from the sun. You'll always find a good hat in my kit bag to protect my head from being too hot or too cold.
Dry Bag
Dry bags are a scuba divers' best friend. Today you get a few types of dry bags from thin and light bags that are great for inside your main bag to organize kit inside and keep things dry when you're rummaging around. I typically have one for my surface essentials like phone, wallet and keys, another for tools and spares and an empty one for wet stuff after the dive.
Heavier material bags are better for longevity but, they're heavier so, not so good for travel. Then you get dry kitbags like backpacks and duffle bags which are really handy because all it takes is a single rogue wave to really ruin your day and soak all of your dry clothes or days after the dive your car still smells of the ocean because your wetsuit leaked on the drive home. Water-tight bags help keep dry things dry and wet things contained.
dSMB & Spool
Widely considered one of a scuba divers most important pieces of equipment a delayed surface marker buoy helps keep you safe in the water. Personally, I prefer closed dSMBs, that don't have an opening at the bottom so that they only deflate when you want them to. Most of them have a valve that you can inflate orally or with a BCD hose.
For reels I prefer a spool, they're just more compact than a full on ratchet reel and for recreational dives I tend to just carry a small 15m spool for the final safety stop. Make sure that it has a nice large leader on the end of the line and that it's actually tied onto the spool properly at the other end because there will come a time when you drop the spool and you want to be sure that you can reel it back in.
Jon Line
If you've ever had to do a stop in a mild current, or even just a busy anchor line you'll know just how little space there can be at that perfect depth and much like a drift hook. A Jon line can be useful to attach yourself to a line and remain hands free without swimming into the current or taking up too much space on the line.
Jon lines typically have a V shaped hook to tighten on a rope without binding too tight that you can't remove it. And if you dive somewhere with frequent current you can often just buy the metal head and attach that to the end of your drift line, make it multi purpose. But, for dives where you feel like a flag on that line, it's quite nice to just clip yourself off and, be the flag
Spare Mask
One of the first things that I started to keep in one of my pockets during a dive is a backup mask. You can manage without a lot of things in the water. And, yes, you can finish a dive without a mask but, it's so much better being able to see properly. It only takes a moment for your mask to get knocked off, or if you adjust your strap and a small knick turns into a complete rip and your mask won't stay on.
Backup masks don't need to be overly fancy. A lot of divers invest in a new fancy mask for themselves and turn their original mask into a back up. Or if you already like your mask then a simple frameless mask is a good option because they fold down pretty flat. But, with a 2nd mask you can save yourself or another diver a very uncomfortable end to a dive
Dry Gloves
The first time you wear dry gloves you'll wonder why you've never used them before and they make just so much sense because they're the drysuit equivalent to a wetsuit. Kubi dry glove systems are the best for a few reasons. The first being that they're a metal ring system while most others are plastic. And also that there is a range of systems to suit your needs from factory fitted rings, half rings, complete systems and in a range of sizes.
By keeping your hands dry they stay warm with much thinner insulation so you can maintain your dexterity and actually feel what you're doing again. Gone are the days of 7mm gloves that you struggle to put on without help because there's 14mm on neoprene between fingertips. And the dry glove just pops on and off. You have a choice of inner and outer gloves. Outer gloves in colours and toughness and inner gloves for different warmth.
Save A Dive
A small box or a bag with a handful of spares can literally save a dive and it's hard to MacGyver a replacement mouthpiece with what you can find in the middle of the ocean. You can buy complete kits that are pretty universal or you can buy and pull together each of the component parts yourself is you fancy. Most kits compose a replacement mask strap, hard to go diving without a mask strap and they do tear from time to time.
Mouthpiece and zip ties, yeah, breathing from a 2nd stage with no mouthpiece is no fun. A rubber fin strap, now, we see fewer of these today with spring heels so take that into account. A handful of O-rings and I like to throw in an Allen key that fits my port plugs and an adjustable spanner.
Thigh Pockets
One pet peeve that I have with a lot of diving BCDs is that they have pockets that start up here and especially when diving with gloves. I much prefer thigh pockets in the water as they're far easier to reach and you can store more inside them. With jacket BCDs the more you put in pockets the less they can inflate and I don't want to sacrifice buoyancy for storage.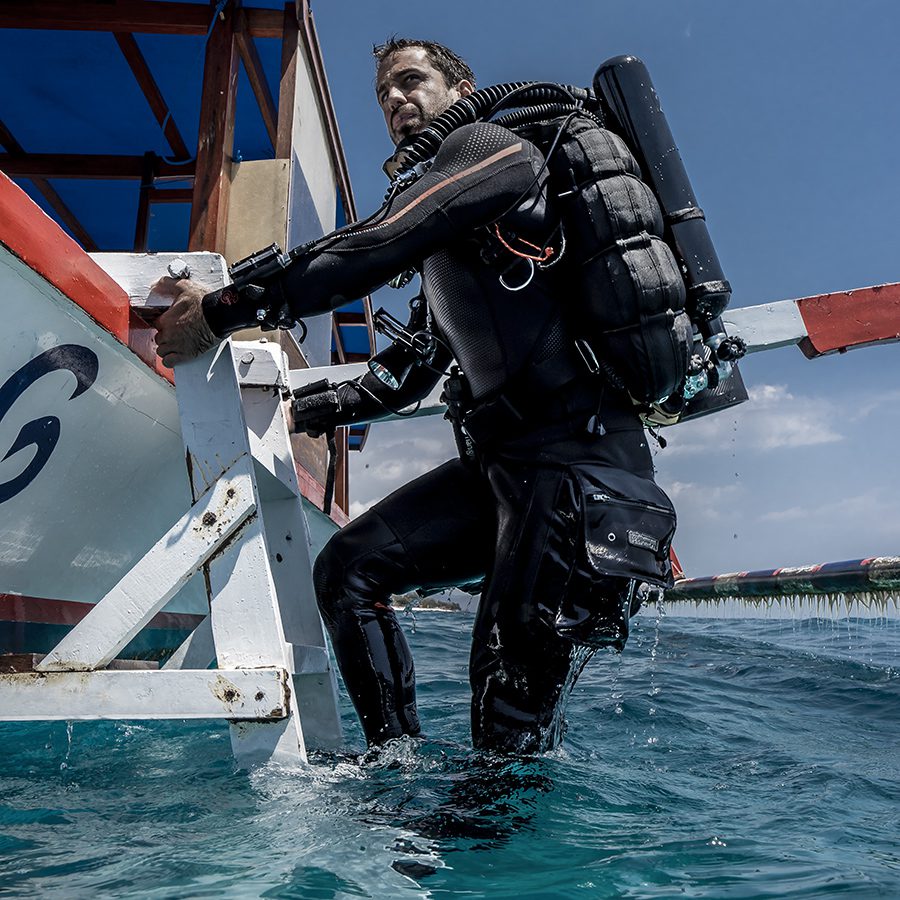 You have a few options with thigh pockets, from drop down pouches that clip to that D-ring on your BCD and strap to a leg, wetsuits and drysuits with built in pockets and what are usually called tech shorts. But, look for attachment points inside and a nice closure mechanism. Zips bug me in the water, they get the job done but, I prefer Velcro.
Poncho
One of the newer items that the scuba industry has adopted is ponchos. Not in the water, that can be a bit messy. But, during your surface interval. Much like a hat, protecting yourself from the elements between dives is important and can help prevent decompression complications as well. Ponchos also give you a mobile changing room so you don't have to change down to your skivvies in full view of the public and end up on some register.
A nice roomy waterproof shell, sometimes with some insulation for colder climates is great to throw over yourself straight after the dive. And because you don't feel as cold, you're not tempted to hug a radiator after a dive which can accelerate your decompression. Your body is the best at knowing how to warm yourself up at the correct rate, the best you can do is stop that heat from escaping.
Hand Mirror
Another fairly recent adoption to the scuba industry and one of those concepts that we used to joke about being useful as an instructor like a warm air button on a drysuit was wing mirrors to be able to glance behind you during the dive without turning around completely. And, now we have hand mirrors.
Useful if you're leading a dive to check that people behind you are still there and keeping up. Or, if you have an illusive buddy that likes to swim in your blind spot and rebreather divers also for bubble checks at the start of the dive or during. Sometimes it's just handy to be able to see behind you to know what's going on back there.
And those are ten handy things that I like for a dive but, what are some handy things that you can think of? Are you partial to an EPIRB? You know, just in case… Pop any ideas you have down in the comments and remember to like the video and subscribe to the channel if you aren't already. After that head over to app dot scuba diver mag dot com to check out a digital version of one of our latest magazine editions. Thanks for watching everybody and safe diving.