In our case study, according to proud mum Gill, "Kody has always been a bit of a water baby, and he loved swimming. One day, aged eight years old, we were in the local chip shop and he saw a small advert from our local scuba diving club promoting trydives and said he'd like to give it a go.
"I contacted Darren Ellis at PADI five-star IDC centre Scuba School and arranged a Bubblemaker session. He said Kody was a natural, our boy loved it, and he has just gone from strength to strength ever since – SEAL team soon followed, and then his PADI Junior Open Water Diver."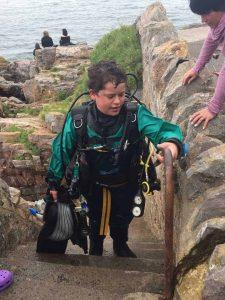 Gill continued: "He is now 13, owns all of his own kit, and is a PADI Advanced Junior Open Water Diver with three Specialties – Drysuit Diver, DSMB Deployment, and Project AWARE – and he is doing his fourth, Shark Awareness, in April. He wants to do his Night Diver Specialty and his PADI Rescue Diver course, and is aiming to be a Master Scuba Diver.
"He has dived in the sea in Northumbria, Devon and Dorset, and has also dived in Capernwray and Stoney Cove. He wants to be a marine biologist, but he loves scuba diving as a hobby as well."
Gill added: "No one in our family dives, so it is difficult at times to get him a buddy, and I am having to work 20 hours a week overtime to fund it all, but it is so worth it."
FOR MORE INFORMATION ON DIVING WITH CHILDREN, DETAILS OF THE PERFECT FAMILY VACATION SPOTS, AND MUCH MORE, CLICK ON THE KIDS SEA CAMP AD!