The merchant navy vessel SS Baygitano, which was enroute from Le Havre to Swansea to collect coal, was sunk in British waters by enemy action during World War One at 11.45am on 18 March 2018. The wreck now lies in around 20m about one-and-a-half miles south of the Cobb at Lyme Regis, Dorset.
Scuba divers from various branches of the British Sub-Aqua Club were hoping to dive the wreck at 11.45am on 18 March. Unfortunately, the weather conditions were unsuitable on the day.
On Saturday, 14 April, the conditions were much better and divers were able to make it to the wreck site in order to lay a wreath inside one of the ship's boilers, as well as a poem commemorating the sacrifice of merchant navy seamen in World War One and World War Two.
Severnside Sub-Aqua Club 'adopted' the shipwreck in 2012 as part of the Nautical Archaeology Society's 'adopt-a-wreck' scheme aimed at encouraging understanding of Britain's maritime heritage. Since then, club members have worked to find out more about the wreck and her crew to promote respectful visits to the wreck site by divers as part of the Society's Lost Beneath the Waves 1914-1918 initiative.
Nigel Braybrooke, Adopt-a-Wreck Project Co-ordinator for Severnside Sub-Aqua Club, said: "We were disappointed not to be able to dive the wreck site on the 100th anniversary of the sinking. However, the rain and snow didn't dampened our club members' enthusiasm for diving on the wreck or learning more about its history and the vital role played by the merchant navy in World War One. This will hopefully be the first of several planned trips to dive the wreck during its centenary year and to commemorate the contribution and sacrifice of all those who lost their lives during that terrible conflict."
Members from Severnside Sub-Aqua Club were delighted to be joined on the dive by members from North Dorset Sub Aqua Club. It is hoped to encourage more diving on the wreck during the year. Divers have left a long blue line with floats tied into the wreck attached securely to an eye-ring on one of the main boilers to make it easier to dive the wreck.
Any clubs with their own RIBs wanting to join in on any future diving with Severnside Sub-Aqua Club can email: info@severnsidesac.com to find out when dates are announced.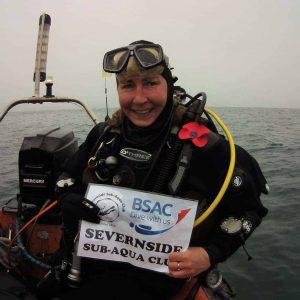 Leon R Smith, Club Chair and Dive Manager of Severnside Sub-Aqua Club, said: "The sinking of the SS Baygitano 100 years ago is a part of Lyme Regis' history, but so easily forgotten as the wreck now lies underwater. The wreck is not recognised as a war grave because the only two casualties from the shipwreck, the First Mate Frederick Rudolph Richards and Fourth Engineer Harold John Chinn, were not serving members of the armed services. Club members felt that it was appropriate to lay a wreath in their memory and in commemoration of the conflicts in which so many people have lost their lives."