We chat to Mexico-based cave diver and explorer Natalie L Gibb about the challenges of co-ordinating expeditions, why she loves cave diving, and being inducted into the Women Diver's Hall of Fame.
Photographs courtesy of Natalie L Gibb.
As we always do with these conversations, how did you first get into diving?
A: Reading profiles of other divers, they always say things such as 'I aways wanted to be a scuba diver', or 'I was fascinated with the water from a young age'. This isn't the case with me at all. I started diving entirely on a whim.
I was living in New York City at the time, and Jet Blue was offering extremely cheap flights to Fort Lauderdale, as the route had just been opened. The thing to do that summer was to jet-set to the Florida Keys for the weekend, as it was literally cheaper than spending the weekend in NYC. So off I went without a plan in the world.
I was driving through Key Largo when I wandered into John Pennekamp State Park. At the ranger station, I inquired about activities and the ranger told me I could go scuba diving. I didn't know how, and he suggested that I take an open water course. I thought, why not?
So I spent the night reading the open water manual in a tiny hotel room and did my first scuba dive the next day in a murky lagoon. It felt like flying! The fish were like birds flying around me. The physics of the environment were entirely different and I was immediately hooked.
When did you decide to make diving your full-time career?
A: I temporarily (I thought) moved to Akumal, Mexico to participate in a coral reef research internship run by a chemist. My bachelor's degree is in chemistry, and I thought this would be a good way to combine my love of diving with my education. Long story short, when I arrived, the internship had been cancelled and the non-profit hadn't bothered to tell anyone.
On a lark, I decided to enroll in the PADI Divemaster Program, as I was already in Mexico. During that time, I went on a guided cavern tour in the cenotes. Cave diving was never something I was interested in, but within about three breaths underwater, I realized that cave diving was what I wanted to do with the rest of my life.
Becoming an Open Water Instructor and teaching recreational divers in the ocean was simply a necessary step to becoming a cave diving professional. The goal was always cave diving, exploration, and owning my own cave diving center one day.
You are a talented underwater photographer and videographer – what are some of the biggest challenges of shooting in caves and other extreme environments?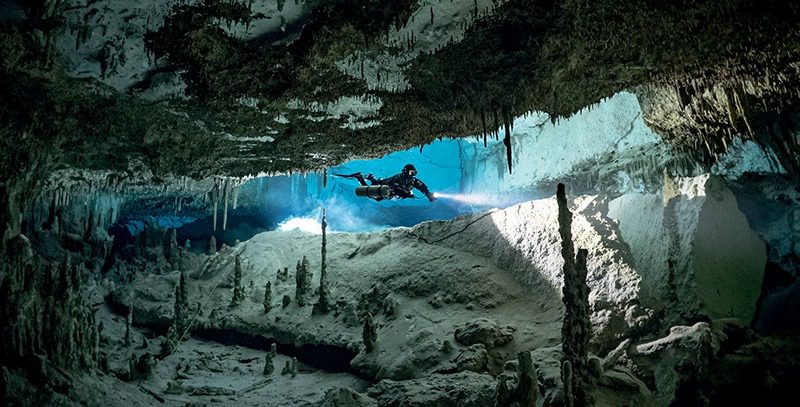 A: The caves have become my natural underwater environment, and believe it or not, I have never shot photos in the open water! I don't have a basis of comparison for the two different types of photography. In cave photography and videography, the creator supplies 100% of the light. I imagine that if someone was not accustomed to this aspect, it would be difficult to know where to place lights, or to illuminate a cave to express your own unique vision of the environment. In my case, I love this part of cave photography, as it gives me absolute control of the lighting.
Of course, in flooded cave photography one must be very careful about safety. It's important to stay near the cave guideline to avoid becoming disoriented and to maintain careful awareness of your breathing gas consumption. Conservation is also key, especially as I do place lights in the cave. This means that I must be very careful about placement location to avoid impacting the cave, and that I can't always put a light in the perfect position if that means that it would mar the cave environment.
You were recently inducted into the Women Diver's Hall of Fame – tell us a little more about this accolade.
A: My induction into the Women Diver's Hall of Fame is one of the highlights of my professional career. I feel extremely honored to stand beside some of the giants in our industry, and to be associated with some of my mentors and role models.
It's not easy to become a member of the Women Diver's Hall of Fame, not only does a diver have to contribute to diving in significant manner (my contribution was cave exploration) but one must work to disseminate that information, encourage women in diving, and act as a mentor to the next generation. I think that writing and photography, as well as quite a bit of public speaking, helped me in this aspect of the application.
The Women Diver's Hall of Fame honors accomplished female divers, but it also has the goal of helping up-and-coming divers reach their goals. The organization is a non-profit, and we offer training and research grants to both women and men. I look forward to helping the organization reach these goals, as I recently was elected to the board of trustees.
---
This article was originally published in Scuba Diver UK #71.
Subscribe digitally and read more great stories like this from anywhere in the world in a mobile-friendly format. Link to the article