Sitting south of Port Lincoln in the Great Australian Bight, the Neptune Islands look like freckles on the face of a haphazard sea. A sea which is unforgiving with cold, exhilarating winds sweeping up from the south that carve the mounds of land into a rugged home. Sea birds fly high and ride the push of the waves, dipping in and out of view with the folds of water. When the sea is rough, it does not take pity on your stomach. But when she is calm, she is divine, and you can see why this remote place is named the Neptune Islands. With waters that are beyond the description of turquoise or aquamarine, it glistens and is ever so enticing. It's the most-apt location to find the supreme and iconic inhabitants of the sea. The great white shark.
These legends are the reason for me stepping aboard The Princess II as crew for the Rodney Fox Shark Expedition for an unforgettable month of tourism and research. The beauties that are Carcharodon carcharias (meaning ragged toothed one) have been villainised by the media misconceptions, and yet I was so excited to see them.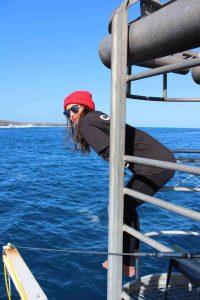 After a four-hour boat drive from Port Lincoln to the Neptunes, the Princess II is anchored in the most-perfect spot. In the home of the sharks. The cages are positioned. Passengers briefed. And then we wait and watch on the deck for them to come.
Suddenly the fish dart fast away, the seagulls skyrocket out the water as the ominous shadow of the shark creeps in out of the deep. A grey dorsal fin like a knife emerges out of the water and slices the surface, displacing water as he moves in. It took my brain far too long to register what I had just seen. One of the greatest creatures on the planet.
As the only operator in the world to have an ocean floor cage, you can see the sharks from the seabed as the cage drops down to 25m, and sits within the belly of the shark's environment.
Caverns and pinnacles of rocks covered in a meadow of seaweeds and kelp provide the perfect scenery to wait with huge anticipation for a shark to appear from the periphery of your vision. Down here, the shark's behaviour is completely different to on the surface. Here they inspect you. Scope you out as a foreigner in their domain. They know where you're looking and sometimes sneak up behind knowing you can't see them. You only spot them once your dive buddy is patting you madly on the shoulder as the three-metre torpedo of muscle and teeth passes you at eye level. Staring you down with their big brown eyes.
I can't lie to you, the bottom cage dive is now classed as one of the best dives I've ever had to date. Utterly epic and one experience I will not soon forget.
Photographs by Mae Dorricott and Roxanne Mula