The Scuba Diver team is on assignment in Grenada, and after a false start – after a couple of minor delays, our flight on Friday got canned as the plane went 'technical', so we didn't actually get to the island until Saturday afternoon – we got out on the water and bagged four great dives.
We were out with Native Spirit Scuba and this morning headed round the point on to the wild Atlantic side of the island, where we encountered some big swells and waves, but were rewarded for our efforts with two awesome dives on the King Mitch and Hema I shipwrecks in 30-35 metre vis. Both, particularly the former, were swarming with nurse sharks, lobster, barracuda, jacks, huge shoals of snapper, and a handful of blacktop reef sharks zipping around. At times, we were literally swimming through big groups of nurse sharks to get to different parts of the King Mitch!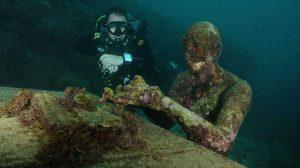 Then in the afternoon after a tasty Grenadian lunch, we made the short trip to the Grenada Underwater Sculpture Park, which includes works by Jason de Caires Taylor, Troy Lewis and Rene Froehlich. The sculptures have been down differing lengths of time but some have become well-colonised by encrusting marine growth, corals and sponges, taking on bizarre, other-worldly shapes, which in some cases are downright freaky.
The vis was not quite so good in the afternoon, perhaps seven to eight metres, however, this gave the dives even more of an atmospheric nature and in our opinion added to the lure and appeal of the site. Being shallow, it is perfect for divers of all levels, photographers will love it, and even snorkellers can explore the different exhibits.