Many parent divers can't wait to go on dive trips with their kids. Offering your children the unique chance to immerse themselves in an underwater world and sharing your own passion with them is an amazing gift.
A resort holiday might seem like the easiest choice – but a liveaboard cruise is also feasible for families if planned and organised in a mindful way. We have these 6 top tips when liveaboard diving with kids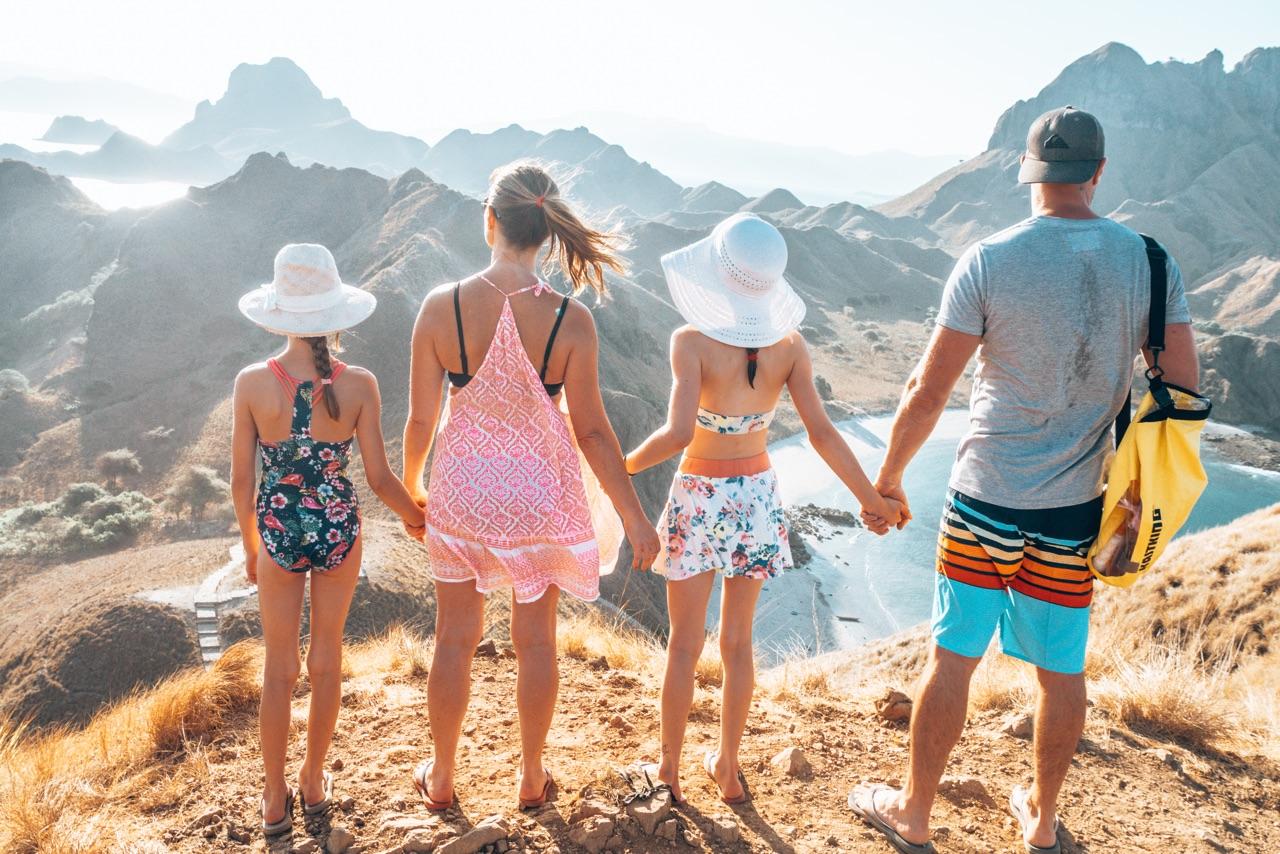 Destinations for Diving Liveaboard with children in Indonesia
Cruise Komodo with kids
Komodo Cruises offer a broad variety of activities, not only diving, and will be a great family experience overall. Besides diving, activities include visiting beaches, kayaking, stand-up paddleboarding, snorkelling, short hikes, seeing wildlife and simply experiencing life on a boat.
Komodo National Park is famous for strong currents and advanced diving – however, there are also many tranquil diving spots suitable for kids and beginners.
Private Boat Charters in Komodo offer the possibility to customise dive sites and route to fit the needs of your family – could also be a combination of land activities, advanced diving for adults and easy dives for kids.
Another advantage of Komodo for families is the easy flight connection one hour from Bali and overall makes a great destination for a family cruise.
Raja Ampat family boat trips
Diving and Sailing around Raja Ampat Islands offers an unparalleled experience for families. Unspoilt, remote and packed with life – welcome to one of the most-extraordinary environments on the planet! World-class snorkelling and diving, sea kayaking and​ ​SUPing though lagoons surrounded by dramatic limestone cliffs, breathtaking viewpoints, birdwatching, cultural visits and nature hikes – Raja Ampat offers a broad variety of sites and activities suitable for kids. This makes it the perfect destination to go liveaboard diving with kids.
Most Raja Ampat cruises are seven to 11 nights – so a relatively long time on board for your children. However, with the right boat and setting, kids usually adapt quickly to the 'Pirate Life' on board.
It takes some effort and time to travel to Raja Ampat/Sorong, but those families making the way will be rewarded with the most bio-diverse ecosystem on Earth. Plan your flights and travel itinerary well and ideally have a stop in Sorong before your cruise – so your family has some time to rest and adopt to the time zone before embarking on your cruise.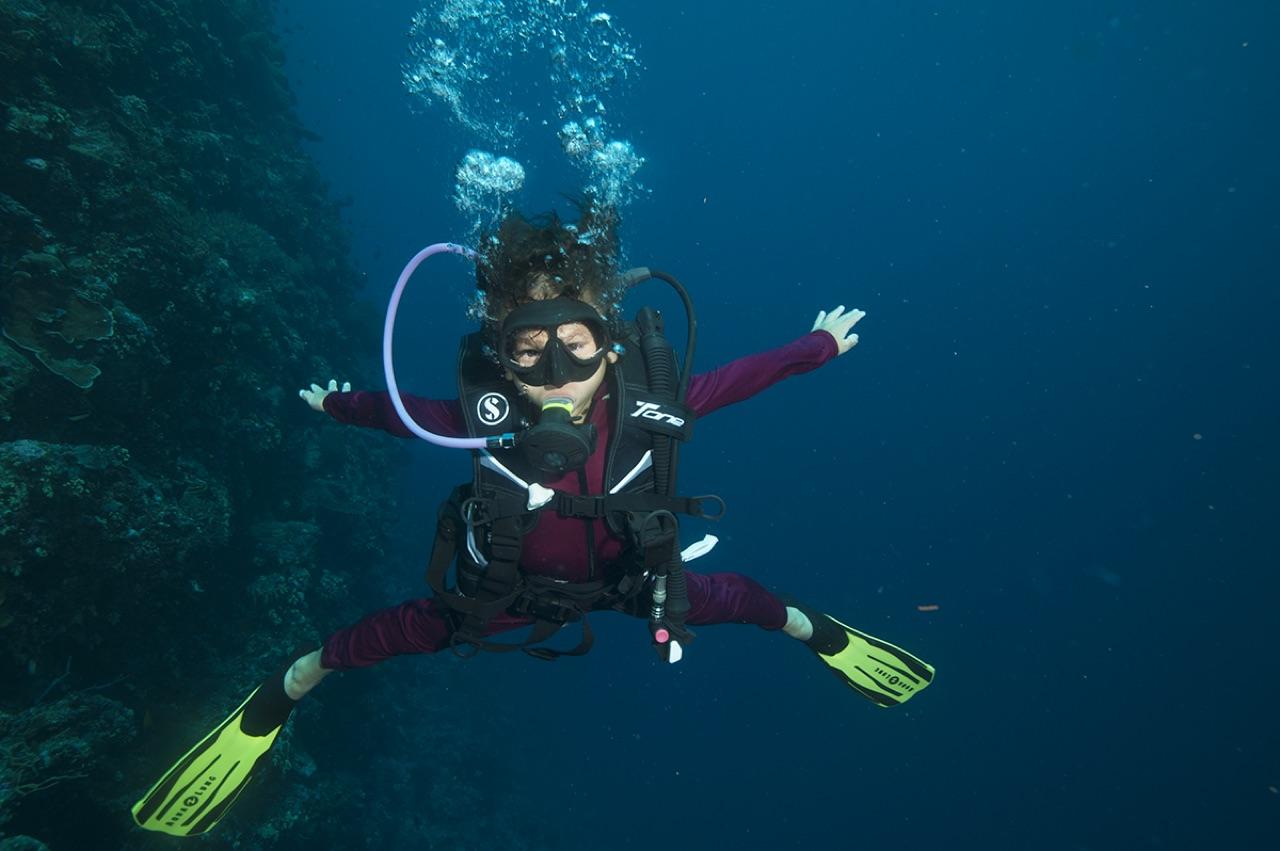 Important 'Do's' for planning your liveaboard diving with kids
Do confirm that there are enough guides/instructors are onboard to meet the diving needs of you and your family. A private yacht charter in Indonesia or sharing with another family usually works best.
Do keep in mind that choosing kid-friendly sites may affect the dive sites and destinations chosen for yourself and the rest of the group.
Do choose the right yacht and operator for your family. Private charters are a much-better choice for liveaboard diving with kids, as the timing and dive sites can be much better adjusted according to the needs of your family.
Do remember that flexibility is key when liveaboard diving with kids in Komodo. Dive sites and the number of dives have to be adjusted according to the ocean conditions, as well as your child's learning curve.
DO stay mindful of your own enthusiasm and remember that it is important to provide the right pace, location and flexibility for learning and practicing diving with your kids.
DO plan and book your holiday well in advance – having kids often means being limited to school holidays for dive trips. Those dates are often popular and book well in advance. Best to secure your spots early in order to get the ideal boat for your family.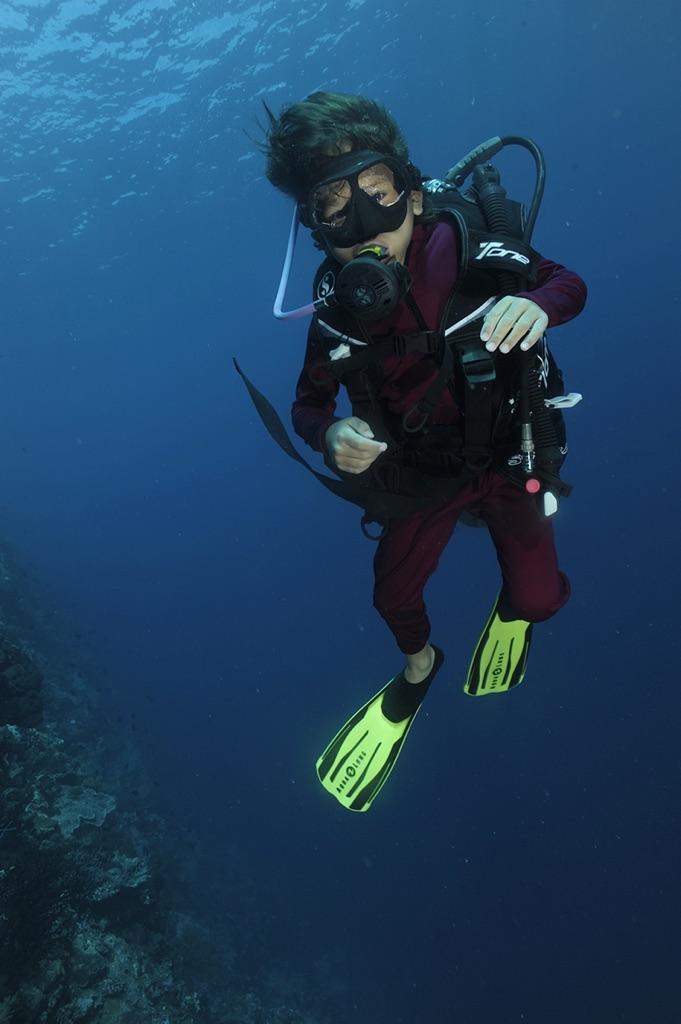 Diving certification for children on cruises
You may cruise and dive with kids and even do diving courses! Below are the most-common diving courses and levels. Generally, it is better that your kid gets a taste of diving before going on a liveaboard, but it's also possible to try scuba diving on a cruise if the setting and conditions are right.
Discover Scuba Dives
Discover Scuba Dives also called 'Introduction Dives' and are a straightforward and easy way to get your kids exploring underwater. Guided by a certified instructor, kids go through basic theory and shallow water exercises, followed by an easy dive on one of the beginner sites in Komodo.
A Discover Scuba Dive is also the first step towards a Junior Open Water Diver certification. Many of our yachts have permanent instructors on them and a Discover Scuba Dive for kids can be arranged directly onboard – however, it is advised to check beforehand about possible arrangements on your chosen boat.
Junior Open Water Courses
Generally, Junior Open Water Diver courses in Komodo, as well as most anywhere else in the world, last three to five days and include theory, shallow water exercises and four open water dives. It is possible to do a full open water course during a yacht charter, but it is important to give enough time for the cruise overall as there are plenty of other adventures to have on a cruise.
Junior Open Water Referrals
To limit the time that needs to be spent on theory and shallow water exercises in order to focus on what actually matters – diving in Komodo – it's a good idea to complete the shallow water/pool part of the course and theory at home or elsewhere before coming onboard in Komodo. The instructor will need a 'referral form' – but it is even better if it comes with direct contact to the referring instructor.
Fun Dives for kids
If your water babies are experienced enough to have already completed a full Junior Open Water Diver course or have even been diving before, we recommend asking about the guide and instructors onboard before arrival in Komodo.
As depth is limited to 12m, kids either need to have their own Divemaster or instructor or you can also dive as a family together and plan dives according to the needs of the least-experienced member of your diving family.
Liveaboard diving with kids can be an amazing experience for parents and kids. Contact Barefoot Yachts Indonesia for unbiased advice and planning of your next family diving holiday.
If you need more inspiration, check out the 7 Best Raja Ampat Dive Sites.