Injuries to whale sharks appear to be on the rise. The increase in boat traffic around the world combined with the fact that these huge creatures travel great distances and are often found close to the surface, means that they are, unfortunately getting hit more and more often.
It is now estimated that nearly a fifth of Whale Sharks found at Ningaloo reef in Western Austria have sustained injuries, most probably from boat collisions.
A team of researchers studied 913 Whale Sharks images taken by Ningaloo tour boat operators between 2008 and 2013. Of these, 146 or about 16% showed some form of serious injuries.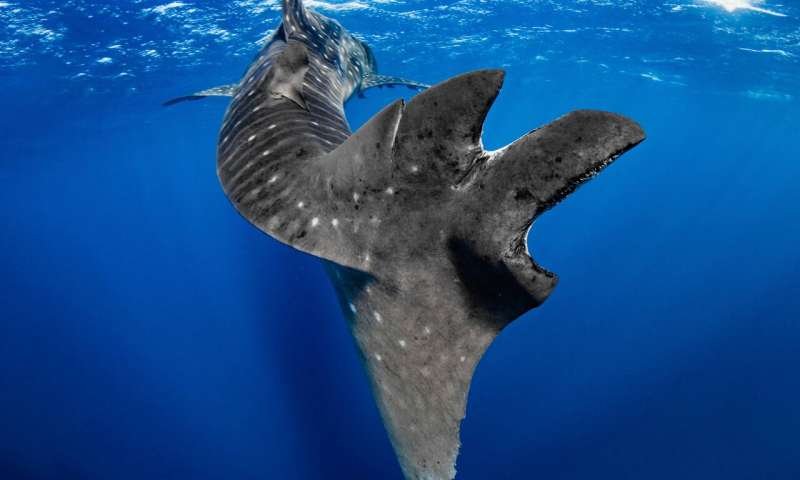 Emily Lester from the Australian Institute of Marine Science commented.
"Some of the major scars were probably biter marks from predators, but most were the marks were blunt trauma lacerations or amputations arising from encounters with ships, particularly propellers. One possible explanation is that there is an increase in shipping activity throughout the whale sharks' range—inside Ningaloo and out—and collisions are becoming more frequent. A collision between a large ocean-going vessel and a whale shark wouldn't be felt by the ship, as a result, it's likely that we're underestimating the number of mortalities from ship strike, since our study could only document sharks that survived their injuries."
Dr. Raudino A specialist on Marine Fauna suggested that one solution to this problem is identifying hotspots of where these collisions are occurring through spatial modelling".
Scientists in India are also noticing a worrying trend of more injuries and fatalities from whale sharks being hit by boats.
Vice-chairman of the Indian Ocean region of the IUCN Shark Specialist Group Rima Jabado said
"The injuries are caused due to the heavy traffic of ships and boats passing from the migration route in the Indian Ocean region, The whale shark feeds on the surface of the ocean.so for 80% of they are on the surface are on the surface of the water and that is the reason they are getting injured.
In some good news for the sharks; 
The India government has persuaded fishermen to release as many as 781 whale sharks caught in their nets along the Gujarat coast since 2004 after an awareness campaign was launched to save the species.
Photo Credit: Jess Hadden
Photo Credit: Shark Guardian
Photo Credit: Adrian Stacey