Port Ghalib and Marsa Alam used to be considered the 'Deep South' in Egypt, but now visiting divers have the opportunity to venture even further down the coast – some 180km to be exact – to the quiet, sleepy diving resort of Hamata, which has the mighty Fury Shoals right on its doorstep.
There are a small number of hotels, a few restaurants and a marina; then it's you, nature, the beach, relaxation and the clear Red Sea waters. The weather is warm and dry for the majority of the year, although it can be a bit windier being this far south, so make sure you take a lightweight fleece or windbreaker for out on the boat or on an evening.
If you fancy the sound of Hamata, but don't want to be so secluded for an entire week, then you can combine a few days in the laidback resort with the remainder of your trip in one of the hotels in Port Ghalib, which will give you access to a selection of bars and restaurants, although being this far south, it is still very chilled out and doesn't boast the nightlife of Sharm or Hurghada.
For divers, this is a great way to maximise what dive sites you can hit, as with Emperor Divers (www.emperordivers.com) offering house reef, RIB and boat diving from both locations, and the resorts being so far apart, you won't get any cross over.
I happened to be in Egypt to join a liveaboard to the Brothers and Daedalous, but having a few days on land either side of the week-long trip, I was able to join Emperor's General Manager Luke Atkinson for a whistle-stop tour of what they have to offer in both locations.
Marsa Alam
First up were a couple of dips on the house reef in Port Ghalib, which is located close to the Palace and Sahara Sands Hotels. The lengthy reef has three entry and exit points, offering five very different dive profiles. The all-weather beach entry is great for those who want an easy dive from start to finish, while the two jetties provide access to deep blue water right from the off. Depending on experience, guests can either go guided or unguided on the house reef, which is open from 8am to 5.45pm (or sunset). Guided dives usually take place at 9.30am and 2pm.
It was nice to see pristine corals and plentiful marine life this close to the marina – the house reef literally lies along one side of the entrance channel – and as well as all the usual Red Sea reef dwellers, such as masked pufferfish, blue-spotted lagoon rays, angelfish, moray eels, butterflyfish, anemonefish, crocodilefish, lionfish, snapper and grouper, we were also repeatedly buzzed by a nice-sized eagle ray. Apparently, dolphins and even manta rays have been seen on the house reef. For any non-divers in your party, much of the coral and fish life comes right to the surface, so snorkellers will be in their element.
Boat diving out of Port Ghalib takes divers to sites such as Marsa Shouna, Ras el Torfa and Marsa Mubarak, which are suitable for all levels of diver and boast plentiful corals and marine life.
Special day trips from Marsa Alam include Abu Dabab, where you can encounter massive green turtles and occasionally dugongs; the world-famous Elphinstone, with its ripping currents, sheer walls and oceanic whitetip sharks (at the right time of year); and Sha'ab Samadai, a horseshoe-shaped reef often called Dolphin House thanks to its resident pod of spinner dolphins.
I was staying at the newly-built Resta Club Marine View hotel in the heart of Port Ghalib. Close to the marina and the boats, this is a great resort for divers whether singles, couples or a group. Rooms are comfortable, with air-con, balcony or terrace, minibar, TV and safety deposit box. Emperor provides transfers to and from the dive boats, but the Resta Club runs buggies to the nearby beach as well.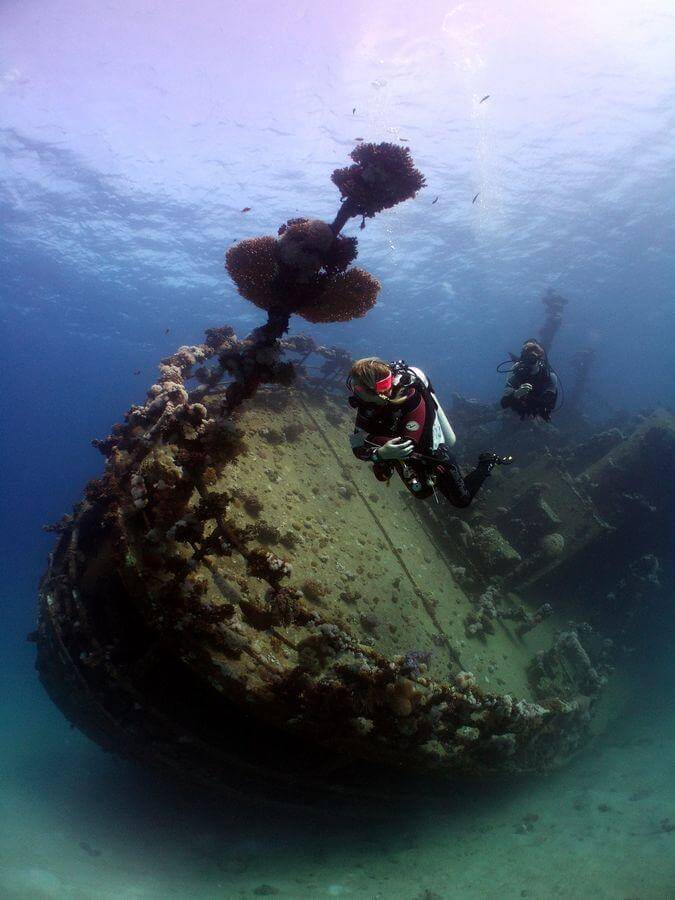 Hamata
"With deep water right on hand, large pelagic species are often seen cruising in the blue, so keep one eye open as you bimble along the reef"
It was interesting to explore the house reef in Port Ghalib, but I'd been in Marsa Alam several times before, and so I was excited to jump in the car and venture south to Hamata, as this was virgin territory for me.
Emperor Divers is ideally located right on the beach of the Zabargad Berenice Resort, and to access the house reef you just have to grab your kit, stroll down the newly renovated jetty and take a giant stride into the welcoming waters of the Red Sea. Again, as with Port Ghalib, the house reef is open from 8am to 5.45pm (or sunset), and guided or unguided options are available.
The house reef here is much more dramatic than Marsa Alam, with sections of sheer wall and overhangs, interspersed with coral heads and sand channels, leading on to a sand-and-coral-rubble slope heading off into the depths. As with the Marsa Alam house reef, there are all the usual fish suspects in evidence, but being fed with nutrients from currents sweeping up the coast, there are also some impressive plumes of vibrant soft corals and sponges adorning the hard coral.
With deep water right on hand, large pelagic species are often seen cruising in the blue, so keep one eye open as you bimble along the reef. Alas, on our dive nothing big showed up – typical!
The Zabargad Berenice Resort itself is built in typical Moorish style and set in gardens amid a rugged backdrop. Accommodation is mostly bungalow-style, with air-con, full-size fridge, satellite TV and digital safe. The main dining room has great views over the large pool, beach and gardens, while the Divers' Bar offers drinks, snacks and a stunning sea view and is a great place to share diving tales with a 'deco' beer.
We didn't have time to go out on a dayboat, but these are handily located just a three-minute minibus transfer away at the Hamata Marina. Dive sites within easy reach include better-known locations such as Sha'ab Claudio, Abu Galawa Soraya and Abu Galawa Kebir, which liveaboard veterans might remember hitting during a Deep South voyage, as well as lesser-known sites such as the Qula'an Islands and Habili Coconut.
Special full-day boat trips include Sha'ab Sataya, a huge natural lagoon formed by a massive reef rising from the depths and famed for its huge pods of spinner dolphins; Sha'ab Maksur, a large and varied reef with steep drop-offs and strong currents that is often compared to the revered Elphinstone; and the 'Best of Fury Shoals', which makes the most of the fact that this fantastic region – once only visited by liveaboards – is close by, and offers three dives, including one each at the famed sites Malahi and Gota Sataya Soraya.
However, I was most looking forward to a trip which is offered from both Marsa Alam and Hamata, and centres around the shipwreck of a 65-metre-long coaster. And best of all, it lies in just 15m and is accessible from the shore! In fact, with it rising to within a few metres of the surface, it can even be seen by snorkellers!
Being a certified wreck-head, I couldn't wait to see the Hamata, which Luke had promised would blow me away when it loomed out of the blue. And true to his word, a few minutes swim from the beach entry, he brought me in directly on to the dramatic stern section, with its intact propeller, which is reminiscent of the Giannis D on Abu Nuhas Reef.
The Hamata had an eventful history. Built in Aberdeen, the vessel was launched on 15 March 1965 bearing the name Avocet, and plied the waters of the UK into the mid-1970s. It was then sold and ended up in Cyprus, initially being named the Afroditi H, then the Samarah and finally, in 1985, the Hamata, and the following year it was sold to a company in Malta.
There are multiple stories about the loss of the ship, which was on a voyage from Jeddah to Suez on 28 June 1993 – one report says it caught fire and sank in deep water, others that it stuck a submerged object out at sea. However, whatever came to pass in reality, we now know that it ended up in shallow water in Abu Ghusun and has since become a fantastic playground for divers.
The wreck is now split into two parts, with the stern section being the most 'shipshape', and though it has only been down 22 years, it is covered in hard and soft coral growth, and boasts a rich selection of marine life in and around it. This, combined with the light filtering down through the shallow water, makes it particularly photogenic, and it is easy to see why this is a huge favourite with underwater photographers.
With good gas consumption and an optimum nitrox mix, you could spend ages exploring and shooting on this wreck. One thing – have a look on the beach around the entry/exit point and you will find tiny plastic granules, which were being transported in the holds of the Hamata when it came to grief.