Regulators – Apeks XTX50 (SRP: £434)
Apeks has  been a staple in the armoury of many British divers for over 40 years, and the XTX50 is the UK company's solid middle-of-the-range unit. It is best described as utilitarian in the looks department, but aside from the rather drab second stage it is well equipped with everything a UK diver could want, including an environmentally sealed first stage, large purge button, braided hose, chunky venturi lever, cracking resistance control, four low-pressure ports on a swivelling turret, and two high-pressure ports.
Following on from the triumph of the MTX-R, the Apeks XTX50 was similarly acclaimed universally for its stunning performance. Looks of the rather-dated second stage aside, there is simply no faulting the pedigree of this cold-water beast. The Comfo-Bite mouthpiece received praise, as did the large and accessible venturi and cracking resistance controls, which did actually make a noticeable difference to the performance. The Test Team also singled out the interchangeable exhaust tee – you can fit a small or a large version – for the thumbs up, along with the flexibility of the braided hose.
Regulators – Aqualung Core Supreme (SRP: £280)
The Core Supreme is Aqua Lung's mid-range regulator. This regulator is not only lightweight, travel-efficient and a wallet-friendly price, it comes with a host of neat features, including the company's auto-closure device (ACD), which keeps corrosive water out of the first stage to ensure top performance.
It has a balanced diaphragm first stage which is environmentally sealed for cold-water performance, and a pneumatically balanced second stage.
The T-shaped first stage provides optimum routing for the four low-pressure and two high-pressure ports, and it also has a venturi lever and a Comfo-Bite mouthpiece.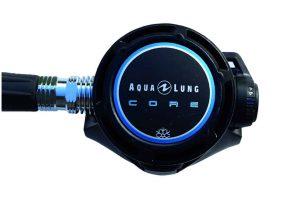 The Core Supreme scored highly with all the Test Team members, who were impressed by its smooth, dry breathe in all positions and its comfortable mouthpiece. The oversized venturi lever was easy to use, but the effects were negligible. The looks and performance belied the price of this reg, which came in substantially less than its rivals in this price bracket. We also liked the large purge, which was very easy to locate and operate. The exhaust also ensured that bubbles were moved away from your face.
Regulators – Atomic Aquatics Z3 (SRP: £460)
Atomic Aquatics are renowned for producing high-end, high-performance regulators, but with the Z3, they have managed to bring all this workmanship and technology into a more mid-range package.
The Zirconium – that's what the 'Z' stands for – delivers corrosion-resistance apparently three to four times that of conventional chrome plating, and the second stage lever, orifice and spring are titanium, as with the higher-spec (and price) models.
It is equipped with a factory sealed first stage, huge purge button, comfort swivel, and no less than seven low-pressure ports and two high-pressure ports. 
As with all Atomic products, the reg benefits from a limited lifetime warranty – not contingent on proof of service – and boasts a two-year/300 dive service interval.
The Z3 scored very highly with the Test Team. While there has been a slight price increase from last year, you still get a lot of reg for your money. It looks good, is extremely well made, boasts a silky smooth breathe and has some neat features like the comfort swivel on the hose, and the control knob that adjusts everything in one go.
Regulators – Mares Abyss 5X (SRP: £395)
The Abyss 52x has been around for many years, but it is still an eye-catching regulator thanks to its all-metal second stage, which has a large purge and is refreshing simple, with no diver-controls.
The 52x first stage is solid but compact, equipped with two high-pressure ports and four low-pressure ports, and with the Natural Convection Channel (NCC) boasts superior cold-water performance.
The all-metal second stage has a lightweight Superflex hose, and a 'mesh grid' cover to reduce the chance of freeflows even in strong currents.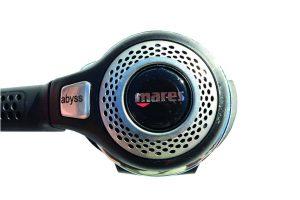 Mares have always turned out great regulators, and the Abyss 52x continues this trend. It is simplicity itself, just get it out of the box, stick on the octopus, hoses and gauges and you are ready to go – there are no diver-adjustable controls, it just breathes well right from the get-go. The Abyss gave a smooth breathe in all positions, and was surprisingly lightweight for an all-metal reg. The large purge button works well, and the small but comfortable mouthpiece also got the thumbs up from the Test Team.
Regulators – Scubapro MK17Evo/G260 (SRP: £399)
Scubapro has been making regulators for over 50 years, and the G260 second stage has that retro appeal for those lamenting the passing of the tried-and-tested G250. It features metal components including air barrel and valve inlet tube, which increase resistance to freezing when diving in extreme conditions, and has cracking resistance and venturi controls.
For this test is was paired with the MK17EVO balanced diaphragm first stage, which is made from chrome-plated marine-grade brass and in its new EVO guise boasts a slimmed down body, increase in airflow and a smaller dry chamber and spring.
Even with the new EVO version of the MK17 first stage, this regulator package still comes in at a cracking price. The Test Team were taken by the old-school looks, which incorporated a large purge button, huge venturi lever and a chunky cracking resistance control, all of which were easy to operate even with thick neoprene gloves on. The comfortable mouthpiece also won praise, and the small but efficient exhaust valve easily cleared the exhaled bubbles.
Regulators – Zeagle Onyx (SRP: £395)
As with its top-of-the-line F8, Zeagle have worked with Atomic Aquatics to produce another solidly constructed regulator.
The Onyx has an environmentally sealed balanced diaphragm first stage made from durable brass, and featuring a precision-machined advanced polymer seat, five low-pressure ports and two high-pressure ports.
The second stage has a durable thermoplastic case, large cracking resistance control, venturi lever and is equipped with a flexible thermoplastic cover, lightweight braided hose and a silicone mouthpiece.
The price point of the Onyx will help Zeagle make a solid push into the world of regulators. Like the Atomic Aquatics B2 and Z3, the Onyx actually looks a more-expensive regulator than its pricier sibling the F8, thanks to the sleek chrome inset on the second stage.
As with the F8, the cracking resistance control is large and easy to use, as is the venturi lever, but again, neither made a vast difference. Sadly the mouthpiece and exhaust combo is similarly uncomfy as it rested on your chin, which is a real shame as otherwise it's a nice reg.
VERDICT
The water temperatures of 6 degrees C in the depths of Vivian Quarry were a good test of the mid-range regulators in this review, especially as we pushed them to the limit by doing everything you shouldn't do – rapidly breathing them on land prior to immersion, extended purges topside and underwater, hard breathing underwater, etc.
Overall, once again, they all provided decent performances.
The Scuba Diver Choice award went to the Apeks XTX50. It may lack in the looks department, but there was no faulting the performance. The Scuba Diver Best Value award went to the Aqualung Core Supreme, which is astonishingly good for the price point and looks far more expensive than it really is.
Our gear content is sponsored by Mike's Dive Store, the UK's premier dive retailer. For all your diving needs visit them in-store or online for your diving, freediving, snorkelling and servicing.