Earlier in the week, a local man named Django incurred the wrath of the Fisheries department for his humpback whale rescue off the coast of Burleigh heads.
He had apparently been told that he would face a substantial fine for his actions, but it has now been confirmed that he will just be let off with a warning.
A crowdfunding page had been set up to assist Django with any potential fines for his humpback whale rescue and had raised around $15,000
But an update from the page's organiser, Dale Harris stated Django had been let off with a formal warning.
"It has just been announced that Django will not be fined for his heroic efforts. He will now only receive a formal caution from the QLD Fisheries Department. This is an outstanding result. Together, our voices have sought justice for this local legend and helped overturn this potential fine."
Mr Harris also said Django now wanted the money to go towards Sea Shepherd Australia, an organisation dedicated to protecting and conserving oceans and marine life.
"We are in direct contact with Sea Shepherd Australia and it will share an update on how your donations will help protect our local oceans within the next few days. Anyone who did not want their donation to go to the charity would be able to request a refund, he said. We cannot thank you all enough for your overwhelming response for our legend whale saver. This fundraiser has demonstrated the power of our community to advocate to protect our marine life and support our local heroes,"
Asked about the fine, Django said he'd seen the officials while out in the water, and they later visited him at his home in wet suits to discuss the amount.
"They were in wet suits. They weren't going out to fine someone out that day, they were going out to save a whale so they didn't have any paperwork on them. This is their words,"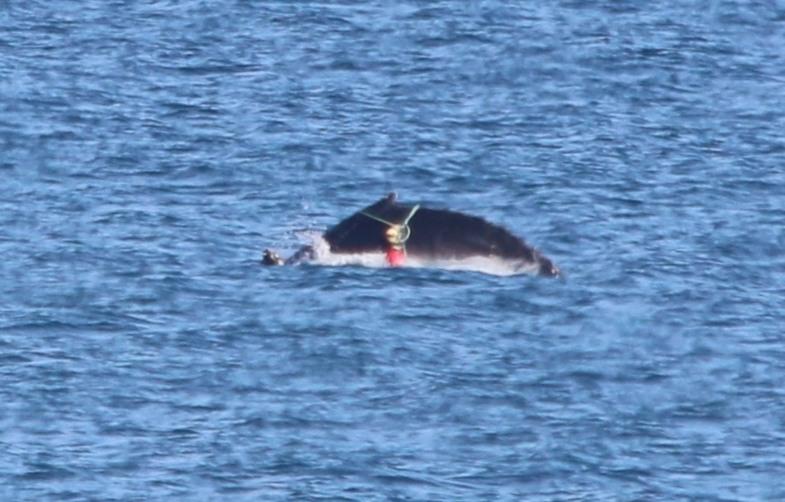 He then added.
"I'm not scared of it, to be honest. Obviously it was dangerous. I wouldn't recommend everyone go and do it, it's highly dangerous. But it's done. I didn't drown. It was all good. I wouldn't recommend anyone doing it."
A Fisheries Queensland spokeswoman said the Queensland Boating and Fisheries Patrol, which conducted the investigation into the incident, always took an initial "education and awareness" approach before it imposed harsher penalties for repeat offenders.
"To be clear, this incident could have had a tragic outcome. The actions we saw earlier this week were reckless and completely unnecessary," Fisheries Queensland said in a statement.
"The Marine Animal Rescue Team [MART] was just minutes away when this person went into the water.
"He put himself in serious danger, as well as potentially injuring the whale, and creating a situation where MART could have been at significant risk trying to rescue a trapped swimmer next to the thrashing whale.
"In 1992, a surfer drowned after becoming entangled by shark control equipment. This is why there is a 20-metre exclusion zone around shark control equipment.
"MART trains every year for whale rescue situations, and has the necessary equipment to undertake a safe rescue."
According to Fisheries Queensland, there were six whales entangled in shark nets in 2019, including three on the Gold Coast, and all six were successfully released by MART.
While it is important to have rules in place to help protect wildlife and humans it is also good to take into account the specifics of each incident. It is good to hear that Django was not fined for his unselfish actions and that a bit of compassion was applied.
Want to read more news stories?
Whale Rescue Could Result in $27000 Fine
Iceland Cancels 2020 Whale Hunt
Artefacts seized as Cypriot officials clash with salvagers over ancient shipwreck