Novice, enthusiast or fanatic? Leader, follower or soloist? Whatever your scuba diving style and abilities, you are welcome at Wakatobi Resort. Thanks to the combination of a diverse underwater landscape and an expert and accommodating dive team, guests are never subjected to a one-size-fits-all diving experience and are instead able to create underwater experiences tailored to their personal interests.
This could mean a relaxing snorkel tour off the beach, an extended stake out of a favourite photo subject, a drift across a coral ridge or a night-time foray onto a landscape that takes on a new personality under cover of darkness. Here are just some of the ways Wakatobi's guests can satisfy their urge to submerge:
Wakatobi, at your service
The Wakatobi dive team's goal is to help you make the most of every dive. They take great pride in providing each diver with just the right degree of personal service. This can mean different things for different people. They provide concierge-level diving, with the staff handling all details of setup, transfer and storage. But if you'd rather take charge of your own gear, no problem. The same philosophy applies in the water. Their guides always provide thorough pre-dive briefings, and are there in the water throughout each dive to lead the way, point out unique finds, keep a watchful eye, and render assistance if needed. But if you'd rather lead than follow, that's also OK.
All they ask is that you follow safe diving practices and respect their efforts to preserve the reefs. Scuba novices appreciate the additional assistance and personal attention their guides are able to provide, while more accomplished divers often choose to hang close to the guides to tap into their local knowledge of the site, and their almost uncanny ability to spot elusive marine life.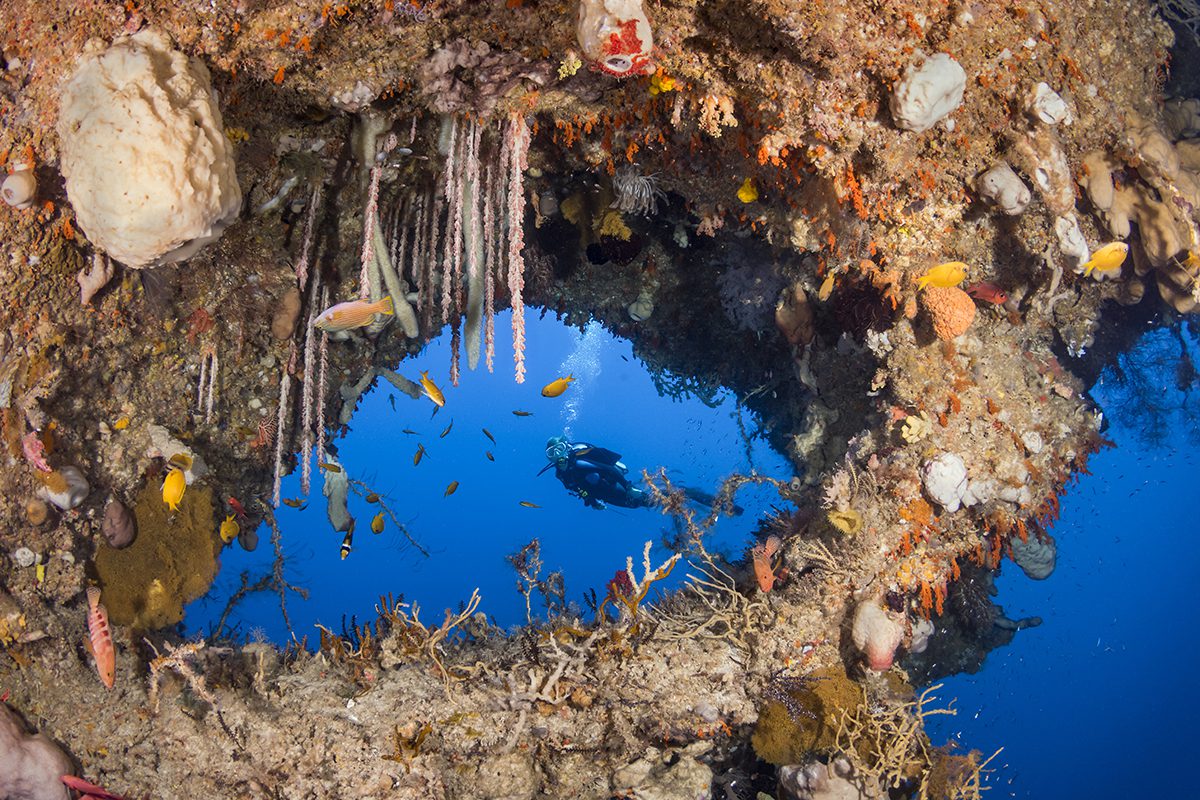 Make it multi-level
Tracking actual depth throughout the dive, computers make it possible to enjoy significantly longer bottom times at sites where one can start deeper, then ascend slowly towards the surface through the course of the dive. Few places in the world are as well-suited for multi-level profiles as Wakatobi. The walls and steep slopes found at many of our sites rise to within a metre of the surface, then plunge beyond the range of recreational diving. On these sites, computer-equipped divers can create profiles that stretch well beyond the hour mark, ending with an extended tour of the reef crest.
Multi-level profiles are especially productive at sites like Teluk Maya, where divers can begin their adventure by following a coral-encrusted slope down to a dramatic overhanging wall. Working their way back up the slope, they will pass through a resident school of batfish and catch glimpses of patrolling cuttlefish. Closer looks reveal a wealth of subjects such as frogfish, rockmover wrasses, pegasus seamoths and possibly even a ghost pipefish. The upper slope then transitions to a sandy bay, where divers can fan out to discover an even greater variety of subjects. While dives are planned for 70 minutes, it's not uncommon on many of their sites for bottom times to last longer.
Go with the flow
At some sites, dive boats will tie to the mooring buoys they have installed to prevent anchor damage. This provides divers with a secure and familiar reference point to return to. But a number of the best dives at Wakatobi don't begin and end at the same point, and are instead conducted as drift dives, creating a great variety of profiles and subject matter to see.
As anyone who has performed a properly-executed drift dive knows, it can be a very rewarding experience. There is no need to navigate back to the starting point, calculate air reserves or to swim against a current; you simply step overboard and follow along the reef. The team schedules dives according to tide tables so you don't have to deal with strong currents.
At Lorenz's Delight, mild currents might carry you past yellow wire coral that can spiral five meters above a steeply sloping wall. At sites such as Waiti Ridge and Blade, divers can move above underwater seamounts that rise from the depths and come within a short distance of the surface. For small critters, there are drifts around the staghorn coral gardens in the shallows of Dunia Baru. When you perform a leisurely drift at Wakatobi, you're in the company of an attentive and knowledgeable guide, and at the end of the dive, the boat will be right there waiting when you surface.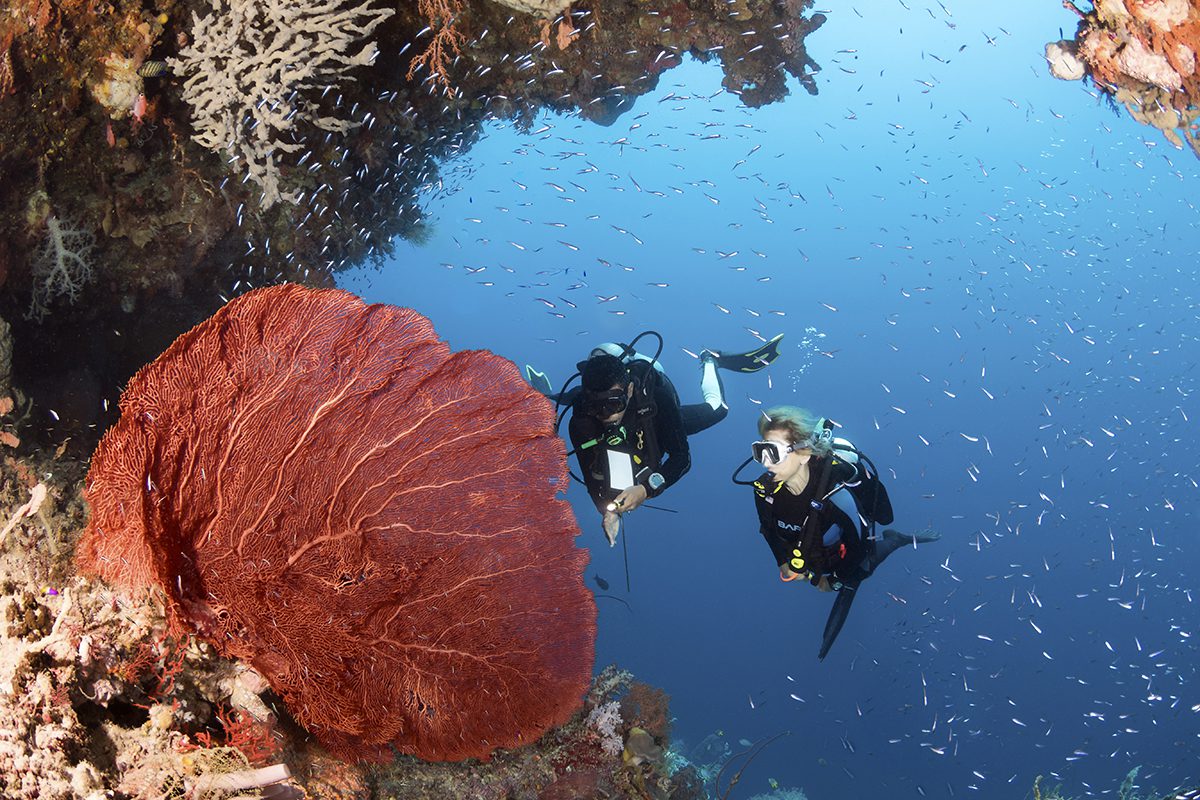 On the house
With morning, mid-morning and afternoon boat departures, divers at Wakatobi are never far from their next excursion. But you don't have to catch the boat to enjoy an exceptional dive. Their House Reef is known as one of the world's best shore dives, and you can discover this legendary strip of underwater real estate by simply wading in from the beach or entering at the end of the resort jetty. Some of the region's rarest wildlife finds have been made just around the jetty, including ghost and ornate ghost pipefish, leaf scorpionfish, and juvenile cuttlefish.
Wakatobi's House Reef will please a wide range of divers. Extended range enthusiasts can follow the walls and slopes to discover forests of black corals in the depths; photographers range from the critter-rich slopes to the inshore grass flats, filling memory cards with macro portraits, or taking advantage of the ambient light to create stunning wide-angle panoramas. Novice and casual divers can remain close to the reef crest, where colours are at their peak, and sightings such as anemonefish and cleaning stations are common. For an experience half way between a shore and boat dive, guests can also engage the services of Wakatobi's taxi boats, which ferry you to more distant areas of the House Reef for a picturesque drift along the wall back to the jetty.
However you choose to explore Wakatobi's reefs – shallow or deep, day or night, staying put or drifting along the wall – the one thing that is certain is that you won't run out of things to see or do. And perhaps that's one of the many reasons why so many of their guests keep coming back for more.
Photo credit: Walt Stearns