Diving the South Andaman Sea with The Phinisi Liveaboard
A beautiful vessel matched with marine conservation
I was invited along to experience The Phinisi Dive Liveaboard on a four-day itinerary to the South Andaman Sea. Also on board was Marc Philippe from "Oceans for All" a marine conservation foundation that was conducting a Leopard Shark Expedition. This is my report on an amazing dive trip with a marine conservation theme.
Getting to Thailand
This was my first overseas trip since the COVID pandemic, so I was unsure of what to expect. I would be travelling under the Test & Go Program, for fully vaccinated travellers. This meant I had to be fully vaccinated, pre-book accommodation for five days starting from arrival, pre-book two PCR tests for day one & day five, pre-book an airport transfer & have COVID insurance with $50,000USD hospital coverage.
This info was uploaded to the government site and I was issued a QR code. The submitting process was very quick, but I will mention that you need to have jpg's for all documents so printing & taking a photo is the best option.
Already to go I set off from Melbourne, AUS, and flew through Singapore with Jetstar airlines. It was a simple check-in & the flight was about half full. The transit in Singapore was quiet with not many shops & food areas open. Unfortunately, it will be a while before this hub returns to a full capacity facility.
Arriving in Thailand
I was unsure about the arrival, we had all this paperwork & needed to have a PCR test upon landing as well, so I was expecting it to be a long process. Fortunately, this was not the case.
Straight off the plane staff guided us to a seating area and walked through helping us to make sure we had the correct paperwork out, ready, for each step involved. From here we joined a line & at the counter, showed our vaccination certificate, our PCR test from our departure country & the QR code we had been issued. From here through immigration, collect the luggage and then to the testing area.
Again, the staff were very helpful and guided us through. The lady even pointed out that I didn't have to do the second PCR test as the rules had just changed and suggested I apply for a refund (which I did the next day). She also gave out a RAT test (which I was to take on day 5) with the PCR test. The PCR testers were quick & efficient.
All up from leaving the plane to taking the taxi to the hotel, just over one hour, a very quick & efficient process. Very impressed as it was less time than my check-in in Melbourne!
Thailand currently
I stayed in Karon beach for several nights and had my airport PCR test results arrive early the next morning. It was negative, so I was able to move freely around Phuket which I spent sightseeing and walking around. Unfortunately, the whole island of Phuket has been hit hard by the lack of tourists with shops closed. There are signs of revival, and some areas are experiencing quicker recovery than others, but it will take time.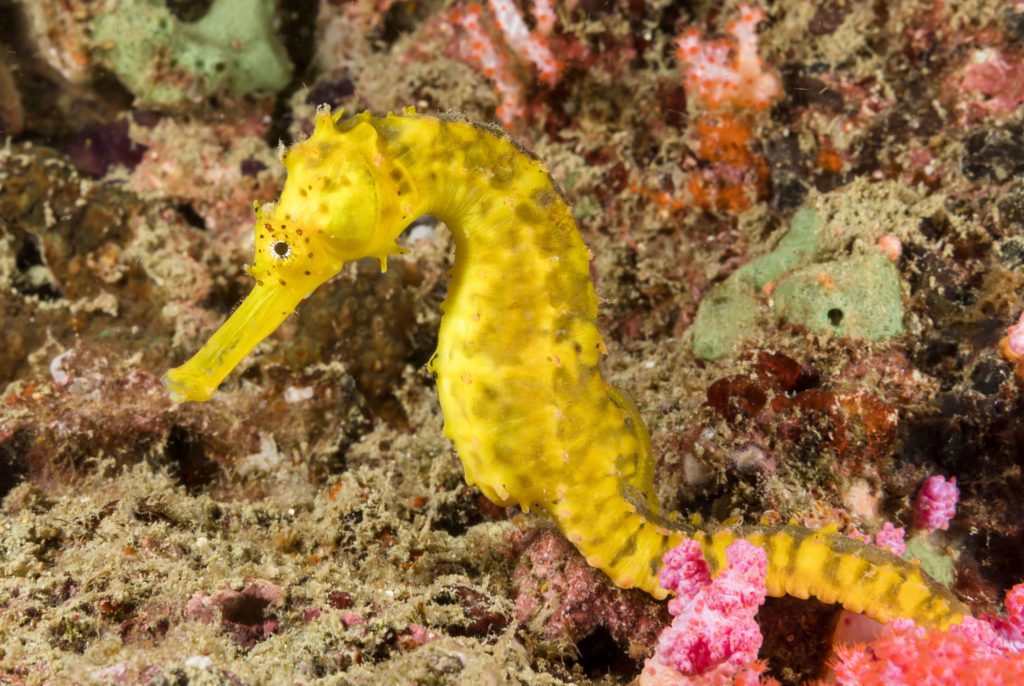 Departure day
I packed all my gear up and was ready for the transfer down to the boat. I had arranged a transfer with The Phinisi directly and they had a taxi waiting for me at the pre-arranged time, for the drive down to Chalong Pier, the departure point. The Pier can be busy but there is enough space for everyone, and you need to take a second taxi down the pier so make sure you get off at the very end.
The Phinisi
The Phinisi (pronounced pin-ee-see) officially known as 'Cheng I Sao' had a variety & well-travelled career. Custom built for diving in 2007 in Indonesia, she started her dive cruises to the Similan & Myanmar, up until 2009. With the expansion of the WWDAS destinations, she was renamed the S/Y Siren, the first vessel that would become part of the Siren fleet (now the Master Liveaboards).
She went to Komodo and other destinations up until 2011, then relocated to the Maldives and renamed the Maldives Siren. In 2014 she left the Maldives and returned to Phuket and was renamed Cheng I Sao – a legendary fearless female Chinese pirate that roamed the South China Sea. She returned to the diving fold becoming The Phinisi dive liveaboard, that she is today!
The vessel has quad, triple, twin and single cabins all on the one deck below. Each has it's own ensuite, air-conditioning and plenty of storage. The beds are comfortable and the showers are quite roomy which is great as I am six-foot-plus. The saloon has room to relax with dinners being served on the back deck with ample seating. The dive deck is located forward with tanks set up around the inside of the top deck facing out for easy access. Upstairs there's is a shaded area to rest & unwind. The Phinisi is a very spacious & comfortable boat.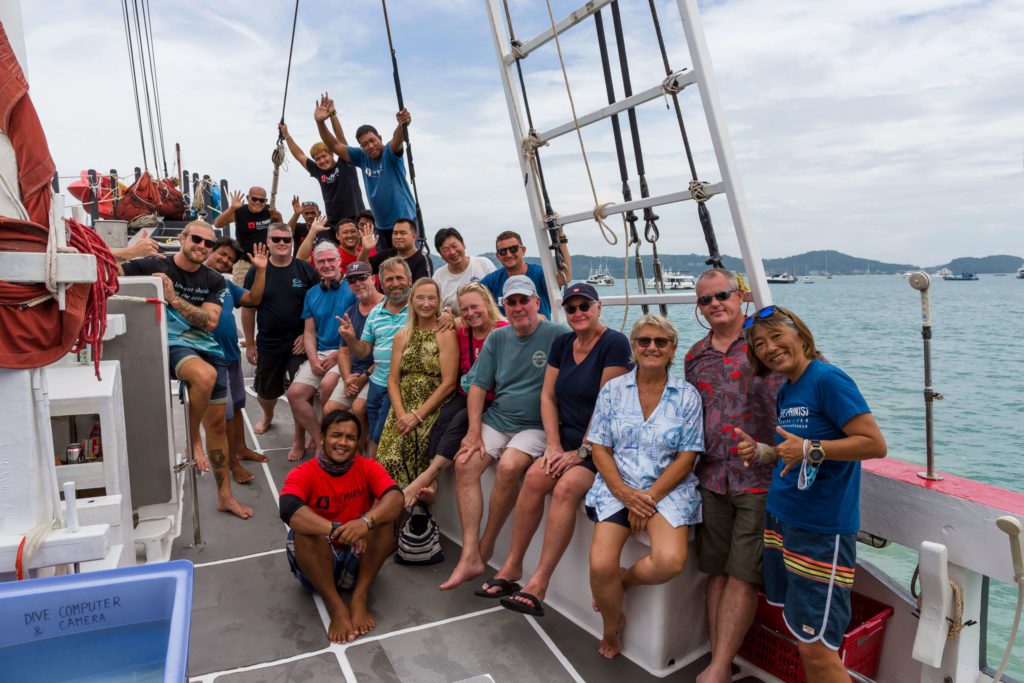 Meeting the boat
I was met by the crew at the end of the Chalong Pier and ferried out on their tender to the vessel with my luggage. The vessel is a striking sight in the bay, a three-masted, wooden vessel whereas others are steel and look in all states of repair.
Onboard I was introduced to the crew and met the owner Steve who tends to be on board for all of his departures making sure everything is in order & running smoothly. I stowed my gear in my cabin, set up my dive equipment and relaxed waiting for the other passengers to arrive.
The passengers arrived within the allocated time from 18.00 to 19.00 pm with everyone arriving and we were ready to set off. Our Cruise Director Steve Boots (not the owner) conducted a safety briefing with everyone which included the requirement for everyone to get their life jackets from their cabins, bring them up to the main area and don them. I like this process as not many vessels do it and if there was ever an issue having the lifejacket on correctly will save your life. The crew was introduced and a plan of how the trip would be run with timings & proposed dive sites over the next few days.
Marc from Oceans for All was introduced with an outline of what we would be doing to help him on the trip. A detailed briefing was to be conducted tomorrow as it was getting quite late.
Then it was dinner & time for a good kip. Everyone was excited for the first day of diving!
Day Plan
We were woken earlier at 06.30 am with a briefing at 07.00 am. This was the standard for all days of diving which worked well. We could have a coffee; semi wake up & have a small breakfast if wanted.
07.00 am was the first dive briefing, then the dive straight afterwards. Back onboard for a 09.00 am breakfast, chill out then 10.30 am dive briefing for dive #2, dive time, then back on board for lunch at noon.
We then had a bigger gap to relax with dive briefing #3 at 14.30 with the dive, then back onboard for a snack. Relaxing until the last briefing time which was a sunset type of dive with a 17.00 pm briefing, with the dive afterwards, and back on board for dinner scheduled at 19.00 pm. Busy day on paper but the maximum dive time is 60 minutes, with no decompression diving, so it wasn't stressed.
The cruise director had matched diver skill level & if you're a photographer matched you with other photographers, so it made for a leisurely dive. Each day the groups also swapped positions so for example you swapped from position one to position four. This system made it fair for each group to have a chance to be first in the water at each site. More chance to see the sharks! (Which the first group did see on day two!)
The diving
Today's firsts site was the Koh Haa Lagoon for a check dive to see how everyone was underwater. Each dive guide had a small group of four divers which would be the group for the entire trip. It was a great way to start, it let everyone get comfortable & the guides could assess the divers. The visibility was good 20-30 meters with a clean white sand bottom in places where I saw a Mantis Shrimp, a spot faced moray eel, cabbage coral & schools of yellowtail fusiliers.
After a hearty breakfast, every meal was hearty with plenty of food, we relaxed until dive two at a site called Koh Haa #6 with lots of soft corals & schools of fish. Dive three was a site named The Chimney, a swim upwards through rock to finish in swallower water. The chimney was around three meters in diameter and was full of glassfish, a great finish to the dive.
Our last dive of the day was at The Cathedral, a site with two large caverns but the larger was the Cathedral which reached back into the rock for a good 30 metres plus & upwards for the same size in height. At the top of the cavern, there was a build-up of air which you could pop up into if you wished. With the light dropping outside the entrance, it is a great photo opportunity, outwards into the light.
A great first day, everyone was relaxing and looking forward to more amazing dives tomorrow.
Oceans for All Foundation – Leopard Shark Research
On day one we were also briefed by Marc from the Oceans for All Foundation on what the Leopard Shark Research was all about and what we could do to help.
Oceans for All is a marine conservation foundation that focuses on restoring the balance of marine life through a variety of projects & community interactions. Based in Phuket they have projects which include the search for leopard sharks, the rejuvenation & replanting of seagrass in the waters around Phuket and education of local schools on their marine environment.
The research is based on the fact the Leopard Shark used to be a common sighting in the waters around Phuket. Not much was known about them other than when encountered by divers they appear quite docile sitting on sandy patches on the bottom. This is perhaps the cause why now they are not many sightings as they were captured. In the PMBC (Phuket Marine Biological centre) in Phuket, they have a leopard shark that has had a biopsy taken from it. This DNA is used as a base for their research samples.
What we were asked to do as divers were to take a glass jar underwater (we would fill the jar on the surface with water to make it negatively buoyant) and then descend. At some point in the dive, we were asked to open the jar and disperse the water in it close to a sandy spot.
The hope is that when brought back to the surface the water would have eDNA particles (defined as genetic material obtained directly from environmental samples such as soil, sediment, water, snow, air, etc. or leftovers from an organism such as hair, faeces, or carcasses), from a Leopard Shark. The water was run through a filter back on board after each dive and marked with the site.
This filter was then saved and sent to a university lab back in Bangkok to be tested. This allows the research to state that at some point there was a Leopard shark in the area. They are trying to find the areas which are commonly visited and hopefully find a nursing area. This information will lead to a shark breeding program in the future.
As a diver this was fun and no problem to undertake. On the last evening, a presentation of Oceans for All was conducted which covered their foundation, their projects, and their aims. They have a great set of programs for the area of Phuket and are well worth getting behind. Visit their site at Oceans for All.
Diving – Day Two
The vessel left early around 04.30 am as it was better to overnight on the mooring in a protected area we motored out to sites in the open ocean, Hin Muang & Hin Deang.
We spent the whole day in this area, we were fortunate with calm weather and super clear visibility of over 30 meters at times.
These sites are two rock pinnacles jutting up from the ocean floor from around 70m, in an otherwise empty area of the ocean. Hin Muang known also as Purple Rock is a beautiful site with soft purple corals (hence the name) with fish life everywhere. Our dive one & three was here. Just hovering in one place you can see so much.
Clownfish swim in and out of their anemones, damselfish attacking others who get into their territory. White-eyed morays, Red Tooth triggerfish, whip corals, soft corals, and tiger cowries, just an amazing dive. Both of our dives were like this although there was a cold thermocline that came through on the first dive.
Hin Deang or Red Rock was covered in red coral, again hence the name. Dive two was here with large schools of Jacks, Blue Fin Trevally's hunting. It was a spot for larger fish.
The sunset dive was again at Hin Muang but we all decided on this. It was a great choice as we dropped into a school of Jacks, with tunas swimming in and out hunting glassfish as well. Schools of Emperor Fish were also fish hunting in packs.
They had an effective hunting style where one would attack fish hidden in corals then others would join in surrounding the coral outcrop, blocking any exit for the little ones which meant one of them would be fed. Large Moray Eels were also out looking for food. Everywhere you looked there was an action of some kind, an awesome dive!
Back on board, everyone had stories of predatory fish. After dinner, we headed off towards Koh Phi Phi Island as it offered better shelter for the overnight.
Diving – Day Three
Waking up to an amazing sunrise it was a day for diving. Our first dive was in the hope to see blacktip reef sharks at the site Koh Bida Nok. Unfortunately, our group didn't but others did which was great. Around four 1 – 1.5-meter blacktip sharks were seen. Great relaxing dive with giant barrel sponges, false clownfish, skunk clownfish, painted spiny lobsters & a large crown of thorns starfish.
Dive 2 was a wreck the Kled Kaew Wreck was a Royal Thailand Navy transport vessel that was purposely sunk. The structure is larger intact, with large schools of barracuda, snapper & lionfish. Good visibility, overall a great wreck dive.
Due to conditions of predicted bad weather the decision was to head back to Koh Bida Nai. A great dive with large boulders with diverse fish live. We spent time with a friendly Mantis shrimp which was cool.
Our sunset dive turned into a bit of a night dive which was nice. The dive was on a wall in Tonsai Bay, part of the Koh Phi Phi area, where we went looking for seahorses. Our guide Steve knew where they were and lead us right to the fan with three sitting there waiting. Photographer Huw Penson was on hand and captured the yellow seahorses in great clarity.
This was the night Marc from Oceans for All conducted his presentation, which was interesting & informative. The Foundation has great projects on offer and is committed to helping the local Phuket community take care of their marine environments. Well worth coming out on their next trip.
After that, it was a quiet evening with everyone reflecting on the trip that had been. Half of the group would depart tomorrow with the other half staying on and travelling up to the North Andaman Sea.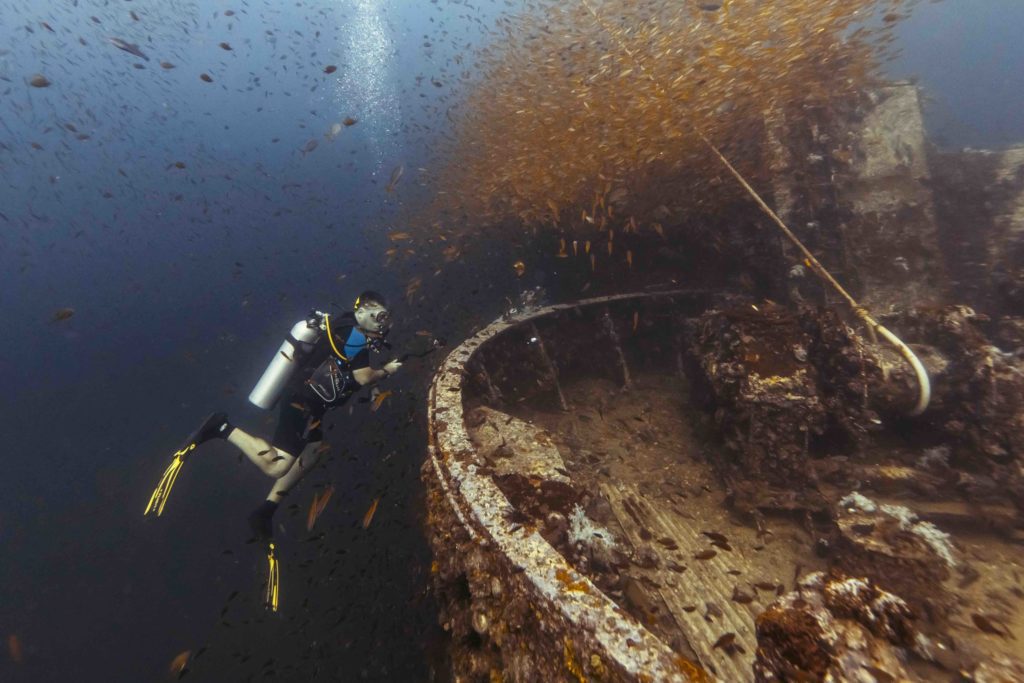 The Final day
Our first dive was the King Cruiser wreck. A ferry which hit a reef leaving a gaping hole in it to sink further away from the reef in the open ocean. Parts of it have collapsed since I was last here six years ago, but the superstructure is still intact. You can see the propellors still, with lots of nudibranchs and bearded scorpionfish on her, with large schools of big eye yellow snapper and other fish.
Our last dive was shallower close to Phuket itself. A great way to finish with nudibranchs and great visibility. I saw a White Mouth Moray Eel which was a funky little fella.
After lunch, we started to motor back to Chalong Pier. We fixed up the onboard expenses that we may have had, and left contact details with one another.
Once back in the port of Chalong Bay the crew helped us place our luggage into the tender and ferried us over to the pier to our waiting taxi. The Phinisi had organised our transport back to our hotels which were included in the price.
Overall
I have to say this was a very organised and professional trip. If you're looking for that bit extra on a dive trip, where the crew will help with your gear, drop you off & pick you up by tenders, a warm drink or smoothie (and sometimes a hot towel) when you arrive back on deck after your dive, then this is the vessel for you. The crew are friendly & welcoming, the food is fantastic, plentiful, and super tasty!
A great trip that I would recommend to any scuba diver.
Thank you The Phinisi, its crew & Master Liveaboards for an amazing trip!