Photographs by Byron Conroy.
I have always wanted to visit the Maldives for its pure beauty of white sand, blue water and magical sunsets. Also, just hearing someone mention the Indian Ocean makes me start dreaming of a tropical underwater paradise and diving in the Maldives. When starting to do some research on this place, I quickly found out that shark fishing has been completely banned in all Maldivian atolls since 2010, and ray fishing since 2014. I suddenly got even more excited for our trip.
My partner and I arrived at the Dhigali resort in a tiny propeller-driven seaplane, some 45-minute flight from Male international airport. The island is located in the Raa Atoll in the northern part of the Maldivian archipelago. We got a warm welcome and a useful orientation briefing by manager Kate. My first impression of Dhigali was that the island was very green and jungle-like, creating an authentic and exciting atmosphere. The island is one kilometre long, which is quite big compared to many other resorts with similar guest capacity. This, together with the owner´s intention of keeping as much natural vegetation as possible, has created a very lush, genuine environment.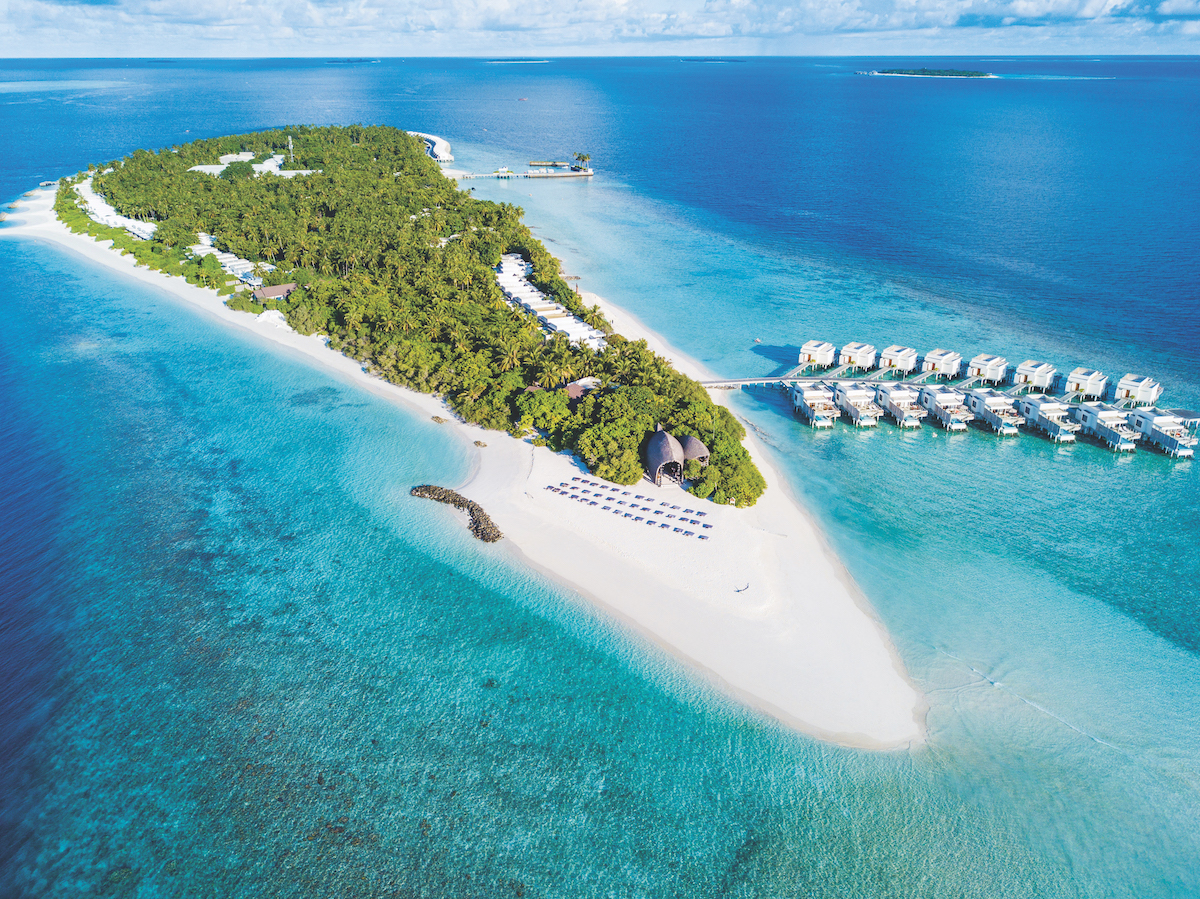 Doing the jungle walk
While exploring the island, we stumbled upon the 'jungle walk'. Here, 80 percent of the vegetation is preserved and joined by little wooden signs with interesting facts about the wildlife and the plants found here. As we continued along the jungle walk, a group of flying foxes landed in a fruit tree just in front of us. We could also hear many different species of birds around us. On the ground, a small lizard made its way into the bushes.
Living on the beach
Between the green jungle and the blue ocean is the whitest sand beach I have ever seen. It is soft, warm and perfect. No shoes needed! Our villa was located right on the beach on the sunset side of the island. It was incredibly spacious with a luxurious outdoor bathroom full of banana trees, large bedroom, living room area, walk-in closet, indoor bathroom, extensive minibar, private pool and a terrace with a prime ocean view. Even though it was only our first day here, I kept thinking how I never wanted to leave this place. For an ocean and wildlife lover like myself, what can be better than living with the jungle in your backyard and the turquoise water right in front of your living room?
The Dhigali app
Once we had installed ourselves in our dreamy villa and had a quick dip in the private pool, it was time to go find the dive centre, operated by Eurodivers Maldives. As we had a lot of dive equipment to carry, we decided to make use of the free buggy shuttle. In the Dhigali App, we could see on the digital map how one of the two shuttles was just approaching our side of the island. We quickly walked out to catch a ride. Since the island is quite big, the free shuttle is a convenient service. The fact you can track the shuttles live in the app is a very cool feature that I, for some reason, did not expect on a remote island in the middle of the Indian Ocean!
New friends at Eurodivers Maldives
At the dive centre we were greeted by dive manager Bruno from the Netherlands, Rebecka from Germany and Ethan from China. Even though we had not met any of them before, it instantly felt like we were surrounded by friends sharing the same passion for the marine environment and diving. After filling out the necessary paperwork and certification checks, Bruno asked us when and where we want to dive, and what we would like to see during our stay here. A short chat later we had, together with Bruno, come up with a plan for giving us the best chances of pelagic encounters, colourful reefs and even some macro spotting over the following week.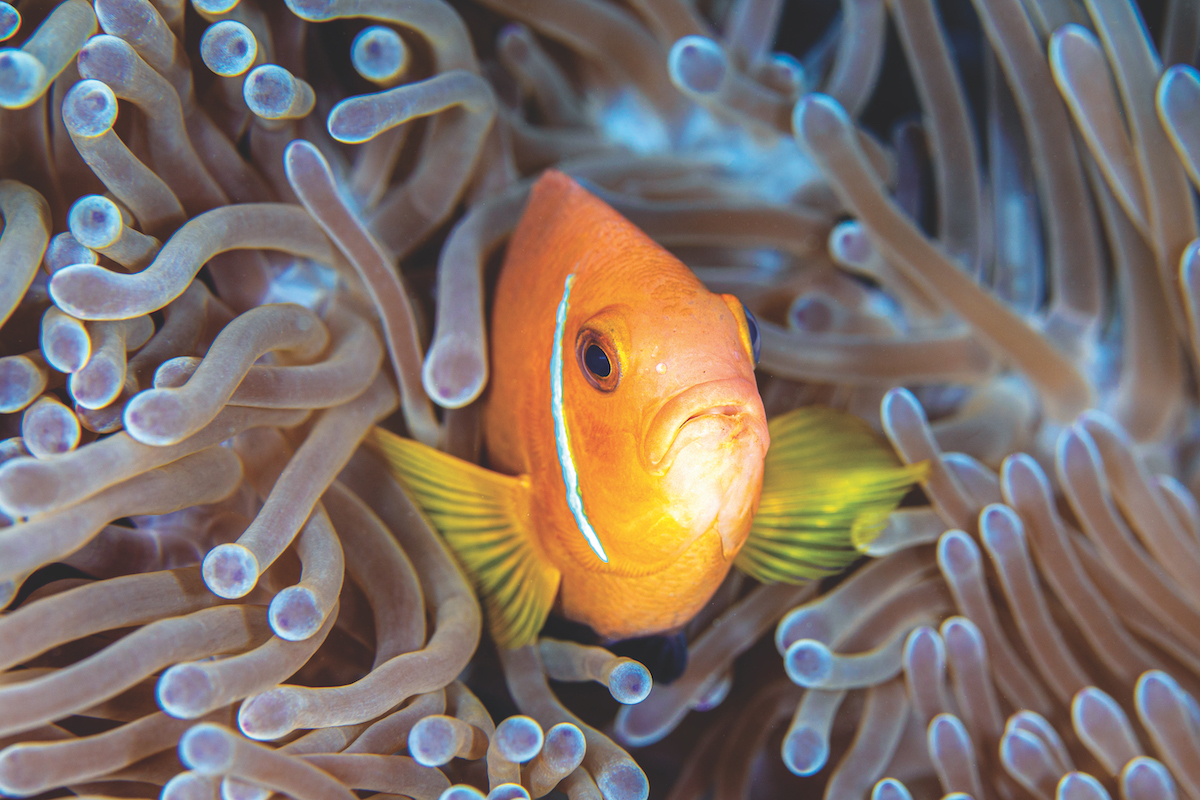 Haali sunset bar
Back home in the villa, I checked the Dhigali App to see what was on for tonight in terms of island entertainment and dinner options. We decided to head for the Haali sunset bar, where there would be live music and a promising sunset. At Haali, you can enjoy a cold beer in one of the roof-top jungle swings, or sip on a cocktail in one of the comfy bean bags on the beach. Either way you will have a fantastic view over the sunset, while chilling out to the music. I decided to go for a vanilla iced coffee while parking myself in one of the bean bags close to the ocean.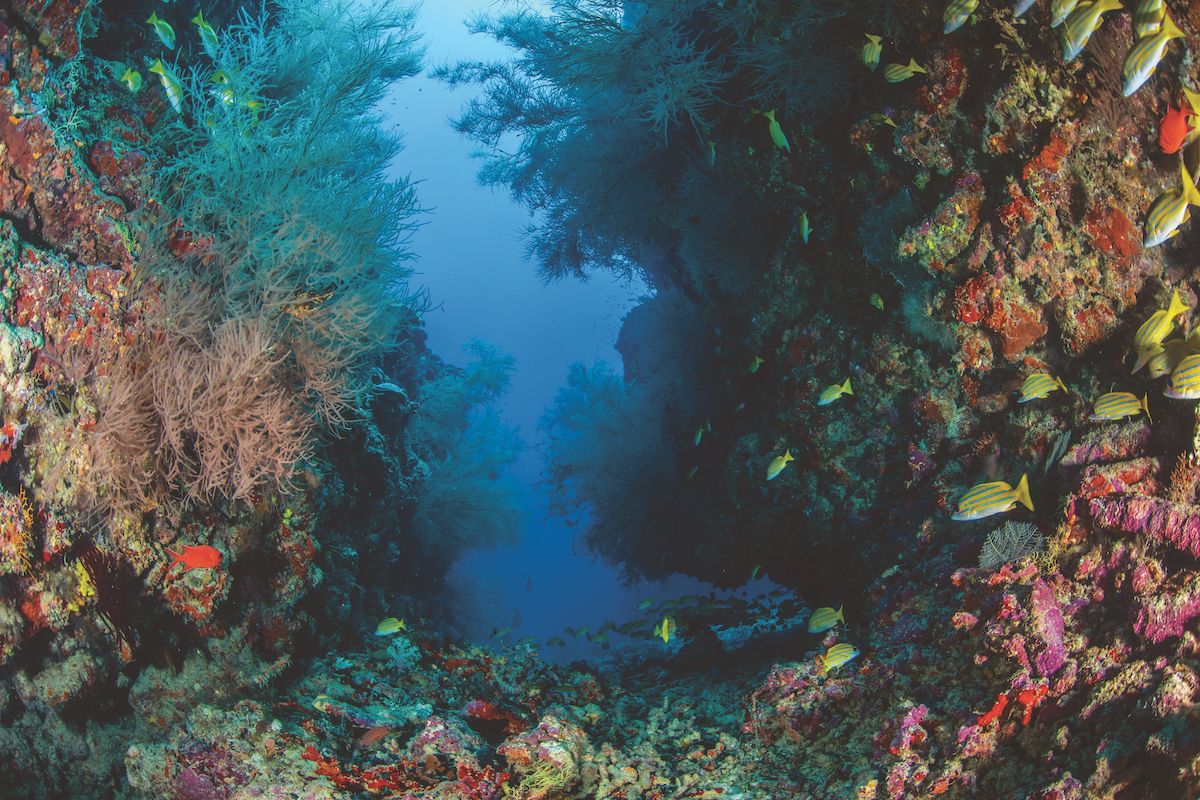 Dinners at Capers
When the last rays of sun had disappeared behind the horizon, we moved on to the Capers restaurant for a buffet-style dinner. Tonight turned out to be Mexican night and I could not be happier. I know, it sounds weird to travel all the way to the Maldives and get still excited for Mexican dinner, but it is simply my favourite. Mexico is also where my partner and I met and where we decided to become dive professionals, so it deserves a special place in my heart. Anyway, the food at Capers is plentiful, delicious and delivered with great and friendly service. We only arrived at the island a few hours ago, and it had been a truly fantastic day already. I was excited for what the rest of the week would bring.
The next morning as I was walking to breakfast, I was overtaken by a couple of keen joggers making use of the resort's prepared running track and the comfortable early morning temperature. I noticed there was also an air-conditioned gym with a sea view and several fitness classes available for those who wish to stay in shape over the holiday. For a second I felt a bit guilty for not having packed my trainers.
"However, the next moment I reminded myself that I actually get up at 6am every morning just to fit in three or four dives a day, and I suddenly felt a lot better!"
Diving in the Labyrinth
We were meeting Rebecka at the dive shop and made our way to the boat. We headed out for a two-tank trip to Miyaru Thila, where we were got really close to three grey reef sharks. Next up was Bruno and Rebecka's personal favourite site called the Labyrinth. It´s a large coral bommie, or thila in the local language, which is broken up into several pieces. This creates mini channels, swim-throughs and overhangs. The thila is covered in beautiful soft corals and sea fans. Everywhere I looked there were schools of Bengali snapper, oriental sweetlips, fusiliers, surgeonfish and anthias.
"It was by far the healthiest and most-colourful reef I'd seen in the Maldives."
There were no other divers with us, so we could really take our time, get the photos, and just slowly cruise around the site before its time to surface.
Time for macro
After a nice a la carte lunch at the Faru grill restaurant, we decided to jump in for a leisurely macro dive off the jetty just outside the dive centre. It was a pleasant surprise to find a reef wall sloping down to 20m. We bumped into two huge octopus sitting almost next to each other on the wall. Octopus are typically hard to spot and even harder to get close to, but these guys didn't seem to care about us at all. Probably they were too occupied by each other. We stopped for a good ten minutes to watch the action, but not much happened other than the two octopus sitting there, occasionally shifting in colour, and us hovering next to the wall. After a while, we gave up and moved on. Several blennies, gobies, hawkfish and different species of clownfish were catching our attention as we dived along the wall. In the shallows we found a large number of picturesque powder-blue tangs and convict tangs.
After three good dives it was time to have a look at the day's photos and write down what we had seen and experienced throughout the day. I also checked the Dhigali App to see that evening offered a 'Cinema under the Stars' in the pool area. But first dinner at Capers. That evening was Sri Lankan night and we were joined by Bruno, Rebecka and Ethan. Too many portions of delicious curry and fruity desserts later, we were stumbling out of the restaurant, and again I thought to myself I should have brought those trainers for a morning jog…
It´s not all about diving in the Maldives…
Dhigali offers a lot more than diving, good food and sunset drinks. Are you a diver but your partner is not? No problem. The watersport centre run by Eurodivers is offering snorkelling excursions, jet ski rental, parasailing, kayaking and glass-bottom boat tours. Visits to a local island, fishing, sunset cruises and photography workshops can also be arranged. Are you planning on travelling with your kids? Younger guests can enjoy the Dhigali Kids Club with indoor and outdoor fun activities.
…but the diving is really great
Over the next couple of days, diving together with Bruno and Rebecka, we met manta rays at Vaadhoo Thila, had close up reef shark and eagle ray encounters at Kottefaru Thila and spotted marble rays and sharks at Maa Faru Caves. All the dives site were located a 15 to 45 minute boat ride from the resort. The Dhigali dive boat was really comfortable with shaded wet and dry areas, sundeck, toilet and freshwater showers. Yet the friendly and professional boat crew was the best part. They offered assistance with anything you needed, whether it was gearing up, changing tanks or helping you climb the ladder after surfacing.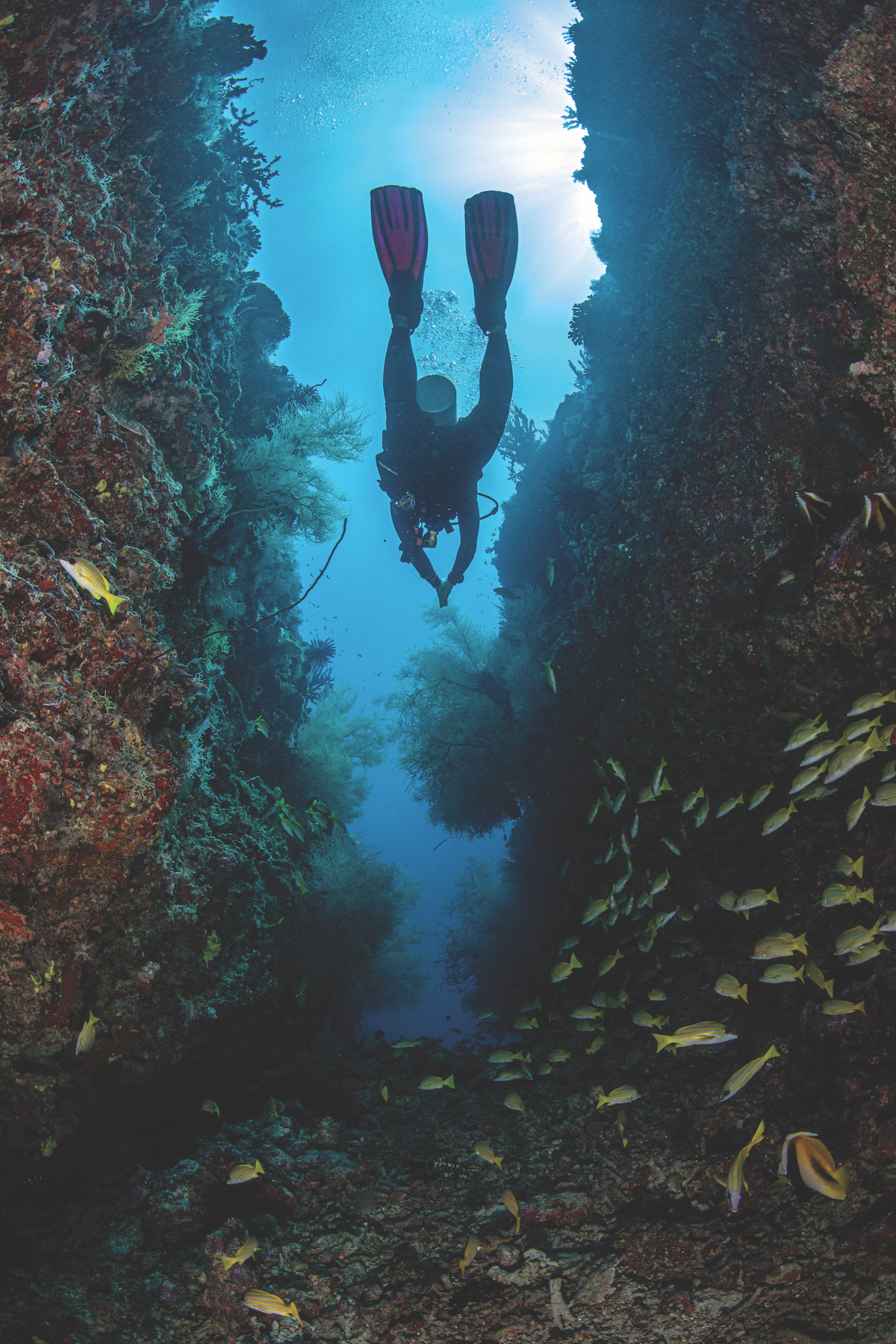 Safe haven for sharks and rays
My partner and I have been lucky enough to dive quite a lot around the world but nowhere else have we seen as many sharks and rays as when diving in the Maldives, both in terms of numbers and different species. The reason for this is spelled 'protection'. Since 2010, after 15 years of negotiations, petitions, scientific surveys and foundations of shark rescue groups, shark fishing is banned over all 26 atolls of the Maldives. Since 2014, this ban also includes all type of rays, including mantas, mobulas, eagle rays and stingrays.
The Maldives depend on tourism, and tourism in the Maldives to a great extent depends on a healthy marine environment. I would not have gone diving in the Maldives if it wasn't for the great chance of pelagic encounters and other marine life. All fellow guests we met during our time on the island, divers and non-divers alike, had chosen to spend parts of their days in or on the water. Whether it´s diving, snorkelling with baby sharks, dolphin cruises or boat tours to see manta rays, the ocean attracts visitors and it´s fantastic to see how the Maldivian government have implemented these regulations in order to protect the marine environment.
A week later and it was time to check out and say goodbye to Dhigali and Eurodivers Maldives. We had not only had several amazing dives and a great time on the island, we had also met some fantastic people, all very passionate about their work and the environment both on land and underwater. I will genuinely miss them all and I hope we get to meet again.