Diveheart Malaysia in Perhentian Island, Terengganu Malaysia.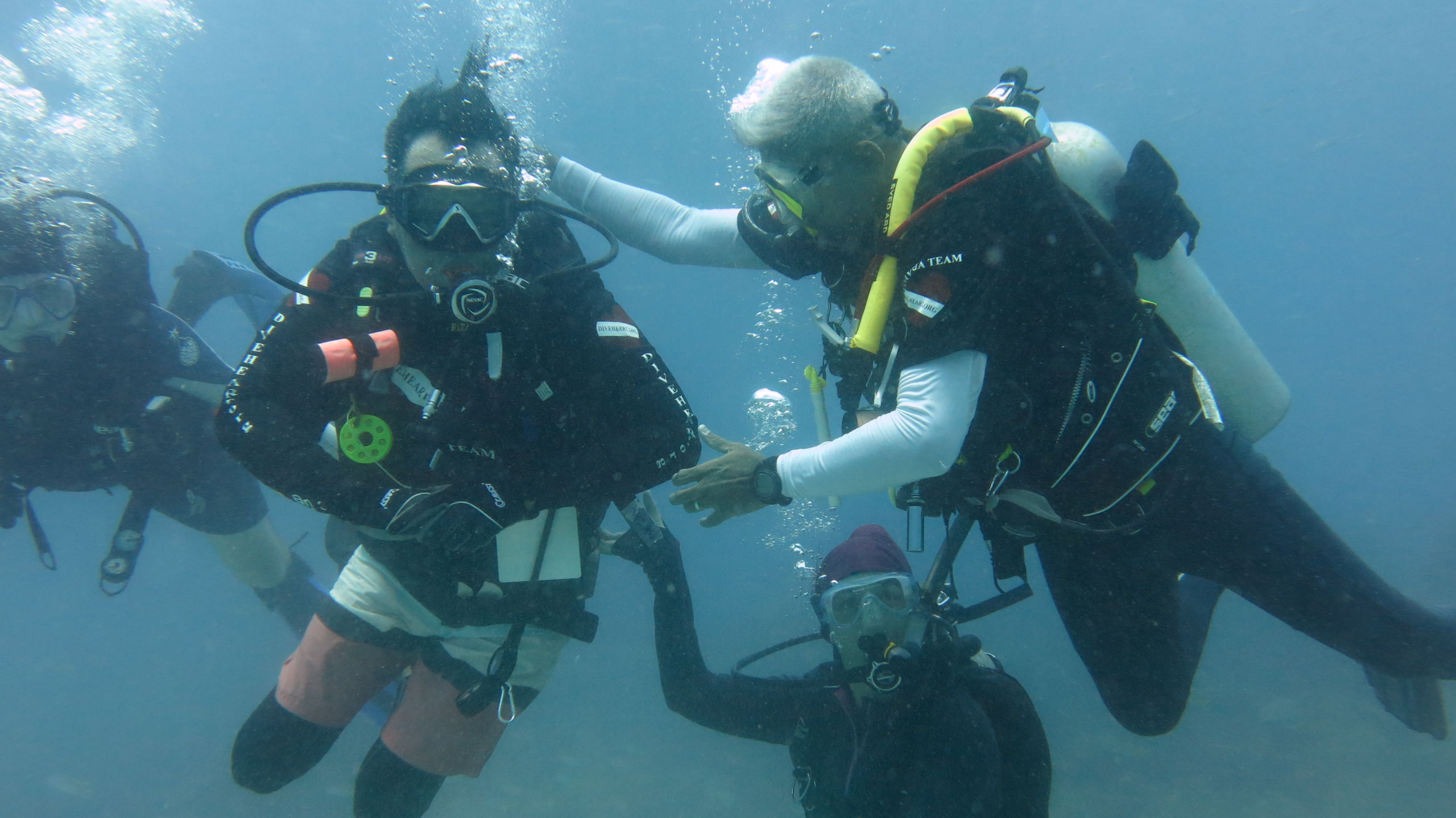 Malaysia is home to some of the most spectacular beaches and island getaways in Southeast Asia, Think of azure Crystal-Clear Blue waters, powder-white sand beaches, and the best part, much lesser crowds as compared to others. Many of them are located in Terengganu, in the east coast of Peninsular Malaysia overlooking the South China Sea.
With that said, Perhentian Island is known as one of the finest and lesser-known islands off the coast of Terengganu. Pulau Perhentian, which means "stopover island" in Malay, has excellent underwater seascapes for snorkelling and scuba diving. Made up of two islands, Perhentian Besar (Big Island) is where the bigger resorts are and more suitable for fun, family activities, while Perhentian Kecil (Small Island) is more geared towards backpackers with more budget options for both food and accommodation.
As the sports of scuba diving slowly opens up again amidst the COVID-19 pandemic, divers from all around the world cautiously returned to our beloved waters, and were greeted by new and familliar wonders of the deep blue.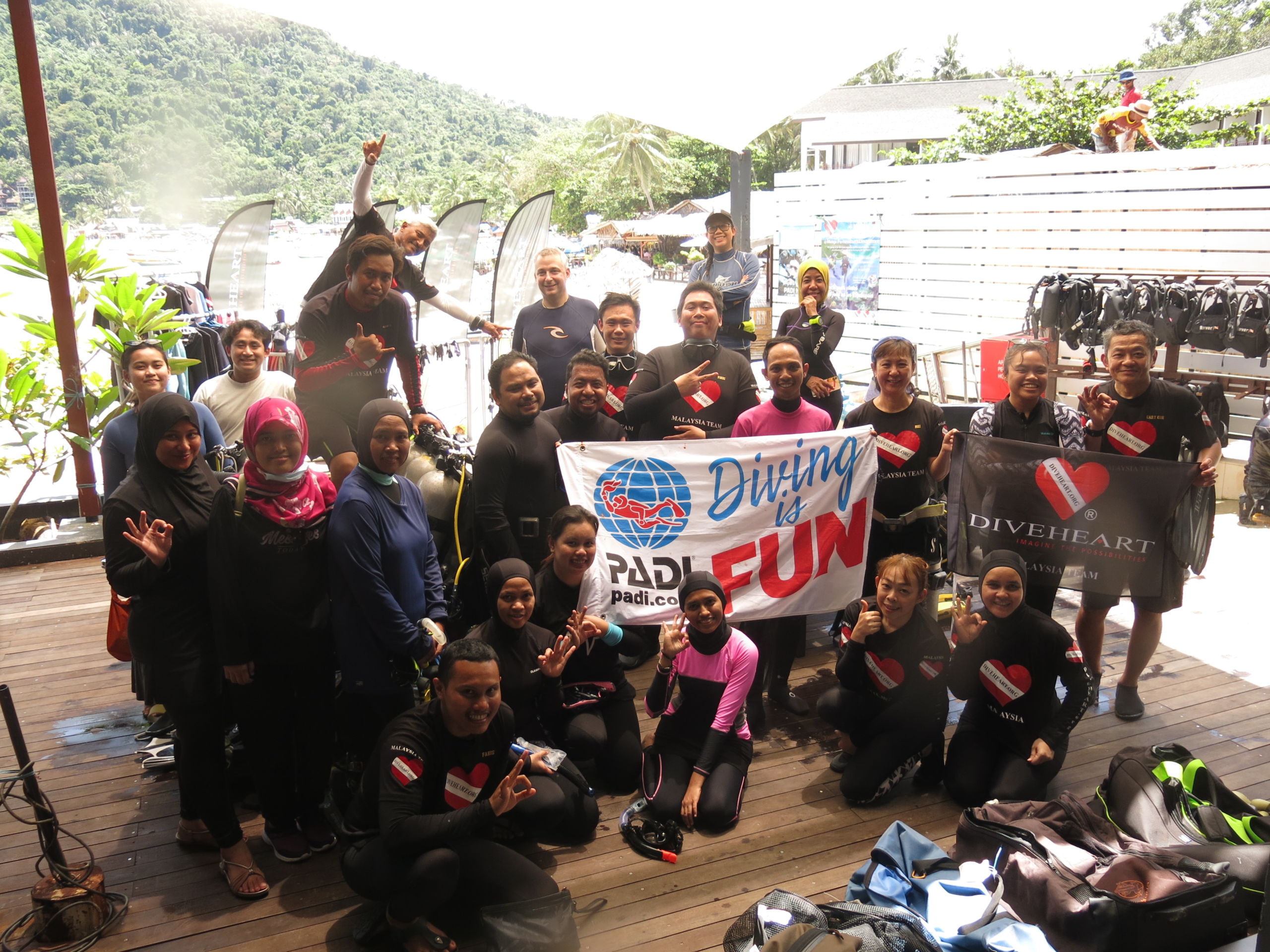 Not to be left out of the excitement, the group of qualified adaptive divers from Diveheart Malaysia organised a scaled-down trip for Person With Disabilities PWD to Mimpi Perhentian Resort at Perhentian Island, Malaysia from 22-24 September 2020.
"If us abled divers can enjoy our beautiful oceans, why can't the special community?" said Syed Abdul Rahman, Malaysia Ambassador for Diveheart, and founder of Kids Scuba Malaysia. Diveheart Objectives is To build confidence, independence and self-esteem in the lives of children, adults and veterans with disabilities through scuba diving, scuba therapy and related activities. The Vision is To instill the "can do" spirit in participants, inspiring them to take on challenges that they may not have considered before. Using zero gravity and the adventure paradigm, we help participants believe that if they can scuba dive they can do anything. Imagine the Possibilities.
Among the participants of this year's event is Riza Faizal Mohd Kandar who became wheelchair user after a motorvehicle accident left him paralyzed in both legs in 2001. That was the Turning point of his Life .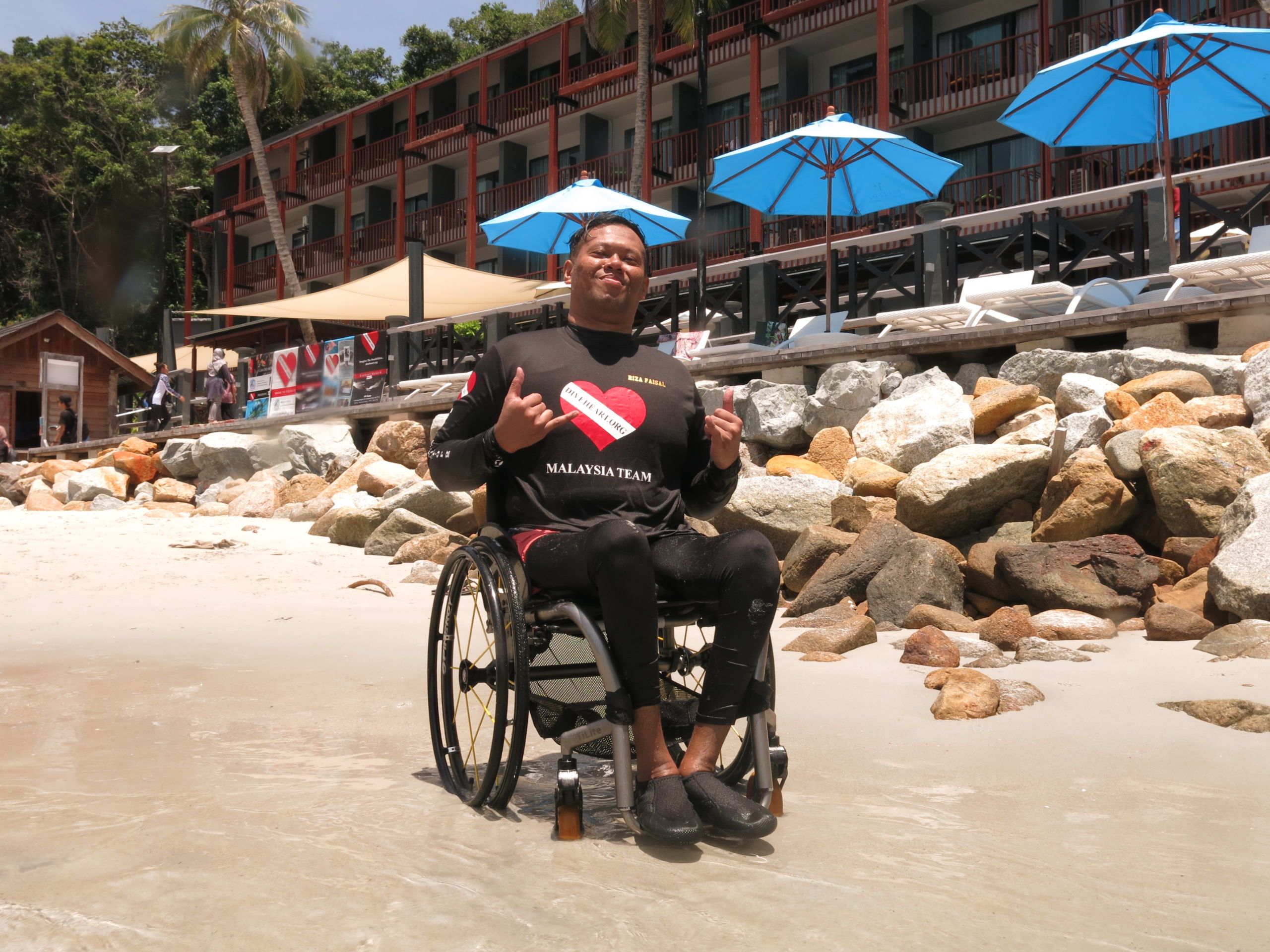 "When I realized that I had sustained a spinal cord injury which meant that I could no longer use my legs, I went through a period of depression where I felt life was not worth living. It was a really low period time for me," said Riza.
Fortunately Riza was referred for rehabilitation and he underwent intensive spinal cord injury (SCIR) rehabilitation followed by regular outpatients therapy and follow-up 5 years of physiotherapy at the Universiti Malaya Medical Center (UMMC). Through rehabilitation, Riza became independent and has since able to care for himself and independent in all aspects of mobility. However, he felt that there was something missing in his life and the missing element was a meaningful recreational activity.
"When we first met Riza, soon after his accident, he was Nervous and Down, However, over the years he has made great progress and has become confident and able to participate as a peer counsellor for others with spinal cord injury said Sister Yuslina the Lead Nurse at the Rehabilitation Medicine ward Unit of at the University Malaya Medical Centre center (UMMC) who oversaw Riza's various Rehabilitation process and therapies over the years.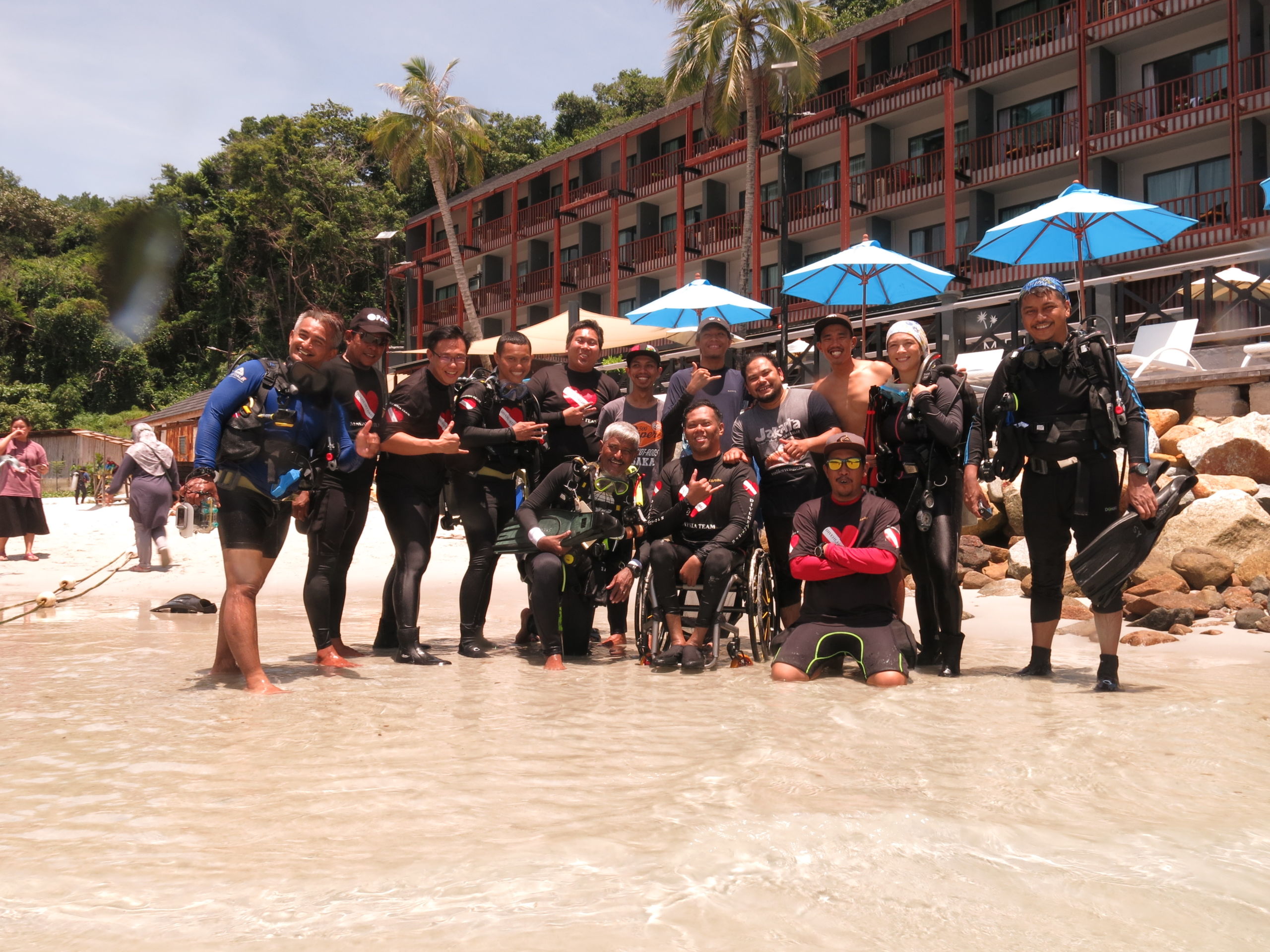 Riza discovered Diveheart Malaysia through the UMMC Department of Rehabilitation Medicine special collaboration with Kids Scuba Malaysia a PADI 5star Dive Center near Kuala Lumpur. The collaboration involved a complete scuba diving package of training and certification for persons with disabilities and Riza was among four of the selected patients. Riza and his friends successfully obtained their PADI Scuba Diver certification in 2016 at Tioman Island with Diveheart Volunteers including the President of Diveheart, Jim Elliot.
One of the founding members of the collaboration between KIDS Scuba and the Department of Rehabilitation Medicine, UMMC; Prof Nazirah Hasnan is elated with the continued success of the program for special ability divers. She is also very proud with the commitment showed by the members of the department in becoming volunteers both on land and at sea. Prof Nazirah herself was inspired to take up scuba diving when she discovered that some of her spinal cord injured patients were keen to learn to scuba dive and she had to certify them fit for diving.
Being a certified PADI Open Water Diver herself she was able to understand the underwater physiology, zero gravity and the needs of disabled divers whom we call special ability divers. As a rehabilitation physician, she recognizes the importance of sports and recreation in the successful rehabilitation of PWDs. Scuba diving can be a great source of self-discovery and a means of building confidence and independence.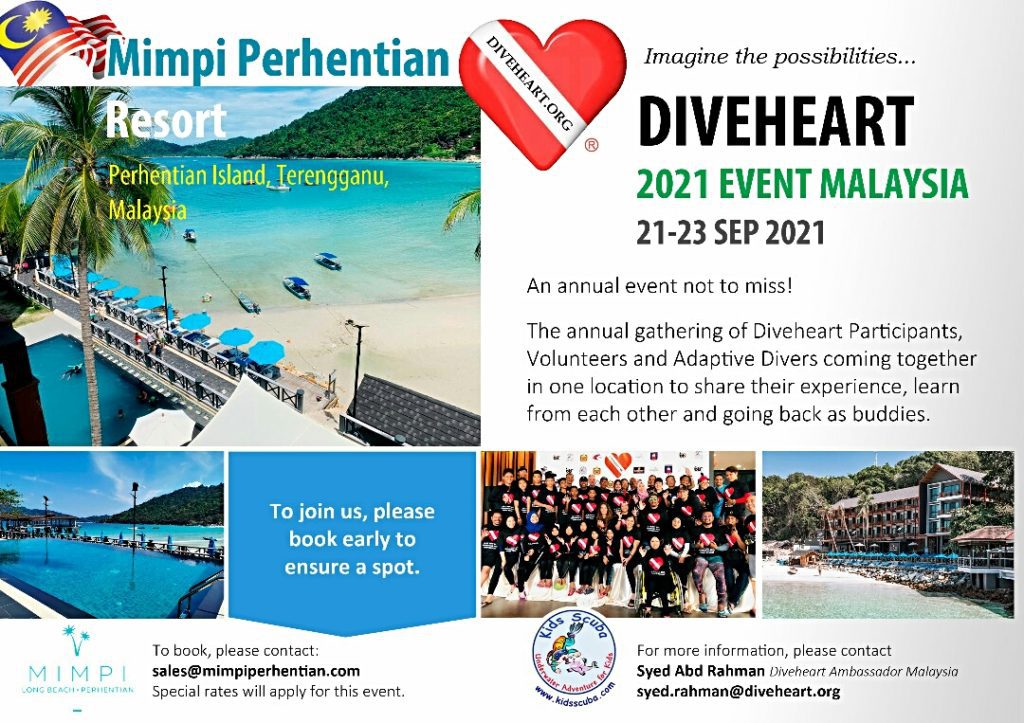 For many, scuba diving is seen as an enriching experience potentially helping to improve self-image and quality of life. The unique opportunity for three-dimensional movement through gravity free environment underwater gives them a sense of freedom from whatever restraints they face on land and they are equal underwater.
According to Dr Yew Chung Khian, Rehab Specialist Doctor in attendance, "The Diveheart Program in Malaysia is doing outstanding works that enables and empowers persons with disabilities to participate in sport and community." Dr Yew was among UMMC's medical personnels who became a PADI open water certified Diver so he could see for himself how the ocean transforms a person with Disability with Zero Gravity. "It's rewarding to see the enthusiasm when the patients realise, they can challenge their limitations," said Dr Yew.
Another participant from the program was Ms Nooraishah Arshad, a Right Leg Amputee as a result of Bone Cancer who is a Certified as PADI Open Water Diver in 2019 during Diveheart event. In 2020, this small energetic lady is back again to complete her Advanced Open Water certification. "I want to show everyone that there are no limits where it comes to disabilities. If I can do it, so can you," said Aishah who also Represents Malaysia in the National Paralympic Team.
The PADI Regional Manager Mark Hedger, who personally supervised Aishah through her PADI Underwater Navigation dive, "I am impressed by how confident she was underwater, She Has shown Her Capabilities with Good Buoyancy and streamline while underwater " A total of 30 adaptive diver qualified volunteers stepped up to work on the event this year.
According to Syed, "It is important that we show the world that diving is a truly inclusive sport. If you are willing to work hard, anything is possible. This event is proof that you only need to 'imagine the possibilities' to make it happen."
As Riza Faizal has said repeatedly, when he is in the water scuba diving, he is free from impairments and felt Zero Gravity to move freely like everyone else. Prof Nazirah is very impressed with Riza Faizal's and Noor Aishah's achievements and she wishes them success and hopes that other PWDs are inspired by them. Through the success of these activities over the past 5 years, Prof Nazirah is confident that her vision to make University of Malaya Medical Centre UMMC a SCUBA Diving Hub for Persons with Disabilities PWD with Diveheart will come to fruition. Diveheart – Imagine The Possibilities.
Diveheart Malaysia 2021 Program will be held from September 21-23, 2021
Join us and Lets assist the Special Community Underwater
For more about diving in Malaysia click here Magnificent Malaysia