Bob Archell – diver, Member of the Institute of Professional Investigators, ex-Marine Loss Adjuster of 26 years standing and Managing Director of 30-year-old Dive Master Insurance Consultants Ltd – looks back at how his addiction to the sea started at a young age
Never make your hobby your business can be a wise phrase to keep in mind, because working in the recreational dive trade is hard physical and technical work, but for most people that fall in love with the amazing underwater world on their first dive, it can be a compelling reason to make it their occupation.
For me, however, fate provided a different path to my career choice, and it started with a visit to Barry Island beach when I was four years old on a day trip with my mother. This started my love affair with the sea, and the intoxicating smells of ozone and the 'roar of the sea' even when only holding a shell to my ear, and squawking seabirds overhead in a crystal-clear blue sky, and silvery fish darting about in the clear blue waters. I was 'hooked' as a child and I still recall that glorious memory from 1955!
Life for my parents in post-war Warwickshire wasn't that rosy and so they decided, like many thousands did in those days, to up sticks and emigrate to Australia. The journey to Australia on board the Sitmar Line ship the Fair Sky continued my addiction to the vast ocean and those wonderful far-flung places we visited enroute.
In Australia, we thrived and prospered and there were many trips to the coast for all sorts of watersports, including 'skin diving' (mostly breathhold spearfishing), but my addiction to the underwater world and my imagination was also fed by the must-see TV series Sea Hunt! The main character Mike Nelson (Lloyd Bridges) played the irrepressible and clearly indestructible underwater private detective, and he fast became my role model, and by 13 years of age I had experienced my first scuba dive!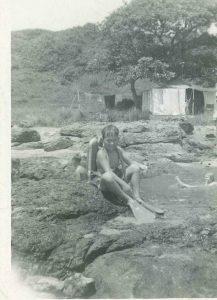 A family tragedy forced us to return to England in the early 1960s and by 1967, after leaving school, I'd started my insurance career at a Lloyd's Syndicate. By 1977 I had moved careers from conventional insurance to the investigation of marine claims and losses.
Being perceived as the 'diver' in the Loss Adjusters Company I worked for, I was singled out to handle the more-bizarre 'wet claims' no one else wanted to do. My first underwater investigation was to investigate the reported theft of an eel boat based above Thurrock on the River Thames. This was when eel trapping was still continuing on the Thames. I met the owner who, of course, gave me a glowing report on the condition of his eel boat and its undoubted high value. It seemed an open-and-shut case on his say-so, but curiosity got the better of me and I started asking around to see if anyone had seen the boat go missing.
There was an architect's office that overlooked the trot of moorings, so I buzzed the door bell and was met by the occupant. I asked if he'd seen the boat being taken away. Somewhat surprised, he told me that no one would want to steal it as it had sunk many times before and was in derelict condition. Then he asked me if I could count, and I agreed I could. "Then count the bloody mooring buoys," he said, and closed the door. There was one missing, and clearly the missing eel boat was on the end of it sitting on the bottom of the River Thames.
Later I returned with my scuba kit and a friend with a very large inflatable boat. We waited for slack high water and I did my first dive in the Thames Tideway. At first it was like sticking my head into a pot of tea, just brown and getting darker as I descended. Then I landed on the deck of the sunken eel boat. What happened then was remarkable and if anyone dives in the Thames Tideway I am sure they will agree with this. The suspension of silt in the water column just started to drop down to the bottom and in a few minutes, I had about a meter of vis. That was enough to make a tow rope fast to the boat and detach the mooring buoy that had collapsed.
I surfaced and my friend gunned the engine and 'up raised the missing eel boat'! Towed to the shallows and pumped out, we returned it to the mooring trot and notified the owner that apparently, his boat had been 'returned'.
Further and equally bizarre scuba investigations followed, including a couple more in the Thames, the last one in the Thames being 'The Case of The One-legged Fisherman', who was picked up by a local angling boat with a party of anglers on-board. Witness statements were that the one-legged fisherman was seen standing on the superstructure of his sinking boat trying to rock it from side to side. That was difficult to ignore when all '12' anglers and the skipper said the same thing!
The angler's boat took him off but were suspicious he had deliberately sunk his vessel and was trying to rock the last bit of air out of it so it would finally sink to the bottom. This time the search was out in the outer Thames Estuary and aided by the angler's boat that had picked up the fisherman, we had a pretty good Decca fix on where the wreck should be. We would dive on the site to see if we could establish the cause of the loss, which had happened in flat-calm conditions.
We ended the day's search without finding the wreck, which may have drifted away and sunk elsewhere, but when I got back to the office, I was advised the fisherman had 'withdrawn' his claim. Apparently, he knew we were out there looking for it and decided not to pursue his claim further.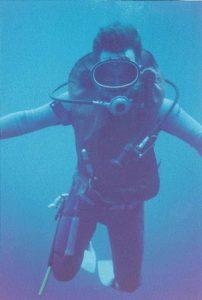 There were many more interesting investigations, many abroad and some involving the investigation teams within the UK's Marine Intelligence Team and Customs Investigation sections, where I was able to use my scuba-diving background. But regulations in the 1980s were starting to change and for the right reasons. Commercial diving was becoming a risky activity and it was clear the UK government would legislate to control it more rigorously.
By 1983, I had started my own Marine Loss Investigation Bureau investigating marine losses, accident and death claims, but in 1986 over lunch with an underwriter, the concept of Dive Master Insurance Consultants was born and my wife Sue and I launched the new company on 1 June 1987.
Giving up on diving at work in 1991, I continued with the investigation side of our business, but retired from active claims investigations in 2003 to devote all my time to Dive Master Insurance. We put all our efforts into building the Dive Master Insurance brand and business, and the company continues to develop and diversify on an international basis.
Dive Master Insurance is now an international brand and its reputation is second to none on the quality and range of insurance products it has innovated, and continues to develop for divers and the dive trade, resort operators and related service providers.
Most recreational divers will know us from the dive shows that we attend both here and overseas, and seeing our adverts and sponsorship of worthwhile marine-related charities when those are rescuing or defending the marine life that is so dear to all us divers.
Our UK staff of eight is divided into underwriting, claims and administration. We are also supported by a number of overseas producers and commission-based representatives and brokers. So we have an extensive network of connections to the various uses that diving is put to recreationally, professionally and commercially.
We do business in the UK, EU, Red Sea, Central and Southern America, Maldives, Southeast Asia and Australia. And insure underwater projects of all kinds, from the films and TV series you see to underwater scientific and commercial diving projects. We have also diversified into resort leisure risk activities of various kinds, including four different types of 'Sea Bobs', SNUBA, helmet diving and, of course, SCUBA and SSUBA.
We are authorised by the UK's Financial Conduct Authority, have been Approved Cover Holders at Lloyd's since 1991, and underwrite on a direct basis or reinsurance terms based platforms.
We provide much more than just recreational diving insurance, so if you have an underwater project you know where to come, but we have never forgotten where are roots are!
Our firm is built on the same love and passion for the ocean that that little boy of four had on that day on the beach. And we have been blessed to work in this unique industry populated by the most-amazing, talented and passionate people you can imagine.
So my advice is that if you see the opportunity to turn your hobby into your career, why not go for it!
Photographs courtesy of Dive Master Insurance Consultants Ltd