Stuart Philpott saddles up on a Suex scooter and uses it to blast between the Minesweeper P29 and the Rozi at Cirkewwa, While Diving in Malta
Clipped on, throttle set to max, we sped out of the bay into deeper water at a fair rate of knots. I felt the increased drag on my regulator so clamped down harder. Diving with scooters was definitely addictive. Alan Whitehead, the owner of Techwise Dive Centre based at St Julian's Bay in Malta, had suggested a P29-Rozi crossing and I was well up for the challenge. The Rozi and P29 wrecks are located just a few hundred metres offshore at popular shore-diving site Cirkewwa.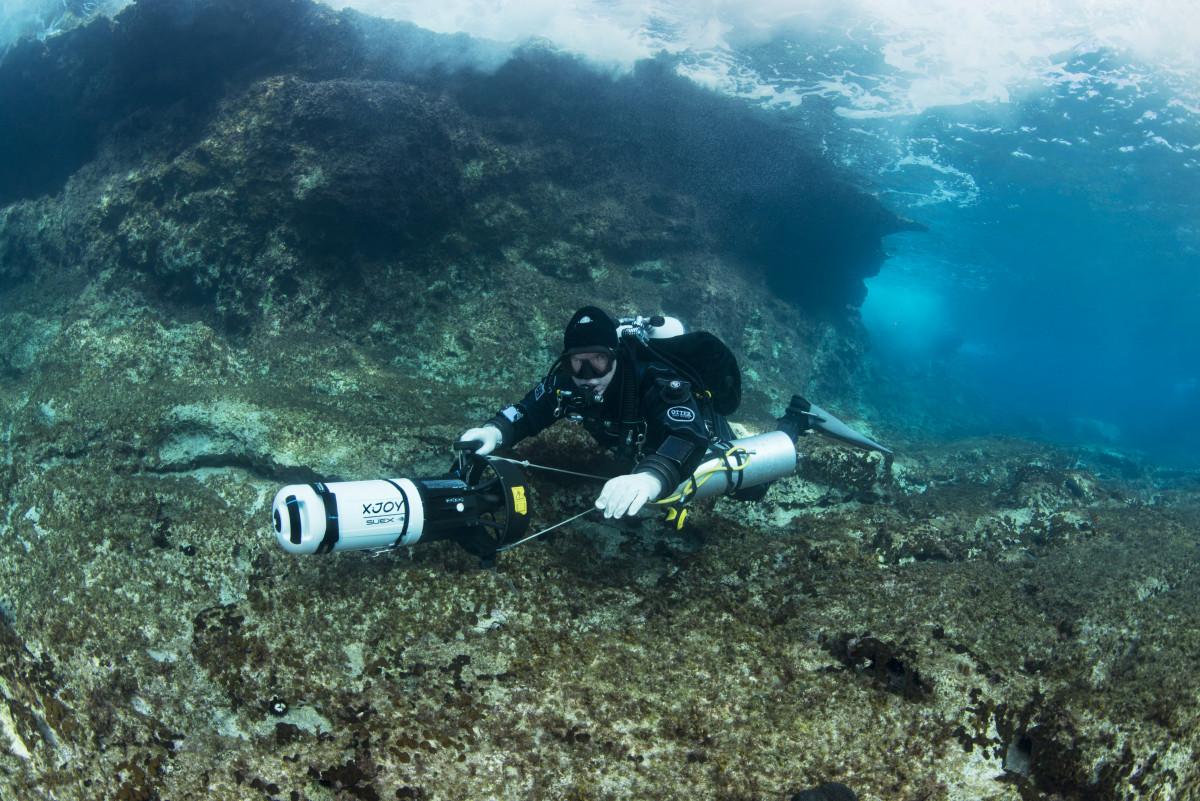 Due to distance and time restraints, most divers will only contemplate one wreck per dive. Being kitted out with twinsets and stage cylinders would solve this problem but I still needed to look around and compose pictures. I had visions of power finning out to the P29 for a hasty photo-taking session followed by a full-on pump over to the Rozi, in and out of the bridge for a few more happy snaps, and then return via the anchor back to the wall.
I am always 'planning for the worst, hoping for the best' and was pleasantly surprised when Alan brought out two Suex scooters to get us there and back in double-quick time. Being a rufty-tufty tech diver, I felt slightly guilty about taking the easy option but if I could do the job in comfort and style, then who was I to complain!
Italian manufacturer Suex have been building underwater ADVs (Advanced Diver Vehicles), otherwise known as scooters, for more than 19 years. Originally focusing on the technical diving market they have now expanded their range to include five different scooters from recreational to long-range cave. There is even a slick-looking military version available. A few Maltese centres now offer a selection of these scooters for rental, and Alan said Techwise would soon be running the new PADI Suex scooter specialty and instructor courses.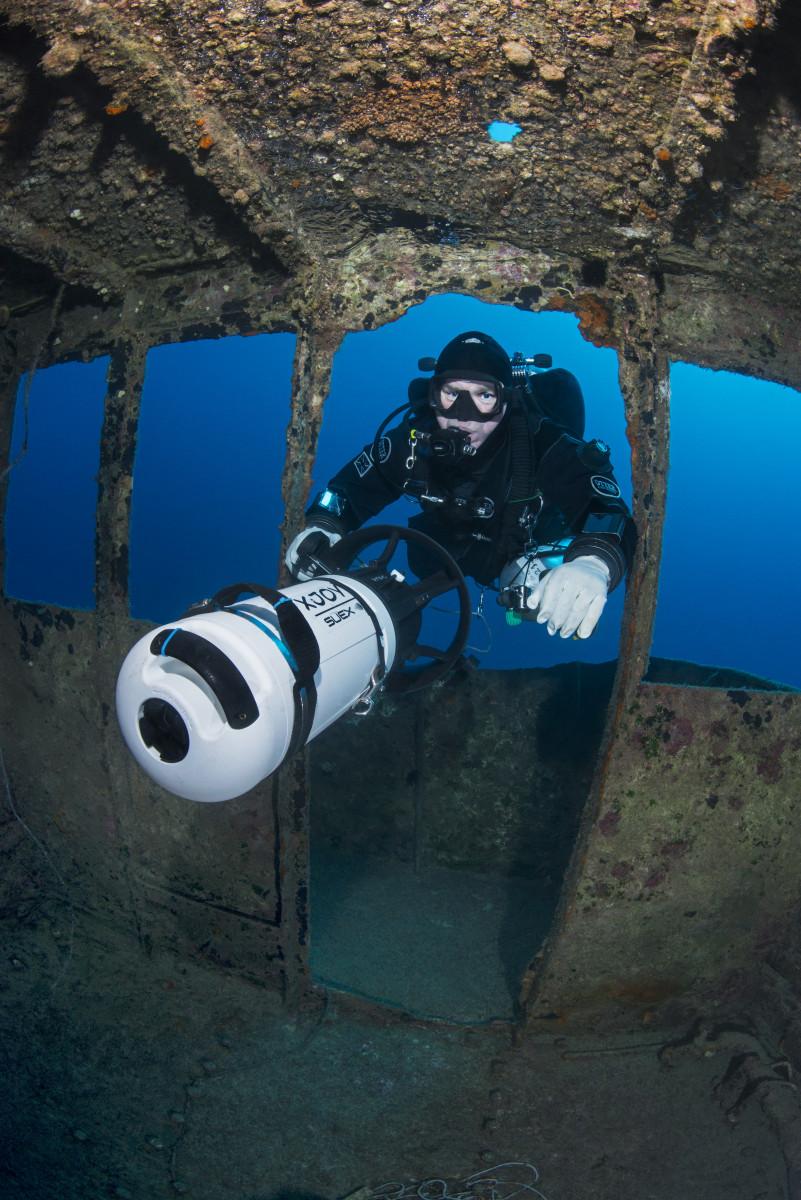 The batteries had been put on charge overnight, so my first job was to assemble the unit. Alan showed me how to fit the battery into the metal chassis, then slide the outer casing onto the rubber O-ring seal and lock into place. The whole process took less than a minute, so nothing too complicated. The XJOY-7s and XJ VRs are basically polycarbonate tubes 200mm diameter by 760mm long, which is slightly larger and heavier than a conventional 12-litre steel cylinder. Sizes and materials vary with Suex's higher-spec scooters.
There was a carry handle attached to the nose, but nothing on the rear by the propeller, so I had to grab hold of the outer casing when I lifted the scooter onto the pick-up truck. I noticed that the newer units had a carry handle front and back fitted as standard.
Located next to the Gozo ferry terminal, Cirkewwa is probably the busiest shore-diving site in Malta. During the summer months, the roadside is often overflowing with trucks and vans from just about every dive operator going – and in Malta, there are quite a few! This means early morning starts are necessary to secure a parking spot.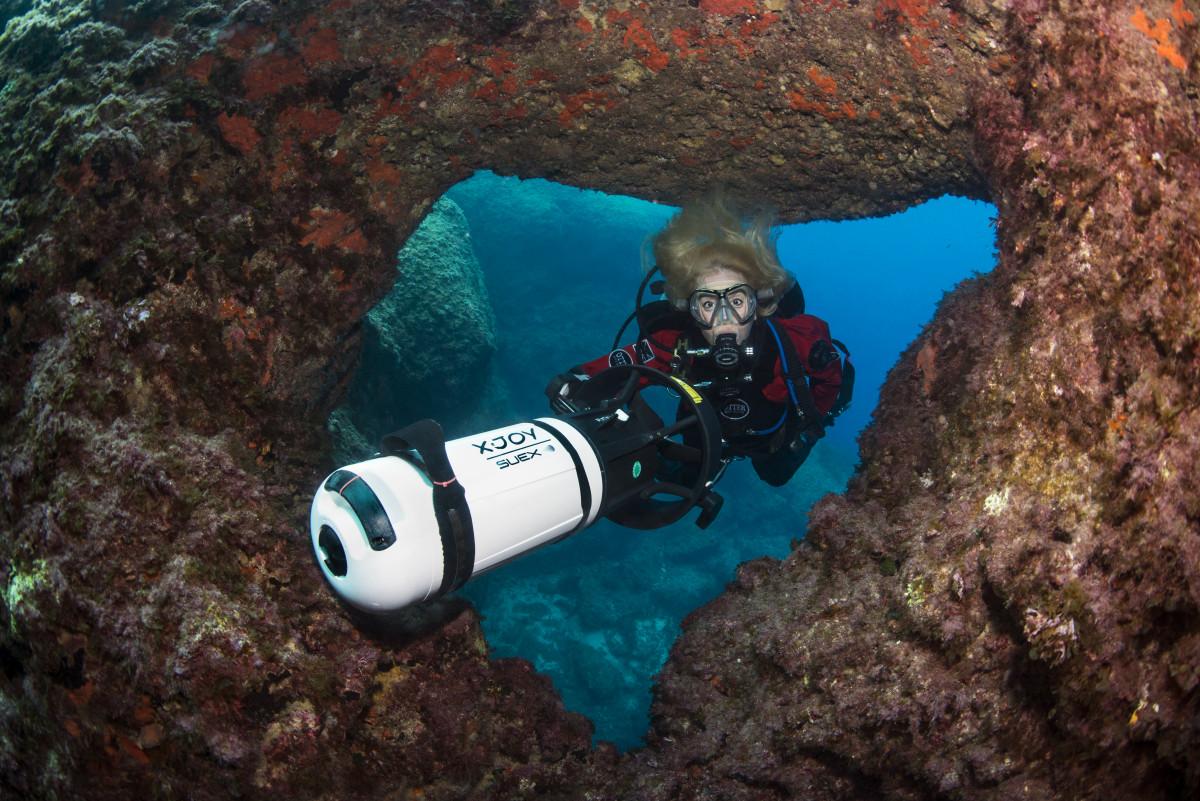 Cirkewwa is not just a 'one dive seen-it done-it' site. There are some great natural features to explore, including the sheer wall and the archway. I have had so many memorable night dives at Cirkewwa searching for macro life, which is usually overlooked during daylight hours.
Slightly further out from the shoreline are two popular artificial wreck sites to visit, the more-established tugboat Rozi and the relatively new addition, Minesweeper P29. The 40-metre-long MV Rozi sits upright at a maximum depth of around 35m. She was scuttled in September 1992 and used as an attraction for Captain Morgan's Cruises submarine safari tours. Captain Morgan's ceased operations a long time ago, so the wreck has now become a major diver attraction.
Fifteen years later, the Malta Tourism Authority bought the 52-metre-long by seven-metre-wide Minesweeper P29 from the Maltese Navy, stripped out most of the fittings, cleaned away all the contaminants and sunk her upright just a few hundred metres from the Rozi.
Recreationally speaking it is possible to dive both wrecks in a single dive, but this doesn't allow much time in between for exploration and to be honest, what's the point in huffing and puffing across a relatively boring sandy seabed for about 15 minutes just to get a quick glimpse of both wrecks before surfacing. This also relies on good old compass navigation skills, which tends to strike fear into most UK divers. Strapping on a twinset and stage cylinder and using a scooter for transportation makes life much easier.
As usual I was running on a tight schedule and didn't have the luxury to wait for a mirror calm day. When we arrived on-site, a blustery northwesterly wind had whipped up the sea. Waves were breaking spectacularly against the sea wall. There are a number of entry and exit points at Cirkewwa.
Most have got chunky stainless steel hand rails for divers to grab hold of for support, but even so the concrete steps and slipway can get quite slippery at certain times of the year, especially when stomping about in full scuba or worst case, heavier twinsets and rebreathers.
We precariously walked down the steps and placed our scooters next to the rocky entry point. I had a long dive ahead of me so made a dash for the toilets before getting kitted up. It was the first time I had used the new toilet/shower block, which was a welcome change from the chemical 'Tardis' loos I had been using for years. I managed to stand up in the shallows but had to trust Alan with my camera while clipping on to the scooter.
The length of the leash was adjusted so that my body would take up the tension rather than my arm. A rogue wave tipped me off balance and I was left helplessly rolling about on my back like a beached whale. I'm sure Alan was cursing under his breath (or laughing his head off). I eventually switched on the scooter and followed Alan out of the shallows, steering on a course for the P29 at warp speed – hopefully not a collision course! When holding a camera I am not the most-streamlined shape.
Even though I was driving at top speed, I still lagged behind Alan. The Suex XJOYs have a max speed of 3.3km per hour and the XJ VRs are slightly faster at 3.9km per hour. When driving a car or riding a bike, this doesn't seem like much at all but be assured underwater this is a very respectable speed. The top of the range XKs have a mask-dislodging max speed of 6km per hour.
Within no time at all, I saw the dark shape of the P29 looming up in front of me. I stopped underneath the stern by the giant rudders to get a few shots of Alan and then ascended to deck level and headed for the bow. Even though the scooters have a dry weight of around 19kg, they are totally neutral underwater, meaning when I stopped to take pictures, they don't sink. I got Alan to whizz around the bow while I took a series of landscape and portrait shots.
The scooters were mainly white in colour, which made a nice contrast. Suex also make a black version, and a dark green special for the military. We scootered back to the deck gun and I took some more pictures with the bridge and mast silhouetted in the background. The silvery scales of a banded bream were irritatingly reflecting the light from my flash guns, so I spent a precious few minutes retaking the shots, but I still had plenty of back gas contingency and a full 50 percent O2 stage cylinder, so from my perspective everything was going according to plan and on schedule.
Usually the P29-Rozi crossing took about 15 minutes when finning conventionally. I checked the time on my watch as we left the P29 and again when we reached the bow of the Rozi. It had taken us just one minute 30 seconds to cross the void. We had even seen a few rays gliding over the grassy patches.
The MV Rozi has always been a very photogenic little wreck, especially for atmospheric black and white pictures. I hovered over the bow and got Alan to circumnavigate the bridge while I took a spread of shots. The scooter just hung neutrally from the leash not causing any hindrance. There were hundreds upon hundreds of damselfish raining down around us, so much so I couldn't get a clean shot of Alan. I caught sight of a moray shimmying across the deck and disappearing behind a bollard. I was pleased to see so much marine life milling about. I switched on the scooter again and ascended to the bridge area.
We spent a good five minutes composing some close-ups and then headed off towards the funnel and the stern. After a quick scout about I followed Alan across the seabed to a huge Admiralty-shaped anchor. Again we stopped to take the usual splurge of shots, although this time I managed to stir up the sandy bottom with my subversive driving behaviour. Shortly afterwards we were sitting at 5m decompressing. My surf exit was far from graceful but by this time I didn't really care. I shuffled out on my knees smiling from ear to ear.
The Suex scooters were a lot of fun, very easy to use and added a completely different dimension to my dive. We covered a huge distance and used far less gas doing so. I'm glad Alan had the responsibility of navigating. I'm pleased to report we had no deviations and found both wrecks without any problems.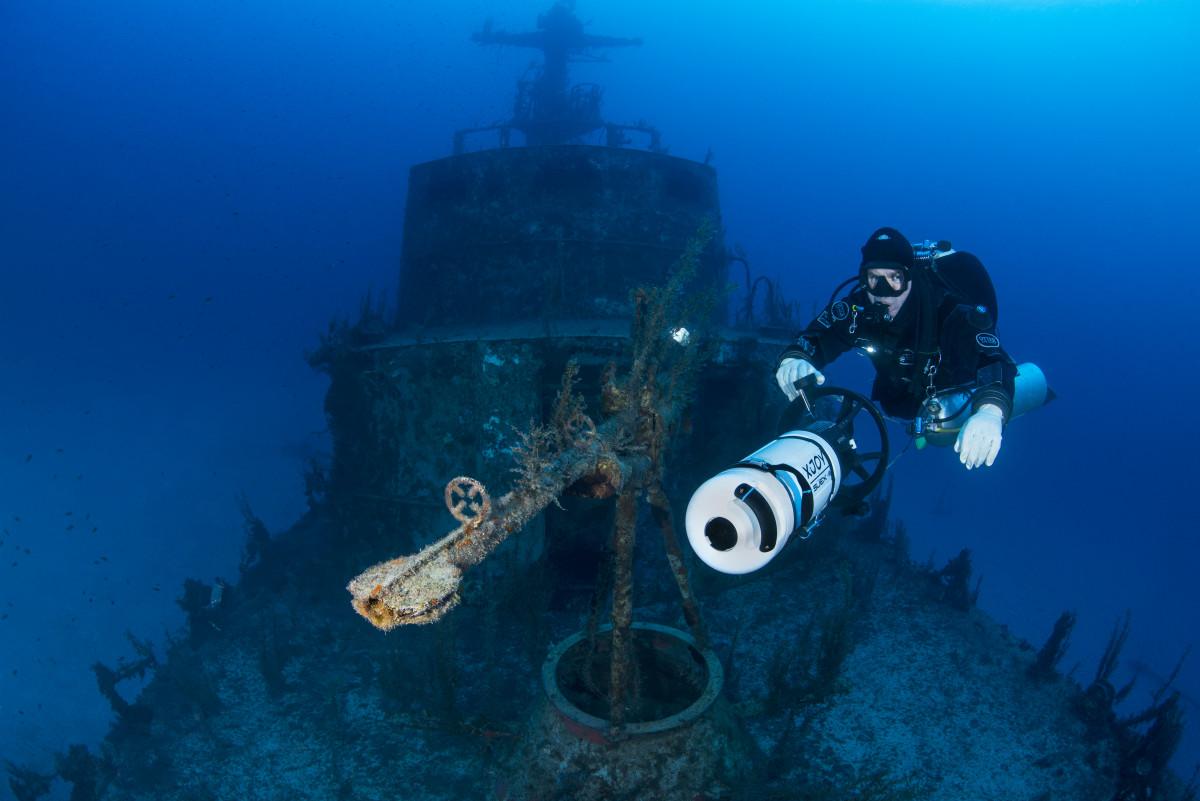 Our dive time was clocked at one hour ten minutes surface to surface and there was still plenty of charge left in my scooter. Suex's figures for the XJ VR (lithium battery) are 100 minutes at full throttle or a 150 minutes if being more conservative. But in my mind there can only be one speed and that's full speed! Driving a scooter while holding a housed camera with strobes was, in a word, interesting and required slightly more effort but most divers wouldn't have to worry about this.
My mind was already beginning to wander. There were so many scooter possibilities in Malta. I could see myself scootering around HMS Stubborn submarine, or better still Le Polynesien. With a massive hull length of 152 metres, just imagine how much of the wreck I could see in a single dive – now that would be quite a story!
Photographs by Stuart Philpott
Want to read about more great places to dive?
Top 10 Best Dive Sites in the World, Editor in Chiefs Pick
Top 10 Dive Sites in the World, Destinations Editors Pick