With Coronavirus putting a temporary halt to diving I have had plenty of time to reflect on my Top 10 Best Dive Sites in the world. It was tough to choose from all the fantastic places that I have visited while I was working as a dive instructor and underwater photographer, but these are the dives that stood out for me, for a variety of reasons. Join the conversation on one of our social media channels and let us know what your best dive sites in the world would be?
ANZ Editors Pick
#10 – Pulau Komba, Maumere, Indonesia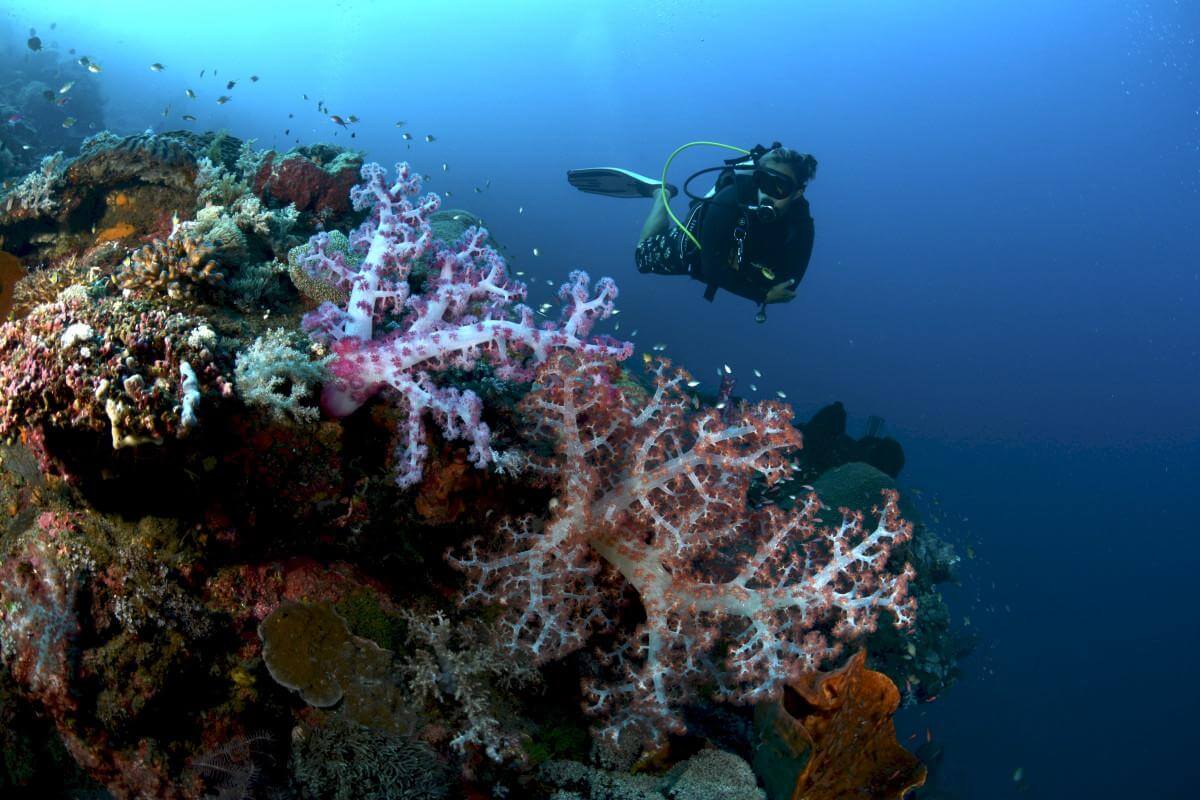 What makes this dive destination so unique and the reason why it is in my top 10 best dive sites in the world, is not because of the stunning corals or amazing topography or even the wide variety of unusual marine life that inhabits this excellent dive destination, but because Pulau Komba is an active volcano.
This tiny volcanic island located in the middle of the Flores sea erupts every 20 minutes, 24 hours a day, 365 days a year. Spewing forth molten hot rocks and billowing pillars of smoke it makes for a stunning spectacle, especially at night.
The dive itself is an exciting mixture of unusual topography, vivid corals and strange little critters. Huge sea fans and brightly coloured soft corals cling to ridges of black rock; healthy hard coral growth created a jagged contrast. The topography then changes to vast plains of dark volcanic sand populated with sea pens, before morphing back to the coral covered ridges and gullies. In addition to the proliferation of corals, there was a surprising amount of marine life for such a hostile environment. We encountered vibrant crown anemones, spectacular nudibranchs and various crustaceans, along with a multitude of small reef fish.
The combination of excellent diving, the spectacle of watching a volcano erupting and the fact that you are one of only a few people in the world to have enjoyed this unique experience makes visiting Puala Komba an exceptional event.
#9 – SS Thistlegorm, Shab Abu Nuhas, Egypt
The SS Thistlegorm was a World War Two Cargo Vessel that was sunk by German bombers on 6th October 1941. Most of the ship sits upright and offers easy access for divers to explore the ship's holds. The stern section houses two anti-craft guns and is ironically where the German Bombs struck, this section has been sheared off from the rest of the ship and sits at an angle on the seafloor at a depth of 30 meters.
This large 128-meter long vessel was packed full of trucks, motorbikes, rifles and gumboots; these artefacts are all still stacked in the cargo holds and diving in amongst all of this memorabilia is like diving through a museum.
A thriving artificial reef has grown up around this rusting metal monolith, lionfish, crocodile fish and scorpionfish all call the SS Thistlegorm home. Soft corals, sea fans and hard encrusting corals cling to its decaying superstructure, and large schools of barracuda and snapper can often be found loitering close by. I even encountered a pod of dolphins on one particularly special dive here.
This wreck is packed full of history and is teeming with marine life, offering something different every time I dive into this museum of the deep.
#8 – Los Islotes, Baja California, Mexico
The reason you go to dive at Los Islotes is simple, Sea lions. These fantastic creatures have formed an enormous colony, hundreds of animals strong, on this jagged rock in the Sea of Cortez. A place once referred to as the "Worlds Aquarium" by Jacques Cousteau.
Diving with Sea lions is an amazing experience and why it features on my 10 best dive sites in the world. It is usually best to give the large bulls a wide berth, especially in mating season. However, the juvenile members of the colony will actively seek out divers to play with, often nibbling on your fins if you do not give them the attention that they think they deserve.
The underwater acrobatics shows that they perform are quite spectacular, accelerating towards you at breakneck speed before darting off at an impossible angle. Then barrel rolling and pirouetting as they swim away, often with a cheeky expression on their faces. Sometimes it feels like they are playfully mocking our lack of underwater agility.
For interactive animal encounters, sea lions have to be one of the most exhilarating experiences you can have, and Los Islotes has to be one of the best dive sites in the world to offer this exciting opportunity.
#7 – SS Yongala, Ayr, Australia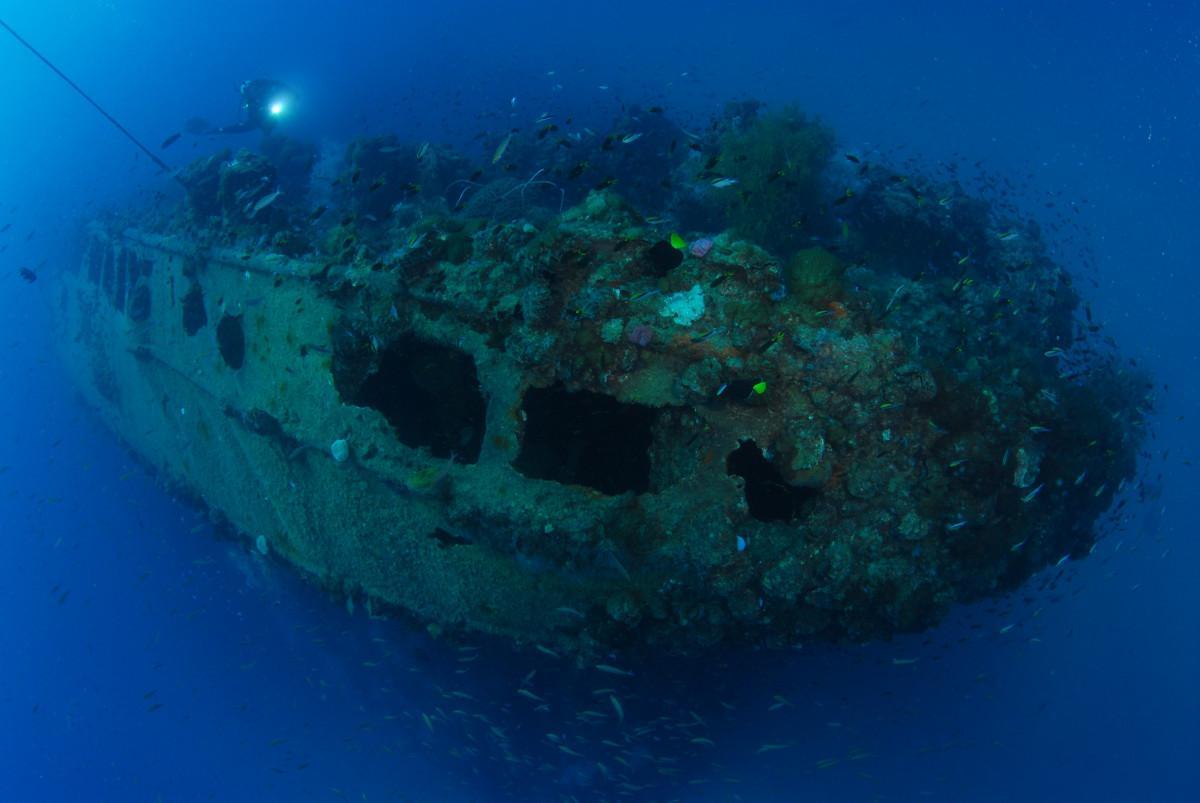 The SS Yongala sank in a storm over 100 years ago, since then it has been transformed into a spectacular artificial reef. It is not possible to penetrate the wreck, but even if it were permitted, staying on the outside would be a much better option.
Every inch of this former passenger ship has been colonised by a variety of hard and soft corals, whip corals and sea fans. It is a magnet for marine life with a staggering number of species flocking to this magnificent dive site.
I dived on the Yongala for two days, four dives in total and each dive was different, and each dive was packed full of animal encounters both large and small. Nudibranchs and small crustaceans pepper the surface of the vessel while a never-ending conveyor belt of fish and marine animals converge here, including several different species of sharks, cobia, giant marble rays, bull rays and shovelnose rays. Not to mention schools of barracuda, snapper and surgeonfish.
In my opinion this is not just one of the best wreck dives in the world it is one of the best dives sites in the world full stop.
#6 – Boo Windows – Raja Ampat, Indonesia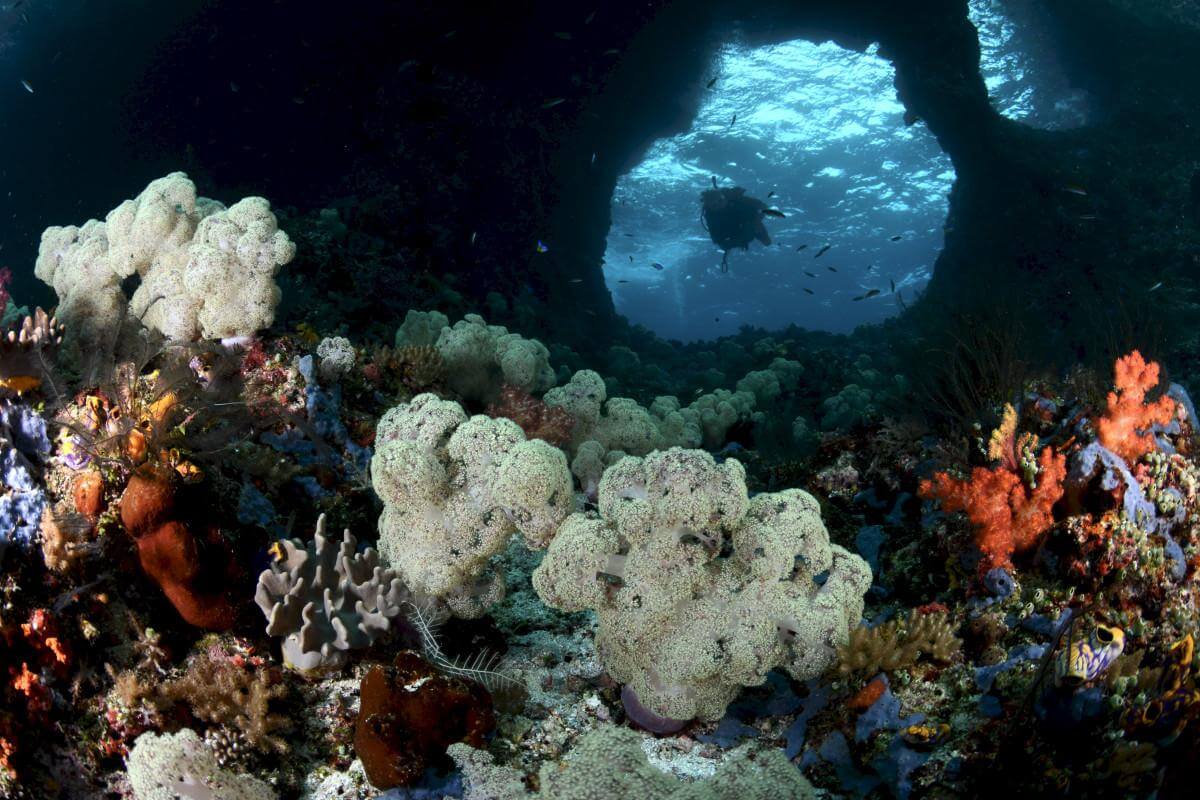 Located in the Misool region of Raja Ampat this dive site is a wide-angle photographers dream. Two large holes in the rock just below the surface give this fantastic dive site its name. These beautiful apertures create a fantastic backdrop for wide-angle photography, and such images have become synonymous with the area.
This dive, however, offers a lot more than a single excellent photo opportunity. Once you move away from the windows, you descend a wall dripping with soft corals and sea fans of every description and colour. Schooling yellow snapper, glassfish bommies, patrolling grey reef sharks, hiding epaulette sharks, tiny nudibranchs plus much, much more is what makes diving here so unique.
It is tough to pick a favourite dive site in Raja amps, e but Boo Windows is the iconic, photogenic site that provides me with such fond memories of diving in this spectacular area.
#5 – Catalina Islands, Playa Del Coco, Costa Rica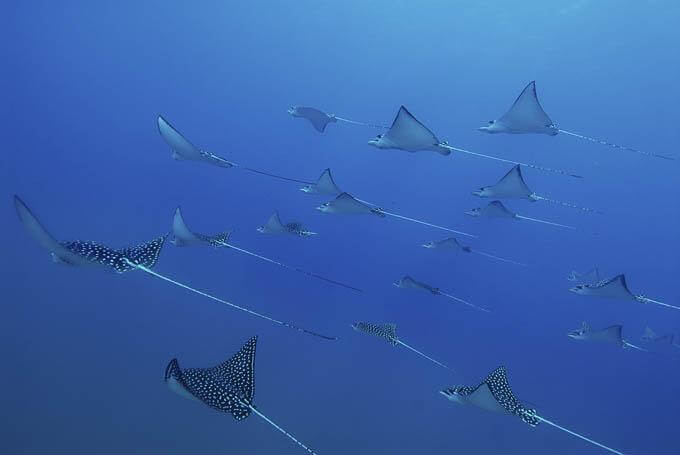 About an hours boat journey from the small fishing village of playa del coco in the Guanacaste region of Costa Rica is the Catalina Islands. These barren rocks that poke out of the pacific ocean offer little in the way of corals, but they more than makeup for that in other ways.
The Catalina Islands are a mecca for marine life, large schools of fish congregate here, eagle rays and cow nose rays can often be found here in large numbers, and turtles and white tip reef sharks are regular visitors. But what makes this dive site so special is the opportunity to dive with majestic, oceanic manta rays.
These immense creatures, sometimes over 6 meters across, come to the island to visit one of the many cleaning stations that are located here. They often seemed as interested in us as we were in them. I have several eyeball to eyeball encounters with these intelligent creatures, before they decided that enough was enough and with a flick of their wings soared away into the distance.
There is something exceptional about diving with these gentle giants and the Catalina islands provide regular opportunities for such encounters.
#4 – Manta Ally, Komodo, Indonesia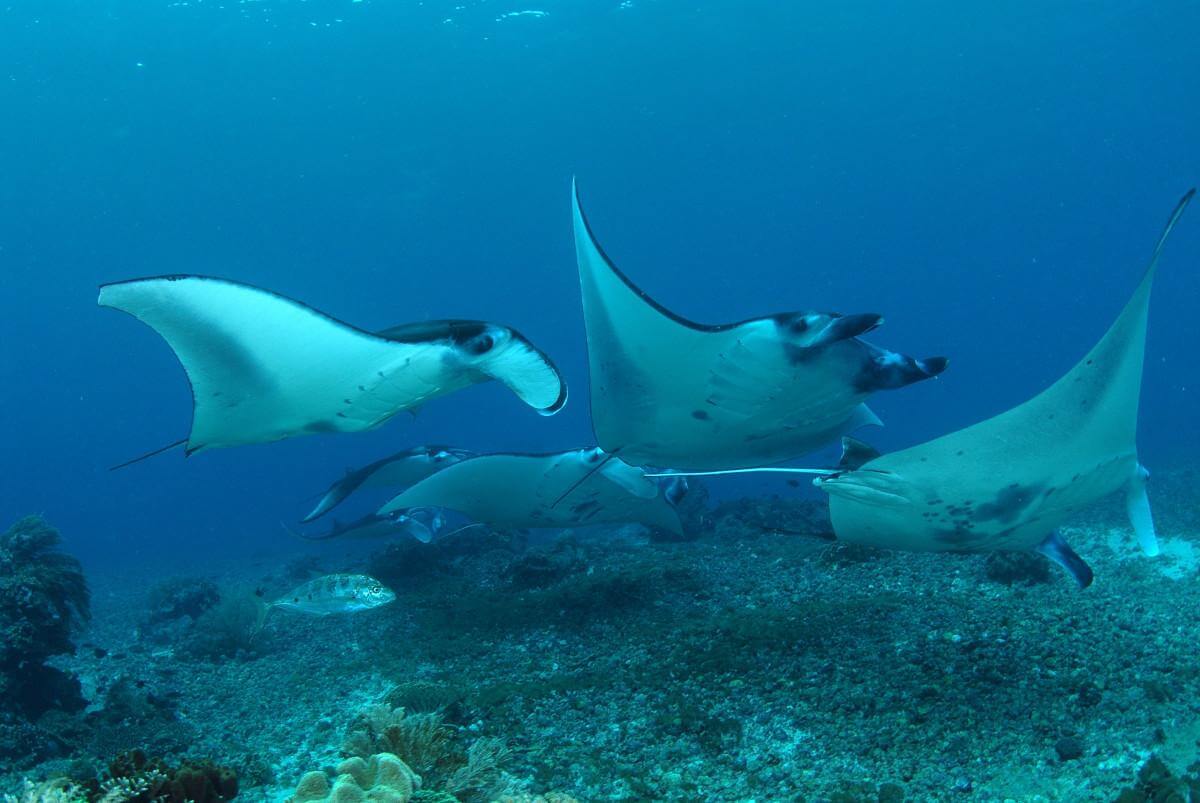 This is a dive site that lives up to its name. Here manta ray encounters are the rule rather than the exception. A cluster of tiny islands breaks the surface, under the water they form small coral covered canyons and alleyways. It would seem they are a favourite playground of the mantas, which congregate here in large numbers.
I have visited this site on several occasions, and every time I have encountered multiple mantas. One dive, in particular, was especially memorable, on approaching the dive site we witnessed multiple wingtips carving though the water. Once under the water, we found shelter from the current behind a large boulder in one of the many alleyways that dissect the rocks. We then settled in and watched a never-ending procession of mantas pass by us, over us and around us. Being the curious creatures that they are, they would often stop and check us out for a while before gliding away again. This impressive spectacle lasted for over an hour.
I have witnessed mating trains, feeding frenzies, and playing mantas at this fantastic destination. Located at the southern tip of Komodo Island this is one dive site that has never failed to deliver.
#3 – Big Scare, Playa Del Coco, Costa Rica
Big scare is just one of the numerous, excellent dive sites that the Bat islands have to offer, but the reason that this particular site makes it into my top ten dive sites in the world is because of its shiver of resident Bull Sharks. You can feel the anticipation and excitement emanating from your fellow divers as you approach the site, a baron rock that juts out of the ocean forming a crescent-shaped bay. Waves crash against the jagged boulders that just break the surface, lending an almost a prehistoric feel to the site.
Under the water, cleaning stations sit either side of a wall that drops about 15 meters to a stony bottom which then slopes off into the deep. This is where the Bull Sharks lurk. Sometimes they stay on the edge of your vision, and at other times it seems as though they are playing chicken with you before veering off a couple of meters before impact.
Huge schools of jacks and trevally hover-mid water and Manta Rays can be seen passing overhead on the way to one of the cleaning stations. One unique dive on this site always sticks in my mind. After we spent about 30 minutes with the Bull Sharks the group started ascending towards one of the cleaning stations, as we approached a Whale Shark cruised slowly past us and then to round off a perfect dive, a Manta Ray joined us for the safety stop.
Big scare is not for the faint-hearted, but it is an adrenaline-fuelled dive that always left me wanting more.
#2 – Shark and Yolanda Reefs, Sharm El Sheikh, Egypt
Located in the Ras Mohamed National Park in Egypt's Sinai peninsula a speckled coral channel only separates these two reefs. Shark reef is a dramatic 800-meter wall festooned with soft coral and sea fans. Yolanda reef offers the remains of a cargo ship and a coral garden situated on a sloping plateau before it too drops off into the depths.
While this is a great dive any time of the year in the summer months of July and August, it becomes a beacon for marine life, and the fish populations explode. Jumping into the water at shark reef, you get immediately engulfed in a vast school of twin spot snapper that numbered in the high hundreds. Then would come to a massive school of Batfish, followed by schools of surgeonfish and then finally, just off the reef a colossal school of barracuda thousand strong loitered, patrolled by hungry grey reef sharks.
The sheer biomass of fish that congregate here draws in a host of apex predators. I have encountered dolphins, tiger sharks, silky sharks, oceanic whitetips, silver tips and even a shortfin mako on this imperious dive site.
Before we get to our number one best dive sites in the world, don't forget to head over to Facebook and give us at like to get all the latest articles.
Drum Roll
.
.
#1 – Castle Rock, Komodo, Indonesia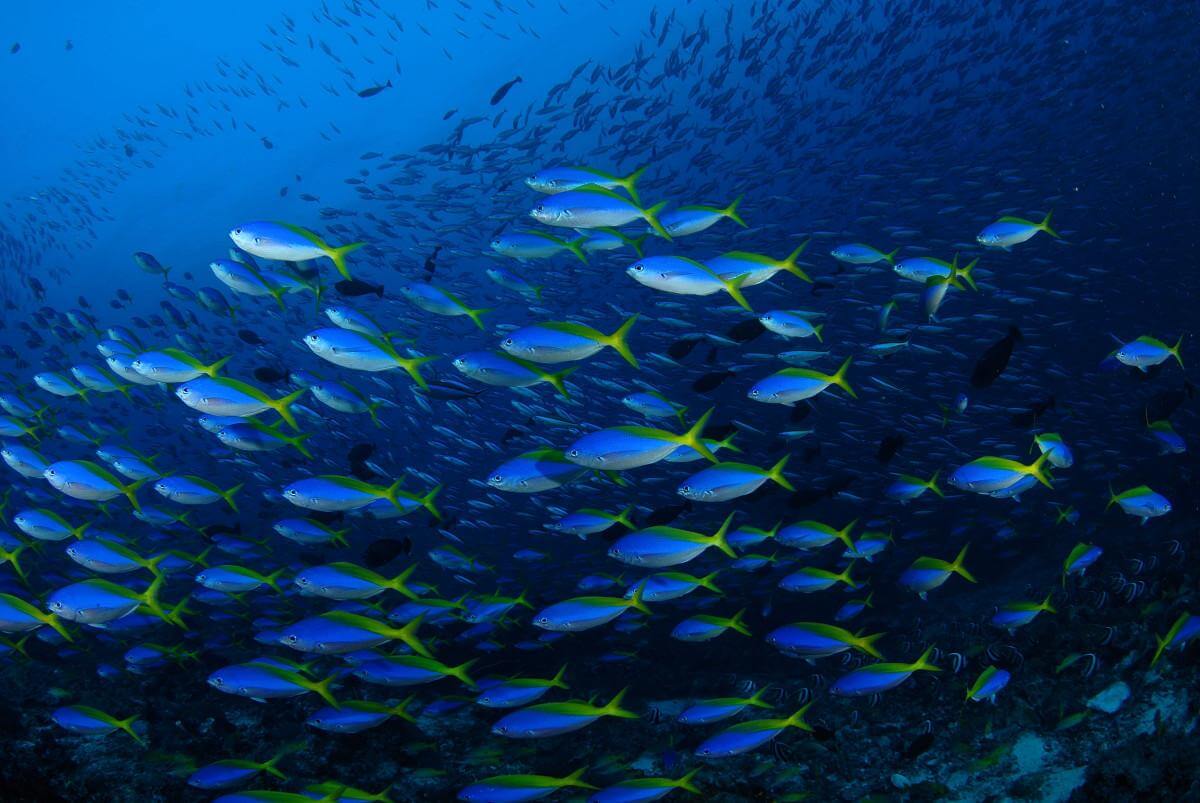 The corals of this large undersea mount are pretty enough, but it is the mind-blowing, heart-pounding, frenetic activity that takes place here that is the real draw and why it's my number one best dive sites in the world.
When the current is pumping, which it often is, Immense schools of fusiliers and yellow masked surgeon fish congregate where the current first hits the reef. They, in turn, attracted the unwanted attention of a whole host of predators. Huge gangs of the thuggish looking giant trevallies casually mingle with the fusiliers, grey reef sharks hang out in the blue on the edges of the schools, while white tip reef sharks glide effortlessly over the reef.
Then in the blink of an eye, this sedate scene of co-existence changes into a spectacular, frenzied free for all. The giant trevallies explode into action tearing through the ranks of the agile fusiliers; they, in turn, create a loud boom as they all simultaneously change direction in a frantic attempt to evade their attackers. The sharks, jacks and other predatory fish take this as their cue to join in, and for a few minutes, mayhem ensues.
This action often occurs at a depth of around 20 -30 meters while the divers cling onto a rock or use a reef hook to stop themselves from being swept off the reef by the current.
This dive site offers everything I love about a dive site. It is a heart-pumping adrenaline-packed ride with vast schools of fish, big animal encounters and plenty of predatory action.
Everyone will have their own opinion for best dive sites in the world, and over the coming weeks, we'll hear from our US and European editors to find out what their best dive sites in the world are. Why don't you let us know your favourite sites on your favourite social media channel?
Photo Credit: Adrian Stacey
Not had enough? Discover The 6 Best Dive Sites of the South Pacific