Scuba diving masks are a vital piece of your diving gear arsenal, as, without one, you will not see much underwater! A well-fitting scuba mask will make all the difference to how relaxed you are underwater, as dealing with constant leaks, scuba mask fogging, etc., is just frustrating and can take your mind off far more critical issues.
However, scuba masks are a very personal piece of diving equipment, and finding one which suits your face is the goal of all divers.
Our team of experienced scuba divers and volunteers have tested the latest scuba masks from the leading manufacturers for comfort, ease of clearing, range of vision, and price! If you find the advice usual, please consider using the buy now button, we'll earn a small commission which helps us write more content.
Best Budget Scuba Diving Masks
If you don't have a huge budget, these scuba masks are some of the best low-cost options.
Best Mid-Range Scuba Diving Masks
For those regularly diving, these scuba masks will meet your needs and last a lifetime.
Best High-End Scuba Diving Masks
You'll only consider the best scuba masks, and nothing else will do.
WHO TESTED THE SCUBA MASKS
Each month, the Scuba Diver test team assembles to rate and review a selection of dive equipment from various manufacturers. Products are split into price categories and evaluated for performance, comfort, ease of use, build quality, looks and value for money. The Test Team comprises Editor in Chief Mark Evans and a squad of volunteers whose dive experience ranges from a couple of hundred dives to over 8,000 in all conceivable diving conditions and temperatures.
---
Mares Juno / Jupiter (SRP: £36.00)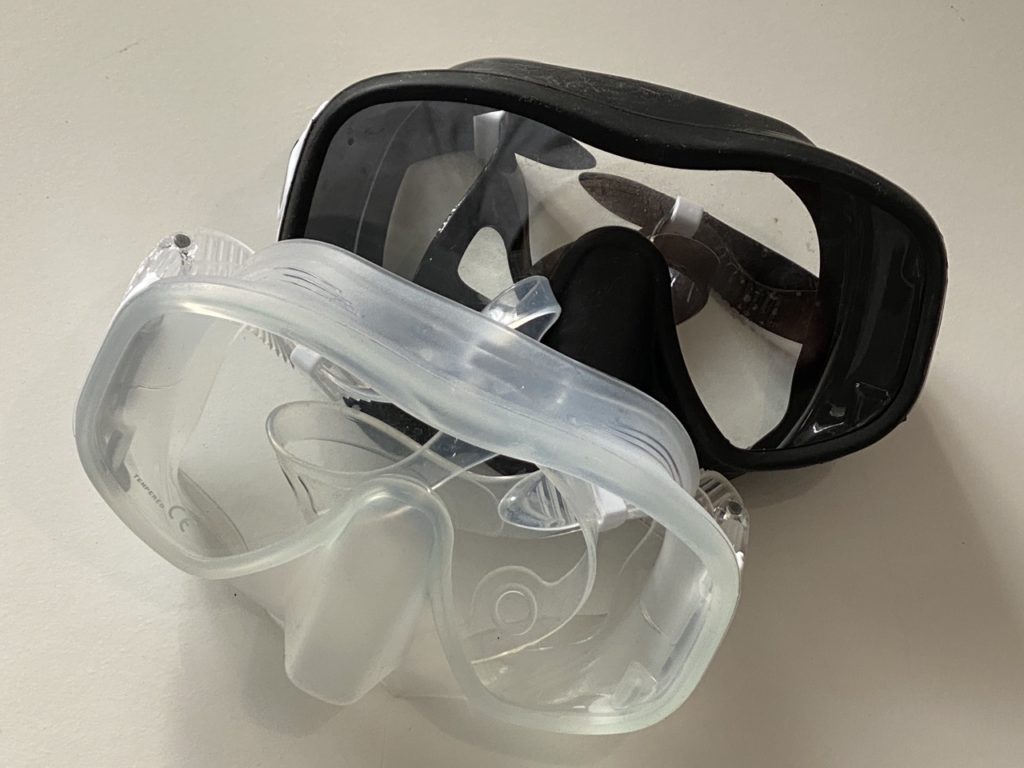 The Juno is a frameless single-lens mask with a soft but firm silicone skirt and clever plastic mounts for the swivelling strap buckles that hinge, so it can fold flat – if, for example, you wanted to tuck it in your drysuit pocket as a spare mask.
The release buttons on the swivelling buckle have a nice, tactile feel and are easy to locate and operate even with thick gloves. The strap is well-shaped, and 'cups' around the back of your head well.
The Jupiter is essentially the same mask design, just with a larger skirt, for bigger faces.
The Juno and Jupiter are exceptionally comfortable, with the skirt being soft enough to mould to the contours of your face but stiff enough to maintain the mask's shape. It is a delicate balancing act, and Mares have nailed it.
They are low profile, offer a decent all-round field of vision, and are easy to clear when flooded.
The Juno is available in blue and white, lime green and black, pink and clear, red and white, white and clear (great for underwater models!), white and black, white and blue, and red and black.
The Jupiter is available in black and white, blue and black, red and white, and white and black.
SUMMARY
TYPE: Frameless | STRAP: Silicone |
VERDICT: The design of the Juno and Jupiter is pleasing to the eye, and they both come in a wide range of colours. They are comfy, easy to clear and well priced.
PROS
Well-Designed Buckles
Great Price
Wide Range of Colours
CONS
Can Press On Your Forehead Depend On Face Shape
---
Scubapro Zoom Evo (SRP: £46.50)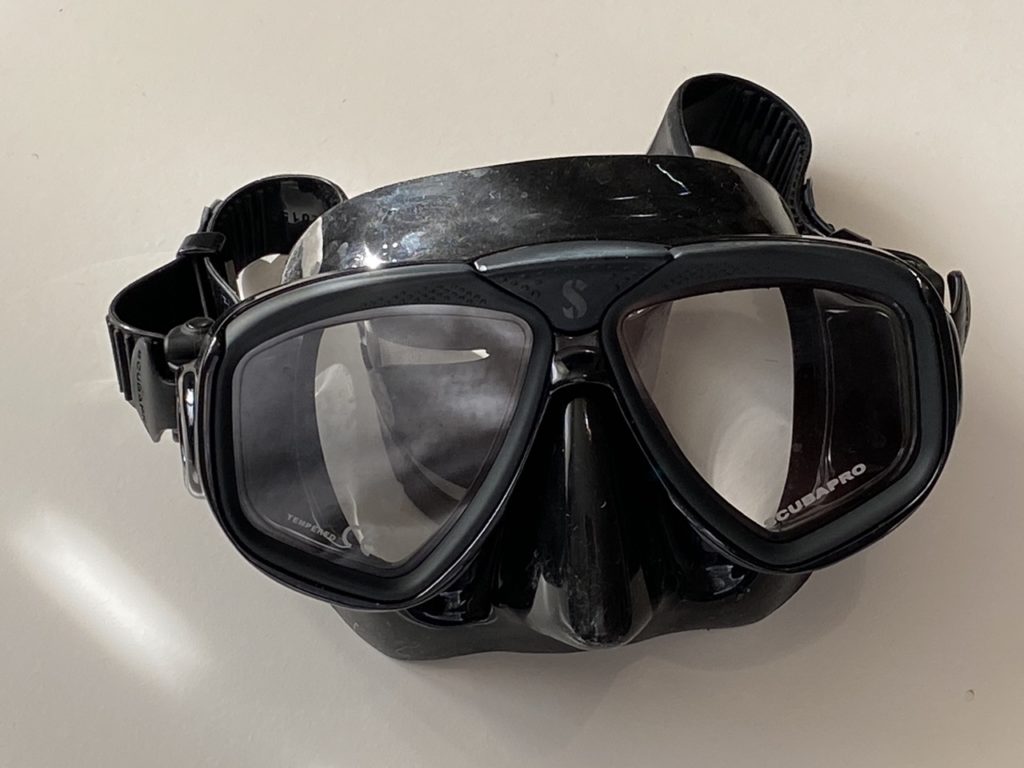 The Scubapro Zoom is another mask that has been around for a while, and this is the Evo version.
The quite-traditional style of the Zoom Evo has been around for a long time, but it works well. The twin-lens are mounted into a frame on a low-profile skirt, and it has a reasonable all-around field of vision. The buckles have a large lever to release the strap, which is easy to find with a gloved thumb, but if you want to swap out the silicone strap for a Scubapro Comfort Strap, it is simply a case of pressing a couple of buttons, and it is off.
You can get other optional accessories like a HUD dive computer mount adapter and colour kits to match BCDs, fins and clothing.
In use, the Zoom Evo is comfortable and easy to clear. Because of the framed design, it will not fold flat.
The Zoom Evo is ideal for those who might need prescription lenses, as the originals can be easily replaced with everything from -1.0 to -8.0 (in .5 diopter increments) by yourself, without any tools, in less than a minute.
It comes in various colours, from military-style all-black and silver and black to eye-catching spray-painted blue/silver, black/yellow, red/black, pink/black, turquoise/black, blue/silver, and black/purple, on a black skirt.
SUMMARY
TYPE: Frame | STRAP: Silicone |
VERDICT: The Zoom has been around for a long time, and the Evo version is comfortable, looks good – in a traditional style – and has user-changeable prescription lenses.
PROS
Easily Use Prescription Lenses
Comfortable Skirt
Range of Colours
---
Oceanic Shadow (SRP: £49.95)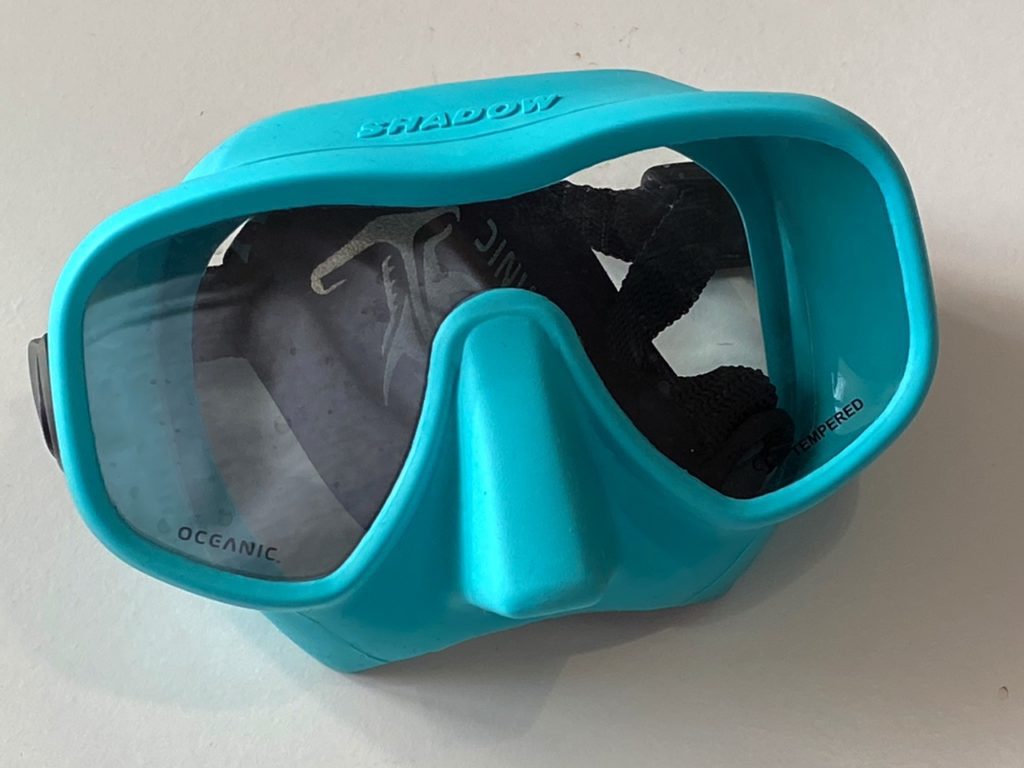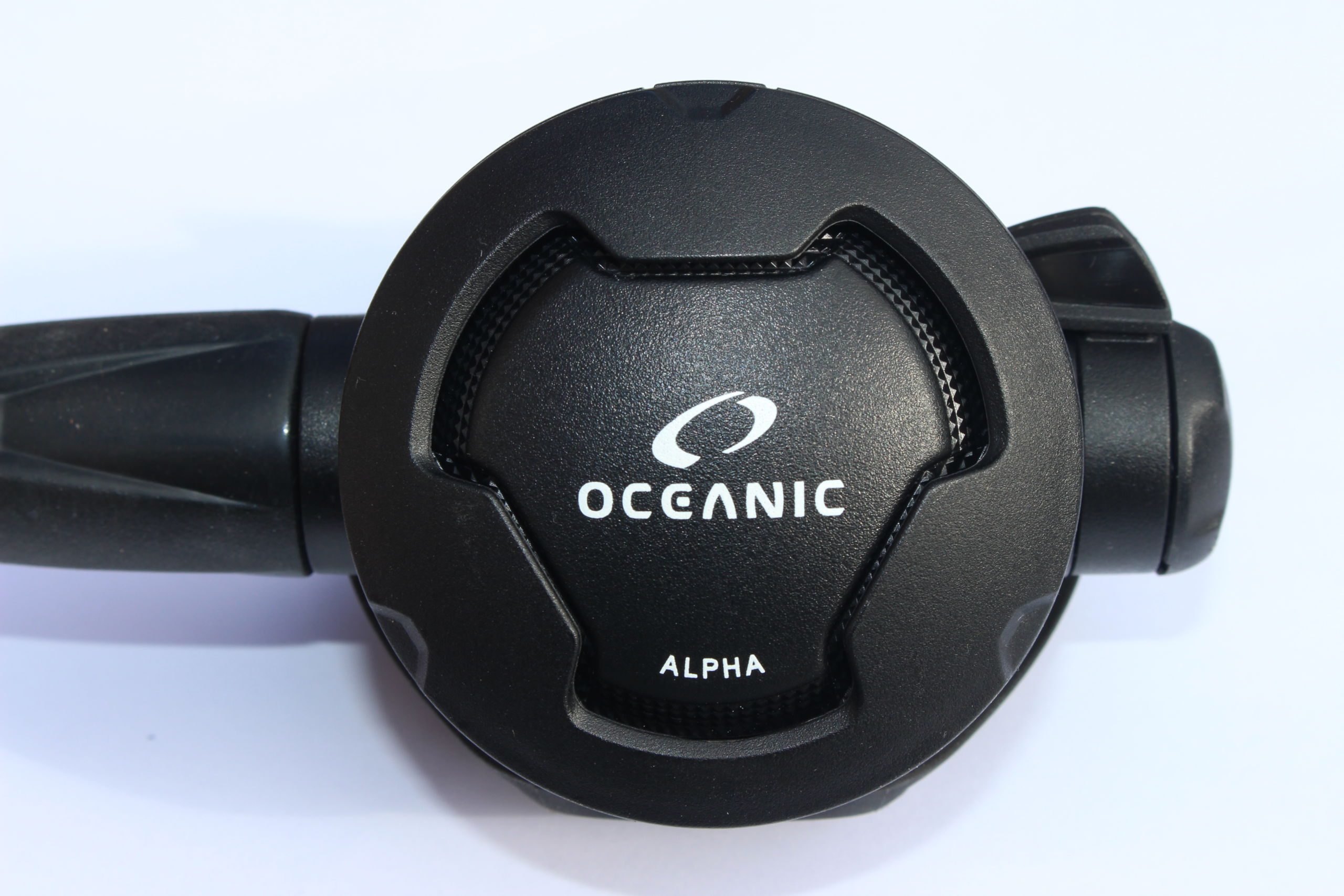 The Oceanic Shadow has been around for many years and has proved a firm favourite with the Test Team over this time.
The Shadow is a frameless, single-lens mask, and the 100 percent liquid silicone is very comfortable, effortlessly moulding to your face.
The plastic buckles are attached directly to the silicone skirt, which means that the Shadow can fold flat if you want to use it as a backup mask, stored in a BCD or drysuit pocket.
The actual buckle itself works fine but is quite a dated design. However, it doesn't matter, as it comes with an eye-catching and efficient neoprene strap, so once you have got the mask fitted properly the first time, you will likely never touch the buckle again anyway. The 'stretch' in the neoprene can handle the move from bare head in the tropics to hooded head in colder conditions.
The Shadow boasts a wide field of vision, and is easy to clear when flooded because of its low profile.
This Shadow came in colourful Sea Blue, but there are myriad other colours available, including classic black, pink, white, yellow and clear, which is ideal for use with a model if you are an underwater photographer.
These are also available as the Shadow Mini, to fit smaller faces.
TYPE: Frameless | STRAP: Silicone |
VERDICT: The Shadow has been in the Oceanic line-up for a long time – for good reason. It is comfortable. well-equipped with a neoprene strap, and looks great.
PROS
Wide Peripheral Vision
Comfortable Skirt
Neoprene Strap.
---
Beuchat Maxlux S (SRP: £51.00)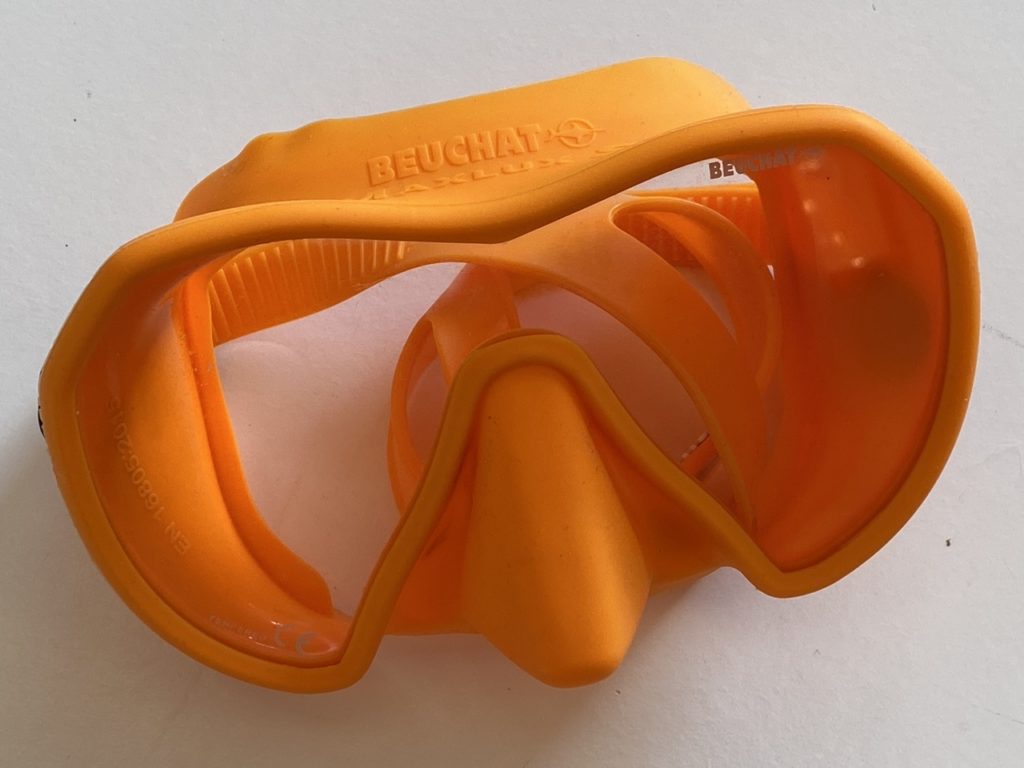 Beuchat is a long-established company which is enjoying a bit of a renaissance in the UK market now that it is being distributed by the Suunto UK team, and the Maxlux S certainly makes a splash.
The first thing you notice about the Maxlux, especially in certain colours such as this orange, is that it is BRIGHT! The vivid colour schemes certainly stand out from the crowd and make a nice change from the normal black. For those shrinking violets, a black version is available!
The Maxlux S is a frameless mask that is very low profile and easy to clear, and it folds flat for backup mask situations.
The range of vision from the Maxlux S is very good, and it is extremely comfortable on your face thanks to the super-soft silicone skirt. The wide silicone strap fits well onto your head, and the buckles – although they use quite an archaic mechanism – do work fine, though they are not as user-friendly as the push-button systems on other masks.
The Maxlux S is available in black, blue, electric blue, grey, orange, pink, raspberry, red, silver and black, and yellow. It is great for UW models as you can clearly see their eyes, and the bright colours add another dimension to photographs.
TYPE: Frameless | STRAP: Silicone |
VERDICT: The Beuchat Maxlux S is an extremely comfortable, low-profile mask, which is easy to clear, offers good vision, and is great for UW models in its bright colours.
PROS
Colourful
Comfortable Skirt
Great For UW Models
CONS
Archaic Buckles
Can Press On Your Forehead Depend On Face Shape
---
xDeep frameless (SRP: £60.00)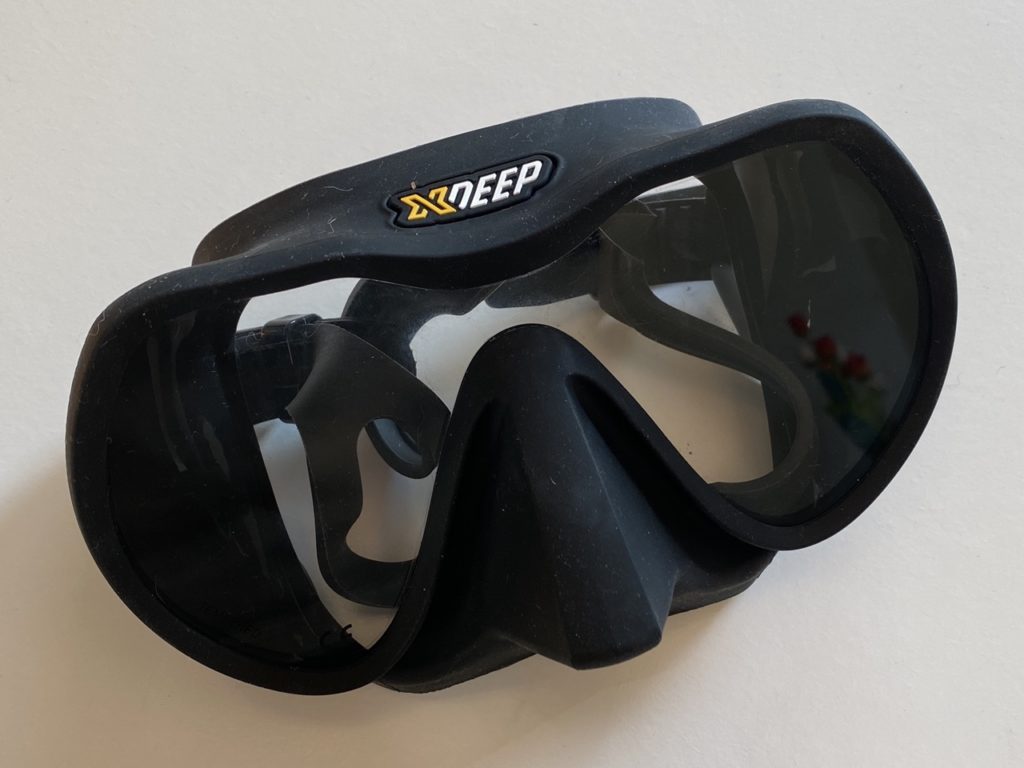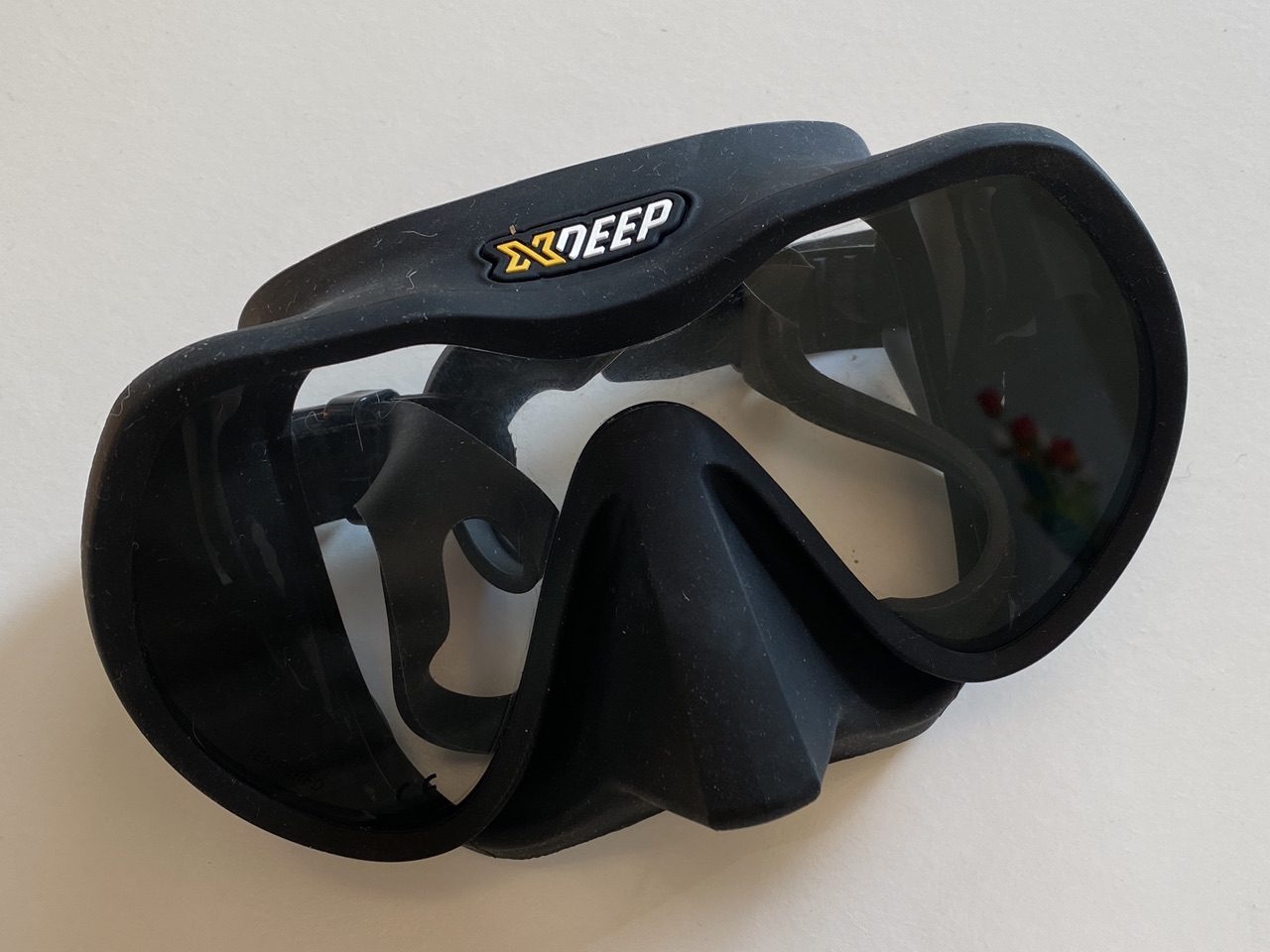 Polish brand xDeep has been making waves in the diving world thanks to their superbly engineered backplate and wings, and their mask is also gaining plenty of fans.
The xDeep Frameless is, as the name suggests, a frameless mask. It has a very wide single lens, which offers a great peripheral field of view, and it is exceptionally low profile, so very easy to clear from a partial and full flood. However, as I have found with some low-profile, frameless masks over the years, this one presses onto my forehead. It all depends on your face shape, so don't write it – or any other frameless mask – off before you try it yourself.
The super-soft silicone skirt is very comfortable and moulds well to your face. The push-button buckles for the strap are effective and can be used wearing gloves.
As with some other masks here, xDeep utilises Ultra-Clear glass for the lens, so gets rid of that green tinge that standard tempered glass can have.
The xDeep frameless comes in a black or clear skirt, with the clear version being great for underwater models, as combined with the large lens, you can see much of their faces and get some expression from their eyes.
TYPE: Frameless | STRAP: Silicone |
VERDICT: The xDeep Frameless is extremely low-profile and has a huge lens, so fantastic all-round vision. The clear version is ideal for UW models.
PROS
Ultra Clear Lenses
Comfortable Skirt
Efficient Buckles
CONS
Lack Of Colours
Can Press On Your Forehead Depend On Face Shape
---
Mares Pure Wire (SRP: £63.00)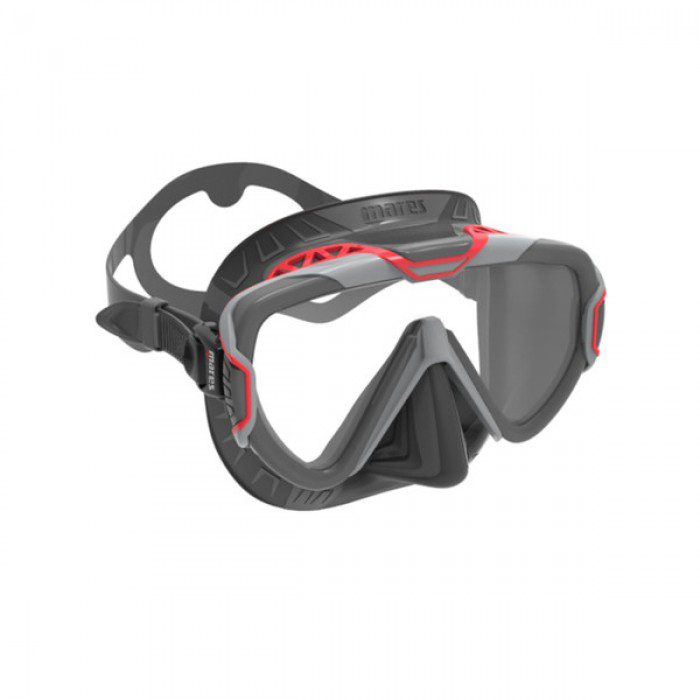 Like Aqua Lung, Mares have always had a strong range of masks, and they are not afraid to try something different, and that is definitely the case with the Pure Wire.
The Pure-Wire is an unusual mask in that it blends the tried-and-tested single-lens frameless style with a frame, of sorts. This bi-material frame, which comes in a wide range of colour schemes to complement the skirts, can be easily swapped by the user for a different colour if they so wish. But it is not all for looks – the frame is designed such that it provides extra support to the skirt where needed.
I have to say, this was one of the most comfortable masks I had used in a long time. Being a frameless design, it is low profile and easy to clear from partial and full floods, and it can fold flat for storage. The buckles are a bit old-school compared with some of the others here, but they do work okay, just a bit more fiddly with gloves on. The silicone strap comfortably cups the back of your head to hold the mask in place.
It might look like it comes in a takeaway container, but this is a plastic-free storage solution – not sure how this would stand up to regular use, though. It is available with clear skirts and black skirts combined with the removable frame in a wide range of colours.
SUMMARY
TYPE: Frameless | STRAP: Silicone |
VERDICT: The Mares Pure Wire is one of the most comfortable masks I have used, and it is a neat blend of frameless with a frame, with a progressive storage solution.
PROS
Swappable Frames
Comfortable Skirt
Eco-Friendly Case
CONS
Eco-Friendly Case Durability
Old-School Buckles
---
Apeks VX1 (SRP: £69.00)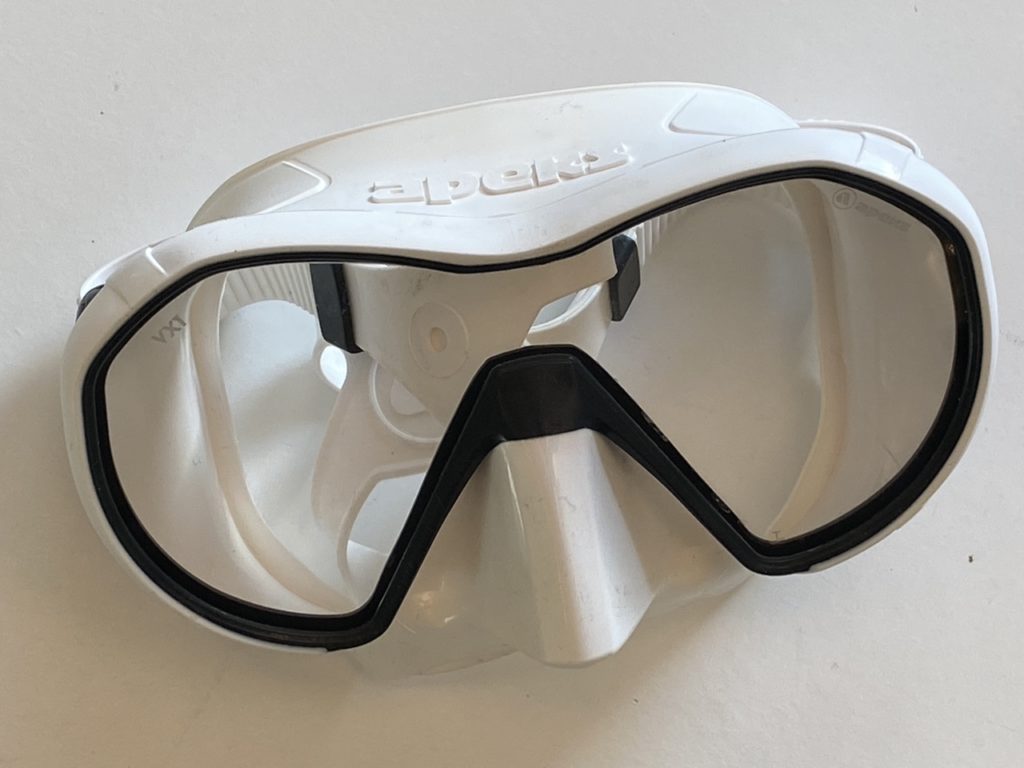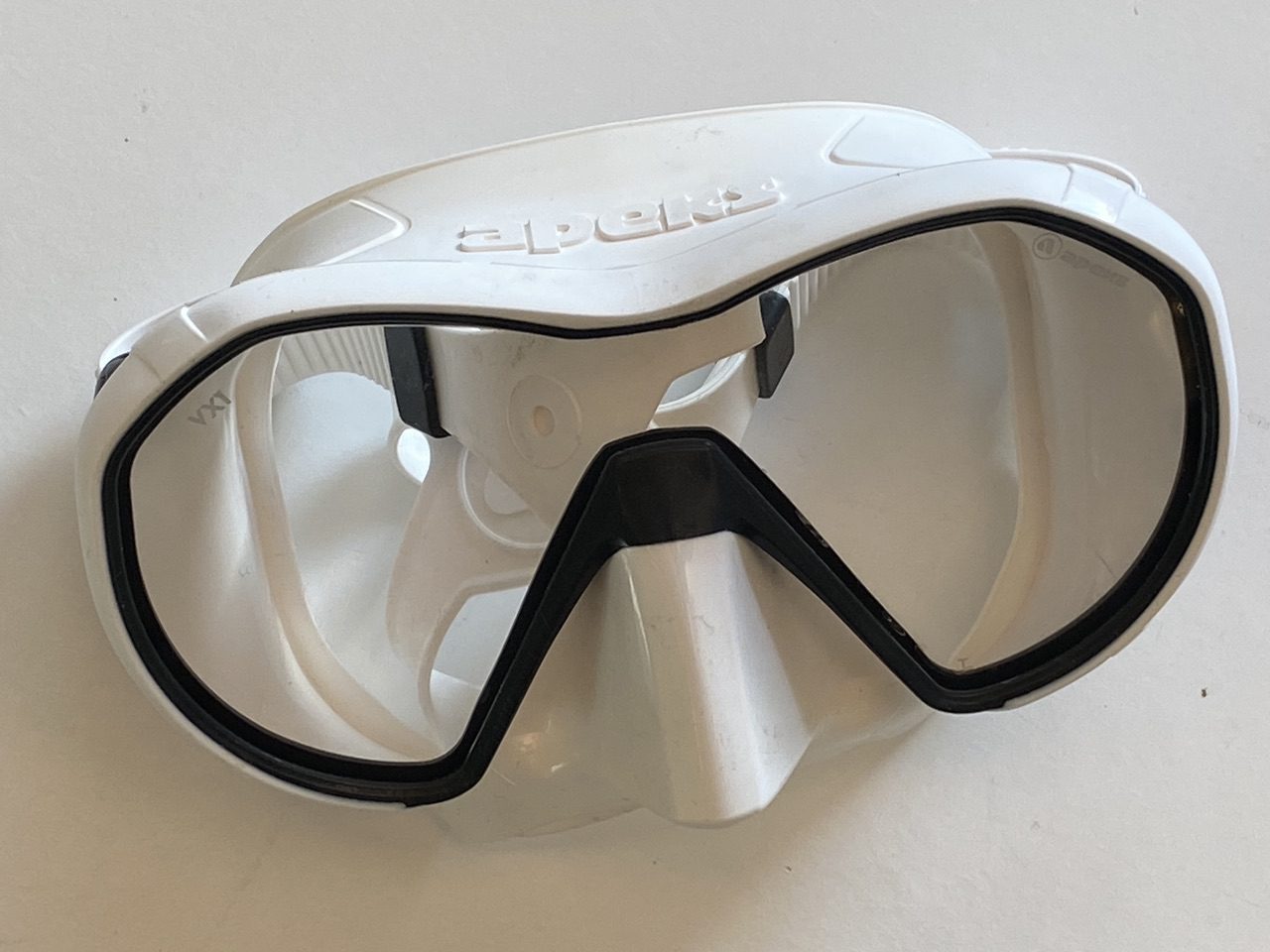 Apeks have earned a solid reputation in the diving industry for their world-class regulators, and have cemented their appeal by releasing quality wings and robust fins. They rounded out their offerings with the VX1 mask, which has garnered plenty of accolades since it was launched a couple of years ago.
The VX1 is a frameless mask, and it is available in white, black and cool gun-metal grey colour.
The frameless design makes the VX1 quite low profile, which in turn makes it easy to clear from partial and full floods. It also means it can fold flat as a backup mask.
The buckles for the strap, which are mounted on the silicone skirt, have a push-button quick-release, which is operable evening wearing thick gloves. The strap itself is silicone and the wide design at the back really cups onto your head to hold it in place.
The surgical-grade silicone skirt is a great blend of firm and soft, holding its form where it needs to, but being ultra-comfy on your face.
The Pure Clear lens are supposed to 'provide maximum optical clarity with no distortion', and I have to say they are indeed.
It comes with a neat padded and zippered case. It also includes a spare strap, made from webbing and neoprene.
TYPE: Frameless | STRAP: Silicone/Webbing and Neoprene |
VERDICT: The Apeks VX1 is an extremely comfortable frameless mask, with a crystal-clear lens, a great padded case, and the option of two straps.
PROS
Push-Button Buckles
Comfortable Skirt
PureClear Lenses
CONS
Single-lens Design Not So Good If You Need Prescription Lenses
---
Zeagle Scope Mono (SRP: £69.95)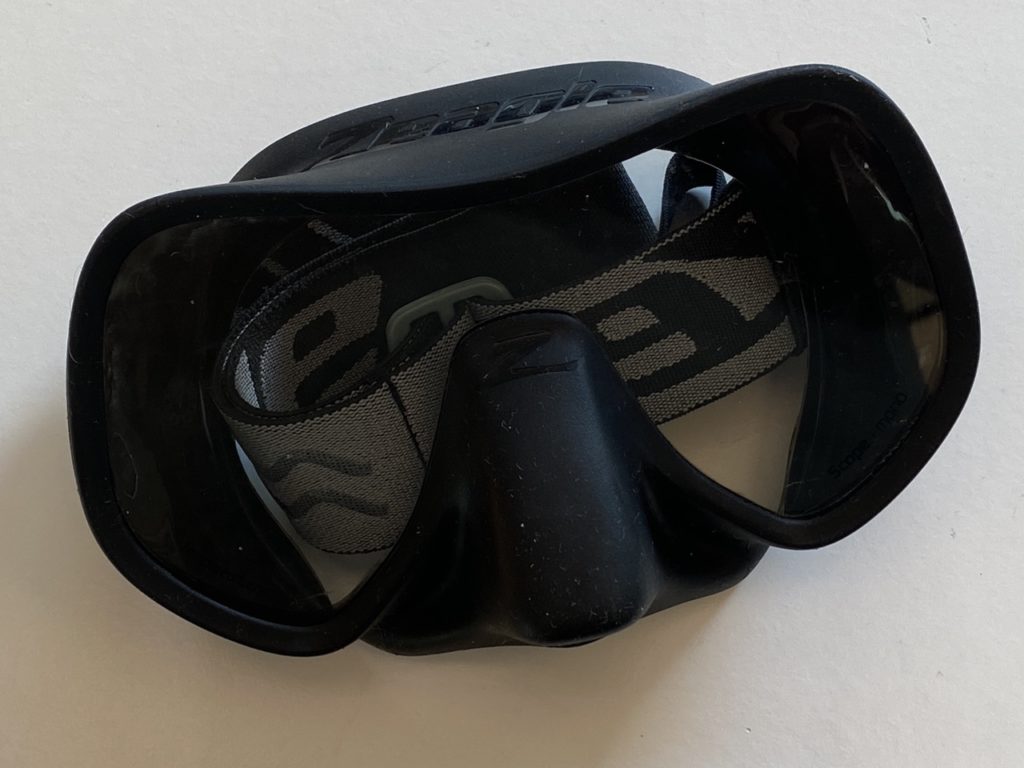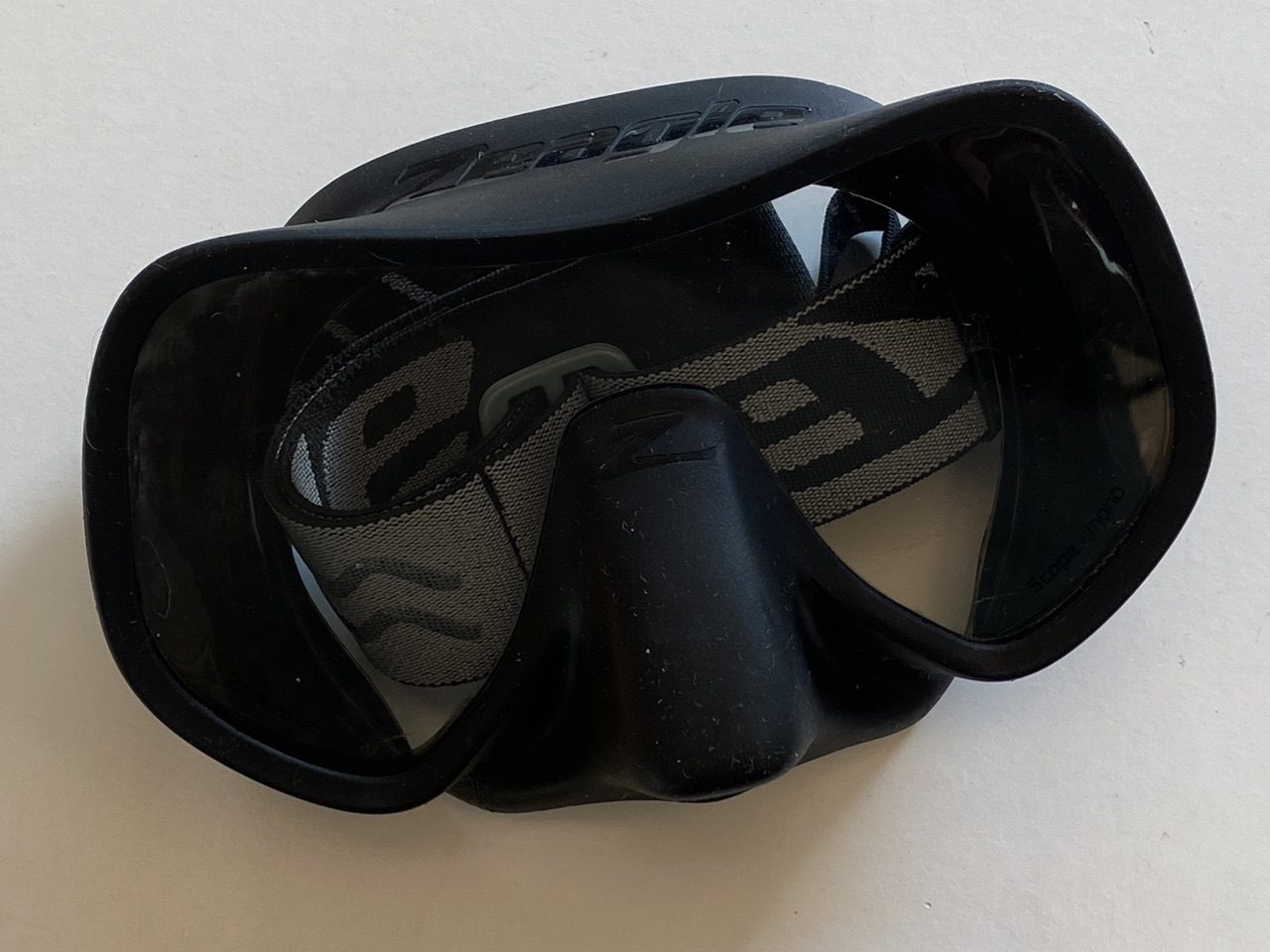 Zeagle is a brand perhaps best known for their robust BCDs and wings, but with the Scope range of masks, they are making inroads in that arena as well.
The Scope Mono is a frameless mask that is very reminiscent of the Oceanic Shadow, albeit with a much-wider nose pocket, and that is no bad thing, as the Shadow is a cracking mask.
The Scope Mono is very low profile, making it easy to clear, and it offers decent vision all-round.
The silicone skirt is actually quite stiff, but it is still very comfortable on your face and seems to seal well.
The big standout of the Scope Mono is the elasticated strap. Attached to the skirt by plastic units – which still allow it to be folded flat for backup mask storage – the elastic strap is, like the D-Mask, something you'd expect to find on ski goggles. It is very comfortable, doesn't need adjusting to move from a bare head to a hooded head, and has grippy rubbery elements on the elastic to make sure it grips your head and stays in place. There is also an elastic snorkel holder.
If you want to stand out from the crowd, you can get colour kits, which add a splash of vibrant colour to the buckle and attachment points.
SUMMARY
TYPE: Frameless | STRAP: Elastic |
VERDICT: The Zeagle Scope Mono is a comfortable frameless mask that stands out from the norm thanks to its mega elastic strap.
PROS
Elasticated Strap
Comfortable Skirt
Colour Kits
CONS
Can Press On Your Forehead Depend On Face Shape
---
Aqua Lung Mistique DS (SRP: £86.00)
Aqua Lung has always been strong when it comes to masks, and the latest DS range – which comprises the Profile, Horizon and Mistique – continues this trend. We had the Mistique on review.
The Mistique has the most-unusual frame shape of the three, and this is designed to give a wide peripheral vision. It does have a slim frame, but thanks to the design, which sees the strap buckles bonded directly onto the silicone skirt, it is still low profile – so easy to clear – and it can fold flat for storage as a backup mask.
The soft silicone skirt fits well against your face, and the dual-button buckles are simple to release and adjust, even with gloves. The wide silicone strap cups the back of your head well to hold the mask securely in situ.
The DS range comes with two lens options, the Plus and the Blue HD Mirror lens. Our test had the Plus, and these coatings are designed to block high-energy visible (HEV) light, which can be detrimental to your eyes. However, the downside is that the wearer's eyes are not so clearly visible, so maybe not be a mask for an underwater model. An anti-fog coating also helps keep the lens clear.
It comes with a neat padded and zippered case.
TYPE: Frame | STRAP: Silicone |
VERDICT: The Aqua Lung Mistique is a very comfortable single-lens mask, with an unusual frame design and an effective lens coating. Not so good for UW models.
PROS
Nice Padded Case
Comfortable Skirt
Effective Buckles
CONS
Plus and Blue HD Mirror Lens is Not So Good For UW Models, Makes It Appear Darker When In Low-Light Conditions
---
Atomic Aquatics Subframe (SRP: £89.95)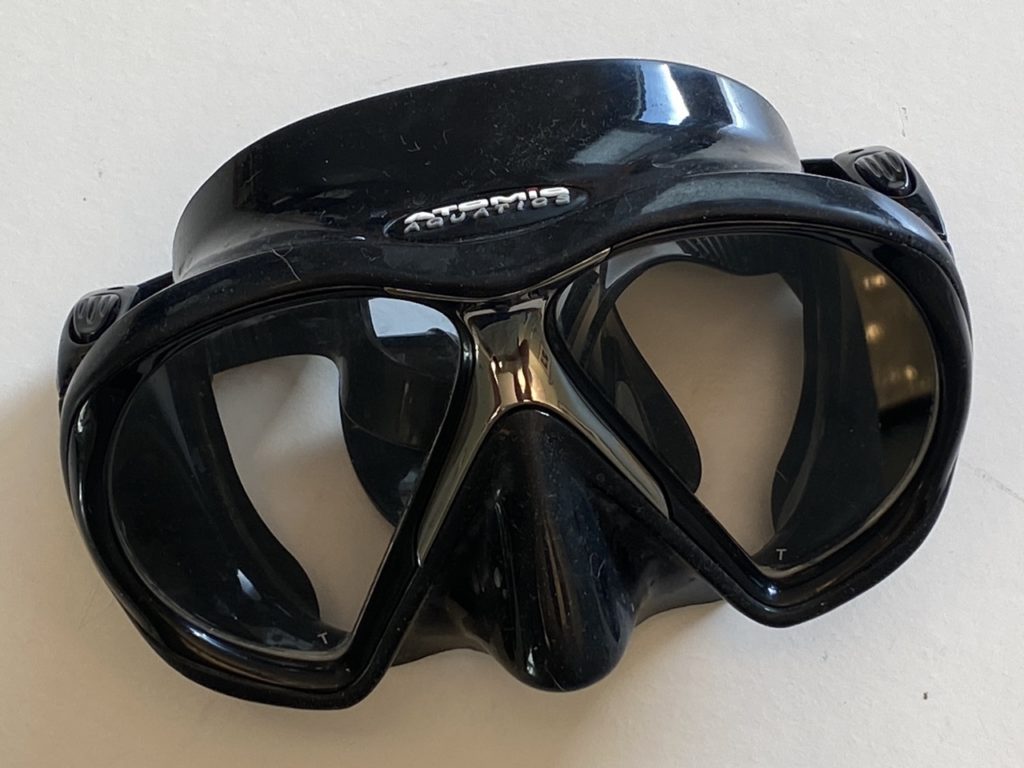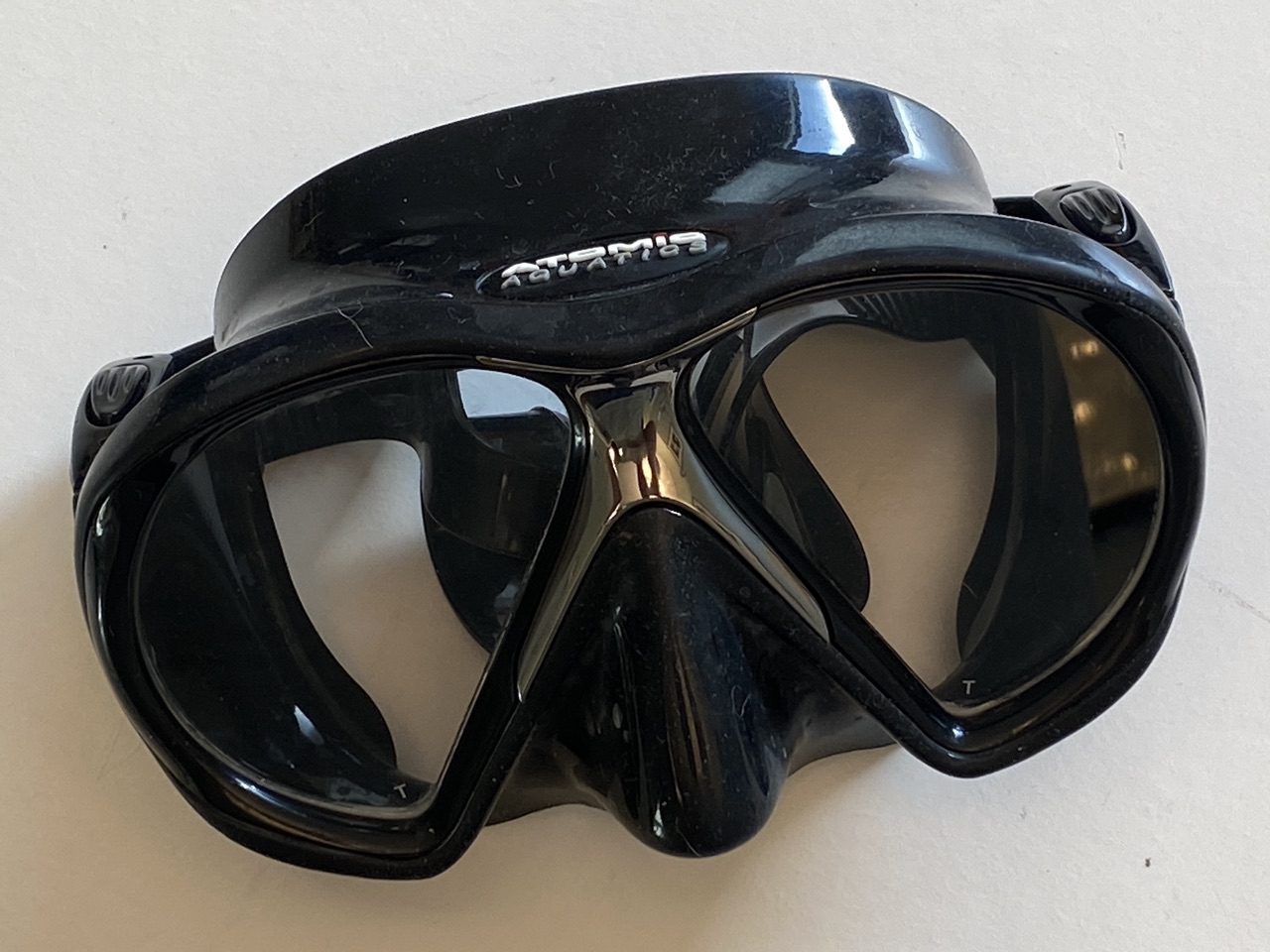 Atomic Aquatics have always prided themselves on producing high-end dive equipment built to last, and the Subframe mask is no exception. In fact, Atomic are so sure that this mask is all but indestructible that they provide a lifetime warranty against frame breakage!
The dual-lens Subframe sees Atomic Aquatics use patent pending technology to have the internal frame molded directly beneath the surface of the silicone rubber skirt. This subframe design provides incredible strength and rigidity as well as eliminating a bulky plastic frame.
A stainless-steel insert across the nose holds the lenses in place and adds more strength. This design makes the Subframe quite low profile and thus easy to clear when you are diving. The soft silicone skirt is very comfortable against your face, and you can be sure to find a good fit as the Subframe comes in regular, medium fit (for narrower faces) and slim fit.
Our test mask had Aquatic's UltraClear lenses, which don't have the green tint normal tempered glass has, and this provides better clarity and high light transmittance.
You can have precision ground optical glass lenses in diopters between -1.0 to -8.0 in .5 diopter increments factory-fitted.
TYPE: Frameless | STRAP: Silicone/Webbing And Neoprene |
VERDICT: The Subframe is a very comfortable mask, with a soft skirt, UltraClear lenses, and the option of optical glass. Lifetime warranty against frame breakage.
PROS
UltraClear Lense
Optical Lens Availability
Lifetime Warranty
CONS
Shape Will Not Be To Everyone's Taste
---
Scubapro D-Mask (SRP: £155.00)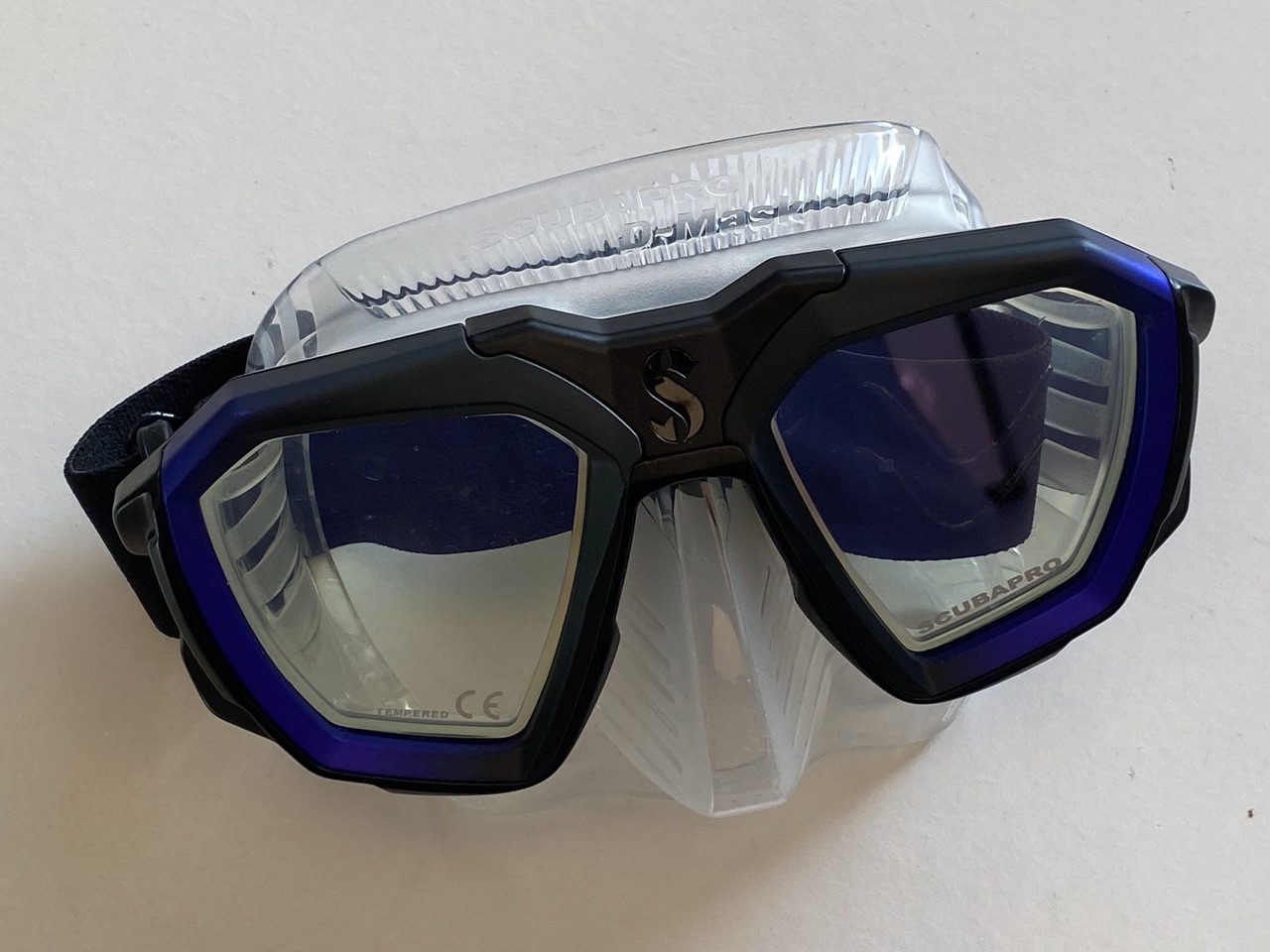 As with Mares and Aqua Lung, Scubapro is another long-established brand with a good selection of masks over the years. The D-Mask is their top-of-the-line mask, and has some neat features and comes with various accessories.
The D-Mask stands out from the crowd thanks to its unusual shape, and it has the smallest lenses here. Thanks to the low-profile, clever design, you still get a wide peripheral view.
The skirt is soft and comfy, and I like the 'grip' on the nose piece. The elasticated strap, more akin to something you'd see on ski goggles, is very comfortable and really eliminates the need to adjust when swapping from warm to cold water conditions.
The D-mask has 'true colour' UV protective lenses that deliver a balance of surface protection and underwater clarity. Thanks to this, it doesn't obscure the eyes if you are taking a photograph of the user.
The D-Mask comes in a neat padded zippered case and has a mount for the Scubapro HUD dive computer included, along with black inserts if you don't like the blue-fade-to-black – designed to match the D420 regulator – on the mask already. It can come with a black or a transparent skirt in three different sizes for the perfect fit.
TYPE: Frame | STRAP: Elasticated |
VERDICT: The Scubapro D-Mask stands out from the crowd and is comfy and easy to clear. I love the elasticated strap. It is pretty expensive against the competition.
PROS
Elasticated Strap
UV Protective Lenses
Padded Case
CONS
Small Size Will Not Be To Everyone's Taste
Expensive Compared To Rivals
DISCLAIMER
All products reviewed have been fully dived and tested. Each review is genuinely what our tester felt the product was like when our team dived it. We accept advertising from many of the brands featured, but in no way does that affect the overall review we give a product. We have linked some of the products to an affiliate program, and if you decide to purchase the product through them, based on our advice, we will receive a small commission. This helps us to generate future content.