The ultimate "connoisseurs" natural breathing regulator in all diving positions
The newest groundbreaking Atomic Aquatics regulator is now available – TFX Titanium Front Exhaust Regulator. The Atomic Aquatics TFX regulator is designed to be the most natural and effortless breathing regulator for all diving attitudes or positions.
Traditional rear exhaust regulators have more breathing resistance in certain dive positions, like looking up. The TFX gives divers enhanced and sophisticated air delivery with dramatically reduced inhalation effort compared to all other regulators on the market.
"We say the TFX is all about attitude," said Dean Garraffa, Atomic Aquatics co-founder. "And that means more than in diving positions, but also in taking on the challenge to reimagine front exhaust second stages that other manufacturers have tried over the years," he continued. "We combined our titanium metallurgy expertise with our precision CNC machines to develop a radical new exterior design, balanced with new internal engineering to achieve a more natural style of breathing performance."
A team of Atomic Aquatics engineers, led by co-founder Doug Toth, deconstructed every component of previous front exhaust regulator designs to reevaluate and rethink function and performance. The unique new TFX design delivers improved pressure differential and minimal water column effect by positioning the exhaust valve in the center of the inhalation diaphragm. Both are mounted in the front of the regulator. As a result, the TFX is much less sensitive to different attitudes encountered during diving.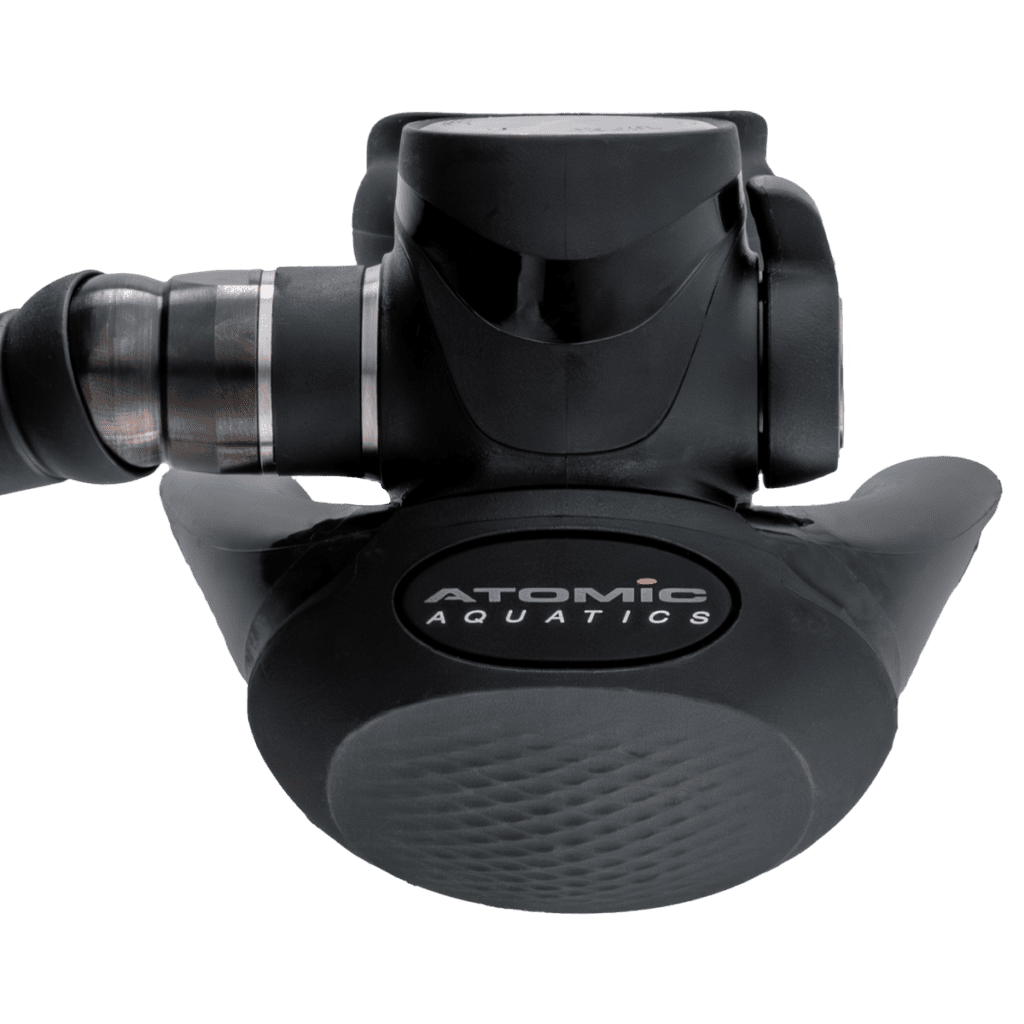 Atomic Aquatics engineers reimagined previous front exhaust regulator designs to create a fresh, sleek case architecture for the TFX. The complex series of fluid and natural geometries integrates seamlessly with the narrow-width case and front cover. Exhaust is routed from the front of the regulator to the rear with elegantly sweeping exhaust deflectors.
The TFX Titanium Front Exhaust Regulator includes many signature elite materials and patented performance features available on other Atomic Aquatics regulator models, including all-Titanium second stage metal components, Seat-Saving Dynamic Orifice, and Variable Lift Cam. The minimalist-design first stage is precision machined from a solid Titanium alloy bar and has two high-pressure fixed ports and five low-pressure ports on a swivel cap. A new unique 4X yoke screw design secures it to the tank with just one turn. The patented Atomic Aquatics Comfort Swivel Hose is included.
The TFX Titanium Front Exhaust Regulator is covered by the exclusive Atomic Aquatics Limited Lifetime Warranty with an extended 3-Year / 300-Dive service interval. The warranty is not contingent on proof of annual service.
About Atomic Aquatics®:
Atomic Aquatics was founded in 1995 in Huntington Beach, California. The company is best known for manufacturing high-performance regulators for scuba diving, introducing the world's first titanium regulator in January 1997. The company also manufactures fins, masks, snorkels, and buoyancy compensators. Atomic Aquatics is part of the Huish Outdoors family of companies.