8 of the Best Beaches in Indonesia for Your Next Trip
It might be hard to travel right now, but this is no reason to stop planning your next trip. If you are into beaches and clear blue sea, Indonesia should be at the top of your bucket list. With around 17,000 islands in the archipelago there is plenty of coastline to choose from. Let's take a look at some of the best beaches in Indonesia to whet your appetite to travel.
Gangga Island, North Sulawesi
Gangga Island is small but gorgeous island north of Manado. The sand on the beach here is so soft and white it's almost unbelievable. If you're staying at Gangga Island Resort & Spa, you will have the beach right there in front of your bungalow and won't have to share it with any crowds. The waves are gentle and the water so warm you can stride right in and float the day away.
Atuh Beach, Nusa Penida
Nusa Penida island off the south east coast of Bali, is getting a lot of attention these days. This rugged island holds hidden coves, incredible views, and some of the best diving and snorkeling in Bali. It's a very steep climb down to the beach, but once you're there it's 100% worth the effort.
Gili Trawangan, Lombok
The Gili Islands off the north west coast of Lombok's mainland are revered for their paradise feel. Gili Trawanganis the largest and busiest of the islands but has managed to retain its beauty and atmosphere. Much of the coastline of Gili T has white sand beaches, some busier than others, but all beautiful.
Pink Beach, Lombok
For a really unique experience you'll need to head to Lombok's famous Tangsi Beach, better known as Pink Beach. This is one of just 10 pink sand beaches in the world! The colour of the sand here is due to the millions of dead red coral fragments that blend with the white sand. Tangsi Beach is quite a way off the beaten track but that makes it that much more special when you get there.
Tanjung Gelam, Karimunjawa
Little known outside of Indonesia, the Karimunjawa islands are located off the north coast of Central Java. The beaches on this string of island have been compared to the Maldives or Seychelles thanks to their bright white sand and crystal clear water. If you're looking for a real castaway experience, this is your spot.
Paal Beach, Manado
With the incredible backdrop of rolling green hills against the turquoise water, this is one of the most striking beaches in Indonesia. The spectacular scenery, white sand, and gentle waves make this a must visit beach if you're in Manado.
Kanawa Beach, Flores
Want an island almost to yourself? Kanawa Beach is just about as close as you can get to a private islandexperience. Located off Labuan Bajo in the Komodo National Park, snorkeling off this gorgeous white sand beach is an absolute treat.
Kuta Beach, Bali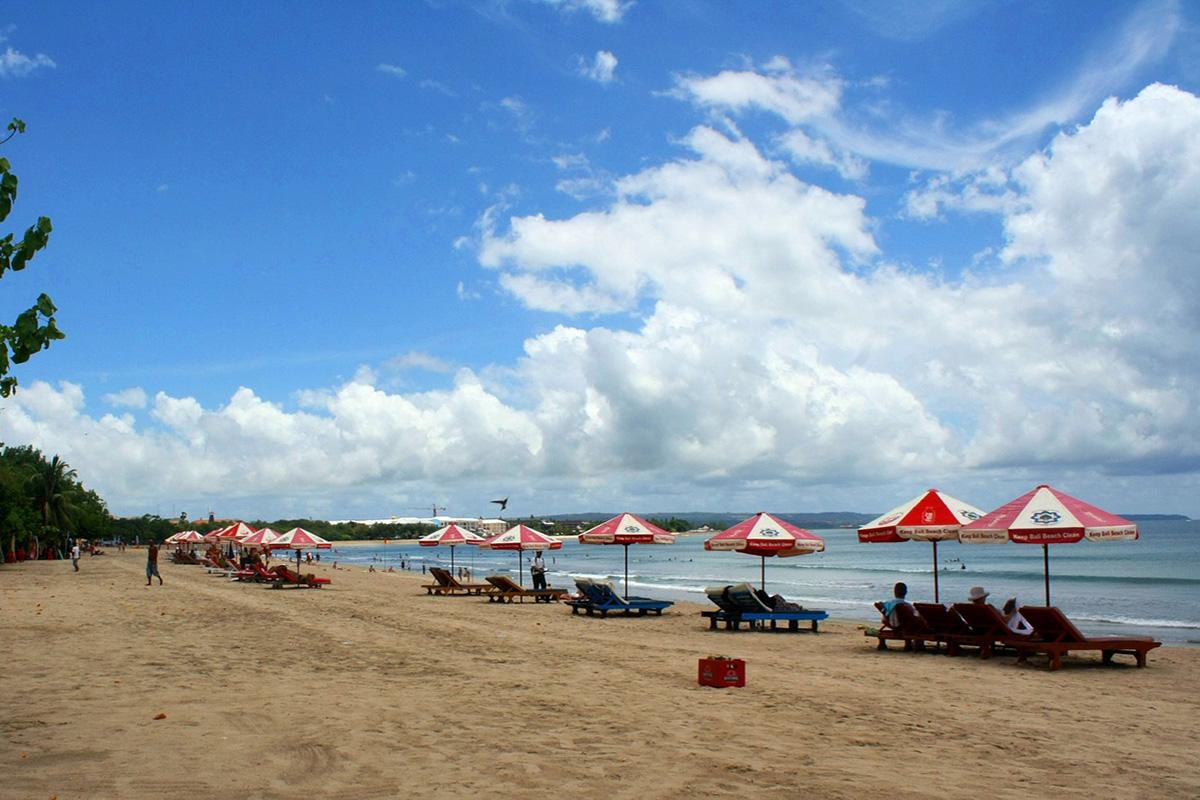 Some people will immediately be up in arms about Kuta Beach being on this list, but hear me out. Kuta Beach is busy, it's not for everyone, but if you like action, people watching, and surf, Kuta is a great place to be. In fact Kuta Beach is really beautiful, it just needs a bit of love, especially when it's packed with tourists. First thing in the morning and at sunset, Kuta Beach really brings the charm so give it a chance.
Indonesia has so many beaches it's quite a task to choose just 8. It is also so varied in topography, culture, and atmosphere you could choose a different type of beach everyday of the year depending on your mood. These 8 are just some of our favorites and each has a little something unique. Do you have a favorite beach in Indonesia that isn't on this list? We'd love to hear about it in the comments below.
Photo Credit: Gangga Island Resort & Spa
For more about Gangga Island try