Over the coming months, we will delve, State by State, into the magnificent and diverse diving the waters of Australia offer. Australia boasts stunning reefs, kelp forests, a vast array of wrecks, humpback whale migrations, whale shark aggregations, great white encounters, sea lions, weedy and leafy sea dragons, macro dives galore, a staggering number of endemic species and much, much more. Australia has it all. From thriving tropical warm waters in the north to the abundant cold waters of the south. In this issue, PT Hirschfield focuses on the diving around Victoria
Photographs by PT Hirschfield, Sheree Marris, Parks Victoria, Museum Victoria, Mark Norman, Phil Watson, Marcia Riederer, Gary Bell, Russell Charters, Ruth Betteridge, Ben Claydon, Imogen Manins, Keren Green, Corry Allan and David ReinhardClaydon, Imogen Manins, Keren Green, Corry Allan and David Reinhard
Did you know?
The weedy sea dragon, also called the common sea dragon, inhabits the waters off south and east Australia. Compared to the leafy sea dragon, weedies have less flamboyant projections and are usually reddish in color with yellow spots.
Welcome to Victoria, the unexpected jewel in the crown of the Great Southern Reef! Despite any preconceptions you may have about diving in Victoria's temperate waters – ranging from 21 degrees C in summer to 11 degrees C in winter – this southern state offers some of the mostdiverse and easily accessed diving in the country, alongside some seriously demanding adventure dives.
Victoria boasts 13 Marine National Parks and 11 smaller marine sanctuaries, protecting 5.3% of the state's coastal waters.
This guide will lead you from Beware Reef in the state's north-east, down the coastline through the rarely-dived Great Ocean Road. And we'll drop into some less frequently dived areas like Wilsons Promontory and Phillip Island.
This guide will lead you from Beware Reef in the state's north-east, down the coastline through the rarely-dived Great Ocean Road. And we'll drop into some less frequently dived areas like Wilsons Promontory and Phillip Island.
Next we'll explore the unprecedented ease of shallow, critter-rich shore diving on the Mornington Peninsula, where most sites are unaffected by tide or swell and are usually diveable 24/7.
Then onto visit the deeper wall and reef dives of Melbourne's well-protected Port Phillip Bay, followed by our famous wrecks, including a fleet of World War One British submarines. Next we'll explore the unprecedented ease of shallow, critter-rich shore diving on the Mornington Peninsula, where most sites are unaffected by tide or swell and are usually diveable 24/7.
Then onto visit the deeper wall and reef dives of Melbourne's well-protected Port Phillip Bay, followed by our famous wrecks, including a fleet of World War One British submarines.
We'll end our Victoria dive tour by venturing to the Bellarine Peninsula, winding our way towards the border with South Australia. Die-hards should be good with a 7mm wetsuit, hood and gloves year round (adding double thermal socks in winter).
Alternatively, make sure the seals on your drysuit are solid. Now let's go diving!We'll end our Victoria dive tour by venturing to the Bellarine Peninsula, winding our way towards the border with South Australia. Die-hards should be good with a 7mm wetsuit, hood and gloves year round (adding double thermal socks in winter). Alternatively, make sure the seals on your drysuit are solid. Now let's go diving!
BEWARE REEF SANCTUARY
The stretch of coastline south of the NSW border near Cape Conran hosts the Beware Reef Sanctuary. It's a submerged mountain range stretching for a kilometre. Granite pinnacles tower 30m above the substrate, penetrating the surface briefly.
Over 350 marine plant and animal species have been documented in the sanctuary. Shore diving is not viable and there's no longer a local dive shop, so it's best suited to divers with their own boat and tanks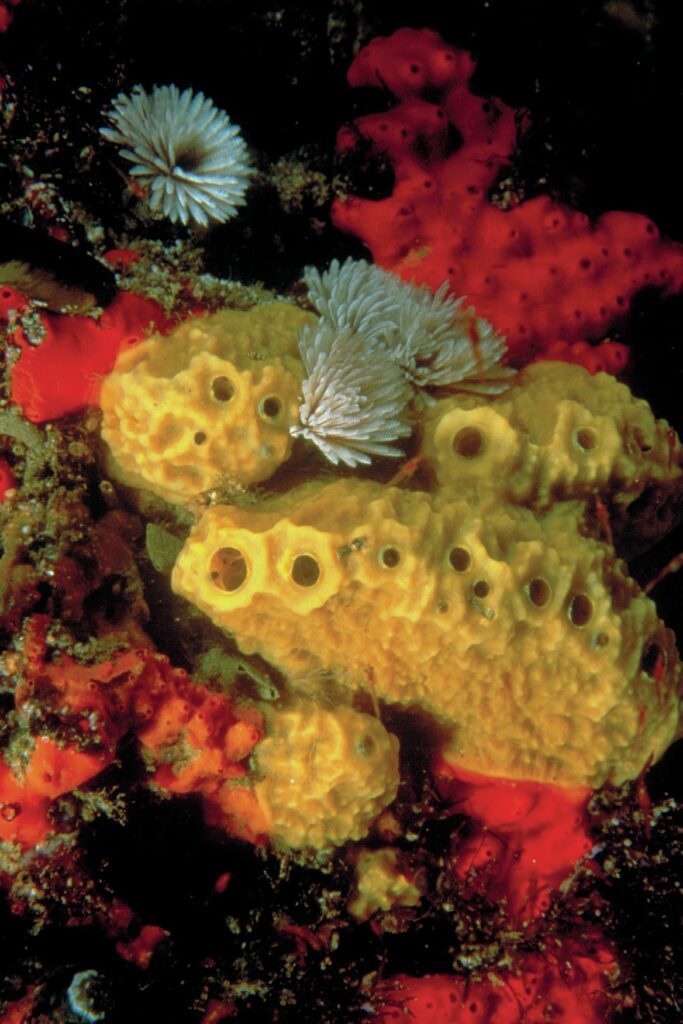 HIGHLIGHTS
Seal Gully: In addition to Australian fur seals, you'll find jewel anemones, nudibranchs, hydroids, hard and soft corals along the current and surge-prone gully walls, starting at 6m and dropping past 50m.
The Southern Pinnacle: A small granite dome reaches within 6m of the surface, surrounded by drop-offs. Bright colours and swirls of marine life layer thickly beyond sections laid bare by urchins.
Shipwrecks: The SS Auckland (wrecked 1871), Ridge Park (wrecked 1881) and SS Brolga (wrecked 1926) provide interesting dive opportunities.
WILSON'S PROMONTORY MARINE NATIONAL PARK
Rivalling the Great Barrier Reef as one of Australia's richest marine ecosystems, this rarely dived underwater carnival features boulders, caves and swim-throughs festooned with life and colour.
Long hikes to remote shore dive sites are prohibitive. You'll need to BYO tanks (no fills within 100km) and a boat manned by a skilled dive team. Stunning world class diving with significant effort required.
HIGHLIGHTS
Suicide Point: This south-west corner of Anser Island practically 'boils' with current, supercharging marine life below. Sloping to 50m-plus, yellow zoanthids, jewel anemones, blue gorgonians and soft coral trees paint a glorious scene behind fish and seals feeding during slackwater.
Did you know?
Scuba diving in Victoria is known across the globe for its spectacular wrecks. Sink beneath the surface and enter a museum of flight decks, engine rooms and WWI submarines.
The Slot / Kanowna Seals: A giant slab of granite leans against the north east corner of Skull Rock, forming a 'slot' down to 15m. This opens to 'The Cathedral', a huge churchshaped window with a flat rock 'pulpit'. Here, experienced divers and seals congregate to 'worship' together before exploring nearby caves.
The Pinnacle: The rock piercing the surface north east of Dannivig Island is a sheer drop on one side to 28m, going down to heavy reef at 15m on the other. Nearby you'll find multiple entrances to a spacious cave filled with bright sponges, ascidians and bryozoans.
PHILLIP ISLAND
Don't be misled by all those adorable little penguins making their way into shore each night. Facing out into Westernport on the north and Bass Strait on the south, this is wild and woolly territory.
If you're an experienced diver who can handle yourself well with epic current and swell and can survive without local dive shop services, Phillip Island (connected to the mainland by a bridge) may entice with some well-calculated, high-level adventure dives.
HIGHLIGHTS
San Remo Jetty: This benign-looking structure can be the wildest and most risky of rides, whether you enter by shore or giant stride several metres into 8m depth. Do tonnes of preparation to get your slack water timing right so as not to fall victim to the raging current (5-8 knots) waiting to take you into dangerous territory. Rarely dived due to the knowledge and experience needed to ensure a safe splash
The Pinnacles: Located in Bass Strait beyond the Port Phillip Heads, drop from your boat onto the Pinnacles straight down to 38m, working your way back towards their peaks 9m below the surface. The bommies are adorned by sponges and soft corals, swirling with fish life.
Smiths Beach: It's a challenging walk from the carpark down the long, winding ramp across the beach to the entry through the gully on the left. Make your way over rocky ledges, shelves and bommies to encounter marine life between 2m-14m depth: cuttlefish, crayfish, blue devil fish, Port Jackson and draughtboard sharks live here.
George Kermode: A gorgeous but infrequently accessed penetrable wreck, broken in the middle but in excellent condition. This scuttled steam bucket dredge sits in 20m depth offshore from the Phillip Island Grand Prix Circuit.
A nostalgic favourite due to the structural integrity of its dual boilers and other identifiable features, often beautifully lit by natural light for those qualified to penetrate it.
MORNINGTON PENINSULA
An hour's drive from Melbourne's CBD, you'll find the favourite vacation playground of Victoria locals and tourists. Serviced by a handful of dive shops, the Mornington Peninsula connects to the mainland in the north.
Its protected inner coastline embraces Port Phillip Bay on the west, spanning from Frankston to Point Nepean (locally referred to as 'front beach diving'). The far horizon may seem like open ocean, but these waters are far more protected, harbouring marine species diversity that rivalling the Barrier Reef.
This suburban coast with its endless choice of beaches is dotted with numerous piers (all within 30 mins drive). These serve as artificial reefs, offering round-the-clock diver access to shallow waters teeming with life.
Either carry gear straight into the water via the shore from the nearby carpark, or trolley your dive gear to one of the well maintained divers' platforms and pontoons for easy entry and exit.
Marine critter sightings begin the moment you descend. In just 1m-5m depth, the piers entice novice divers, underwater photographers and tech divers practising skills. Bottom time is only limited by the air in your tank or your core temperature.
A 12-litre tank can last two to four hours in summer, while numb lips, toes and fingers tell you when it's time to exit the water in winter.
The piers are a shore diver's dream, providing easy navigation within diverse ecosystems where substrates, pylons, sea walls, water columns – even the surface itself – offer diving typically unaffected by tides, currents and swells (with the exception of Flinders Pier facing Westernport).
SHORE-DIVING HIGHLIGHTS
Rye Pier: Recent reconstruction makes the long walk from the carpark to the purpose-built diver's platform even smoother.
Large stingrays and seahorses are commonly sighted, while beyond the pier via a trail of star pickets lie the remnants of Elsa's Reef – now just a shopping trolley, a couple of old bikes and a decaying concrete lion, but still a firm favourite among local divers. Beyond that is Dunny Reef where octopuses are occasionally found.
Blairgowrie Pier: Blairgowrie's purpose-built dive platform is the gateway to some of the state's shallowest but richest artificial marine life environments. Well-protected and rarely considered undiveable, 'Blair' can be dived around the clock.
Muck-dive the extreme shallows between the shore and the pontoon. Or swim beneath the long overhead pier structure, scanning the substrate, sponge-encrusted pylons and seawalls for cryptic tasselled anglerfish, stingrays, octopuses, seahorses, nudibranchs and fiddler rays.
Occasional moulting aggregations of Great Australian spider crabs are among Blairgowrie's beloved attractions.
Flinders Pier: Victoria's marine emblem – the weedy sea dragon – can be found on most dives year round beneath this iconic, heritage listed pier. At best, the conditions will be like sparkling champagne; at worst, you'll be diving in 'milk and cornflakes'. With luck you'll see large smooth rays known to frequent the area.
Diamond Bay: This Sorrento 'back beach' dive is more prone to unfavourable conditions, so do your research before lugging your gear nearly150 metres over dunes and down stairs to the water. Enjoy rocky terrain covered with kelp beds inhabited by fish life, including the occasional cray hiding in the low ledges.
NATURAL WONDERS OF PORT PHILLIP BAY BY BOAT
Portsea has another diveable pier and doubles as the peninsula's gateway to extraordinary boat diving in the 1920 sq km Port Phillip Bay (also accessible via charter boats leaving from Queenscliff on the opposite side of the bay).
In Victoria, scuba divers can collect crays, scallops, greenlip and blacklip abalone in accordance with fisheries guidelines, with some charter dives catering to those wishing to bag their own dinner.
For divers more interested in spectacular topography, the extensive Lonsdale Wall system offers colourful wall dives adorned with sponges, zoanthids and marine life.
The currents that power through the bay provide significant nutrients to support marine life, requiring many of the prettiest sites accessible by boat to be either dived on slack water (when the current slows and turns) or as drift dives.
Dive operators typically don't supply guides, so BYO buddy, compass and SMB, and be sure to pay close attention to every aspect of the dive briefing.
HIGHLIGHTS
Lonsdale Wall: A picture perfect slack water site ranging from 12m-38m, Lonsdale Wall features huge overhangs, undercuts and ledges that are heavily covered by bright yellow zoanthids, soft corals, gorgonian fans and sponges. These play host to cuttlefish, blue devils, nudibranchs, sea stars, crayfish and sometimes Port Jackson sharks.
Spec Reef: Short for 'Spectacular', the name says it all, featuring some of the most-stunning scenery between 15m-33m. Imagine sheer drop-offs, gorgeous rock formations and expansive undercuts ablaze with colour, providing sanctuary for all manner of abundant fish life.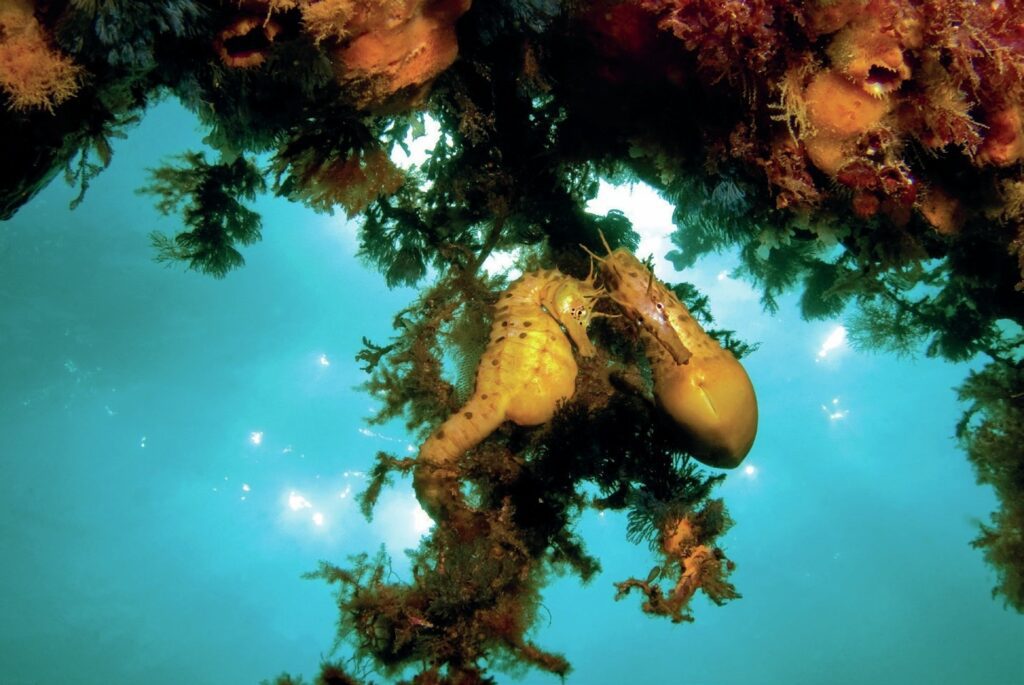 Boarfish Reef: Boarfish is an extension of Lonsdale Wall and ranges from 10m-25m depth, meandering over drop-offs through caves, overhangs and swim-throughs. In addition to sighting longsnout boarfish under ledges, amongst the kelp beds and sponge gardens, critters include southern blue devil fish, PJs, varied carpet sharks, nudibranchs and sea spiders.
Chinaman's Hat: For the ultimate close encounter with a colony of goofy, rambunctious, bachelor Australian fur seals, book a scuba (even snorkel) dive to this octagonal structure offshore from Portsea.
Pope's Eye: Your dive boat will wait inside the unfinished bluestone fort (built in the 1880s) while you navigate the outer wall, occupied by a breeding colony of gannets. A relatively easy dive in 2m-10m depth once you get past any currents trying to sweep you off-course as you exit the horse-shoe.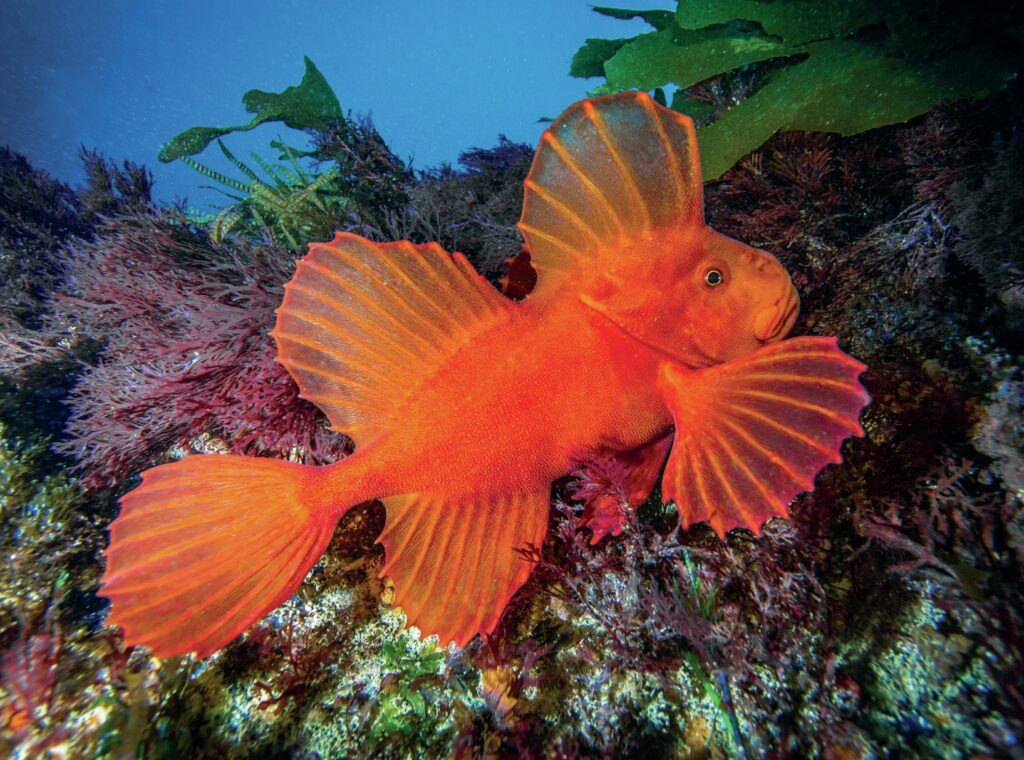 South Channel Fort: A truly unique site, this historically significant small artificial island, is diveable to 12m. SCF plays host to a diverse array of marine life amongst its boulders and rocky slopes, seagrass, kelp forests and jetty pylons. It's also known as a breeding site for seabirds, including little penguins.
The Grotto: One of many notable sites of the Lonsdale Wall, The Grotto spans a depth of 12m-18m, featuring lots of small caves and large overhangs. Photographers will delight in photographing subjects like cuttlefish, blue devils, boarfish, Port Jackson and swell sharks, alongside colourful macro subjects.
The Labyrinth: Describing The Labyrinth as spectacular is an understatement. Its extensive rock wall is swathed down to 30m by yellow bryozoans, soft corals and bright sponges. Overhangs and ledges are home to impressive numbers of eastern blue devil fish and boarfish.
Sponge Gardens: An exhilarating drift dive over shallow reefs and vibrant sponge gardens. Occasionally you can duck in away from the current to explore the bommies. Lonsdale Arches: A sandstone reef features super-pretty, current-prone swim through caves filled with colourful, photo-ready marine life inside, with plenty of kelp above. A great experience for all skill levels at just 12m-18m.
SHIPWRECKS OF PORT PHILLIP BAY
The depths of the bay (an average of 8m and a maximum of 33m) and beyond Port Phillip Heads are accessible by charter dive boats, with pick-up points on both sides of the bay at Portsea and Queenscliff. Advanced wreck and technical divers have ample opportunity to explore around 50 of the 120-plus known wrecks inside and beyond the bay.
HIGHLIGHTS
Ex-HMAS Canberra: Arguably Victoria's most-popular wreck dive due to its accessibility to divers of varying skill levels, the huge (138 metres long, 14 metres wide) intact wreck of this guided missile destroyer scuttled in 2009 rests at 28m, the top of its mast around 5m below the surface on low tide.
Divers will delight in exploring the superstructure of the decks, exploring many compartments, nooks and crannies brimming with history and marine life. Multiple dives are required to fully explore this bright jewel in Melbourne's wreck diving crown.
Eliza Ramsden: One of the prettiest wrecks in Port Phillip Bay, slowly but elegantly deteriorating into a bustling artificial reef encrusted by all manner of marine life.
The Eliza Ramsden (sunk in 1875) has acquired an almost mythical reputation. Courtesy of her unfortunate position in the shipping channel, many scheduled dives on the Ramsden are detoured elsewhere, causing some to claim the fabled wreck does not exist at all.
J-Class submarines: For techies and wreck divers keen to explore these British World War One relics, the J4 sub is the most accessible at 26m and remains remarkably intact. J1, J2 and J5 provide greater challenges in terms of depth (40m max) and diver safety, but all provide an exceptional opportunity penetrate structures loaded with history just beyond Port Phillip Heads.
Ships Graveyard: Some 7km east of Torquay through to Point Lonsdale, there are 46 known wrecks resting between 2m-82m, with varying levels of intactness. Beyond the subs, these include a paddle steamer, tugs, barges, coastal freighters, dredges, lighters and a patrol boat.
Many were stripped then scuttled, allowing serious wreck divers to 'choose their own Vic wreck adventure', pending conditions.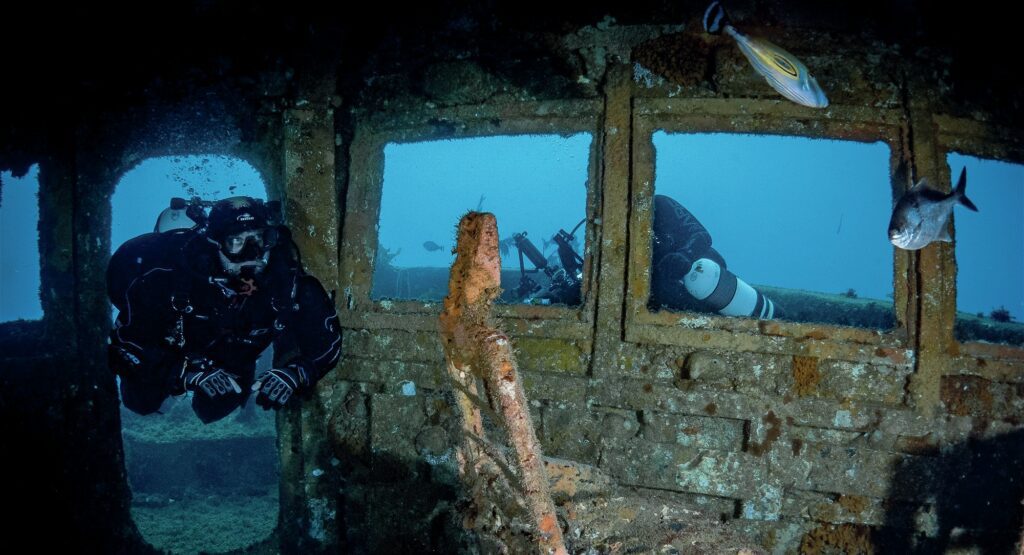 BELLARINE PENINSULA
The Bellarine Peninsula is on the opposite side of Port Phillip Bay, approximately three hours drive from the Mornington Peninsula, hugging Port Phillip Bay via Melbourne CBD. (Alternatively, avail yourself of the 40 min ferry ride from Sorrento on the MornPen side to Queenscliff on the Bellarine side.)
HIGHLIGHTS
St Leonards Pier: Though currently not recommended for diving due to structural warnings issued by Parks Victoria, St Leonards has a long-standing reputation as a premium shore dive on this side of the bay.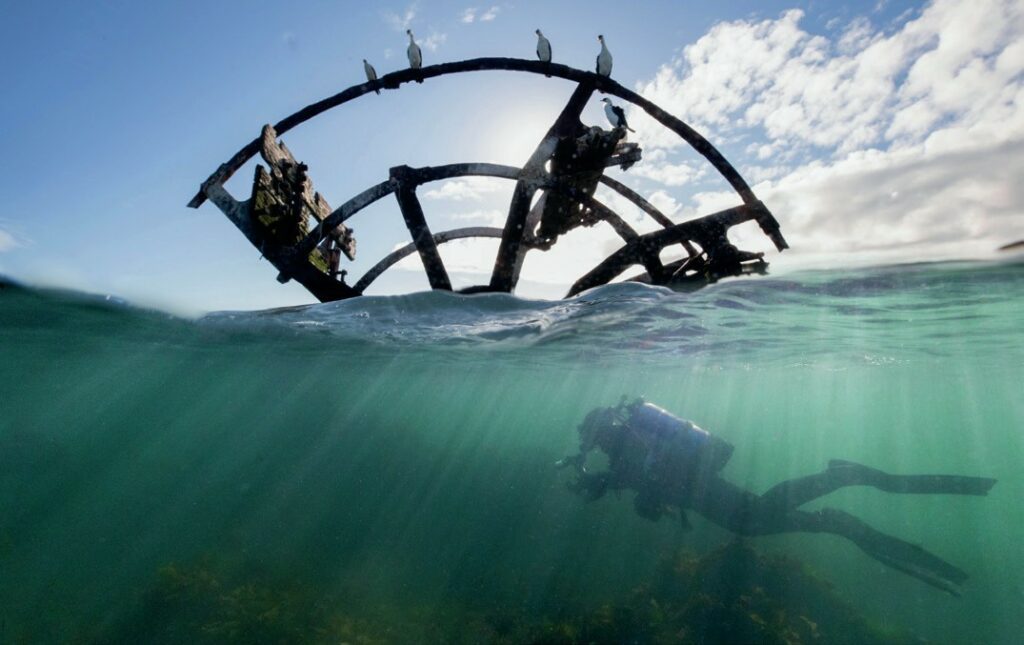 Typical critter counts feature seahorses, nudibranchs, cephalopods and rays. Fish include the old wives, globefish and wrasse that are ubiquitous beneath Victoria's piers.
Ozone Wreck: Pretty both above and below the surface and lending itself to split photography, the paddle wheel of the Ozone steamer (scuttled at Indented Head in 1925) makes for a shallow, short and sweet dive that's easily accessible from shore.
Cottage by the Sea: A popular shore-diving site when it's not too swelly or affected by current. It's a quick walk from the carpark and out to a shallow rocky platform (6m-9m) with ledges and swim-throughs, providing protective structure for cuttlefish, weedy sea dragons, the occasional cray and old bottles.
RICKETTS POINT MARINE SANCTUARY, BEAUMARIS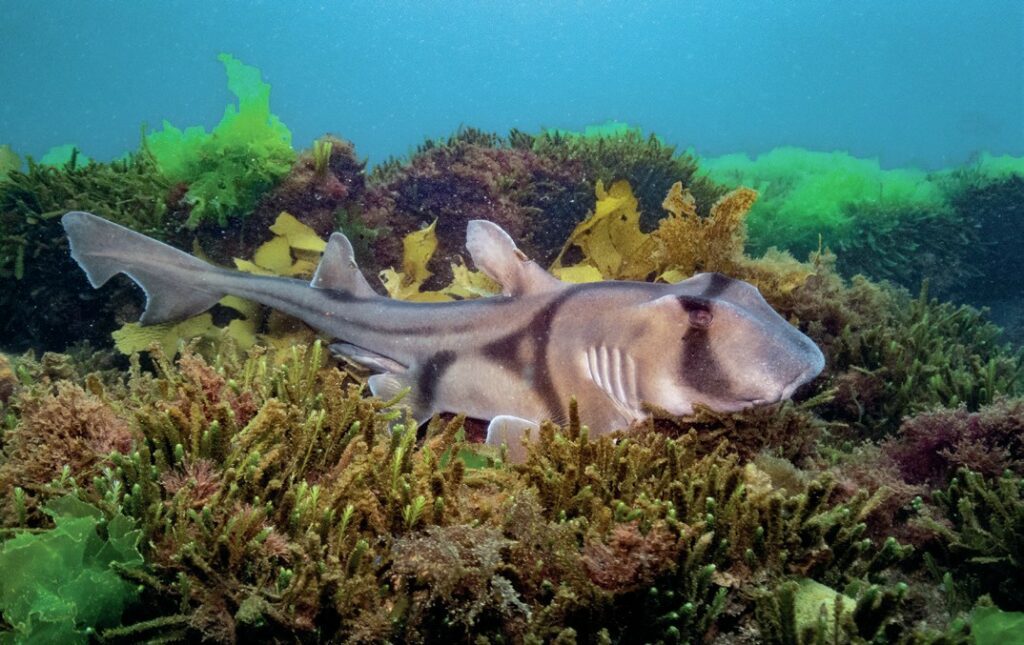 A favourite among snorkellers and novice divers due to supreme ease of access to shallow, clear, critter-rich waters, sandstone reefs and sea caves. Enjoy the close company of fearless fish as you scan the substrate for seahorses and Port Jackson sharks.
(The nearby waters of Beaumaris Bay are widely recognised as the richest and most diverse sites for fossil hunters, with many large fossilised shark teeth and other historically and scientifically significant finds having been recovered from waters as shallow as 2m.)
GREAT OCEAN ROAD
The Great Ocean Road's rugged 'Surf Coast' is one of Australia's most-iconic tourist destinations, lending itself more easily to surfing than scuba. Marine sanctuaries abound, including the Point Addis Marine National Park near Bells Beach, and The Arches Marine Sanctuary at Port Campbell.
Most sites are considered highly hazardous areas with deep water, strong rips, rocks and reefs. Sites along this scenic stretch should only be explored by experienced dive buddies, armed with solid research and local knowledge.
HIGHLIGHTS
Ingoldsby Reef: Featuring numerous rock arches and bommies, this difficult to access, rarely dived reef of compacted sandstone is covered in algal growth, inhabited by large numbers of Victorian reef fish.
Within the protected waters of the Addis Marine National park, Ingoldsby's many overhangs and small caves provide sanctuary to good numbers of southern rock lobster, alongside weedy sea dragons and blue devilfish.
Loch Ard Wreck: Perhaps Victoria's best-known wreck with 52 lives lost in 1878 enroute from Melbourne to England, this square-rigged, threemasted iron clipper ship now rests at 25m at the base of Mutton Bird Island, inside Twelve Apostles National Marine Park.
The Loch Ard is recognised as one of the state's most-spectacular and historically significant dive sites, many artefacts it transported still hinting at tales of a bygone era and journeys never completed.
WARNAMBOOL – PORT FAIRY, PORTLAND
There are a number of dive sites available from Warnambool through Port Fairy to Portland as you inch your way along the Shipwreck Coast towards the South Australian border. The diving in this area presents challenges (such as wild conditions and reduced visibility), but can be rewarding for those armed with local knowledge.
SUMMARY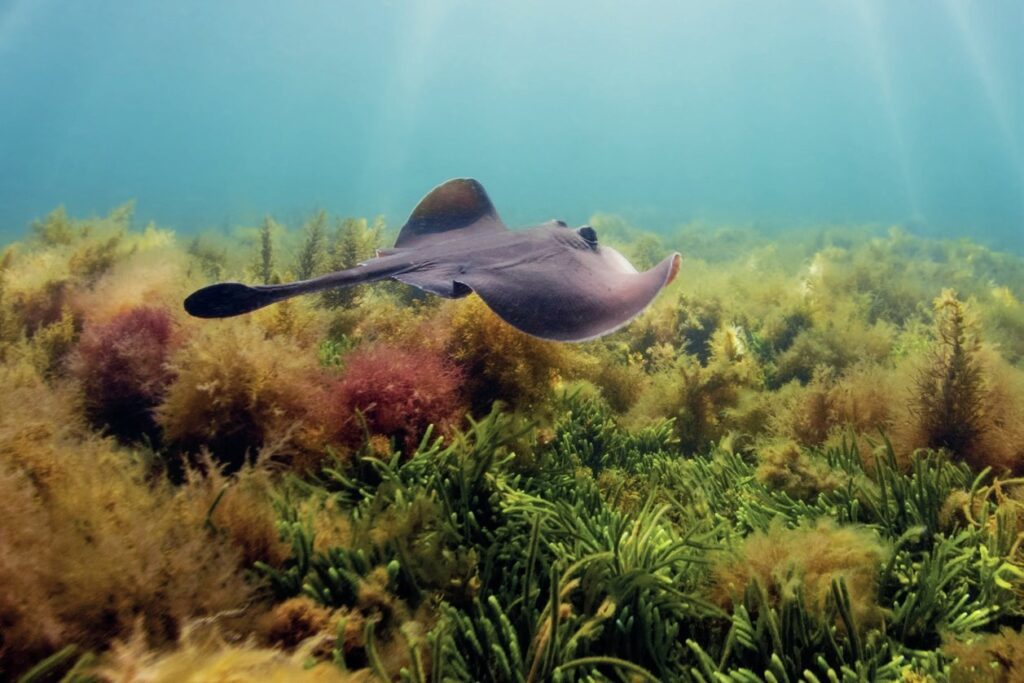 Victoria's temperate waters offer world-class shore and boat diving, catering to all skill levels and a wide range of diver interests. Shore dives, wrecks and reefs featuring diverse marine life are available most days of the year. Contact a Victoria dive shop or local dive charter to start planning your next underwater adventure now.
Acknowledgment: The author gratefully recognises the invaluable contributions of the following as resources in the construction of this article: Allie Beckhurst; Scuba Doctor Melbourne Dive Sites webpage; Redboats Dive Charter; Parks Victoria webpage.
---
This article was originally published in Scuba Diver ANZ #58.
Subscribe digitally and read more great stories like this from anywhere in the world in a mobile-friendly format. Link to the article