Koh Tao Island (aka Turtle Island) is a tropical paradise with a justified reputation of being the 'Mecca of Diving in Thailand'. These are the top 5 dive sites of Koh Tao, as chosen by Assava Dive Resort.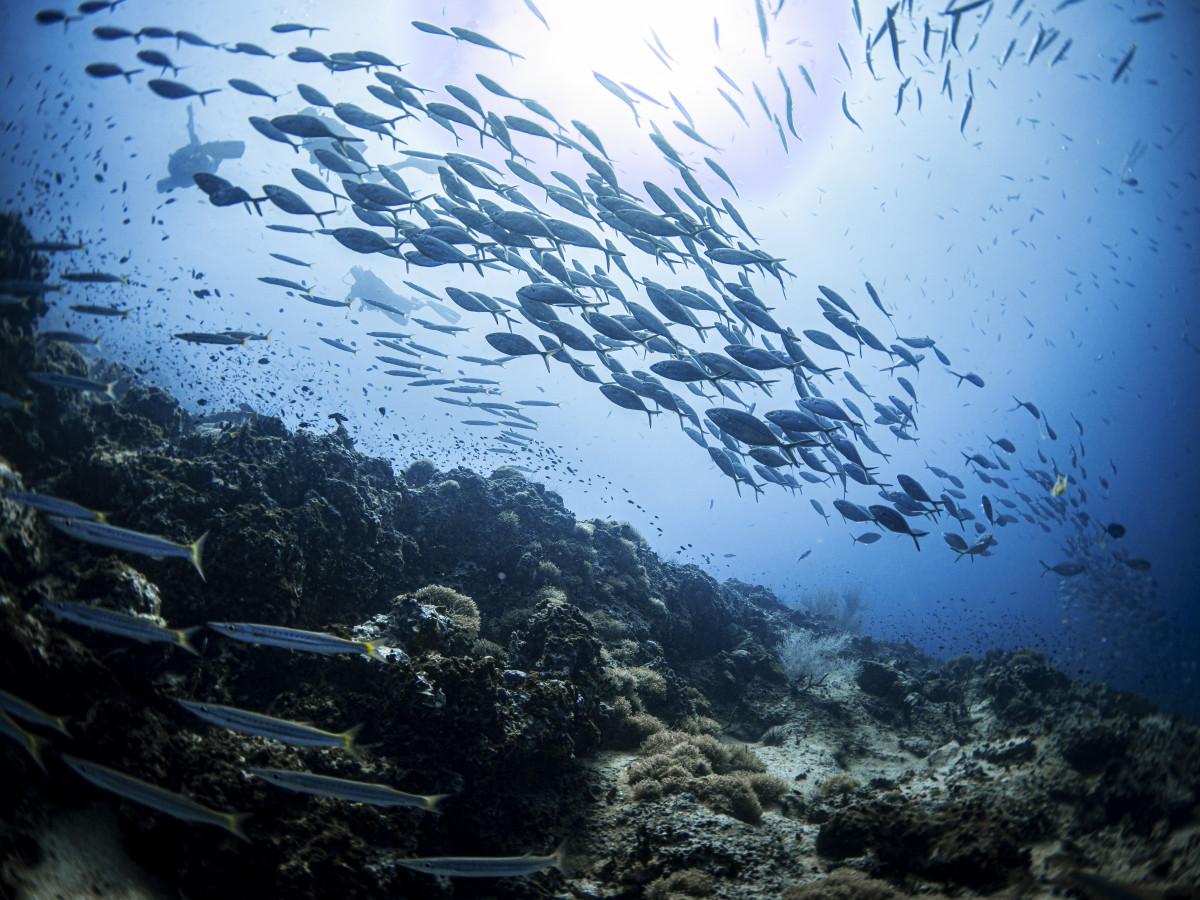 This unique little island is located approximately 60km north of Koh Samui, hidden, but easily reached by high-speed ferry. The island has 25+ dives sites to choose from, all offering a vast array of marine life and most famous for Whaleshark sightings.
Although diving is the main attraction, there are a variety of activities to choose from while visiting Koh Tao including hiking, rock climbing, paddle boarding, snorkelling, sunbathing, or simply relaxing on the pristine white sandy beaches enjoying a frosty cold beverage. With a huge choice in accommodation to suit every budget, Koh Tao has more to offer than many of the bigger islands in the Gulf of Thailand.
If diving is your draw to Koh Tao, here is what you can expect to see while underwater on the most popular dive sites:
Chumphon Pinnacle
Chumphon Pinnacle is by far the most popular local dive site, just a short 25-minute journey north-west of Koh Tao. The site is an enormous submerged granite pinnacle running north to south, starting at 14m and dropping to 40m exposing coral covered walls and home to many of reef fish. A secret smaller pinnacle lies south-west of the main pinnacle and is also worth exploring. Schools of Batfish can be seen at the various cleaning stations on the reef, Barracudas, Giant Groupers and Whaleshark are also frequent visitors to this fantastic dive site. If you're on Koh Tao, this should be on your 'must-see' dive list!
HTMS Sattakut
A relatively new site located a short boat ride west of Sairee beach, originally commissioned by the US military towards the end of WW11 to patrol the waters of the Pacific against the Japanese occupying forces. It is sitting 18m from the surface to the wheelhouse and the top deck levels at 24/26m have exposed swim-throughs for wreck and technical divers. Two impressive anti-aircraft Bofar 40mm canons sit at the bow and the stern. The wreck has quickly become home to many varieties of reef fish, schools of Yellow Tail Barracuda, Giant Groupers and Jenkins Ray. An excellent site for keen photographers and worth a visit.
Sail Rock
Well worth the two-hour boat journey. This site is visible a long time before you arrive as you will see a huge granite pinnacle rising from the surface reaching heights of 15/20 meters, while below the surface the site slowly tapers out to 30m+ of depth. A unique feature of the site is its chimney, an ancient lava tube and spacious opening, which has exits at 12m and 18m below the surface. The site has an abundance of marine life to see including huge schools of Batfish, Jacks, Barracuda, hunting Trevally and Whalesharks visit on a regular basis. From beginner to veteran diver, Sail Rock is a haven for any level of diver.
Twin Peaks
Twins is popular local dive site just a short boat ride from Sairee Beach. Located on the shoreline of Koh Nang Yuan Island, this is an ideal site for beginner divers and underwater photographers. The site consists of 2 main pinnacles surrounded by fine golden sand, starting at 7m gradually getting deeper as you dive westerly to 18m. The site is home to a richness of marine life including Saddle back clown fish (Nemo), schools of Barracuda, Groupers, many reef fish dancing between the hard and soft corals.
Buoyancy World
This unusual man-made dive site just a short boat ride from Sairee beach was constructed with the cooperation of many of the dive schools on Koh Tao and the Department of Marine and Coastal Resources. The dive site has a variety of concrete structures and buoyancy games scattered over a vast area of soft sand, depths ranging from 9m to 18m. This reef is home to many fish attracted to this unique artificial playground. It is a great site for both beginners and experienced divers, it is certainly worth a visit.
Article written by Tim Hunt.
Photo credit: Neil Giblin & Ferry Weerayut
Want to read about more great places to dive?
Top 10 Best Dive Sites in the World, Editor in Chiefs Pick
Top 10 Dive Sites in the World, Destinations Editors Pick
Top 10 Best Dive Sites in the World, ANZ Editors Pick