Sun, Sea, Sand and, Study on Sabah, Borneo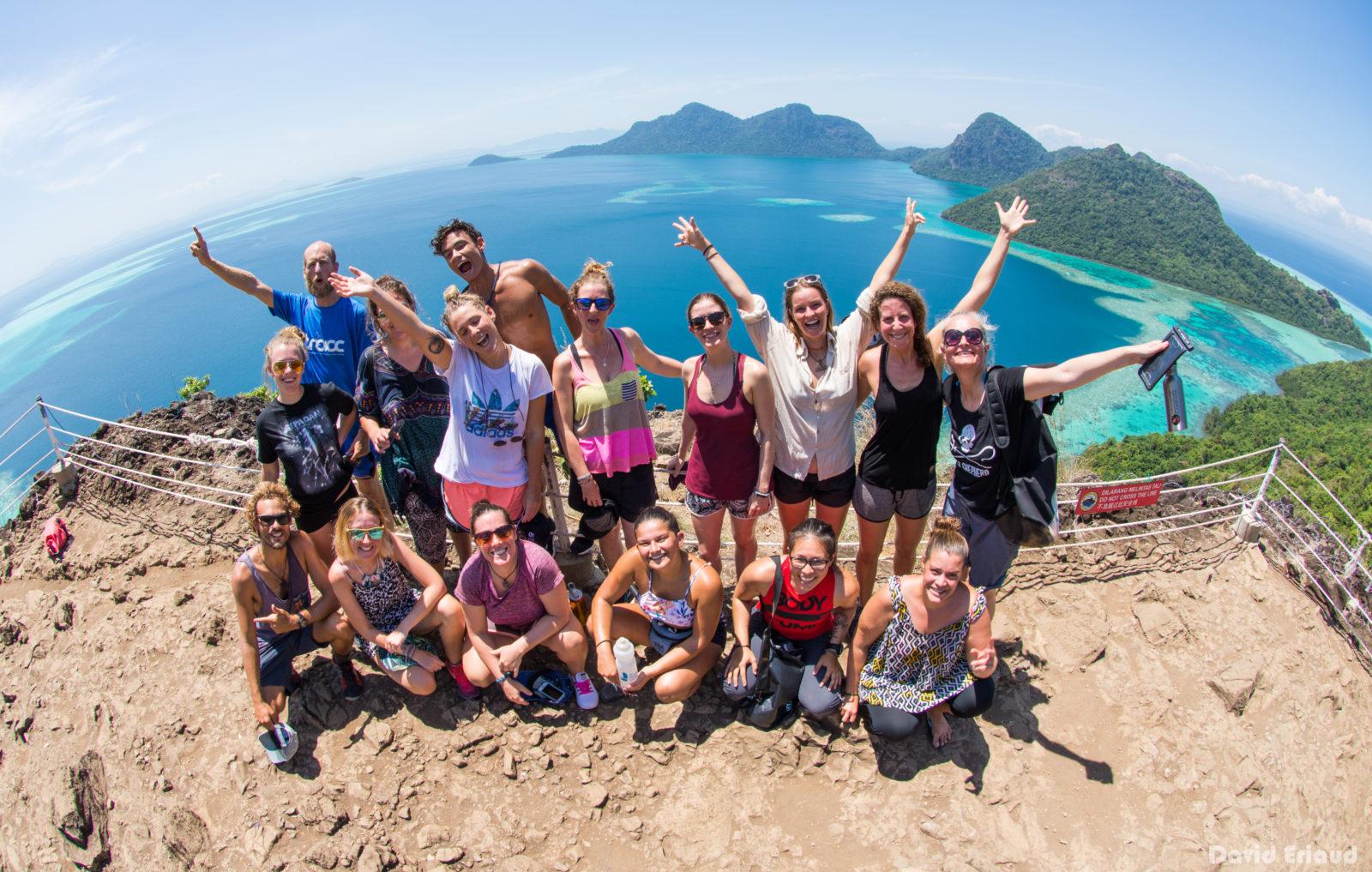 TRACC (the Tropical Research And Conservation Centre) is an award winning Malaysian marine conservation organisation established in 2011. Their team of marine scientists and professional conservationists are rebuilding the reef with an army of diving volunteers. They use the unique conditions on PomPom to study the marine environments and teach marine research techniques. The A-level course is taught by a dedicated marine science education professional supported by the TRACC science and conservation teams.

Peter Benchley famously once said "You could start now, and spend another forty years learning about the sea without running out of new things to know."
If anything, this is a gross understatement. Animal life on our delicate blue planet is divided into approximately 38 phyla, of which 21 are exclusively aquatic and most are predominantly marine. That's hardly surprising given that 70% of the inaccurately-named Earth's surface is covered in seawater. Of the 71 species newly described by science in 2019, 23 of them were some sort of fish.
Most new divers have no idea of this diversity; concerned as they are with getting their own fins under control. And even after coordination has been achieved, divers are as wide eyed as any hatchling and enthralled by the kaleidoscope of shapes, sizes, colours and motions. It takes a while for the marine environment to stop being prettyand start to be intriguing. With this new found fascination comes a burgeoning desire to know more!
There are, of course, entire university departments devoted to the study of the sea, but for many people, three years of rigorous academia is not really a practical option. They're looking for something shorter, lighter, a free dive into the sunlit shallows of marine science rather than a tour of duty in a submarine. And if it could be taught on a tropical island by diving every day, so much the better.
To this end, TRACC has crafted their Cambridge University Marine Science A-level** (See explanation below) course in response to diver demand. A four month intensive program, taught on location on the beautiful island of PomPom, east of Sabah, Borneo. TRACC uses the diversity of ecosystems and processes on the doorstep as a living classroom that can be explored and experienced rather than simply presenting information to be learned by rote. In this way the course is a modern, engaging and interactive educational program that combines the fun of the diver life with a solid, internationally respected, academic qualification.
TRACC is a stunning dive-study destination. The island gleams like an emerald on the cobalt Celebes sea, nestled within the Semporna archipelago. Not as famous as Mabul or Sipadan, PomPom is nevertheless blessed with the same crystal clear visibility and rich biodiversity. The ivory coral sand beach glides effortlessly into a narrow strip of turquoise lagoon before plunging into the navy depths. A typical afternoon sees many students engrossed in their books from the comfort of a hammock before emerging for one last dip in the lagoon beneath another spectacular sunset.
PomPom is blessed with beauty beneath the waves too. At the heart of the coral triangle, the region has some of the most biodiverse reef ecosystems in the world and although TRACC's conservation work is focussed on restoration there is still a dazzling array of diversity. Anthias dance above the artificial reef structures in shades of saffron and mulberry whilst peacock mantis shrimp bustle beneath them. A rescued coral grouper lives safely below the thriving coral tables alongside giant morays and over twenty species of butterflyfish who feast on the rewards of TRACC's efforts.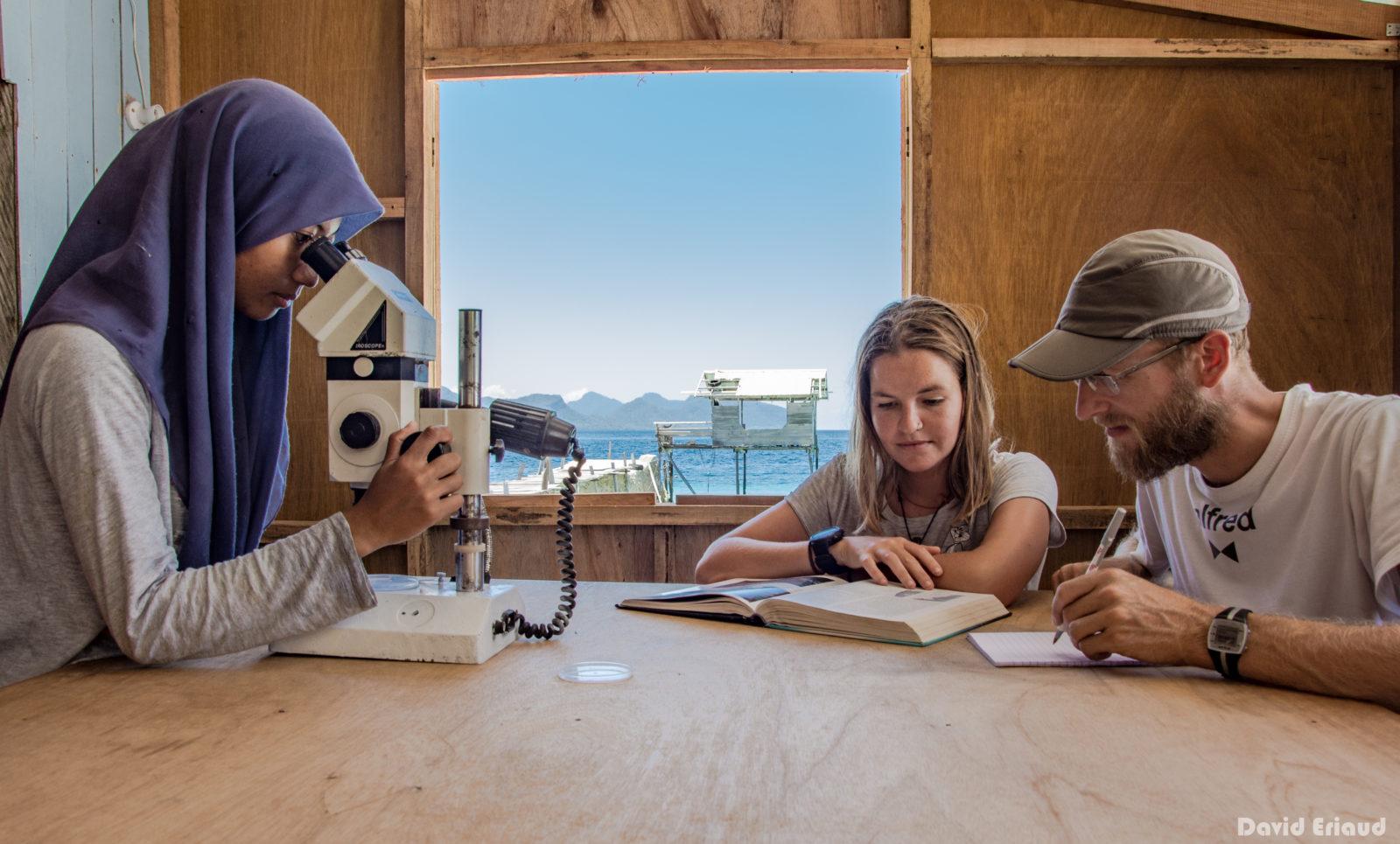 By presenting the A-level as a full time course, the material can be studied in 16 weeks at a fairly relaxed pace. A typical day has a lecture in the morning, followed by a dive and then a guided study session in the afternoon. These are interspersed with ecosystem studies in the field, practical experiments and nights under the stars with popcorn and a documentary.
However, most of TRACC's A-level candidates are not heading to university. They simply want to understand the science better so they can enjoy the marine environment more and be better able to contribute to marine conservation. Many are working dive professionals looking to become more skilled in a competitive industry. Some are already seasoned divers who can become more informed ambassadors for the underwater world. Many have never even dived before, but simply have thirst for knowledge and adventure, craving the answer to questions like, why is Nemo's Dad is technically his Mom!?
Whatever their reasons for doing the A-level course, students at TRACC find the intensive study, small class size and undivided teacher attention a recipe for success. Of the 55 candidates TRACC has hosted since 2013, 83% of the them have obtained a B grade or higher, with 33% of them graded A*. Furthermore TRACC students have won the CIE "Best in the World" award 3 times in 7 years.
The location setting is fundamental to the success of the A-level course. It is possible to study the physiology of seagrass in the morning and then snorkel with the turtles feeding on seagrass beds in the afternoon. Everything from the intertidal zone to fisheries can be studied on location with real world case studies and tangible experiences of ordinarily theoretical models available across the course. Just a short ride from the glorious coral reefs of PomPom, there are mangrove forests, rocky shores, estuaries, atolls and an extinct volcano.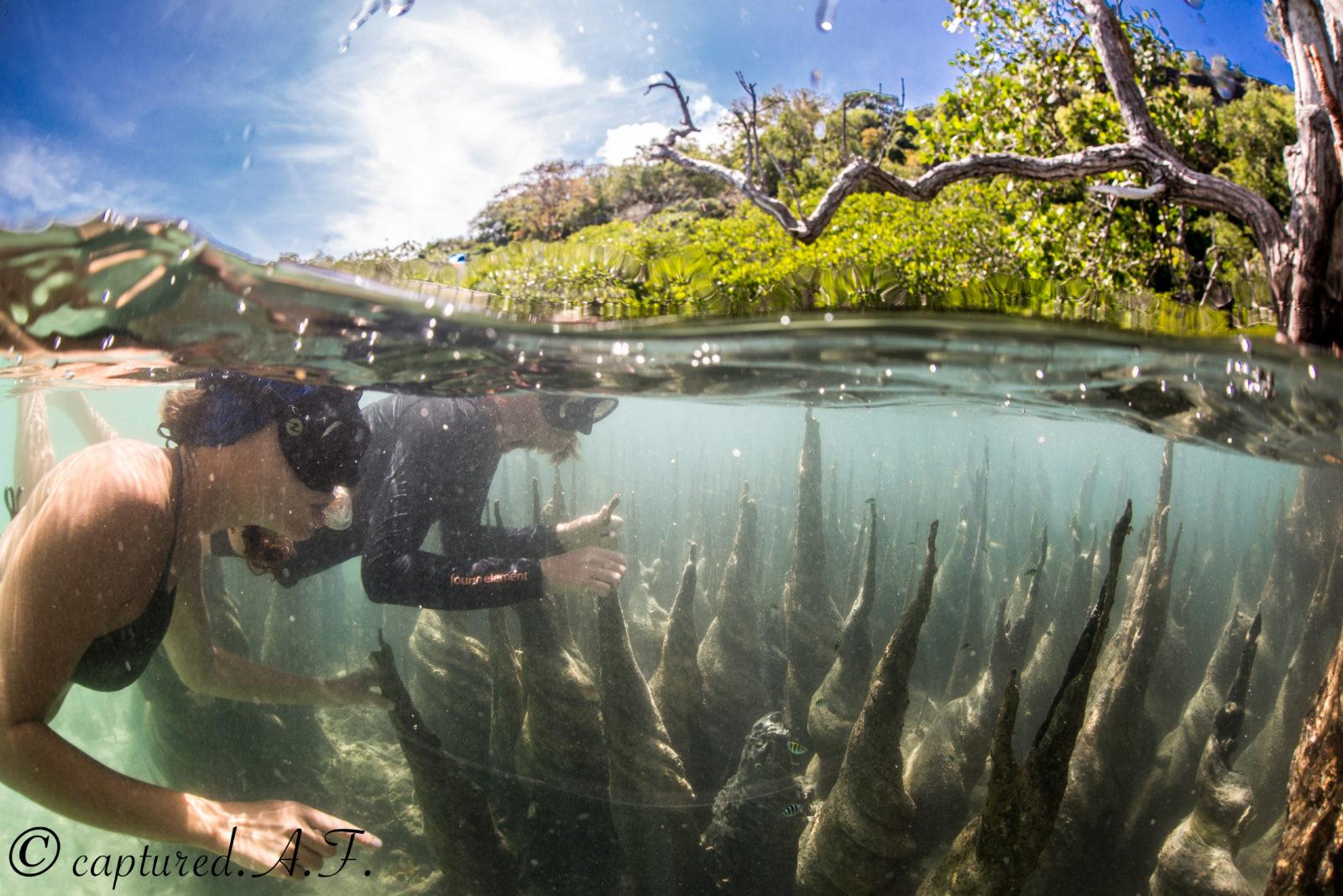 A-level students are also fully integrated into TRACC's marine conservation activities. Alongside their studies they take part in the reef restoration work, biodiversity surveys, underwater and land based cleanups, turtle nesting and hatchery conservation as well as the weekly recreational Sunday Funday diving.
Turtles are one of the great joys of PomPom and TRACC has recorded over 400 individuals in their facial-ID survey. Some are very definitely resident, not just on the island but frequently at a single location on a single dive site. Other individuals are just passing through, feasting in the soft coral gardens and resting on one of Pom Pom's gentler slopes before vanishing again into the blue beyond. On tranquil evenings, sitting on the jetty whilst the sky fades from cerise to indigo, the silence is only broken by the dusky inhalation of turtles taking their deep breaths before they settle onto the bottom to sleep.
For the 2021 cohort, TRACC is offering two options. Firstly, a course beginning online in November 2020 which will culminate with the International A-level exams in April/May 2021. Secondly, a course beginning once international travel to Malaysia is possible. This will include the entire A-level but be examined internally. Bookings are being taken for both of those options as well as 2022.
For more information, please contact us through our website TRACC.org or follow us on Facebook or Instagram
**An A-level, for those unfamiliar with the qualification, is a British pre-University course similar to a single Australian Year 12 subject. In a school setting 360 hours of education are spread out over approximately 20 months of study. Most students take four subjects at this level which can then be used to apply for University or other higher education options. British students frequently take a gap year between school and university and if their school A-level results were not strong enough then an additional A-level, studied intensively during this time, can be used to boost their grades. Similarly, an A-level will be considered complementary to the ATAR for admission to institutions in Australia.
Words by Hazel Oakley, Director TRACC, Hazel.Oakley@tracc.org
Photos by:
David Eriaud , Aneata Friend, Robin Philippo