Pom Pom Island Resort Malaysia's Tucked Away Diving Retreat
Kick your backlog of stress and emails out the window for a holiday at Pom Pom Island Resort, Malaysia. Beautifully sculptured by nature, the atoll incorporates the best of the tropics with rich tropical vegetation and enchanting turquoise blue waters that unearth a bustling marine ecosystem. Equipped with rustic villas alongside the beach and above the water, divers will experience the full treatment of luxury from dawn to dusk. The resort is licensed as a 5 Star PADI Dive Resort, surrounded by 20 accessible dive sites and a range of PADI courses on offer!
Location & how to get there
Pom Pom Island Resort is located in the centre of the Coral Triangle in Sabah, Malaysia, and is only accessible via boat from Semporna. The most likely route to the destination would involve a flight from Kuala Lumpur to Tawau Airport (2hr 50mins), followed by a bus from Tawau Airport Bus to Semporna Jetty (1hr 30 mins), and a 45-minute ride by speedboat from Semporna Jetty to Pom Pom Island (aka Pulau Pom Pom).
Climate:
Pom Pom Island Resort is gifted with year-round equatorial weather; however, it is susceptible to the annual monsoons which bring in some heavy rain and wind from June – August and from October – December. To experience the most out of the island, visitors should choose to visit the island between the months of May and August. This is the time when sea turtles nest on the island.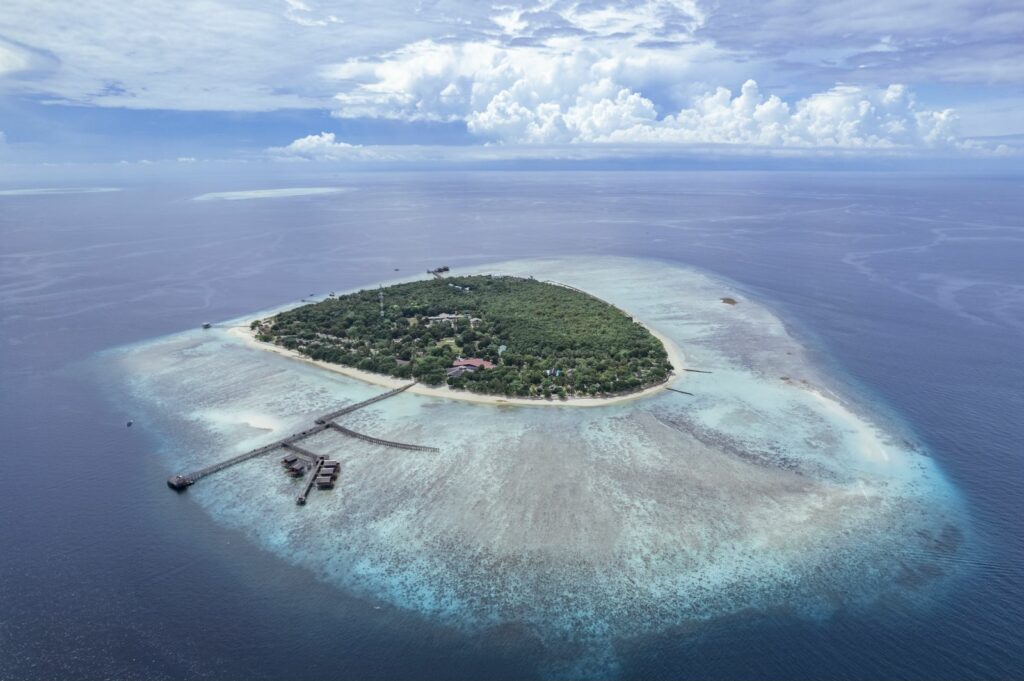 Accommodation:
Pom Pom Island Resort is the only resort on Pom Pom Island (Pulau Pom Pom), offering three categories of villas with varying price thresholds that all capture the same value proposition of a comfortable and refreshing stay with natural surroundings. Starting with the Garden Villas that are located within the lush tropical vegetation on the island, Beach Villas under the swaying palm trees alongside the coast and the Water Villas that are constructed above the Celebes Sea.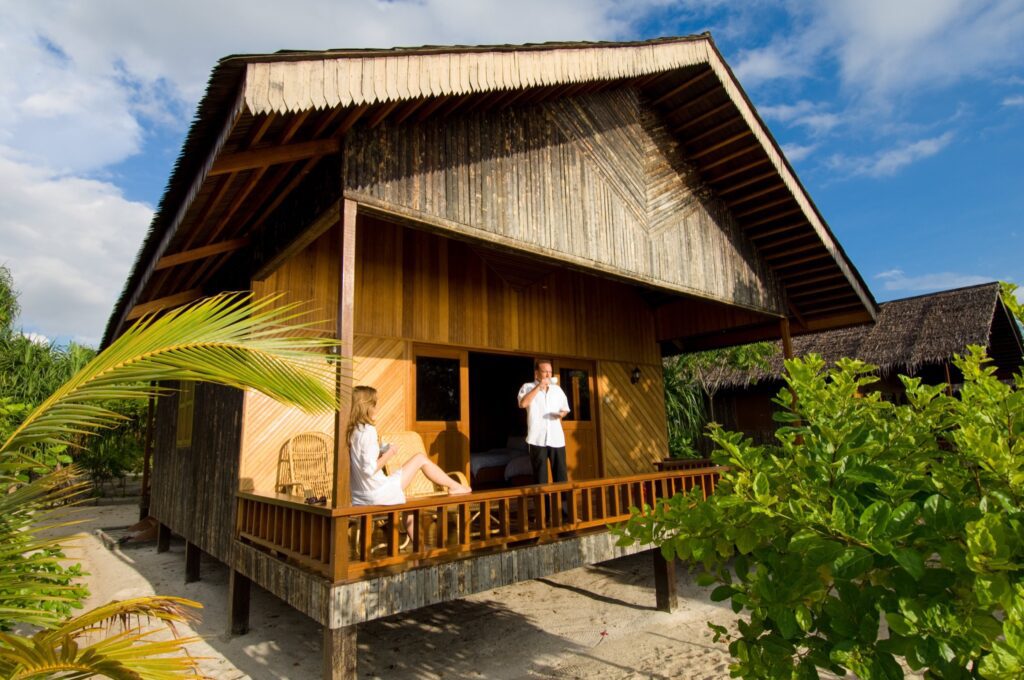 Diving and more:
Pom Pom Island Resort has a specialised dive centre that prepares diving equipment and organises small-group diving tours to ensure that your diving adventure is an easy, safe and fun diving experience. The onsite professional instructors and staff will welcome you to a whole new world of freedom, assisting you throughout your underwater journey and guiding you to the bountiful underwater marine life within the 20 dive locations.
Divers will discover rare species of coral fish and macro sea life, like the Spotted Stingrays, Hinge Beak Shrimps, Ghostpipefish, Lionfish, Nudibranchs, Trumpetfish, Leaf Scorpionfish, Stonefish, Banded Sea Snakes, Sea Turtles, Schools of Fusiliers, Tuna and Rainbow Runners and plenty more! Pom Pom Island is also renowned for muck diving, where divers are challenged to see who can find the tiniest and most unusual sea creature! Click here to learn more about the fantastic dive locations in Pom Pom Island Resort.
The resort also provides diving courses with a qualified PADI Dive Instructor, from Open Water through to Dive Master. You can become a scuba diver in 2 or 3 days, or an open water diver in 4 to 5 days.
For guests, diving all day may sound absurd – while shameful to us – not everyone is as obsessed as we are, hence why Pom Pom Island Resort has a selection of various activities and facilities like kayaking, beach volleyball, biking, snorkelling, and even a spa to keep you busy.
Cheers to Food & Beverage:
Fulfil your wildest foodie dreams underneath an open-air restaurant and bar at the resort. Indulge in the various fresh tasty Asian and European cuisines, both of which utilise local fish dishes and meat and vegetable dishes, as well as supplying fresh bread, cakes and local delicacies – YUM! But, every meal needs its beverage and Pom Pom delivers the finest coffees, wines, beers, spirits and most importantly – the cocktails.
Click here for more information on Pom Pom Island