With Coronavirus sweeping the globe where better to self isolate than on board the Spirit of Freedom on their 7 day Great Barrier Reef ternary, this particular itinerary come in two parts, part one is the three day Ribbon Reefs section.
Day One.
Once all of the formalities were out of the way we went for our check dive at a site called Troppos, usually the word check dive conjures up images of a reef devoid of life, but that was fortunately not the case at this site. It did have the perquisite sandy bottom to avoid any coral getting damaged while divers rediscovered their buoyancy skills but it also provided a wealth of life. Large hard coral bommies that were swathed in a mass of glass fish, accompanied as always by a host of predatory fish, were dotted all over the site, while coral canyons and a mini wall completed the topography. We even had a couple of white tip reef sharks. Throw in an orangutan crab some nudibranchs and a whole host of reef fish and all in all it was a very good dive.
Our second dive was at the same site and with daylight dwindling more reef sharks both white tip and black tip made an appearance, along with giant trevallies and a curious turtle.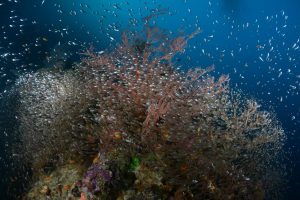 Day Two
As always on a live aboard the day begins with the first of two breakfasts, the eating and diving ritual continues throughout the day, the difference with the Spirit of Freedom is the food looks like it has been prepared by a Michelin star chef in a huge fully equipped kitchen, not a tiny ship's galley. As for the diving, well it got even better. The first dive as at Steve's Bommie out on the ribbon reefs. This lavishly colour bommie was covered in a variety of hard coral and sea fans. A mini bommie at the base of the pinnacle was home to an undulating mass of glass fish that swirled around the coral garden. A giant frog fish had made his home in the sheer walls of the pinnacle and at its summit a swarm of anthias danced around the reef.
The second dive was at clam gardens and as the name suggest giant clams littered the sea bed. Hard coral gardens stretched off into the distance. Schools of commis and sergeant major, to name a few, performed their underwater ballet and an octopus also made a special guest appearance.
Dive three, of this five dive day was at Wonder reef, this site has a shear wall in one direction and a coral garden in the other direction, I choose to explore the garden which offered coral pinnacles and swim through, we encountered bump head parrot fish, fusiliers and blue spotted rays, another great dive.
Next up was challenger bay where we would also have our night dive. While this was a good dive during the day it was an amazing night dive. The giant trevallies, white tip and grey reef sharks have all learned that divers torches equal an easy meal. As soon as we entered the water the mele began, huge giant trevallies would barge past us following the torch light in search of some cowering reef fish. Even the sharks played second fiddle to these solid and thuggish looking fish.
Day Three
The day started in spectacular style with a dive at Google Reef. This reef boast and endless, stunning hard coral garden. Huge coral bommies were surrounded by forests of immense stag horn corals, crommis and atheist dance like marinates above the coral and cuttlefish drift around reef showing off the chameleon like skills.
Dives two and three were at the world famous cod hole the first dive is an orientation of the reef where pelagic fish can often be found, on this occasion we had to settle for reef sharks, huge grouper, bumped parrots fish and schools of surgeonfish. The next dive was the cod feeding experience basically this is the same as a shark feeding dive but with huge a100kg potato cod. The animal is so well trained that it even take direction and will go to the divers when instructed to pose for photos, a great way to the day and the first section of the trip.