The second part of our 7 day itinerary on the Spirit of Freedom would take us out to the Coral Sea and in particular Osprey Reef. First was a stop at the picturesque Lizard Island to drop off some of the guests and pick up some new ones. After a brief exploration of the Island and breakfast on the beach we headed back to the Boat to prepare for the afternoons diving.
   Day Four
After Welcoming the new guest on board we made our way to Ribbon Reef number 10, to a dive site called Coral Princess Garden. This is where we would spend the afternoon exploring the reef. A mini wall dropped down to around 10 meters where the dive site then give way to a sandy slope dotted with small hard coral bommies. As we glided further along the site we came to a large coral bommie suited slightly away from the main wall, this reef was more exposed to the current and had attracted a large school of fusiliers and a few white tip reef sharks. Only two dives this day which gave us a chance to recuperate from the gruelling 4 and 5 dive days that we had been enjoying so far.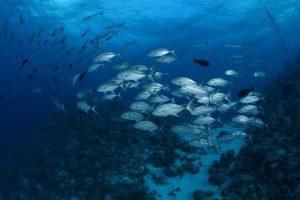 Day Five
After a fairly bumpy overnight crossing we finally arrived at the legendary Osprey Reef, this huge seamount is 30km long and covers an area of 180 square km. It is 151km from Lizard Island and 346 km from Cairns. Its isolation is what makes this reef so special, along with its 1000 meter deep sheer walls. With nothing else for miles around it is a place where aquatic creature aggregate in large numbers. The currents that sweep over this lonely out post also bring in plenty of nutrients that support some very health soft coral grown.
Our first dive was at False Entrance, this is an enchanting dive site with an intricate web of canyons and ridges that snake there way the dramatic 1000 meter drop off.  Here yellow sea fans swayed in the gentle current and a big schools of big eyed travellies and chevron barracuda swirled around the site shepherded by several White Tip Reef Sharks.
Next up was The Gap. The topography of this dive site was a sandy plateau at 15 meters interspersed with towering coral bommies, hard corals vied for space with the soft corals and white tip reef sharks slept on the sandy alleyways created by the reef structure.
Spirit Plateau offered more spectacular underwater scenery with overhangs, caves and canyons scaring the reef and providing plenty of places for sea fans to establish themselves, in addition to the usual reef fish we encountered more white tip reef sharks and a turtle.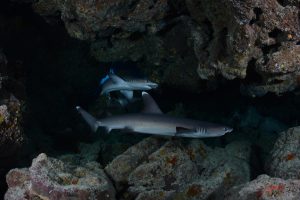 For the final dive of the day we sampled the delights of a site called Admiralty, This amazing locations is a maze of deep canyons towering bommies and sheer walls that crisscross a sandy plateau on top of the reef, the labaritine coming to an abrupt halt at the endless drop off that Osprey ref is famed for. I could have quite happily spent hours negotiating the swim through and endless coral corridors that this dive site offered. A sentiment echoed by most of the other divers on the boat.
The final instalment of my trip will be posted tomorrow.
Photo Credit: Adrian Stacey