The Sardine Run in South Africa is one of the most spectacular migrations in the world
The Sardine run is an event like no other and it is at the top of many divers bucket lists. In this article we hear from some of the passionate dive companies that operate tours to this phenomenon, so when you are ready to take the plunge you know where to go, what to expect and who to dive with.
Sardine Run with Offshore Africa
The annual sardine run is known to be one of the most spectacular marine events on the planet. Our affectionate name for it is an ocean safari, because you never know what you are going to see and when. It's about such an abundance and variety of marine life in the same place, same time.
The Wild Coast area is a prominent location as the continental shelf and deep water is close to shore, concentrating both the cold current and the sardines, pushing them closer to shore and condensing the shoals, which in turn attracts a huge variety of major predators.
Huge shoals travel up the coastline feeding in nutrient rich waters with literally hundreds of sharks, dolphins, game fish and oceanic birds following the sardines up the coast, constantly harassing and splintering pockets from the main shoals and feeding on these at their own leisure.
This is by far one of the greatest congregations of ocean predators known to man.
The fascination for diving in the famous sardine run is shared by many avid photographers, divers and snorkelers, most come back year after year to participate in the excitement and adventure. Boat based viewing is also very popular.
However, the sardine run is a very difficult product to market and to understand by many simply because it's entirely based on Nature, currents, water temperature and the little silver fish known as sardines. This migration of sardines to spawn has been going on for so many years but only in the last 20 years or so have ocean enthusiasts spent time witnessing this event from above and below and seeing that, aside from a sardine run, there are other things taking place at the same time. Some have nothing to do with feeding on sardines and others rely so heavily on the sardines as a food source.
Another totally unrelated migration that takes place during the same period as the sardine movement is that of the Humpback whales (Megaptera novaeangliae) traveling from Antarctic waters northwards to the warmer waters of Mozambique and Tanzania for calving and breeding purposes.
The addiction to being part of the sardine run is very real!!!!! It's our passion. We just have to keep doing it, we have to be out there because we are too scared to lose out on something that may only be witnessed once in a lifetime.
More information on the Sardine Run Ocean Safari tour.
Offshore Africa Port St. Johns Website
Image credit Offshore Africa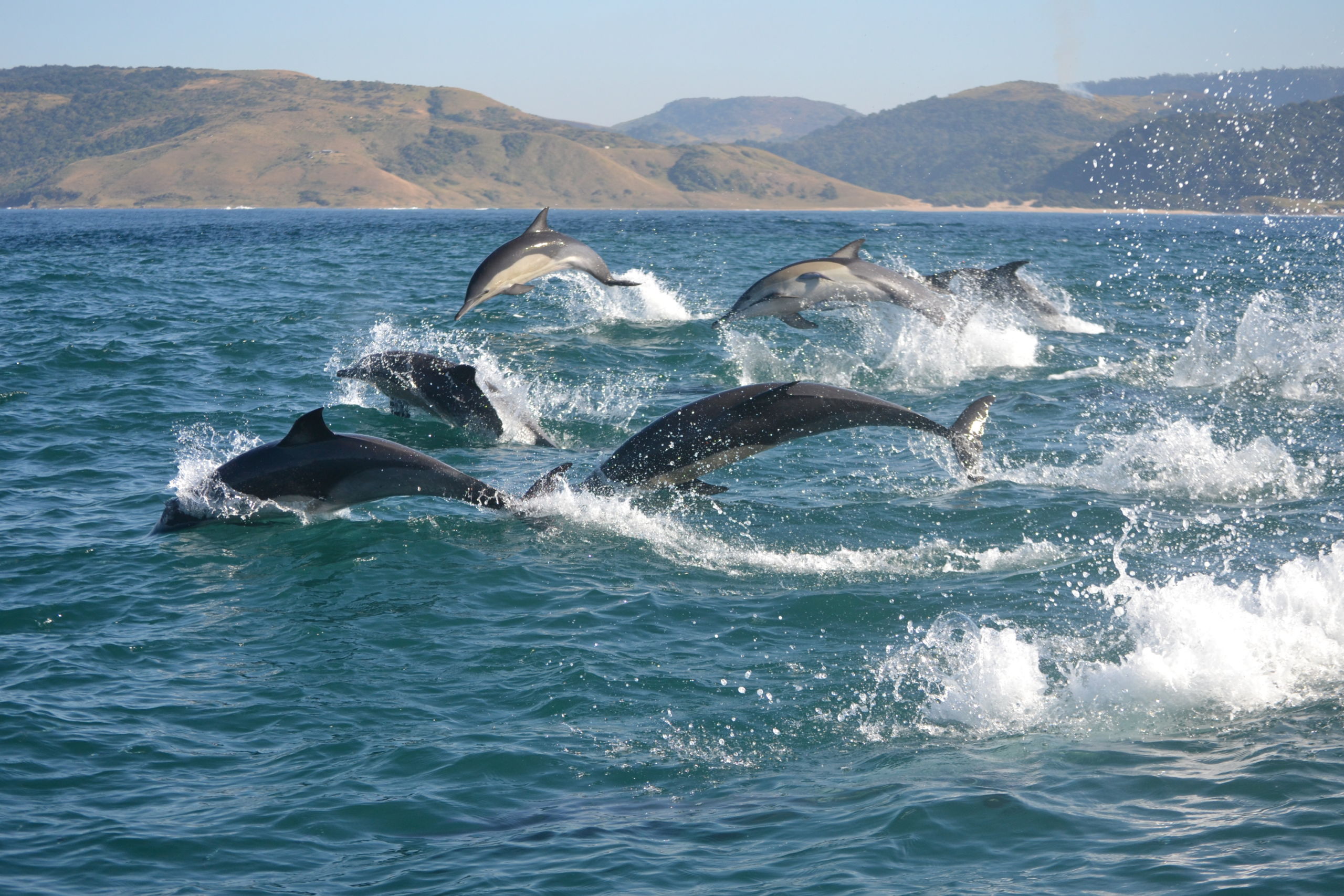 Sardine Run with Aliwal Dive Centre
Aliwal Dive Centre is based in a small South Coast town in Umkomaas minutes away from the beach, with one of the worlds most famous and most sought after reef called the Aliwal Shoal Reef including two very well-known wrecks Nebo and Produce.
We have over 24 years' experience in the diving industry and we are a PADI 5* Instructor Development Dive Centre. We offer reef, wreck and shark dives, scuba training, gap year / internships, shark cage snorkeling for our non-divers and we offer affordable accommodation based above the dive centre which makes our customers early morning rises worth it and enjoying a full English breakfast after their dives.
June / July we hold one of the most sought after yearly events, the Annual Sardine Run that is held in Port Saint Johns, an experience you cannot miss out on. It is the migration of all shark species, whales and dolphins. Daily outings last for approximately 6 – 8 hours depending on sea conditions and the amount of activity about. With the action being fast and furious in conjunction with variable sea conditions, long boat rides and the whole day out at sea , outings can prove strenuous, therefore it is recommended that clients be relatively fit.
Sardine activity is usually from large flocks of Cape Gannet sightings or by the more trusted large pods of Common & Bottlenose dolphin activity. Our communication network with others is vast and we are also in communication with Natal Sharks Board members that conduct regular aerial flights. Our knowledge of "hiding" places also comes into play here and all avenues are explored to find action for you.
Our aim is to be able to share our amazing dive sites, experiences and ocean wonders with as many people as we can.
More information on the Sardine Run tour: http://aliwalshoal.co.za/sardine-run-ocean-safari/
Website: www.aliwalshoal.co.za
Image credit Aliwal Dive Centre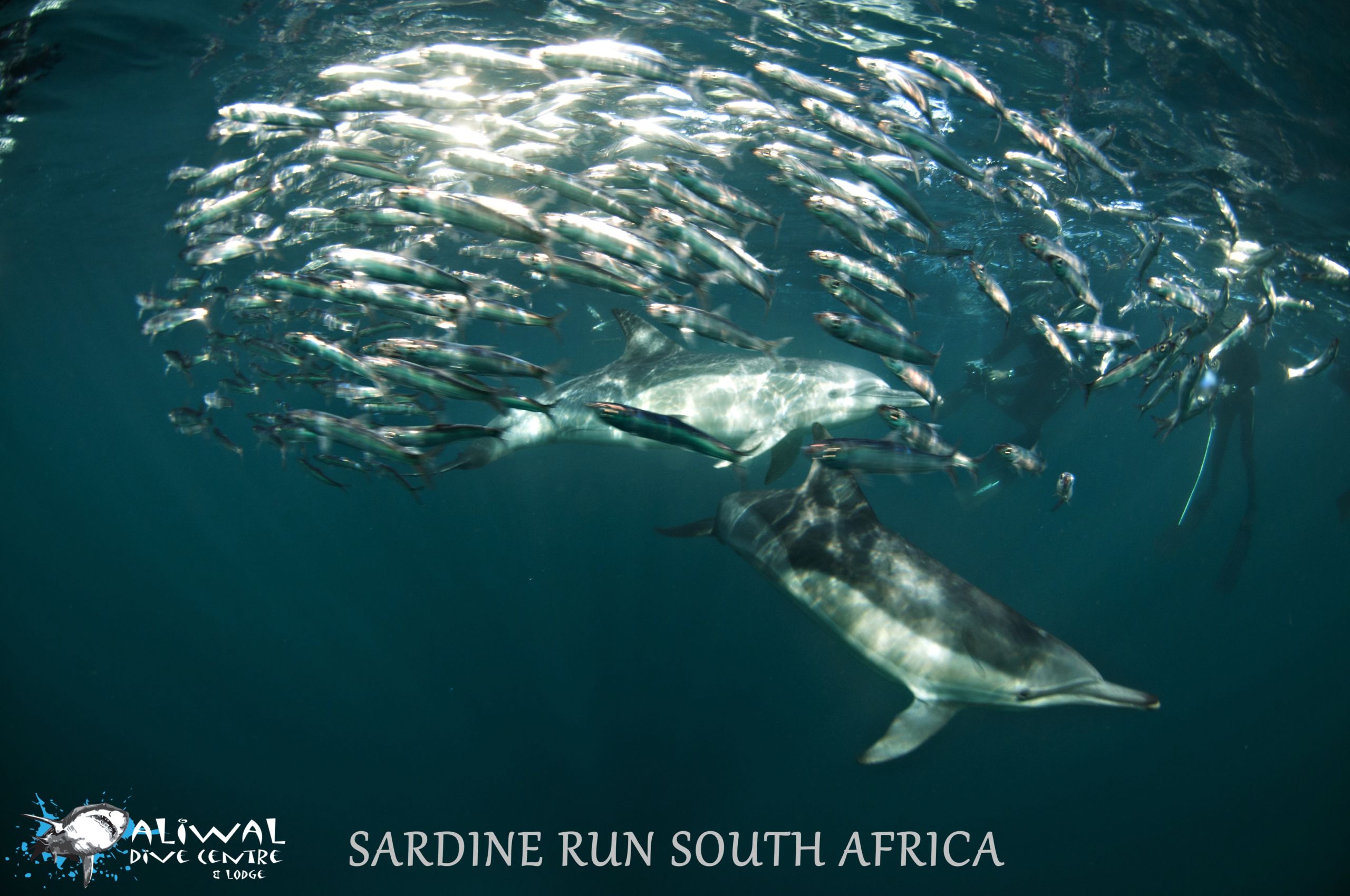 Sardine Run with Blue Wilderness
The Sardine Run in South Africa is recognized as one of the world's most spectacular marine events. Annually, from May to July, vast shoals of sardines migrate from their temperate-water home off South Africa's southern coast and travel north-east into the sub-tropical coastal waters of the Wild Coast. Following the shoals is an unparalleled concentration of marine predators including seabirds; sharks; game fish and marine mammals.
When predators meet prey, a feeding event of unmatched proportions begins. Thousands of common dolphins charge after the shoals, separating them into densely packed bait balls and driving them to the surface. Watched by the omnipresent Cape gannets, an aerial assault on the sardines occurs when tens of thousands of gannets begin their spectacular plunge diving displays. Below the birds, the bait balls are easy pickings not only for dolphins, but also for shivers of bronze-whaler, dusky and blacktip sharks. The final player, is the behemoth Bryde's whale. Its huge mouth can decimate an entire bait ball in a single lunge.
In the late 90′s, Blue Wilderness pioneered diving expeditions to follow and film the Sardine Run. We were instrumental in epic productions such as the Emmy Award winning BBC film "The greatest shoal on Earth". Today our team continues to annually track the Sardine Run. We are always developing new detection technologies; perfecting our observer network and retro-fitting our vessels to ensure we can again experience the world's greatest marine event.
More information on the Sardine Run tour: https://bluewilderness.co.za/shark-diving-trips-durban/sardine-run-2/
Website: https://bluewilderness.co.za/
Image Credit Blue Wilderness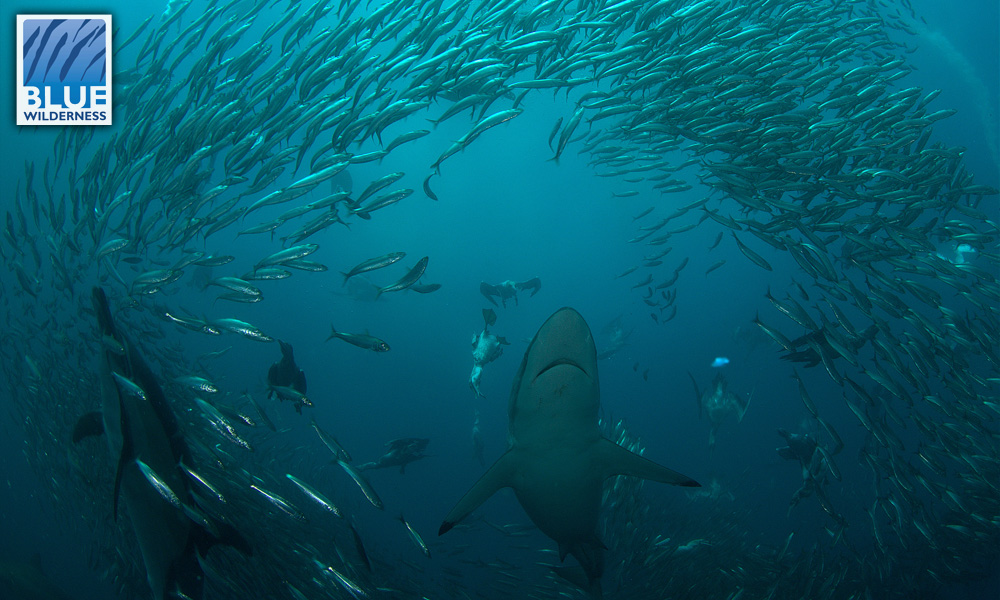 Sardine Run with Crystal Divers
Crystal Divers South Africa was established in 2013 and sold to its current owners (Brian Flascas and Patrick LaRocque) in 2019. Crystal Divers is a PADI 5 STAR resort located in the Blue Marlin Hotel in Scottburgh on the South Coast of KwaZulu Natal. It is an owner operated business that sets a high standard of customer service. The accommodation at the Blue Marlin Hotel is fantastic with magnificent ocean views, excellent food and friendly professional staff that always aim to please.
The Sardine Run trip consists of 2 nights at the Blue Marlin Hotel with 1 day diving on Aliwal Shoal, prior to leaving for the Wild Coast to dive the Sardine Run. In these two days, we will make it our business to ensure you of two adventure dives of a lifetime.
Aliwal Shoal in itself, is enough to keep any diver happy. With a wide variety of pristine dive sites spread across the 1.5km wide, 5km long shoal. The shoal is also home to over 1200 different species of fish, some of which are endemic to the shoal and found nowhere else in the world. Also making the Shoal their seasonal home, are a range of apex predators.
Oceanic Black Tip sharks, Grey Nurse and Tiger Sharks are three of the main attractions on our baited shark dives. Along with the sharks, you will also encounter dolphins, turtles, stingrays and a variety of smaller wonders of the sea.
You will then be transported to Coffee Bay, where you will spend the 6 days/7nights experiencing some of the best diving/snorkeling that the world has to offer. While diving/snorkeling the Sardine Run, we will be following dolphins, whales, seals, penguins,
sharks and birds chasing bait balls formed by hundreds of thousands of sardines, red eye and anchovy. This phenomenal congregation of predators occurs annually from June to July. We offer a boat based adventure for everyone, whether a diver or non-diver. All nature lovers, bird watchers, photography enthusiasts, dolphin and whale enthusiasts, snorkelers and scuba divers will thoroughly enjoy this incredible feat of nature, which has since been called…."The Greatest Shoal on earth".
More information on the Sardine Run tour: https://www.crystal-divers.co.za/sardine-run-crystal-divers-south-af
Website: https://www.crystal-divers.co.za/
Image Credit Crystal Divers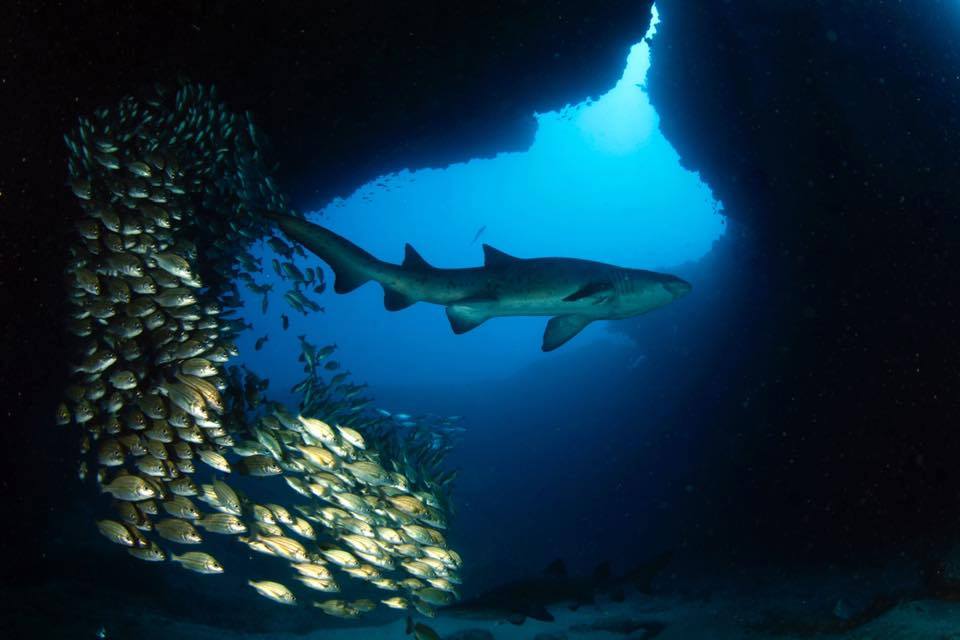 Click here for Scuba Diver ANZ issue 31