Scubapro is now launching itself into the full-colour, full-featured wristwatch dive computer arena with the release of the Galileo 3, or G3, as it is also known.
The new Galileo 3 (SRP: £1,365 with Smart+ Pro transmitter / £1,130 Galileo 3 only) offers all the features and functions of a next-level dive computer along with full timekeeping features for daily topside use. Built to last and depth-rated to 300m, the housing and bezel are made of stainless steel, and the lens is sapphire glass for extreme surface hardness and scratch resistance.
The vibrant, high-resolution, full-colour TFT LCD display is easy to read at any angle, and the rotatable bezel, coated with a self-luminescent material, along with an efficient backlight, ensure excellent visibility in all conditions.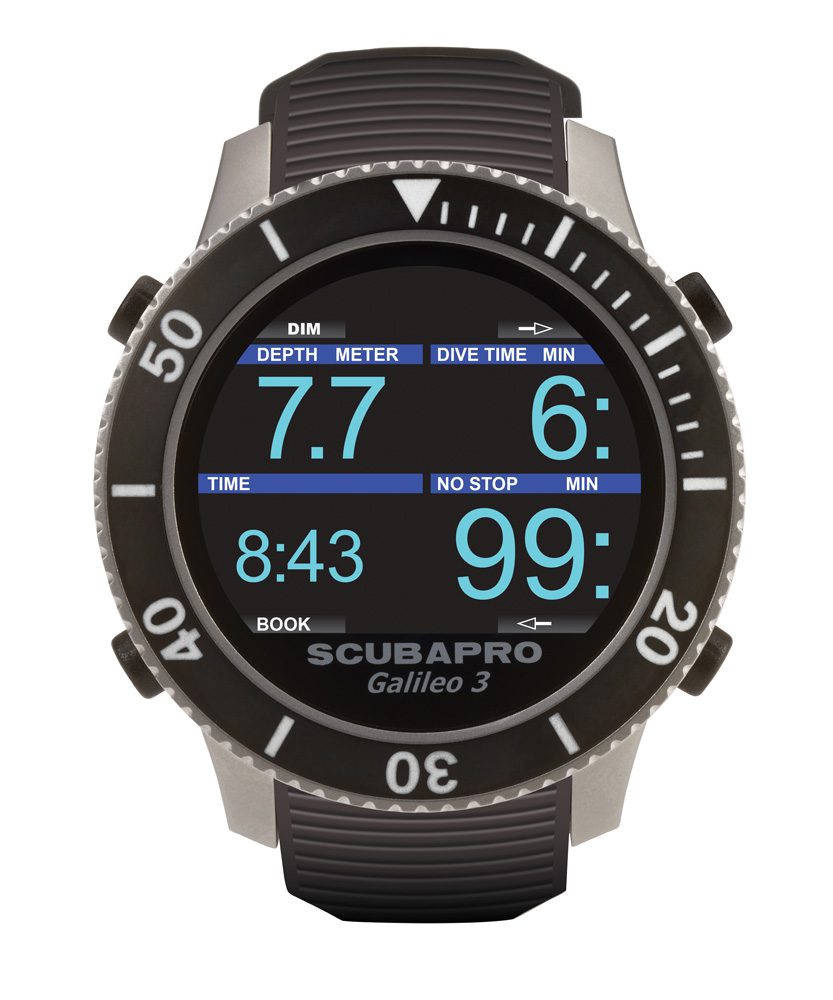 Utilizing Galileo's trusted menu design and four button controls, navigating through the G3 dive modes, algorithms, screen styles, colour schemes and myriad of other personalized dive management options is extremely intuitive.
For underwater use, the G3 provides a choice of algorithms – Predictive Multi-Gas Buehlmann ZHL-16 ADT MB PMG or ZHL-16 GF (Gradient Factors) and three dive modes – Scuba, Gauge and Freediving, to suit all diving styles.
In Scuba mode, four settings are available: PMG, Trimix, CCR and Sidemount. You can pair up to eight nitrox/trimix tanks, plus a diluent tank in CCR, and a pony bottle, which covers most scenarios.
Wireless air integration monitors tank pressure provides true remaining bottom time (RBT) and allows your air consumption to be factored into the decompression calculation. If buying separately at a later date, a Smart+ transmitter is £288, and a Smart+ Pro transmitter is £383.
For pinpoint navigation, a 3D digital tilt-compensated compass comes with a top-view full compass rose display.
The G3 personalized dive management functions include PDIS (Profile Dependent Intermediate Stops) which calculates an intermediate stop based on N2 loading, current and previous dives and breathing mixes, and Microbubble levels that let you adjust the level of conservatism in the algorithm to match your experience level, age, and physical conditioning for safer diving.
Optional Heart Rate Monitoring (Digital Heart Rate Belt 2 sold separately, priced £110) delivers additional individualized real-time data while diving or when engaged in topside activities.
On the surface, the G3 provides a Sport mode with sport-related functions like a swim stroke counter, activity counter and stopwatch for topside sports.
You can get smart notifications such as emails, texts, media player controls and alerts when paired with a compatible iPhone.
The G3 is powered by a rechargeable lithium battery which provides up to 30 hours use per charge depending on dive and watch settings being utilized. The G3 also offers a Bluetooth Low Energy interface that lets you download dives to any iOS or Android device or PC/Mac (firmware can be user-updated).
The Galileo 3 comes in a zipped, padded case with a 22mm silicone arm strap, arm strap extension for use with drysuits, USB cable, charging dongle and holder, and a lanyard with clip. The Smart+ Pro transmitter is also included in the top bundle.
Different-coloured wrist straps are available separately for those who want to personalise their G3.