For the owners of Dive Rarotonga it is always Safety First
Having worked in and being quite well qualified in Engineering Safety alongside Diving for longer than I care to remember, I frequently see that there are often critical elements of diving which can be 'overlooked', depending on the area of the planet you visit.
We have an impeccable Safety record at Dive Rarotonga, around 40 years-worth with practices implemented by the initial owner, continued and improved by Ed, the previous owner and hopefully continued and improved by myself and Zoe as current owners.
When in the incredible position of actively looking to purchase a South Pacific Dive Centre, of which there were many at the time we had a basic shopping list. It had to have a solid and safe reputation, be in a beautiful location and finally have fantastic diving. We only ventured out once from the UK to view such places, the destination being Dive Rarotonga.
After a long purchase process and working for 12 months as Dive Safety Officers in Madagascar, we got here.
The culture instilled in our Staff who we retained was fully safety based, thorough pre-dive briefing while driving to the harbour in the licenced vehicle, boat continually manned by licenced skipper, dives guided by experienced Instructors, serviced equipment etc.
What is often taken for granted by divers on holiday in far-flung destinations is that everything will be 'as safe' as at home in a highly regulated country.
Hailing from the UK, The Health and Safety Executive control fully all operations where divers are at work. That covers anyone involved with the major agencies, PADI, SSI, TDI etc. There's the pressure vessels directive, vehicle licencing, boat operations etc. etc. You feel well looked after.
Arrive at your tropical destination and, apart from the climate difference, there is a very concerning assumption that everything else will be as safe as at home.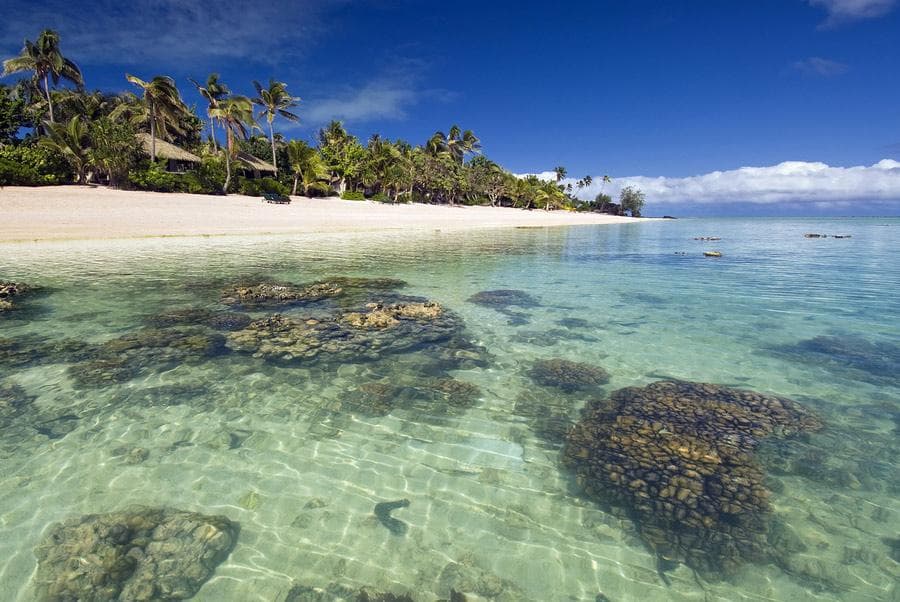 A little research prior to booking your dives and certainly before travelling can save a huge amount of heartache.
The ultimate pre-dive safety check:
Is equipment serviced, cylinders tested and in date?
Is there a service history for the compressor and filtration?
Are storage rooms clean and secure?
Are there local licencing requirements and are these being met?
Are vehicles / boats fit for purpose and for numbers on board?
Are your guides and drivers suitably qualified?
In the current health climate, are regulators and BCDs thoroughly sanitised?
All should obviously be a yes. Once you have established this comfort zone, the rest should be easy.
On arrival, you should have to show evidence of your certification and complete your paperwork, you should also be made to feel free to view the facilities. There should be nothing on site at any Centre which is hidden from its customers. If the compressor is running, you will have to view from a distance.
Once you've been fitted for your kit and loaded it into the trailer, it's aboard the bus for the journey to the harbour. The driver is driving, your guide is briefing you on the anticipated site – we confirm once we've seen conditions first hand, your safety, limits for the dive and points of interest or specific hazards. The briefing also covers the degree of boat safety we've invested in, everything to meet the requirements of commercial vessels in the Cooks plus a few more.
Your dive is the easiest part of the day. You know what you're doing, we can help with kit assembly if you're rusty, we'll have established a turn pressure during the briefing in both PSI and BAR and we'll keep an eye out for the amazing life we have in incredible visibility over our beautiful reef systems. We plan our dives based on the DSAT PADI tables, so we're not being killjoys, we're being conservative! We'll have our 60 minute surface interval before heading back in at a different site to complete your trip.
Everyone at Dive Rarotonga is a highly experienced PADI Instructor & licenced driver so whoever is doing what, be assured they're doing it both professionally and well to ensure you have a memorable experience for all the right reasons and none of the wrong.
We have an incredible mix of skills here, all applicable to ensuring Safety throughout all our operations, from Manufacturer trained servicing, professional educators as well as our specific Diver training backgrounds.
As part of the Dive Rarotonga Risk Management Planning, Zoe and I made the business decision to actually drop our capacity on the boat to reinforce Safety all round. We have a maximum of six divers on board now, rather than eight, although the boat was designed for up to ten and a maximum of three Staff, one of whom will stay on board for the duration of the trip. For our PADI training Courses, we keep ratios down at four to one, rather than cashing in on maximum numbers and we run at two to one for Discover Scuba Diving. We go a step further with the PADI Deep Specialty and run it as a one to one Course.
These may seem like extreme measures, but Safety based ratio management adds up to much better customer service all round, lower stress levels for instructors running Courses or guiding divers and is a reflection that our ultimate risk management tool, the recompression chamber is less than conveniently located in New Zealand!
As well as Diving is Fun, we at Dive Rarotonga think 'Safety is Fun' is just as relevant in this situation.
Article Written By Neil Davison of Dive Rarotonga
Photo Credit: Neil Davison of Dive Rarotonga