Introduction: Mark Evans and Penney's Drysuit Journey
Mark Evans: The Atlantic is the top-of-the-tree when it comes to drysuits from Otter Watersports, and previously I have tested the Kevlar version of this durable suit. Now my other half, Penney – a true warm-water-loving diver who is most definitely not a fan of being cold – has just taken delivery of a very bright orange and black Atlantic in RipSkin material, which is tough, robust but still very flexible.
Features of the Atlantic
Otter's most popular trilaminate suit
Upper body made of one large piece of trilaminate for stretch and movement
Seamless underarm pattern
Telescopic body with crotch-strap and front-entry zip
Strong internal braces to support lower half
Large Velcro closing pockets on either side
Turbo boots for ankle movement and air migration reduction
Factory-fitted KUBI Dry Gloves
5mm Otter hood
Material and Custom Fit: RipSkin and Made-to-Measure
This was important in Penney's case, as she hates to feel restricted. John Womack Junior also got her into the Bradford HQ to do a full made-to-measure – always a good idea when you want a suit to fit as well as possible.
Trilaminate Suit: Comfort and Flexibility for Technical Divers
The Atlantic is by far Otter's most-popular trilaminate suit. The upper body is constructed from one large piece of trilaminate, allowing unequaled stretch and movement for the wearer – this seamless underarm pattern really does make a huge difference when you start twisting and turning. It is easy to see why techies who need to reach their pillar valves on their doubles love this suit!
Telescopic Design: Ease of Use and Convenience
The suit follows the traditional telescopic body with a crotch-strap and a front-entry zip, which makes getting in and out of the suit a doddle. Inside are strong internal braces to hold the lower half of the suit where it should be, and support the suit when you are walking around with the upper half around your waist.
Spacious Velcro Pockets: Storage for Essential Gear
There are large Velcro closing pockets on either side of the suit, which are spacious and more than capable of swallowing a decent-sized DSMB and spool/reel, torch, back-up mask, slate, etc.
Turbo Boots: Ankle Movement and Reduced Air Migration
Penn's Atlantic had the Turbo boots fitted, which are the same as on my Kevlar version. I love these boots, as they allow plenty of ankle movement for minor fin adjustments underwater, and the Velcro strap lets you tighten the boot on your foot and reduce air migration. Penney soon came to love the fit and comfort of the Turbo boots too, especially over a nice thick pair of Otter thermal socks.
KUBI Dry Gloves: Top Dryglove System for Warm Hands
The Atlantic also came with factory-fitted KUBI Dry Gloves – for me, the best dryglove system on the market. They are easy to get on and off by yourself, if you split a glove it is a two-minute job to swap them out, and in Penney's case, they even came in a small enough size to fit her dinky little hands!
Otter Hood: Perfect Fit for a Warm Head
She also got a 5mm Otter hood, which fit like a glove and kept her head toasty warm.
Test Dives: Exploring Iceland and UK Dive Sites
As mentioned on the previous page, Penney took her Atlantic to Iceland, where she conducted dives in waters that were just 35 degrees F in Odin's Tear and the Silfra Rift. Combined with the Otter Arctic undersuit, she didn't complain about being cold once, though she was definitely happy to have the dryglove option! She also scrambled down rocks in Anglesey to do a shore dive with no issues, and did a dip into Capernwray inland site as well.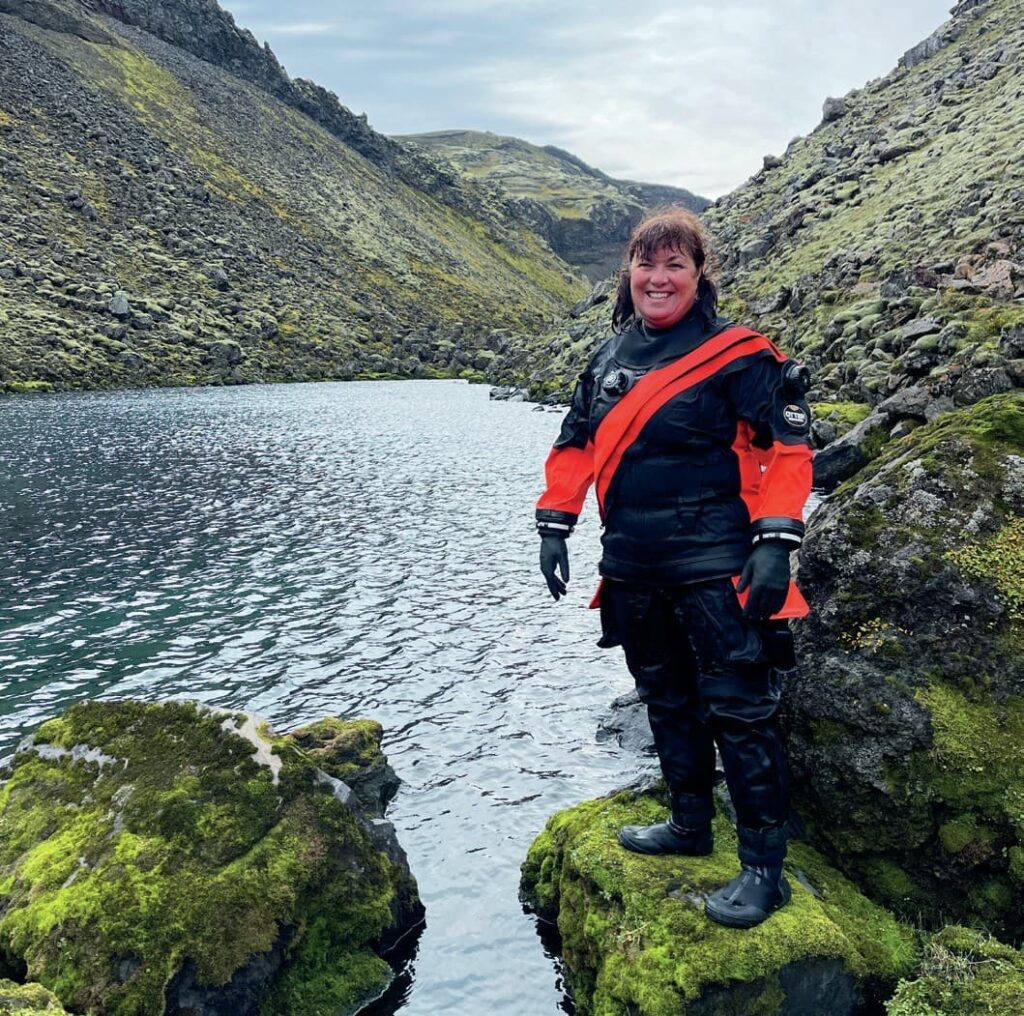 PERFORMANCE
Used in 35-degree F waters in Iceland
Combined with Otter Arctic undersuit
No complaints about being cold
Comfortable and no issues during shore dive in Anglesey
Comfortable during dive in Capernwray inland site
Suitable for Penney, who prefers thin wetsuits or skin in tropical waters
Conclusion: A Big Win for Cold-Water Diving Comfort
A big sign that something is bang on is when the user isn't really aware of it, and in this case, the Atlantic shined – Penn is not a natural drysuit diver, and she much prefers being in a thin wetsuit or skin in tropical waters, but she was actually quite comfortable in cold waters for the first time ever. I don't think I'll ever turn her into a hardcore cold-water diver, but she is definitely up for a few jaunts to Lundy and the Farnes to play with the seals, and she is keen to explore off Cornwall, so I'll take that as a major victory.
SUMMARY
Atlantic is a comfortable and flexible drysuit
Good for techies and cold-water diving
Suitable for those who prefer warm water
Provides adequate support and storage
Comes with Turbo boots and KUBI Dry Gloves
Suitable for various dive locations and activities
OTTER WATERSPORTS ATLANTIC | SRP: £2,003.58 (EXCHANGE RATE CAN FLUCTUATE)
---
This article was originally published in Scuba Diver North America #13
Subscribe digitally and read more great stories like this from anywhere in the world in a mobile-friendly format. Link to the article