Mark Evans: You can't beat a good, solid primary dive torch, and many cave, wreck and technical divers prefer to opt for a canister dive light. Often these umbilicals provide a longer burntime, and brighter output, than the majority of handheld torches. OrcaTorch produce a vast range of handheld and umbilical torches aimed at recreational divers, underwater photographers, and tech divers, and the D630 V2.0 is their top-performing canister system.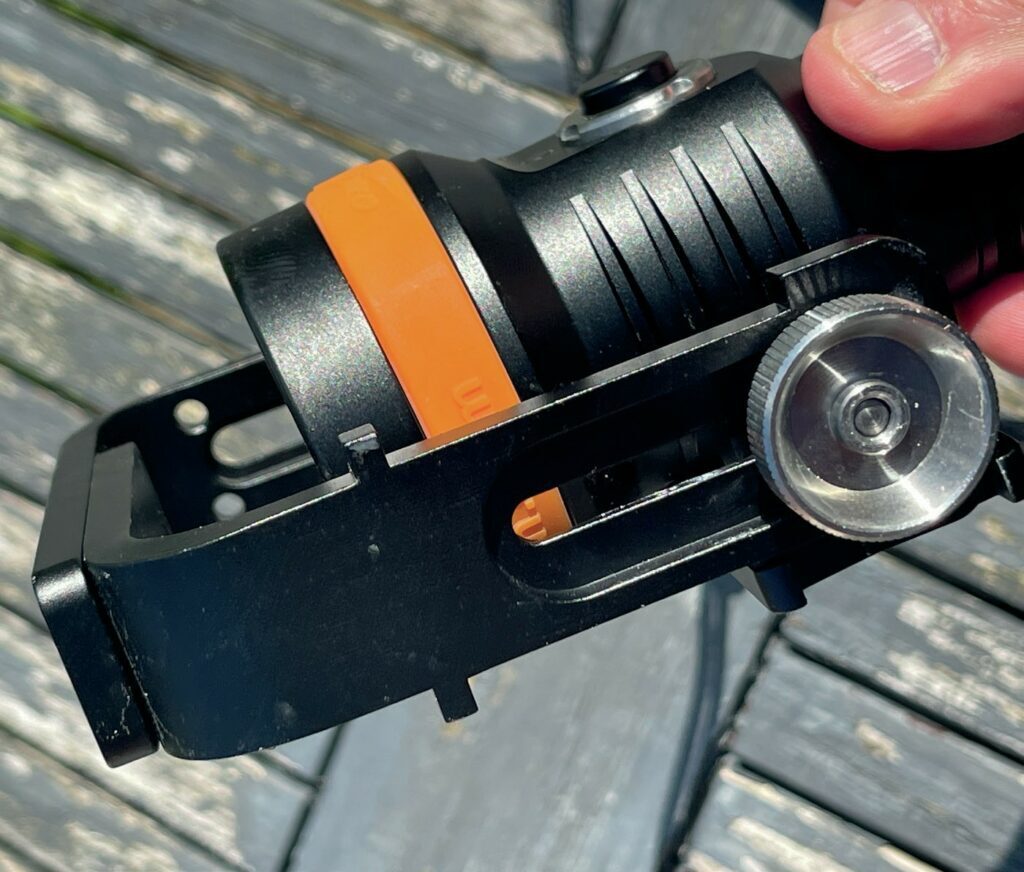 The D630 V2.0 features five tried-and-tested CREE LEDs, and a seven degree super-focus beam. It will pump out 4,000 lumen on full power – there are three power settings in sequence, which you can easily cycle through via the titanium alloy operation button on the top of the headset – and give a burntime of five hours. We tried it on all three settings in the depths of Capernwray and it penetrated through floating detritus with ease. The highest setting is phenomenally bright, and punched through even a thick soup of silt thoughtfully stirred up by a couple of passing technical divers (I use that term extremely loosely given their trim, finning techniques and general diving ability, but it was nice of them to give me lousy conditions to test the torch in!).
The torch is constructed from A6061-T6 aluminium, and has a Mil-Spec Type III hard anodized finish for the ultimate durability and corrosion resistance – it is depth-rated to 150m, which should be more than enough for the vast majority of technical divers. To keep you safe and prevent any mishaps, the D630 V2.0 has intelligent overheat protection, an over-discharge protection function, and reverse polarity protection which prevents improper battery installation.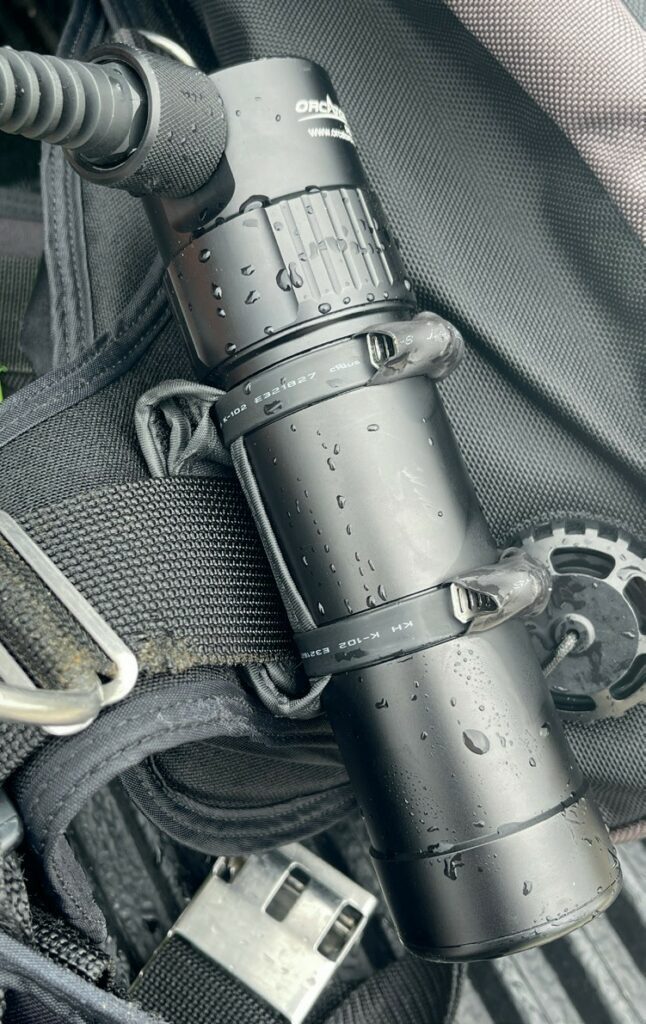 OrcaTorch say that the D630 V2.0 is perfect for both backmount and sidemount users, and while you could say anyone might say that about any umbilical torch system, with this unit, it has a nifty feature that makes it particularly user-friendly regardless of your tank configuration. The power cable where it comes straight out of the top of the battery pack can be rotated 90 degrees, giving huge flexibility to mounting and routing options. Changing it from one orientation to another just involves loosening off and tightening up the collar.
I was especially taken with the attachment system on the D630 battery pack. This Velcro-closing strap can either be threaded on to a camband or tank strap with ease, but for more awkward mounting positions, where unthreading the webbing from D-rings, slides and other paraphernalia would be a royal pain in the behind, you can open up the dual Velcro, and securely fasten the battery park in place in-situ. This was very handy when I attached the torch to my Dive Rite Transpac II harness – there was the perfect spot just behind one of the weight pockets, where the battery pack could nestle under my Travel Wing, but unthreading the necessary piece of webbing would have been a nightmare. A bit of work getting the Velcro under the webbing and in place, and it was rock solid. And at the end of the day, it was removed in a matter of seconds. This is very handy if you use the OrcaTorch with different dive rigs, etc.
The aluminium Goodman handle has plenty of adjustment, so it can be made to fit a bare hand, a thick neoprene glove or even a dryglove quickly and easily. Two screws adjust the width, and a knurled knob allows simple fine-tuning of the fit on to the back of your hand. You can also rotate the handle up in front of the lens – this not only protects the toughened glass lens during transport, but it also makes the headset easier to pack.
The torch head is quite compact, and sits nicely on to the back of your hand, unobtrusive but there when you need it. Turning the dive light on, and then cycling through the three settings, is done via the push button on top of the head – simple and easy to use even wearing thick gloves. One press turns it on full power, another knocks it down to 1,500 lumens, a third press is low power of 460 lumens, and a fourth press turns it off.
Versatility is the name of the game with the D630 V2.0, and the battery pack can also be used as a power bank to charge your phone, etc – very useful indeed if you are out on expedition and luggage space is of a premium. There is a button to show the power status via LED display, and a USB slot to plug in your accessories that need powering up. A neat little feature that rounds out a very impressive and user-friendly dive light.
Orcatorch Website / Sea-Sea Website
---
This article was originally published in Scuba Diver UK #74.
Subscribe digitally and read more great stories like this from anywhere in the world in a mobile-friendly format. Link to the article