Ocean Reef, which produces full-face diving and snorkeling masks, has created an adaptor which will fit to their snorkelling product and transform it into a COVID-19 protection mask.
The consumer pricing for the adaptor is planned to be purposely low to help current owners convert their snorkeling masks as inexpensively as possible.
The adaptor fits in the connection of any Ocean Reef-produced mask. The filter can be of any type and brand, with the 40mm threading, and to reduce the exhalation effort, you can just push out the exhalation valve cover of the mask.
Ocean Reef already has more than 1.25 million full-face snorkeling masks in the homes of customers around the world, plus good inventory through their worldwide dealers and their US and Italian warehouses.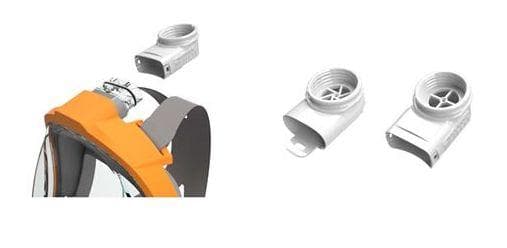 All full-face snorkeling masks produced by Ocean Reef, including the Aria QR+, Aria Classic, Aria Una, Aria Jnr, Original Aria, Head SeaVuDry and Sport, and Tusa Sport, will accept this new adaptor.
Additionally, the project is ready to be modified to work on other full-face snorkeling mask brands, like Easybreath, Aqua Lung and many more, increasing the number of possible transformable protection equipment to 2+ million.
All Ocean Reef full-face snorkel masks can be easily cleaned and sanitised, while much of the protection equipment that is now difficult to purchase is single-use. Another benefit of a full-face snorkeling mask versus most disposable masks is full coverage of nose, mouth and eyes.
First 3D printed prototypes have already been tested over the past three weeks and full industrial production is scheduled to begin on 31 March. Initial output will be 1,000 units per day.