As tour operators across the Great Barrier Reef continue to navigate through the COVID crisis, Passions of Paradise turns to science to give their reefs a helping hand.
The Great Barrier Reef is one of the undisputed natural wonders of the world; an intricate, expansive ecosystem comprised of almost 3,000 individual reef systems and tens of thousands of species of marine life. But over the years, the effects of climate change have slowly changed the dynamic of many reefs, with bleaching events, warming water, severe storms and Crown of Thorns starfish outbreaks having a serious impact on coral cover.
Passions of Paradise, based out of Cairns, Queensland, has been showcasing the incredible splendour of the Great Barrier Reef for over thirty years, catering to divers and snorkellers alike, and while the world has been battling the pandemic for over a year, Passions of Paradise has used this time to work with scientists to help shape the future of the Great Barrier Reef.
Beginning in June 2019, Passions of Paradise joined the Coral Nurture Program, a new approach for the Great Barrier Reef that was initiated as a partnership between tourism and science. Under the guidance of the University of Technology Sydney, Master Reef Guides Russell Hosp and Kirsty Whitman have spent the months since the onset of the pandemic focusing on this new coral planting strategy.
The patchiness of recent bleaching, crown of thorns starfish outbreaks and cyclone impacts means that there are still many excellent sites for guests to visit. However, the risk of deterioration of these sites and a projected reduction of coral due to climate change is very large unless adaptation options are increased. This program allows to study the coral growth in real time and help the reef's natural ability to recover from these impacts.
A core objective of this program is to introduce coral planting into localised stewardship and adaptation. This is to help ensure sustainable reef ecotourism and promote education on the major threats to coral reefs and possible solutions, which involve the whole community. To this end, Passions has opened this coral planting activity up to certified divers, both to increase the number of hands in the water, as well as spread the message of conservation and stewardship in the diving community.
The process of planting coral is pretty straightforward; under the guidance of one of the Master Reef Guides, certified divers assist in finding natural coral fragments on the sea floor and can help attach them to the floating nurseries and to the reef substrate. Passions has christened this new endeavour the "Citizen Science and Research Team." After trialling this program with several local stakeholders, the program was expanded to the general public and bookings made available through Passions' website. Since its introduction, the citizen science day has been a favourite among certified divers looking to add a different experience to their logbook.
The driving force behind this planting initiative has been the development of the Coralclip®. This patented device is a small clip affixed to a nail that enables a diver to attach a coral fragment or larval settlement unit to the reef in just a few seconds. This avoids the need for messy and laborious chemical fixatives that have long been favoured to re-attach corals to the reef. An experienced diver can plant over 100 corals in a single dive. This approach is not intended to replace coral on a reef-wide scale, but rather bolster the diversity of corals in an area and assist the natural ability of the reef to rejuvenate in between major impacts.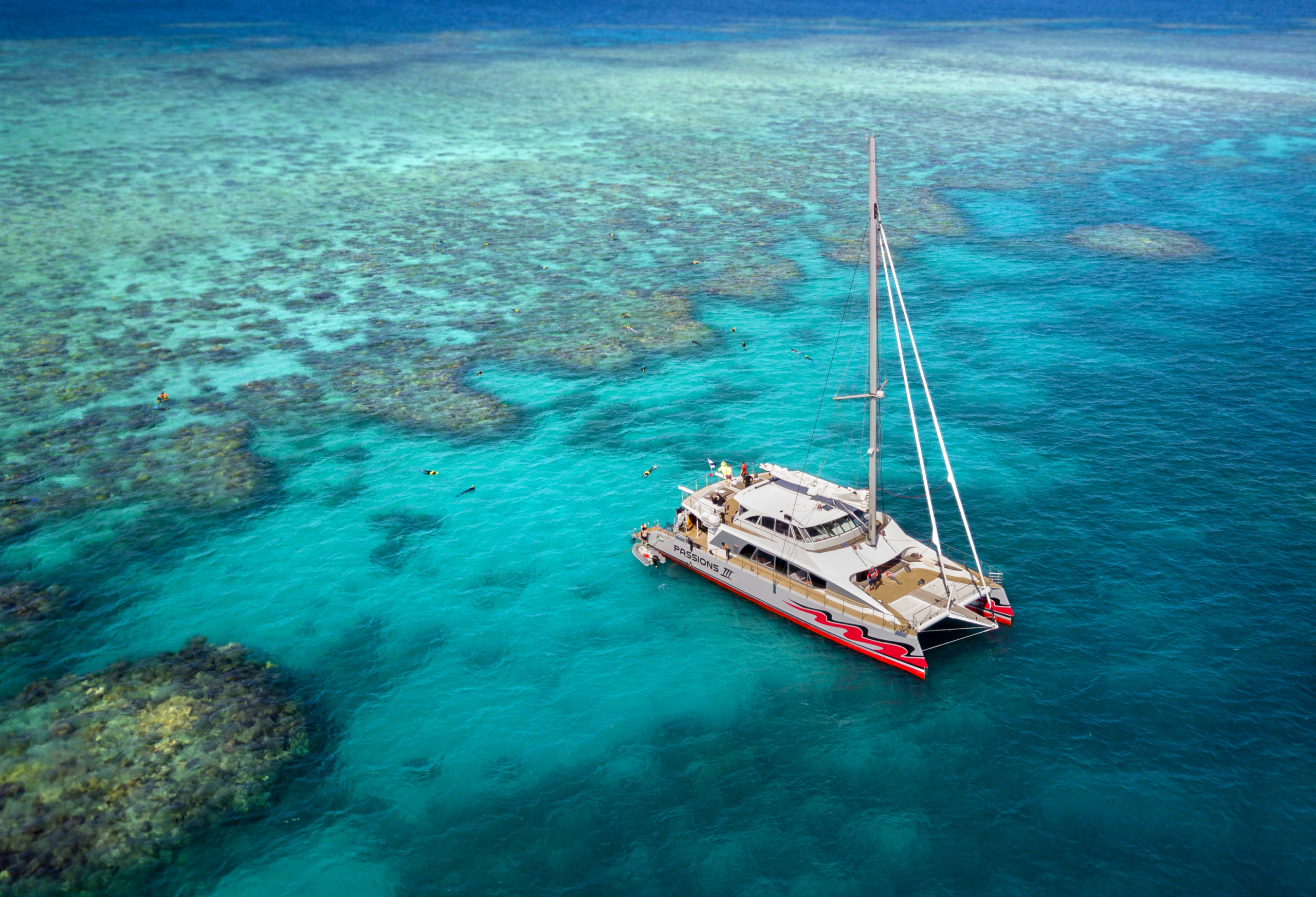 Coral planting can sometimes be done without the need for a coral nursery. On a healthy reef with reasonable coral cover, it is normal to have some broken coral. In the same way that old trees can fall in a forest and break surrounding vegetation, large colonies of fragile coral are vulnerable to damage in rough weather. Fish such as Bumphead Parrotfish can also be quite destructive when they are feeding.
Loose coral fragments (called "fragments of opportunity") sometimes re-attach, but this is often prevented by several different factors. The fragments may not adhere due to wave action, they may fall onto another coral colony, or fall onto sand and ultimately be smothered. Most coral fragments that can be planted come from regularly collecting these broken fragments and planting them securely in places where they have room to grow well.
Since the program started in June 2019, Passions of Paradise has planted an estimated 4,000 coral fragments at three of their sites on Hastings Reef, and most of these have been affixed directly to the reef itself. As travel restrictions ease across Australia and tourism operators anxiously await the reopening of international borders, Passions of Paradise will continue these conservation efforts and welcome divers into the Citizen Science and Research Team. These expeditions run every Friday, and can be booked directly through the Passions of Paradise website.
Click here for Scuba Diver ANZ issue 33