Luxurious ALEXA J and Soneva Join Forces to bring you the best of the Maldives.
Mastering the fine art of luxury travel in the air, on land & at sea. Hand-picked curated experiences by the founders of ALEXA Private Cruises & Soneva.
ALEXA J and Soneva are honoured to announce their collaboration for the Spring Season of 2021.
Bespoke itineraries have been developed combining the unique secluded yachting experience of ALEXA J & Soneva in Aqua and the renowned private island resort adventures at Soneva Fushi & Soneva Jani.
10 nights ALEXA J x Soneva in Aqua
14 nights Soneva Fushi x ALEXA J
21 nights Soneva Fushi x ALEXA J x Soneva Jani
SONEVA x ALEXA J
For couples, small families & friends seeking to discover the world in a relaxed and elegant atmosphere, with the highest level of personalised service, safety & privacy on land & at sea.
Experience the ingenuity, sustainability and beauty of the new Water Retreats at Soneva Fushi, a luxury resort on an untouched island in the Maldives. Surrounded by white sand beaches, crystal clear waters, high-end restaurants, a secluded observatory, beach dining experiences and a luxurious spa.
Soneva Fushi's new Water Retreats are ready to welcome guests, adding yet another face to the original barefoot luxury resort. Reached by a gently curving Jetty near Dolphin Beach, at the opposite end of the island to the Out of the Blue dining destination, the eight Water Retreats have been designed to ensure the utmost privacy for guests, as well as to make the most of the picture-perfect ocean vistas.
With our Hosts on land as your personal guides, we invite you to explore and lose yourself in the possibility of each moment. As time melts away you will delight in experiences that will stay with you for a lifetime.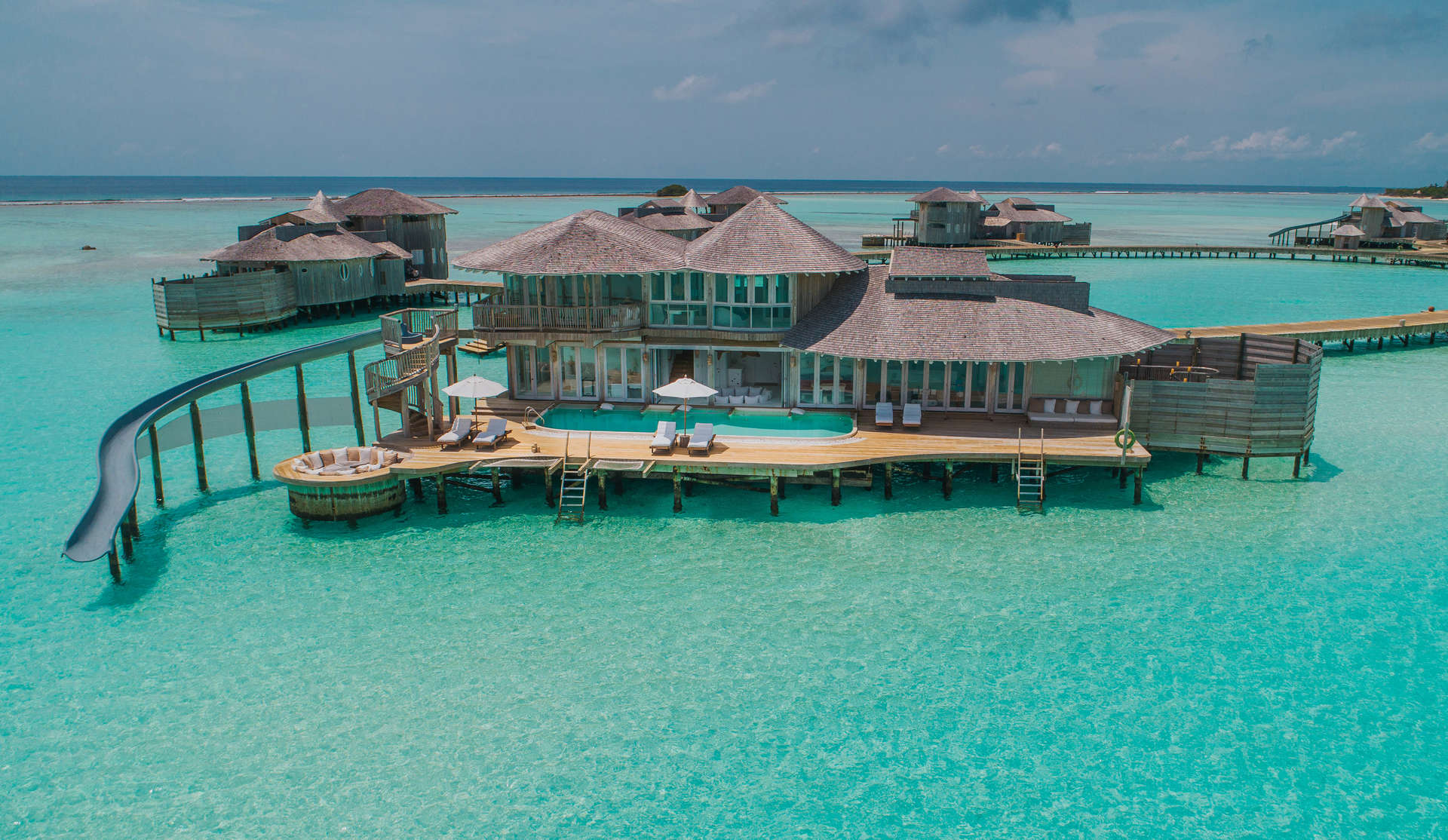 Set in a 5.6km private lagoon, it is a haven for water sports enthusiasts, with surfing and diving excursions to uncrowded reefs and surf breaks among the experiences available. At the heart of the resort it The Gathering, a three-story over-water structure that houses restaurants, a boutique, spa, gym, and the Maldives' first over-water observatory.
Over-water luxury is reimaged at Soneva Jani, with 24 Water Retreats, three island villas, and 27 new Water Reserves. Soneva Jani's newly opened Chapter Two Reserves fall under Soneva Unlimited, an indulgent way to experience everything that the resort has to offer: unlimited dining and beverages, experiences, spa treatments, and more included in the price of the villa.
Each over-water villa opens to unimpeded lagoon vistas, and come with a private pool, and most have water slides into the lagoon below.
As part of Chapter Two, Soneva Jani has added three new dining concepts to its already impressive selection of seven restaurants and bars: Overseas by Mathias Dahlgren; So Wild by Diana Von Cranach; and So Primitive.
ALEXA J is without a doubt the most beautifully designed sailing yacht in the world. The yacht combines the sense of old-world charm with all modern comforts.
The only yacht in the Maldives built for just one couple or small family.
A Superyacht experience uniquely configured as just one VIP Master Cabin with the flexibility of an additional multi-use play cabin for small families. ALEXA J combines stylish interiors and world-class bespoke service with the rare luxury of complete privacy.
With a crew of six, including a private star chef, dive instructor and spa therapist, you will enjoy sailing the Maldives in absolute privacy and with complete freedom to plan your cruise.
Spend a day in a beautiful secluded bay and go treasure hunting in uncharted worlds beneath the sea with ALEXA J's dive instructor.
You will sail to the fairy-tale looking bays with crystal clear waters and golden beaches, to the picture-perfect small harbours and uninhabited islands where only dolphins will be your company.
Together we curate memories that will last you a lifetime.
Click here for Scuba Diver ANZ issue 31