The award-winning Red Sea liveaboard Whirlwind was left sitting at an angle on a shallow sandbank after hitting a pinnacle and causing damage to the hull as it left its moorings last week.
Thankfully, no guests were injured in the incident, and the Tornado Marine Fleet vessel is now safely in drydock in Safaga having the damage assessed and being repaired ready to take to the seas again.
According to Angela Nordin from UK representatives Scuba Travel, Whirlwind struck the pinnacle as it untied from her night moorings in the lagoon at Small Crack – a location that will be familiar to many who have been on northern safaris – and the captain promptly sailed the boat to a shallow sandbank, where it came to rest at an angle in approximately 2m of water.
A mayday was not issued in this instance as it was quickly apparent that there was no immediate threat to life, but the Wind K and the Black Pearl – as the name suggests, a replica pirate ship – from the Tornado Marine Fleet were called to assist, and on their arrival, the crew and guests were transferred by RIB tender along with their dive kit and personal belongings.
Angela confirmed that the initial assessment at this stage was that Whirlwind had taken on water, but was stable (resting on the shallow bottom) and the crew worked to patch the damage to the hull between the bow and mid-section, as well as begin pumping water out from the lower deck.
Due to current UK FCO regulations for British Citizens and Sharm Airport, a decision was taken very early on in the morning that it would be best to return the customers to Hurghada, where they would be able to regroup. The initial plan was to deploy Tempest to sail to meet the customers (Sharm boats are not able to dock in Hurghada), but unfortunately, the coast guard offices were closed until 9am (Egyptian time) and by the time Tornado's ground crew finally secured the necessary paperwork and permissions for Tempest to depart from Hurghada, it was around 12.30. Later that afternoon, the guests were able to disembark from Black Pearl at Small Crack and begin the journey back to Hurghada on Tempest, which docked back in Hurghada around 8pm, from where they were transported to the Marriott.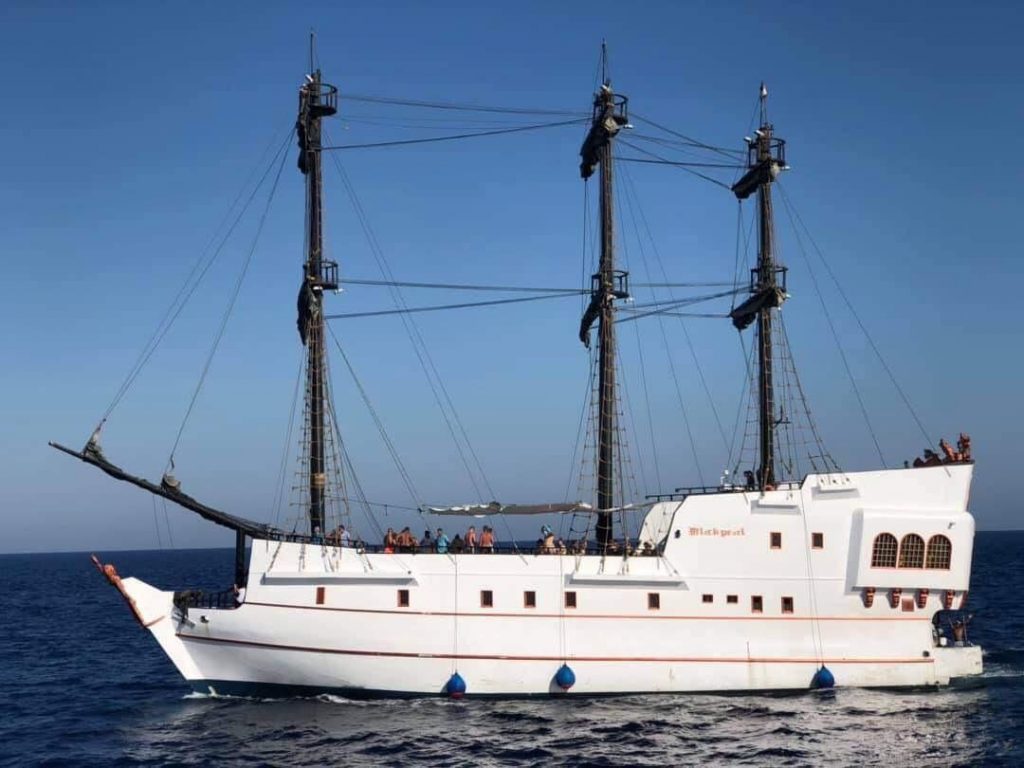 Angela said: "Our office and Tornado Marine Fleet have maintained contact with those on board since the incident – both in person and by phone and email. We never want any diver to go through this kind of experience. Some divers opted to head back out for their final day's diving on Friday. Others chose to rest up at the hotel until their return flight to the UK on 17 August (Saturday).
"Whirlwind has welcomed over 10,000 divers over the years without any such incident, but we extend our sincere apologies to those on board this week whose experience was not one any of us would ever want to repeat."
She added: "Some people have asked about the reef. The main reef at Small Crack itself was not struck. Whirlwind made contact with a rocky outcrop inside the lagoon. She did not leak diesel or other such materials into the water."
She concluded: "Whirlwind is now in dry dock in Safaga and repair work is being carried out. We will release an update as soon as we can about her return to service. We would also like to thank the team at Tornado and Traveline on the ground in Hurghada. This has been a tough time for every person involved, and we recognise their efforts in achieving a safe outcome for all on board at the time.
"If you are due to travel on Whirlwind in the upcoming weeks, rest assured we are doing everything we can to minimise the disruption to your holiday. We would like to reassure you that your holiday will still be going ahead, and for the coming weeks a replacement Tornado Marine Liveaboard has been made available to us, so we can guarantee the same itinerary, excellent crew and guides that you were expecting. We thank you in advance for your patience as we work through the scheduled trips in order of travel."
For more information, you are asked to contact Scuba Travel on (01483) 411590 or email: dive@scubatravel.com
Photographs courtesy of Scuba Travel/Tornado Marine Fleet and Marnie Starr