Paralympian Bob Staddon Q&A with Scuba Diver Magazine
While on holiday in Indonesia Bob Staddon suffered a life changing spinal injury when a water slide accident resulted in him becoming a quadriplegic. Since then, this inspirational individual has gone on to win numerous swimming awards, including three bronze medals at the Paralympics, and he has learned to dive.
1 What achievement are you most proud of?
Learning to dive and becoming certified open water diver without restrictions. This was largely in part due to my instructor John Read. We are still mates 30 years later. John was a commercial diver in the Bass Strait and a scuba-diving instructor when I met him, and his professionalism is the main reason that I dive today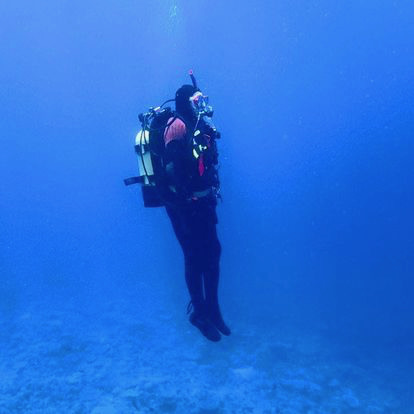 2 What was it like competing in the Olympics?
I competed in the 1984 Paralympics which were held at state Mandeville England. It was very different compared to anything I had done before. There was years of training for this one day. In the end I competed in four swimming events, coming away with three bronze medals. My sporting career was basically me trying to get fit after the accident. Unfortunately competing in sport as a disabled athlete there was no sponsorship so basically had to do your own fundraising from the local community
3 When did you start diving and what drew you to the sport?
I started diving in March 1990 with my then wife Karen, without her support and help I would never got through the course. Being dyslexic has its own problems especially when you're trying to learn and read books and manuals. I first tried scuba-diving when I was a kid with the old tank and harness on double ended hose. I thought how amazing is this and from there and I was pretty much hooked.
4 What do you find to be the most challenging aspect of diving?
Probably the most challenging aspect of diving for me is finding accessible dive sites or accessible dive boats. To the best of my knowledge in New South Wales there is only two wheelchair accessible dive sight and that's a little beach at Nelson Bay and the other being at Clovelly pool in Sydney. Fortunately, most of the people I dive with are more than happy to help me in an out of the water. At one of the dive sites at Swansea we just use a trolley on wheels to get up and down the ramp.
5 Tell us more about your work with disable divers
When RAID International the dive agency started, I was approached by Jim Holliday of Neptune wetsuits who asked if I would be an honour advisor in relation to people with disabilities and diving. Through contacts I had in Sydney, at Ryde rehabilitation centre we started doing some introductory diving and this led to a program with four students a year becoming certified as adaptive divers. One of the great joys I get from being involved in this program is look on people's faces when they first breathe underwater, and they realise that they can actually swim whilst using scuba gear.
During the course of the program, it's amazing to see the changes both in the students and instructors in their attitudes. One of the biggest changes I've noticed in the students is they become more positive. In a lot of cases pain levels are reduced and there is increase independence and motivation for day-to-day activities.
This is one of the great benefits of Scuba Diving and it is a great way to interact with people and increase your social contact within the community. The benefits are absolutely amazing across the whole spectrum of life.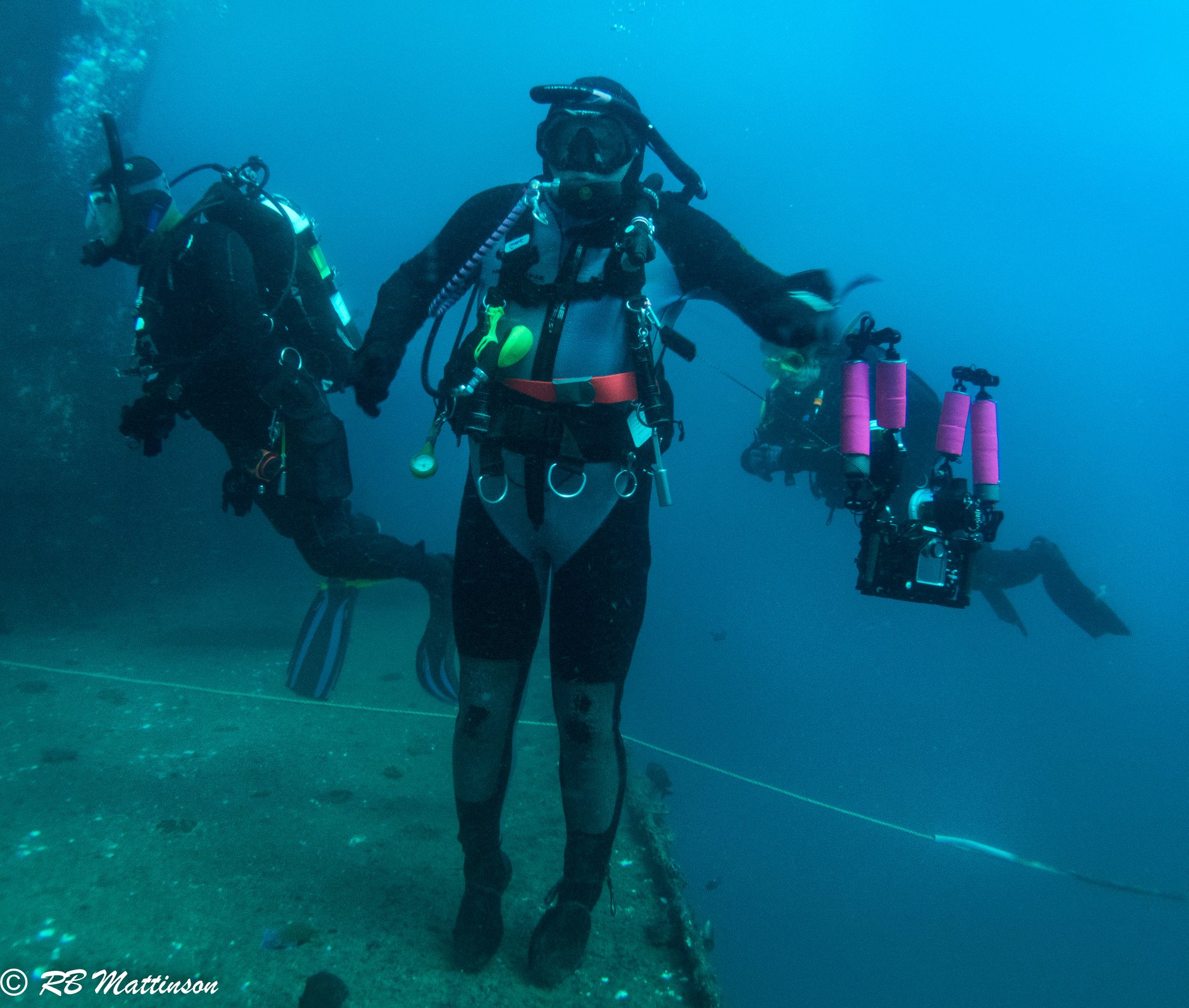 6 How would you make diving more accessible to disabled divers?
This is a fantastic question and one of the biggest problems we face in relation to adaptive diving. It's very hard to convince operators and instructors to get involved in adaptive diving. It's difficult to show people the benefits of taking disabled people diving and one of the biggest problems is the added cost involved with putting on extra staff to help.
The only way around this is to have people volunteer to take disabled people diving and to help do adaptive buddy courses. Plus There is the issue of physical access to dive sites and dive operations, and the difficulty of getting people in wheelchairs physically in an out of their chair and putting on and removing dive gear and accessing dive Boats and dive sites.
7 Could training agencies, government or council be doing more?
It would be absolutely fantastic if councils adopted a policy of trying to make dive sites wheelchair friendly. In relations to dive agencies we are talking about a very small percentage of the population with disabilities who want to learn to dive and the cost of training instructors is quite prohibitive. Having said that we are trying incredibly hard to get more instructors certified as adaptive instructors and as many dive buddies as possible.
8 You are an ambassador for Sharkskin, what difference has the new Chillproof Titanium product made to your diving?
My relationship with SharkSkin goes back at least 15 years if not longer. As I have a spinal-cord injury it's of upmost importance to maintain my core body temperature, which can drop up to 4° upon entering the water for diving, and can take up to 4 days to come back up to normal, which itself creates a whole stack of problems. One of the things that I found with the titanium Sharkskin is that this problem is virtually eliminated and I find I'm less fatigued.
I feel better, with less pain and definitely a lot warmer before during and after the dive. The other great thing about sharkskin is that it is made locally in Newcastle so I can go directly to the factory for any alterations, or for customisation of the product. Over the years I would hate to think how much money I've spent on wetsuits. Now with the new titanium range I can wear it all you around but it really comes into its own in the summer and winter when it maintains my body temperature.
We have given it to other people with spinal cord injuries to use and the results have been absolutely amazing. In one case we had a young lady who couldn't even stand to be in a swimming pool. In her training she got too cold even though the water temperature was 25°C since we added the shark skin titanium under her wetsuit and included a hood all those problems were resolved instantly. In fact we had trouble getting her out of the water because she was just so comfortable.
9 A question we always ask in our Q&As is, what is your most memorable moment in diving?
This is a fairly easy one to answer. I've done over 1300 but my most memorable moment was my first ocean Dive, with John and my then wife Karen. Going down under the water to start doing my skills and seeing fish and seaweed in the ocean and realising that I was breathing underwater.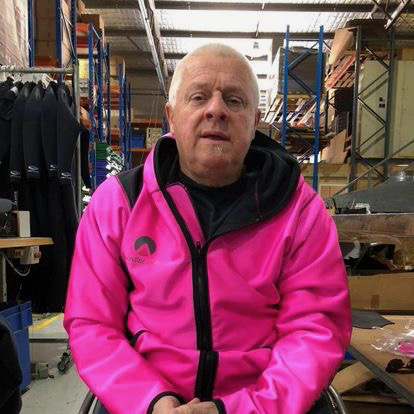 10 On the flipside of that what is your worst diving memory?
It was on a dive under Swansea bridge, here in Newcastle I was wearing a new BCD for the first time and I spent considerable time adjusting it trying to make it fit properly. However during the course of the dive BCD moved and found that I couldn't reach any of the buckles or releases or the power inflator hose.
Just to make things even more interesting the tide turned while we were under the bridge forcing us back out in the wrong direction. The two guys that I was diving with literally had to drag me along the bottom. Upon exiting the water I took the BCD and threw it straight in the bin never to be worn again. Is the closest I've come to drowning and the scariest I have ever been underwater in my 30 years of diving.
11 What does the future hold for Bob Staddon?
I would like to think that the future for me holds lots more diving and when it's safe to do so lots more travelling. Especially back to Vanuatu which is my favourite place to dive. It would be great if I could get involved with some more adaptive diving. To help get more people with spinal cord injuries to enjoy the incredible world of scuba-diving.
Probably one of the other main things I would love to see is it all shops regardless of agency or ownership try and work together to promote diving overall. It would be absolutely incredible if there was an adaptive diving program that could be used by any agency anywhere in the world. On a personal note thank you so much for the opportunity to write this article for your magazine, as anyone who knows me will tell you my passion is diving, promoting diving and the people who enjoy diving.
Click here for Scuba Diver ANZ issue 33